30

May, 23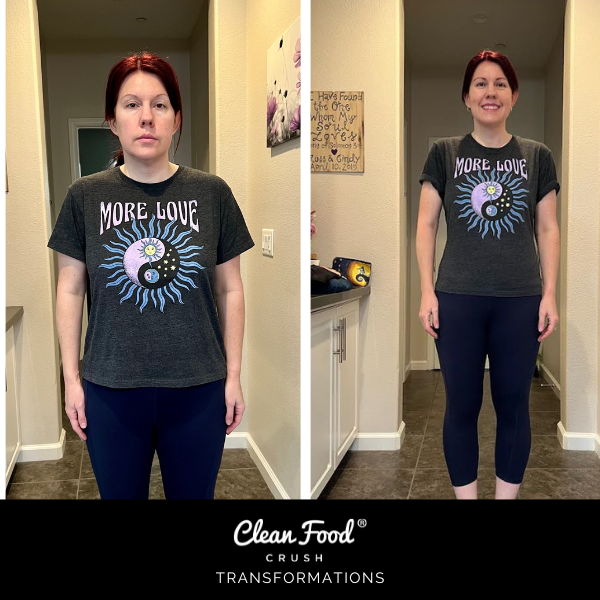 Cindy and Her Husband Down 10 lbs Each
Meet Cindy who is living a healthier life together with her family and loving every minute of it thanks to the 30 Day Clean Eating Challenge.

Hi! I'm Cindy. I'm 42 years old and I live in California with my husband and 3 kids. I work part time for a non profit and enjoy spending time with my family. 
My husband has been my biggest supporter on this journey and has lost 10 lbs himself!
He always tells me how proud he is of me and how amazing my transformation is.
We also work out together. He's very encouraging and says I inspire him to keep eating healthy and to exercise.

 I am so proud of "US"!! 
I used to be fixated on calorie counting, thinking it was the only way I could lose weight.
I'd get burnt out and give up counting to then just eat whatever I wanted.
My weight would yo-yo all the time.
I was at my heaviest weight last year.
I lacked energy, didn't sleep well and definitely lacked confidence.
I wasn't happy with what I saw in the mirror.
Then it hit me one day. I thought this is it. I need to get healthy, mentally and physically
I was first introduced to CleanFoodCrush in September 2022. I started making Rachel's recipes and eating healthier

but I was still counting my calories.
I was stuck in that mindset for about 15 years.
I would get emails about the challenge but didn't make a commitment until this year.
First I decided to try out the 10 Day Detox in January 2023 and lost 8 lbs!
The 10 Day Detox did amazing things for my body.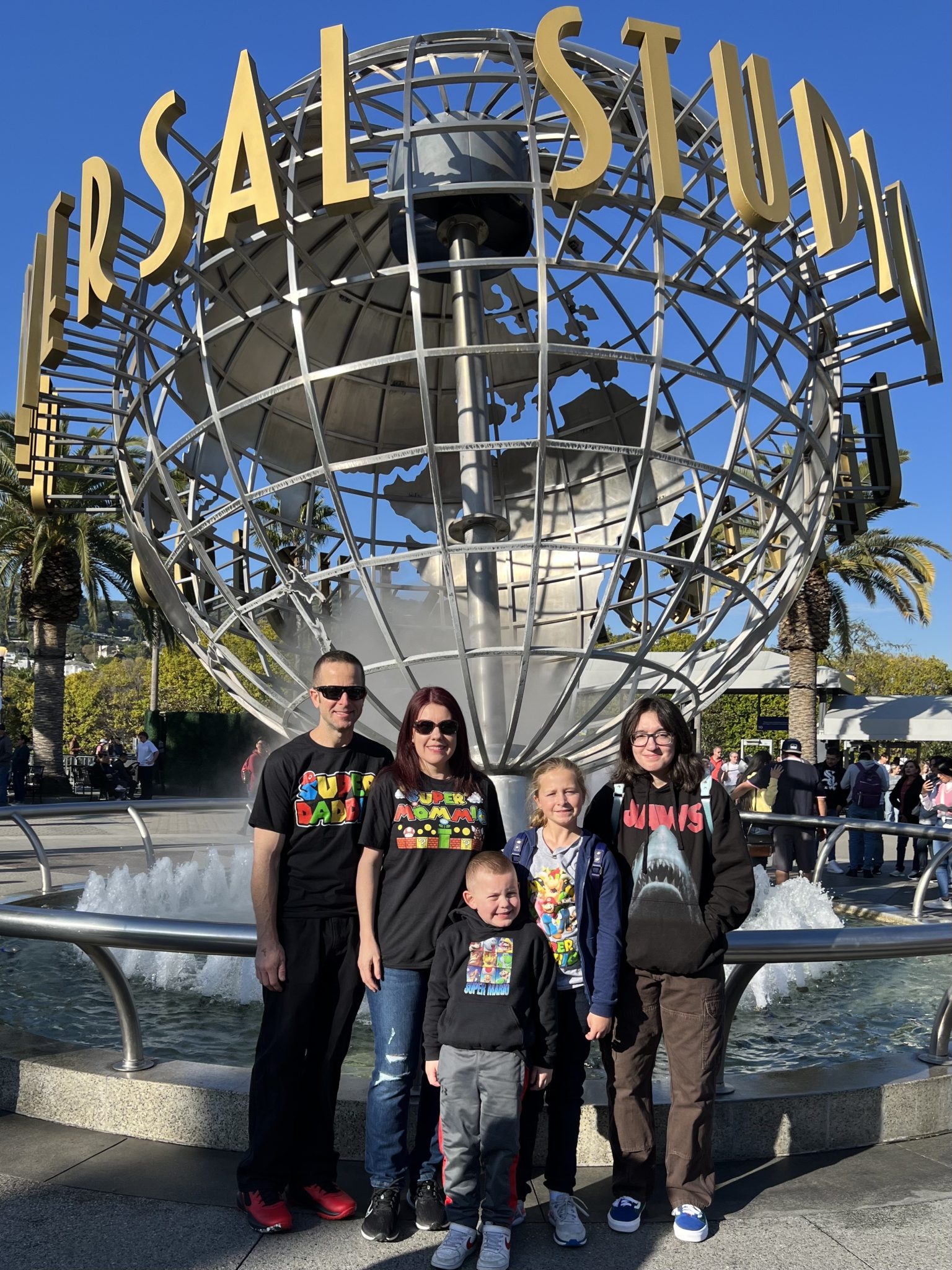 It helped get rid of my sugar cravings. My inflammation was greatly reduced and very quickly. People noticed right away the difference it made. 
I was impressed by the results and motivated to lose more.
I knew I couldn't do it alone so in April, after a couple of vacations, I decided to join the  30 Day Clean Eating Challenge.
I should not have waited!
It is one of the best things I have done for myself.
🎉 I've learned how to fuel my body the right way.
🎉 I'm finally free from calorie counting.
🎉 I feel happier and more confident.
🤩 Inflammation is gone.
😴 I sleep better!
🎉 
AND I have jeans I haven't been able to wear for 8 years that now fit.
🎉
I've lost 10 lbs and several inches in a month!
It's hard to believe I'm almost down to my goal weight!
I've lost 31 lbs since January.
If I can do it, so can you!
I know the difference between my before and after pics of the 30 day are subtle but it's helping me get rid of that last stubborn weight and got me through a plateau.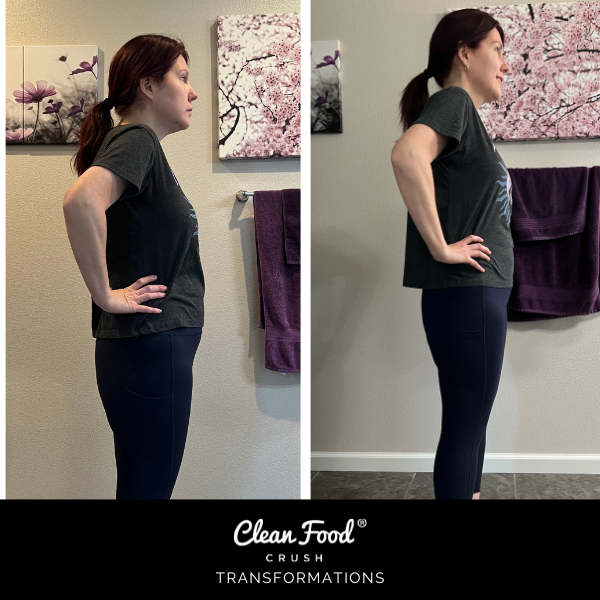 CFC has the most supportive people all striving for the same goals.
I encourage you to join today and change your life for the better!
🏃‍♀️🏃‍♀️ I now have energy to run around outside and play with my kids.
🏃‍♀️🏃‍♀️ I can race my son and not feel winded.
🪁 We enjoy flying kites
🚴‍♂️ riding bikes and walking the neighborhood together. 

I love taking pictures but for a long time I didn't like being in them.
I can now say I enjoy being in pictures again.
I also like shopping for clothes again.
It feels good to be able to pick almost anything out and it fit good.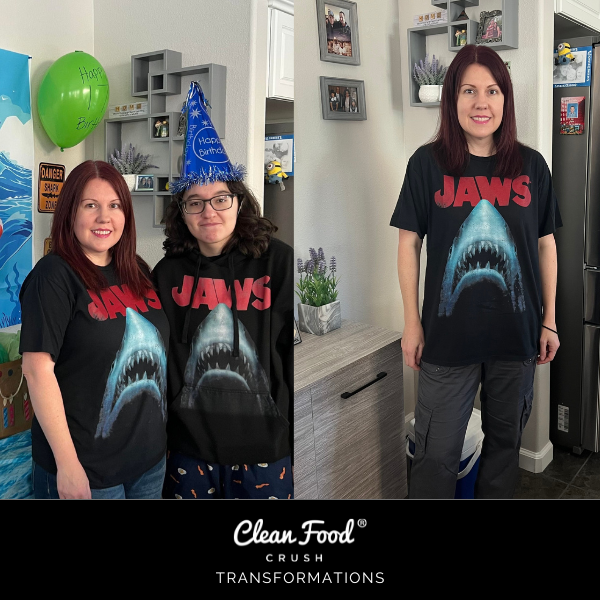 I've now lost 32lbs since doing the 10 Day Detox in January. 
Since September 2022 (the jaws shirt) I've lost 47 lbs!

Two of my favorite recipe's are Rachel's beef and broccoli stir fry and I absolutely love strawberries n' cream overnight oats.
All of the recipes I've tried are delicious. You will not go hungry on this plan! Take the plunge. You deserve it!

Ready to Get the Tools and Support That Helped Cindy Succeed? Come and Join the Challenge!
Leave a Comment Below:
Related Posts :
..