1

Aug, 23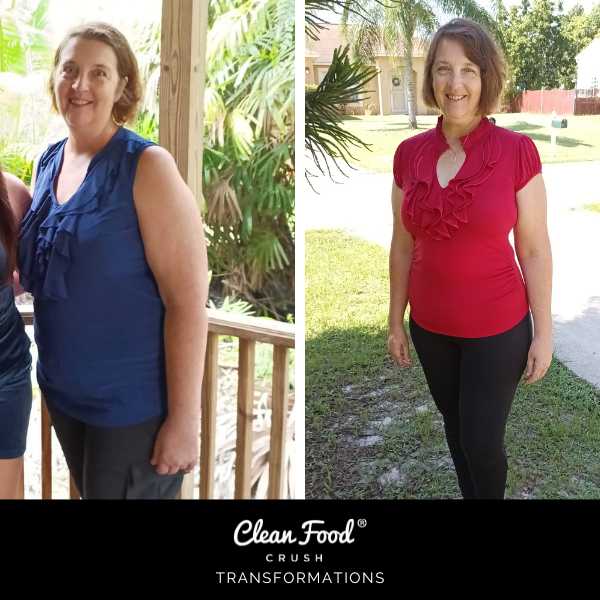 Diana's 27.4 lbs Weight Loss Journey
Meet Diana loving wife and mother who has had an amazing journey with the CleanFoodCrush 30-Day Challenge and beyond!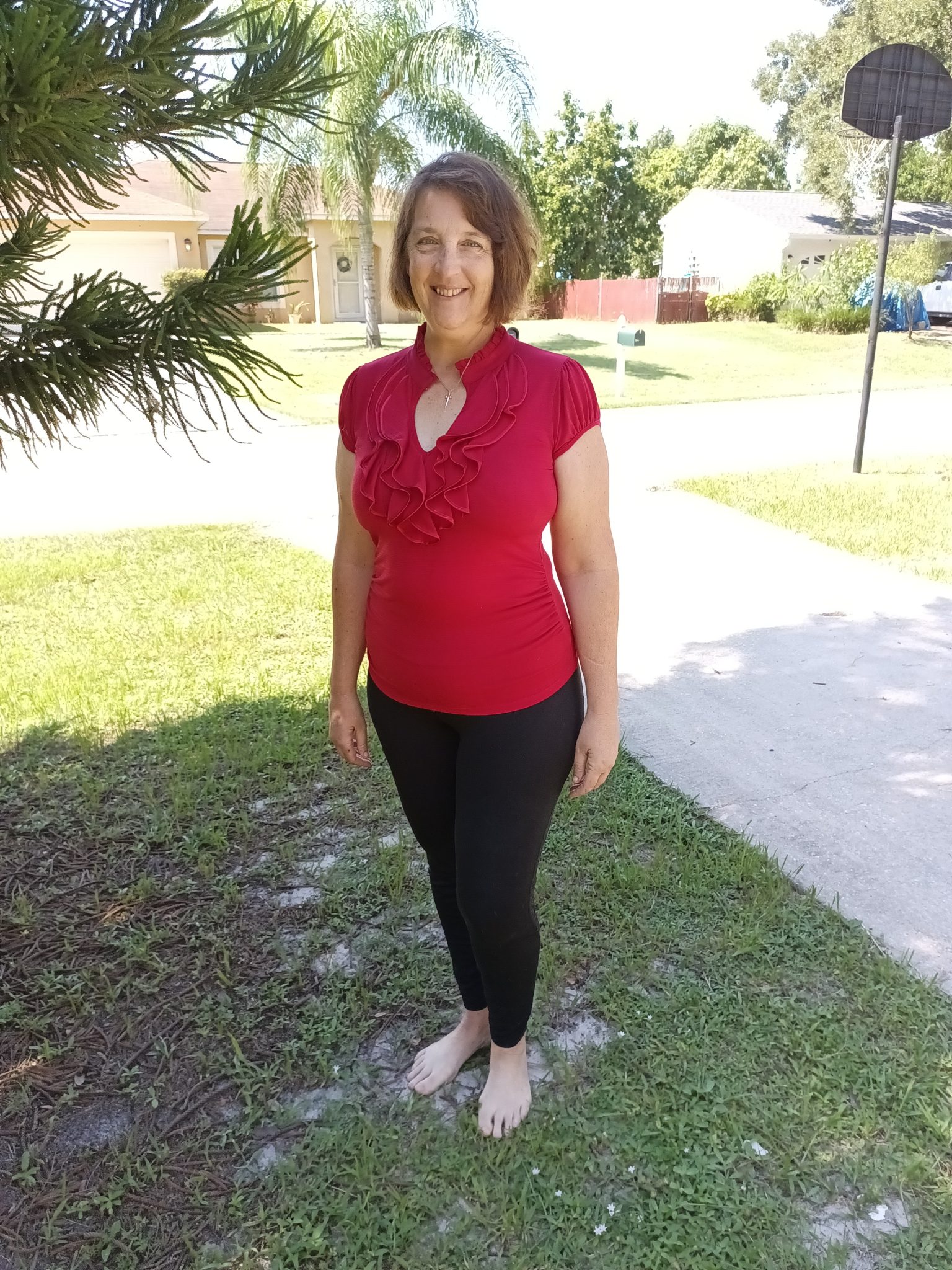 Hey there! I'm Diana, a wife and mother of five amazing children in a blended family.
Life can get pretty hectic, and I've faced my fair share of challenges.
A decision that has completely transformed my life.
If you're looking for inspiration and a fresh start, keep reading – this might be just what you need!
Discovering CleanFoodCrush Blog:
Years ago, I stumbled upon the CleanFoodCrush Blog by Rachel, and I fell in love with her delicious recipes.
Back then, life was different. But as time passed, my husband's health issues led me back to work after years of being a stay-at-home mom.
Life became a whirlwind of crazy schedules, and our family turned to quick, unhealthy meals, eating out, and sugary snacks just to keep up.
Lost in Survival Mode:
In those chaotic times, I found myself saying "yes" when I really wanted to say "no."
Exhaustion became a constant companion, and I felt like I was just surviving rather than truly living.
My energy levels were always low, and I'd go to bed tired, only to wake up the next morning still feeling drained.
I was stuck with an all-or-nothing mindset, and I applied it to everything – my eating habits, my exercise routine, and even my friendships.
Honestly, I felt like I had given upon life.
The Pivotal Moment:
It was my daughter's homecoming that changed everything.
While coming back from taking pictures, I caught a glimpse of myself in a reflection – I didn't recognize that woman anymore.
The promises I made to myself about taking care of my well-being were broken, and I knew I had to do something.
With a family history of heart disease and witnessing my mom's health struggles, I realized I was heading down the wrong path.
I didn't want to be unhealthy anymore. That's when I made a life-altering decision – I joined the CleanFoodCrush Challenge.
Embracing the Clean Food Challenge:
From the moment I joined the Challenge group, I knew I had made the right choice. It was the best decision for me and my family.
Over the course of just two months, I experienced incredible results – I lost 13.2 pounds and a whopping 18.5 inches!
But it wasn't just about the numbers; it was about reclaiming my energy and reducing my dependence on medication.
Learning to Give Myself Grace:
The CleanFoodCrush coaching team, led by Rachel, was a game-changer.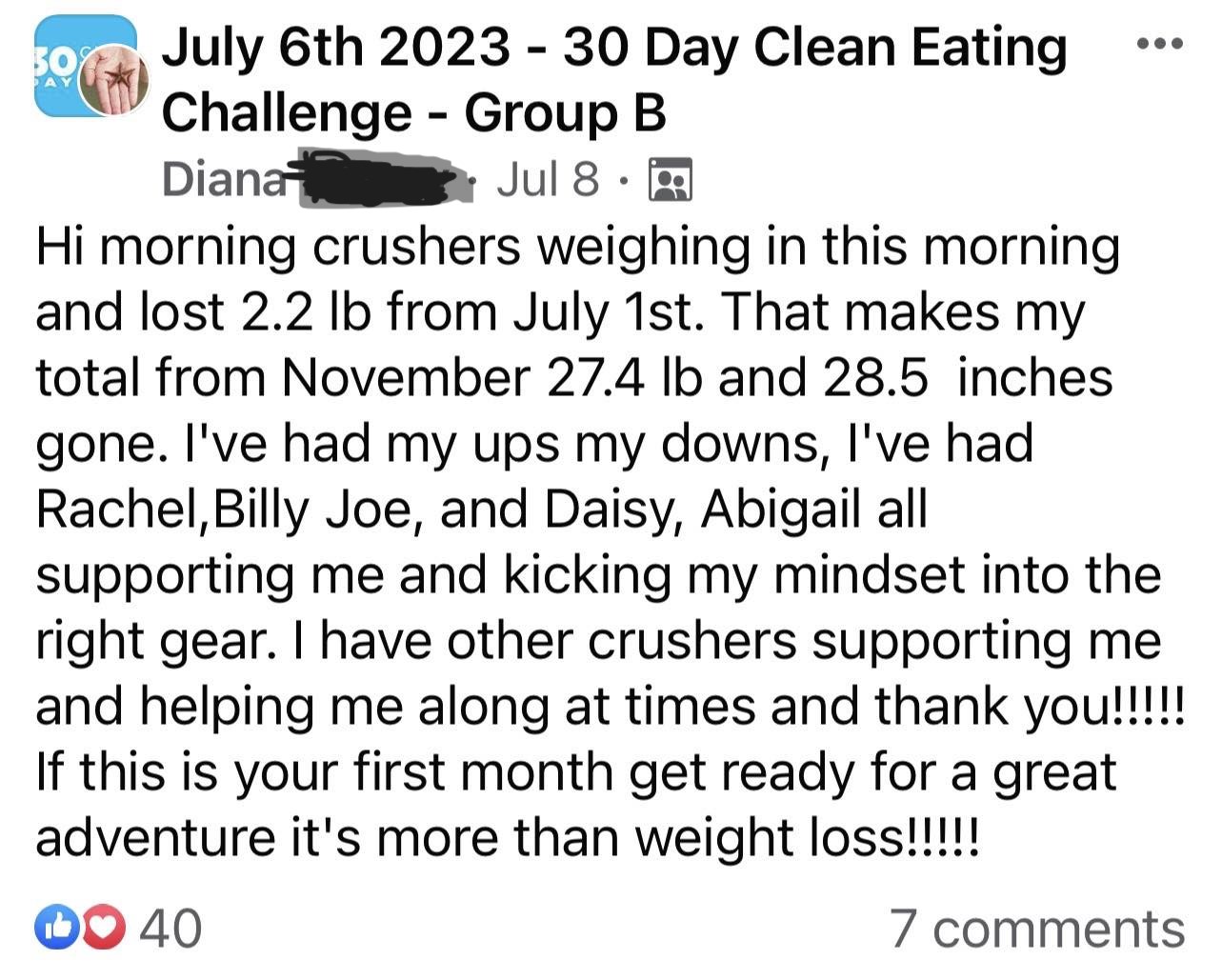 They were amazing and so supportive.
The group's focus was on helping each other succeed, and they provided the education, answers to questions, and the encouragement we needed.
Most importantly, they taught me to give myself grace and to let go of the need for perfection.
It was a valuable lesson that extended beyond food and fitness; it taught me how to approach life with more compassion and love for myself.
Non-Scale Victories:
Now, after seven months in the CleanFoodCrush Challenge, my journey continues.
I've shed a total of 27.4 pounds and 28.5 inches – and I'm only halfway to my goal weight! But it's not just about the scale.
I've gained confidence in myself and have started doing things I once thought were impossible.
I've participated in 5k runs/walks, enjoyed water parks with my family, and embraced the joy of fun day trips together.
A Community of Empowerment:
The CleanFoodCrush Challenge community consists of people on different paths, but we all share a common goal – loving ourselves through self-care.
On those busy nights, I turn to the challenge recipes on the blog for quick, easy, and delicious meals that keep me on track.
It's not just about losing weight or inches; it's about embracing a healthier lifestyle that nourishes my body and soul.

If you find yourself on the fence, unsure if the CleanFoodCrush Challenge is for you, I want to encourage you to take that step.
It's not just a diet; it's a life-changing journey that empowers you to prioritize your health, love yourself, and create a better life.
With fantastic recipes to satisfy cravings and a supportive community to lift you up, you can change your life for the better, just like I did.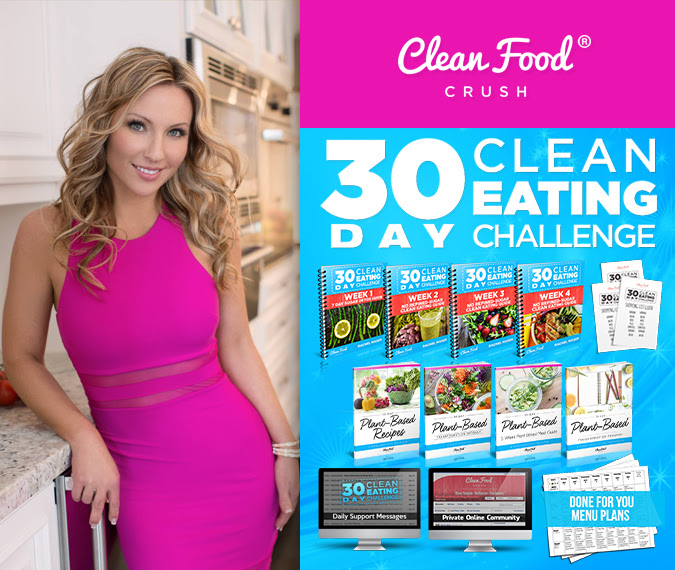 Ready to Get the Tools and Support That Helped Diana Succeed? Come and Join the Challenge!
Leave a Comment Below:
Related Posts :
..