15

Apr, 17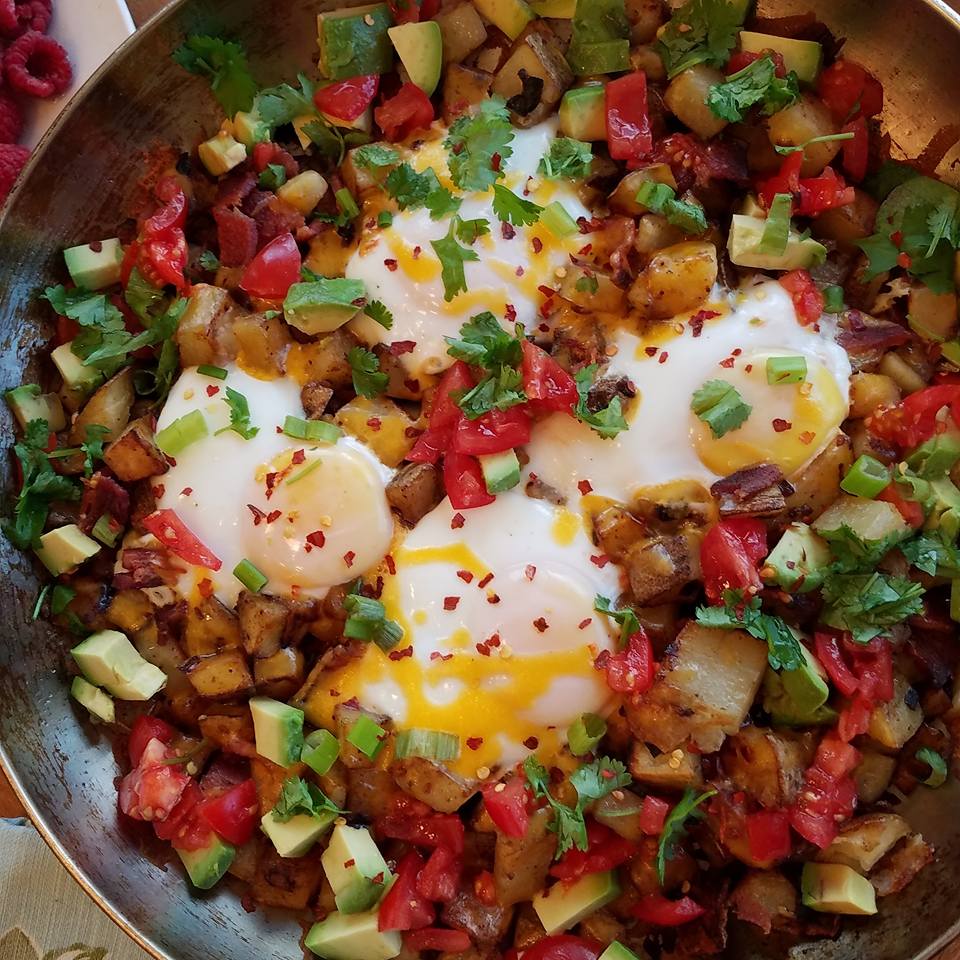 " alt=""/>
One of our all-time breakfast favorites!

🌞

🍅
Ingredients
4-5 medium-ish potatoes
1 small yellow onion, diced
1 or 2 small jalapeño peppers, minced
2 Tbsps avocado oil, or olive oil
sea salt and freshly ground black pepper to taste
1/2 tsp smoked paprika
1/2 tsp garlic powder, or 1 tsp freshly minced garlic
1/2 tsp ground cumin
4 slices nitrate-free bacon, cooked and chopped
6 farm fresh eggs
4 green onions, chopped
1/4 cup chopped fresh cilantro leaves
1/2 cup sliced grape tomatoes
1 ripe avocado, diced
1/4 cup fresh cheddar cheese - optional
Instructions
Dice potatoes into even 1 inch cubes.
Heat oil in a large skillet on medium/high heat.
Toss the potatoes, onion, and jalapenos (season with sea salt and pepper to taste + sprinkle with garlic powder, cumin, and smoked paprika Toss to coat potatoes well) in the hot oil for about 15-20 minutes until cooked through, and a little crispy.
Add cooked bacon, stir to combine.
VERY carefully break eggs on top of the potatoes, keeping eggs intact.
Lower heat to medium/low.
Cover pan with lid, and cook eggs to your desired doneness. Mine take about 6-8 minutes.
Sprinkle with fresh cilantro, green onion, chopped avocado, and sliced grape tomatoes, and cheese.
Serve immediately.
https://cleanfoodcrush.com/fiesta-egg-potato-breakfast-skillet/
© Copyright Clean Food Crush ® LLC 2014-2019 - Rachel Maser - CleanFoodCrush.com
Leave a Comment Below:
Related Posts :

..