19

Aug, 20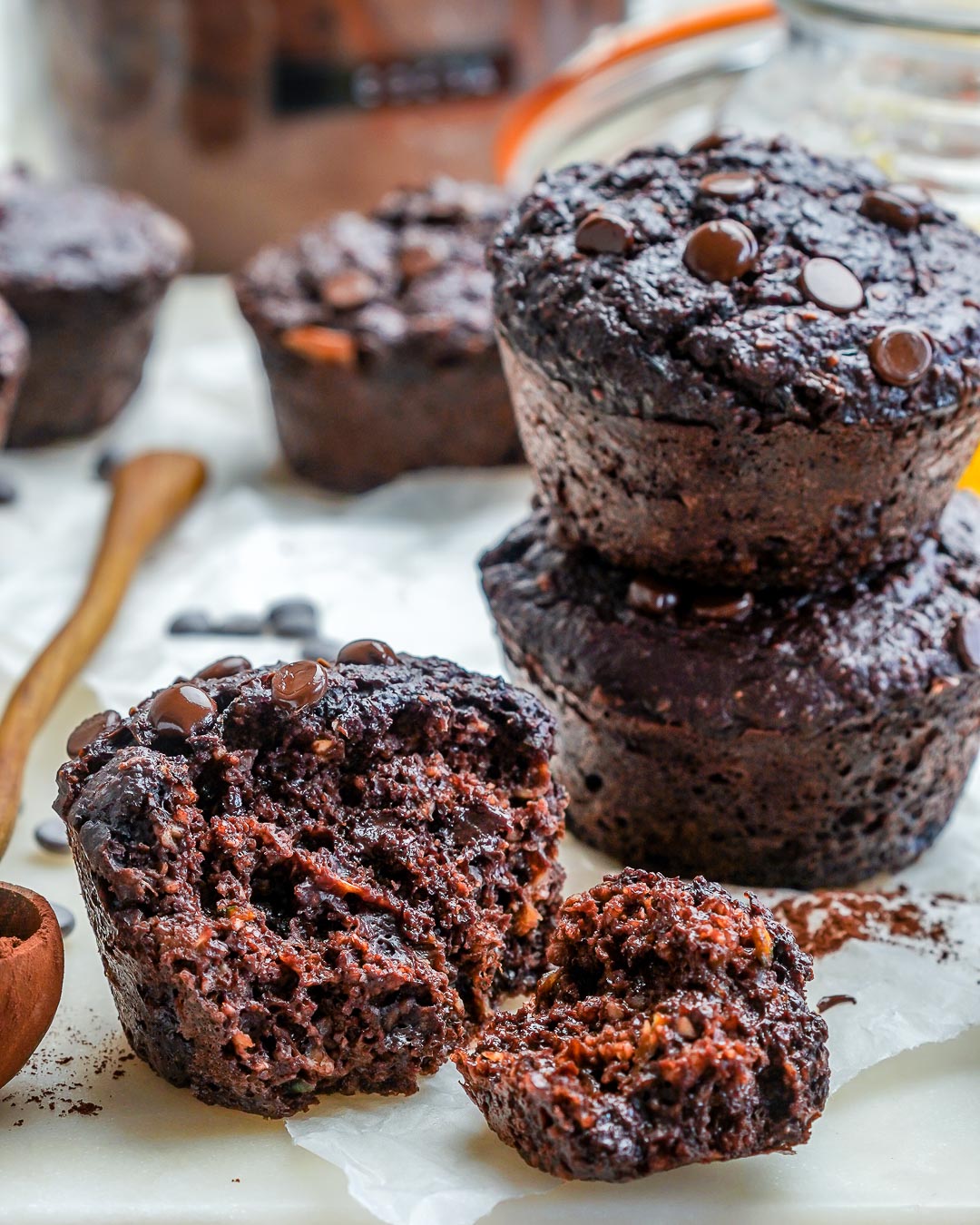 ➡️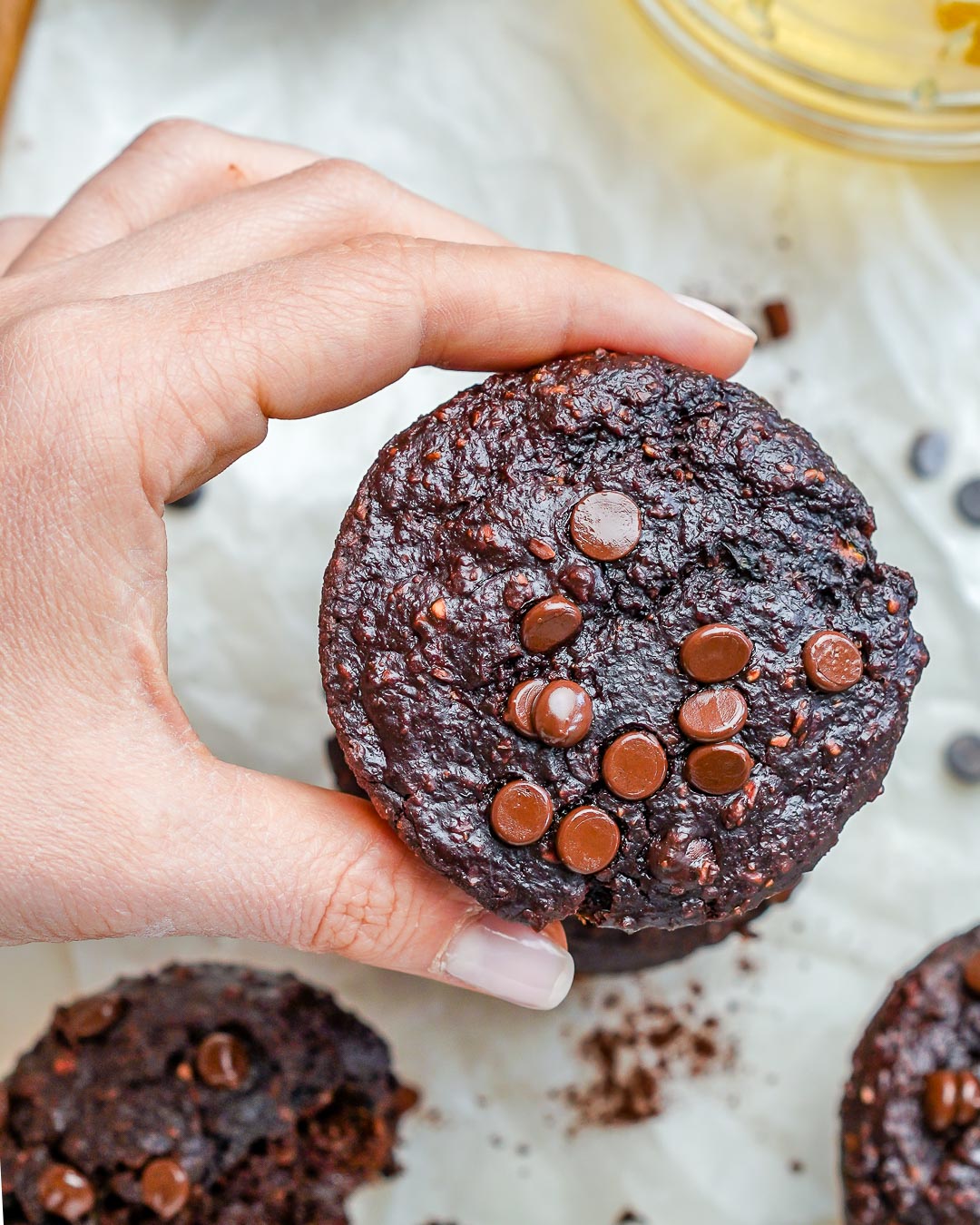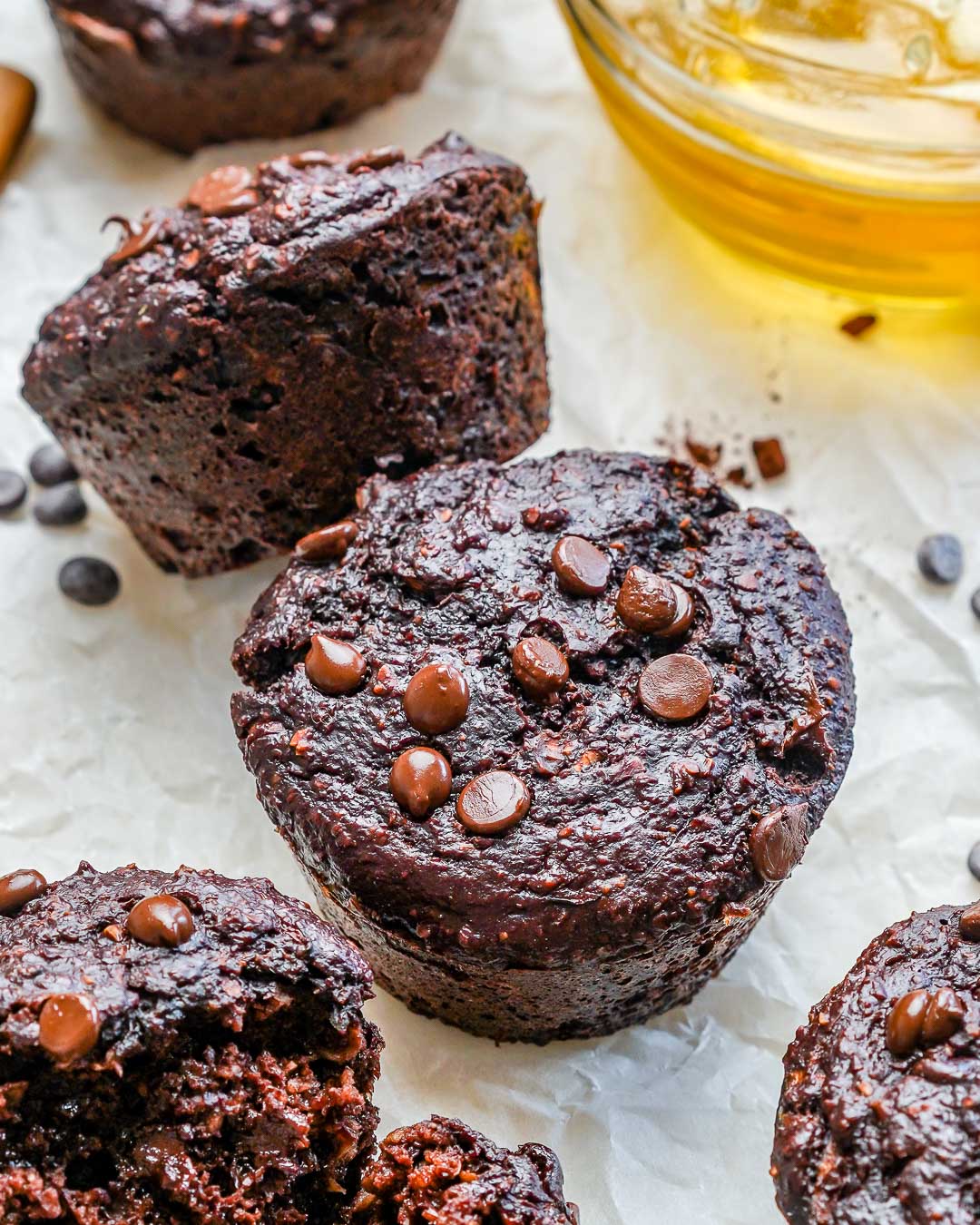 Healthier Double Chocolate Zucchini Muffins
The kids, teenagers, and the men in our house, all COMPLETELY devour these muffins when I bake them – which really says A LOT for healthier muffins!
It's full-on ZUCCHINI SEASON here in Utah!
Do you have zucchini growing in your garden? If not, zucchini is now in-season, superabundant and VERY inexpensive at the Farmer's Markets throughout late Summer…that's if your neighbors don't leave a big bag of it on your front porch as mine often do here in Utah.
➡️Did you know:
Zucchini has quite an impressive nutritional scoreboard – from high levels of potassium, B-vitamins, dietary fiber, and antioxidants, all which offer huge benefits to our overall health.
➡️ Cacao vs. Cocoa
Although they are both completely interchangeable in recipes, they are each processed differently.
Cacao is the purest form of chocolate. It's an excellent source of antioxidants and has a high amount of flavonoids. Cacao is higher in protein, fiber, magnesium and iron than its cousin cocoa.
If all you have on hand is cocoa powder, then that's fine to use.
When you have a choice at the grocery store, reach for the lesser processed raw cacao to take advantage of its awesome health benefits in all of your homemade treats!
➡️Rachel's Tips: How To Make Oat Flour
Oat flour is the simplest flour to make at home, using whole rolled oats (old fashioned oats) and your high speed blender or food processor.
2 cups of whole rolled oats equals about a cup of oat flour, or maybe a bit more, depending on how finely you grind it.
You may have to stop your machine and move the flour around with a spoon.
Process for at least 1 minute. You want your flour to be as finely and uniformly ground as possible.
➡️When shopping for ingredients:
Look for a higher percentage cacao for the chocolate chips, and always read ingredients.
I always buy the highest quality I can find when it's on SALE! I'm always keeping an eye out for a good deal, and will often stock up when I high quality product is on special.
Use any dark chocolate chips of your choice: the higher cacao percentage, the healthier!
If you're looking to keep sugars lower; try using Lily's brand chocolate that is sweetened with stevia.
Also, sweetness factor is such a very personal preference, so you may want to use less or more maple syrup/honey, depending on YOUR family's specific taste preferences.
Ingredients:
2 small zucchini (about 1 cup grated)
1 1/2 cup oatmeal flour, or ground oats
1/4 cup almond flour
1/2 cup unsweetened cacao powder
1 1/2 tsp baking powder
1/2 tsp baking soda
1/4 tsp salt
1/2 cup dark chocolate chips
2 large eggs
1/2 cup plain Greek yogurt
1/3 cup maple syrup or raw honey
1/2 cup unsweetened applesauce
2 tsps vanilla extract
Instructions:
Preheat your oven to 350 degrees f. and line a muffin tin with cupcake liners. I really like my reusable silicone liners for these, because they don't stick.
Thoroughly wash your zucchini and trim off the ends.
Using a hand grater, grate your zucchini.
Next using your clean hands, squeeze the grated zucchini lightly, over a bowl to remove any excess moisture.
In a large bowl, whisk together both flours, cacao powder, baking powder, baking soda, and sea salt.
In another mixing bowl, beat the eggs until pale and frothy.
Add in the yogurt, maple syrup, applesauce, and vanilla extract.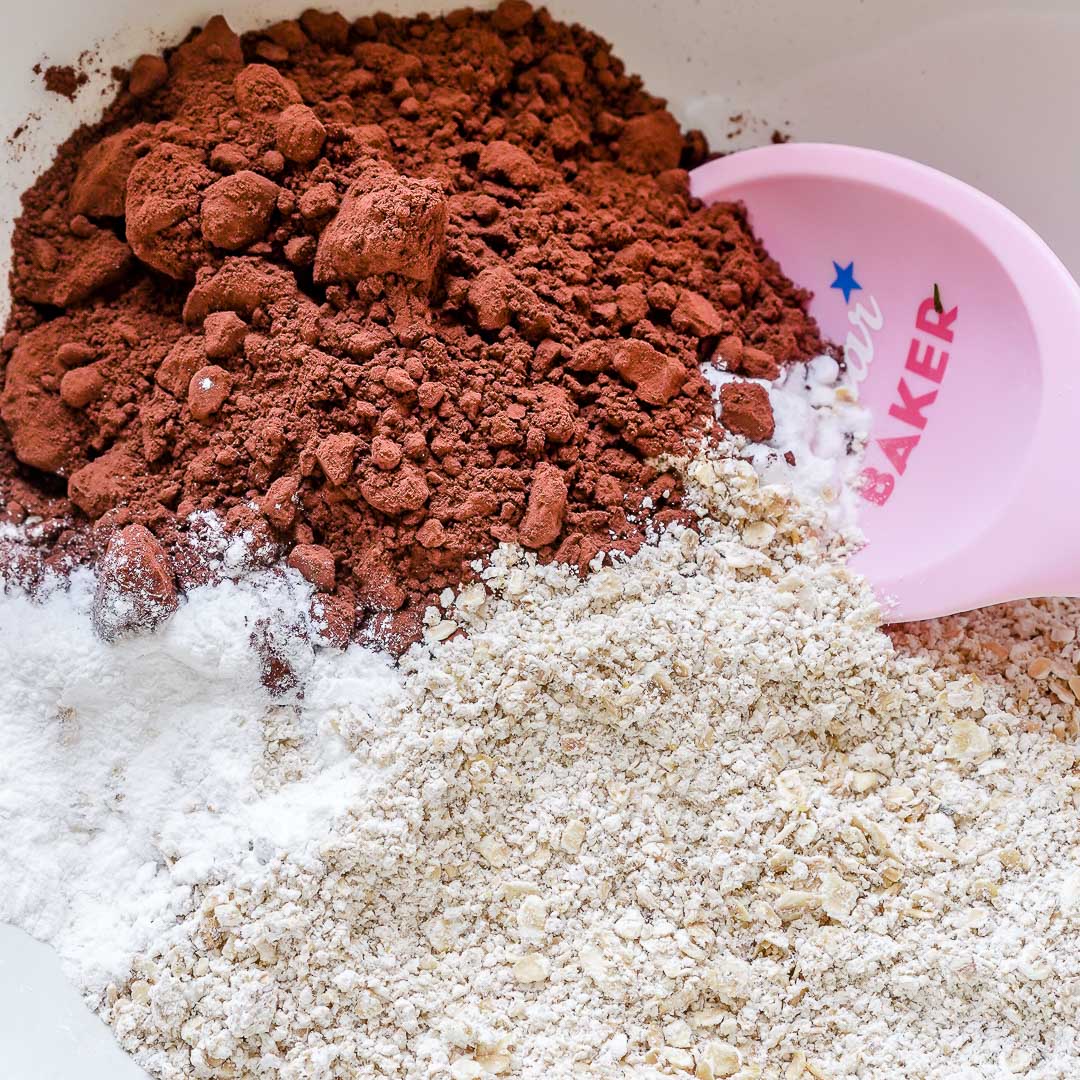 Gently fold in your dry ingredients and whisk until combined.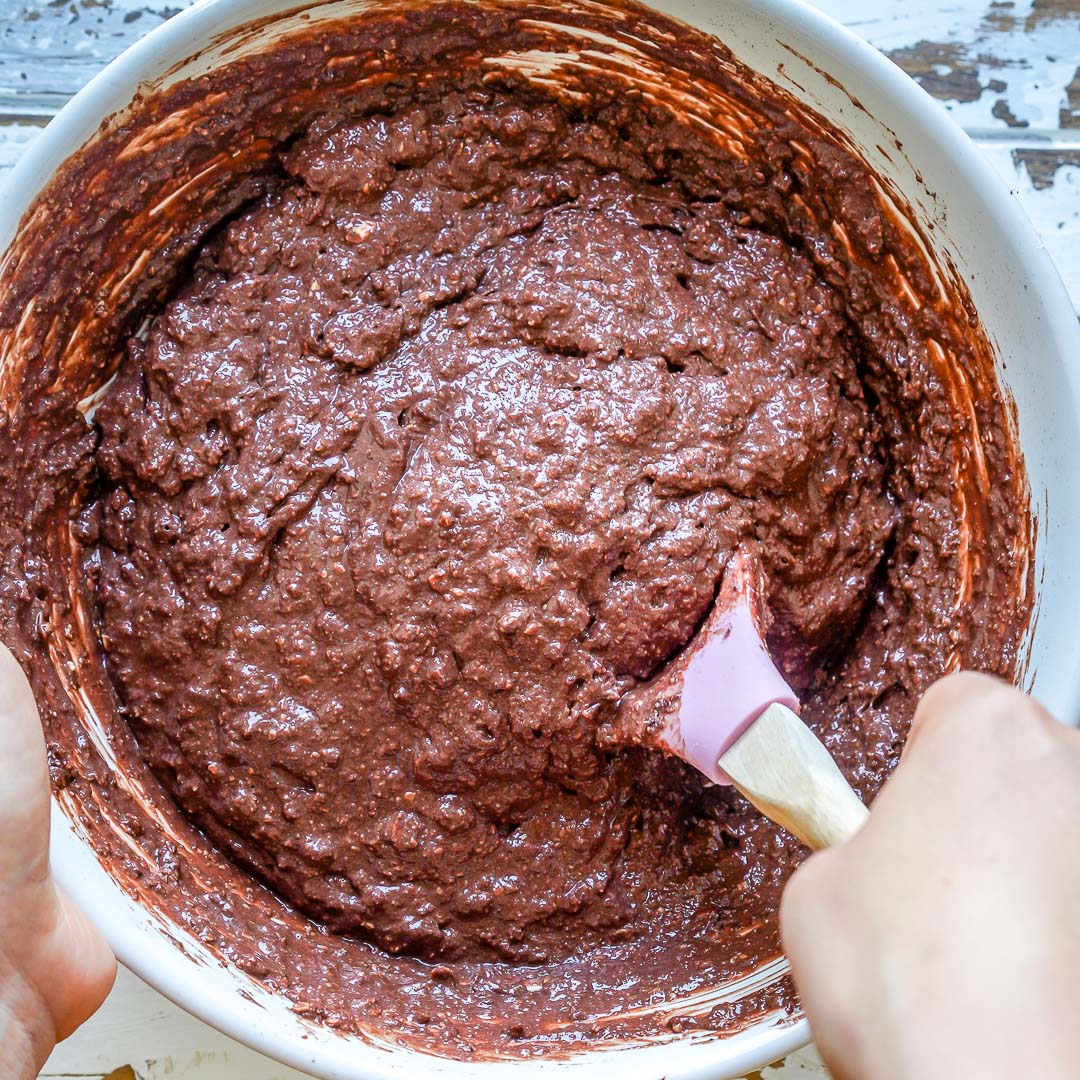 Add in shredded zucchini and chocolate chips; fold again.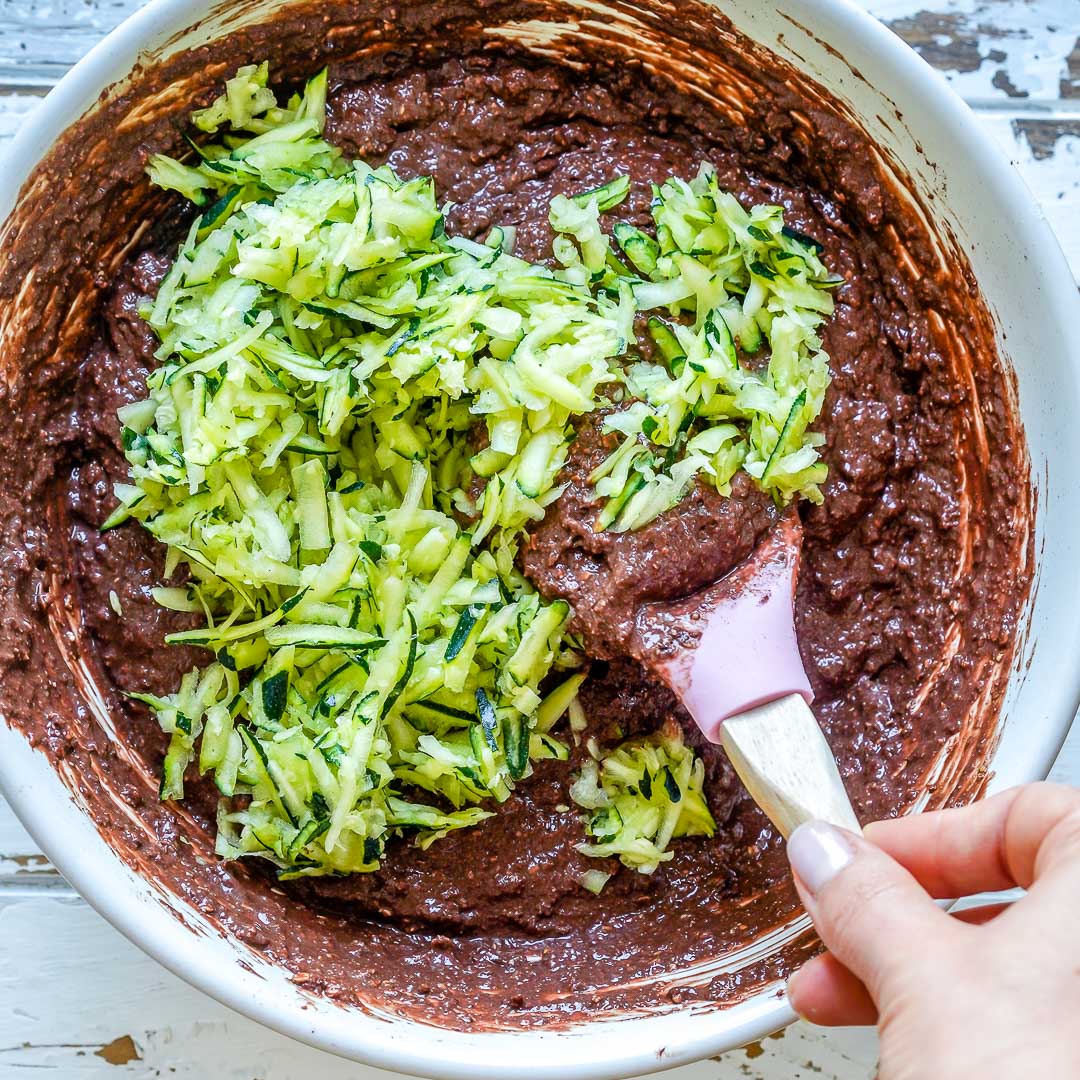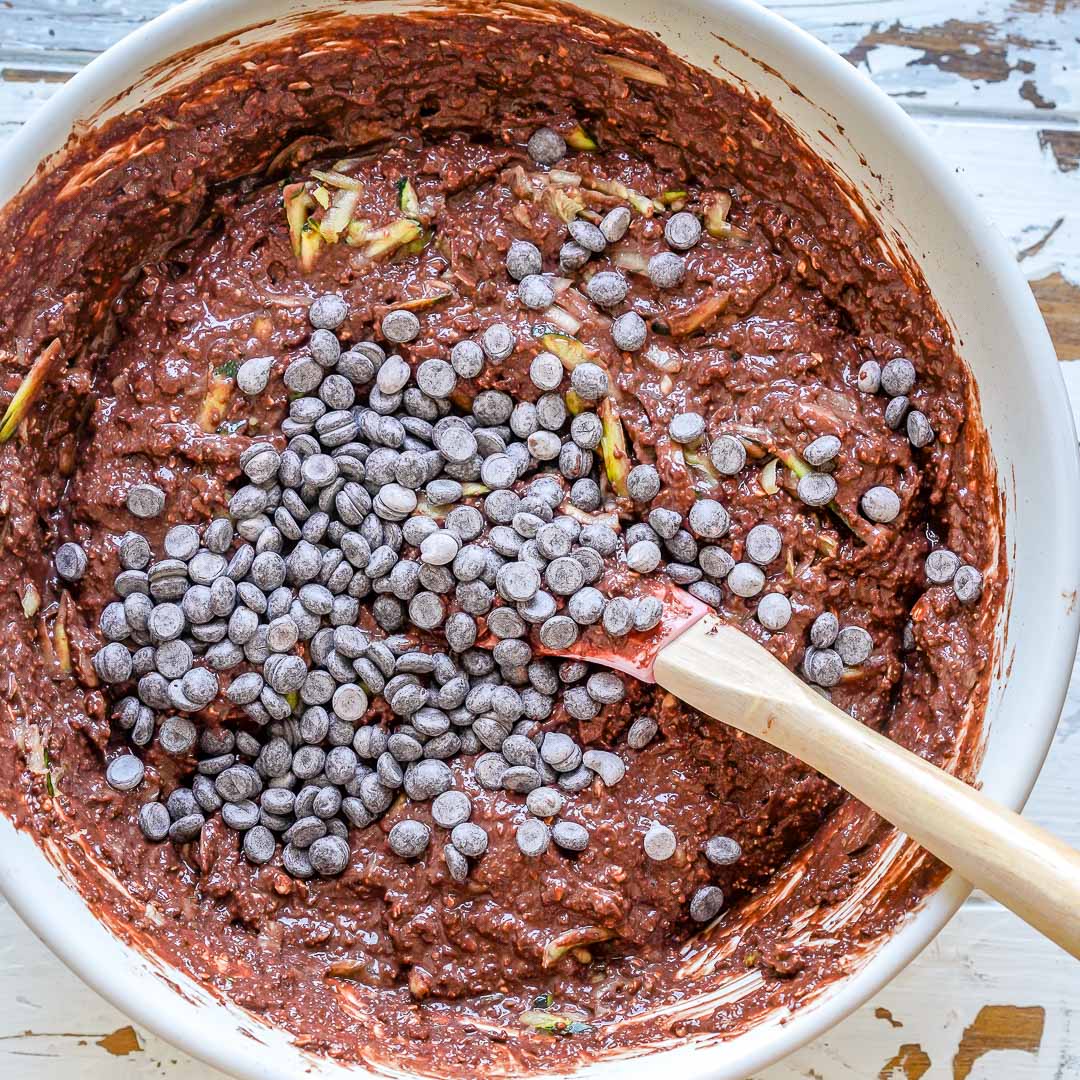 Ladle your batter equally among the muffin cups, and top with a few more chocolate chips if desired.
Bake for 18-20 minutes or until a toothpick inserted into the center comes out clean.
Once done, remove from the oven and allow to cool at room temperature for about 10 minutes.
Serve warm and enjoy.
You can store your muffins in an airtight container at room temperature for up to 5 days, or freeze in a zip-lock bag for up to 2 months.
❤Rachel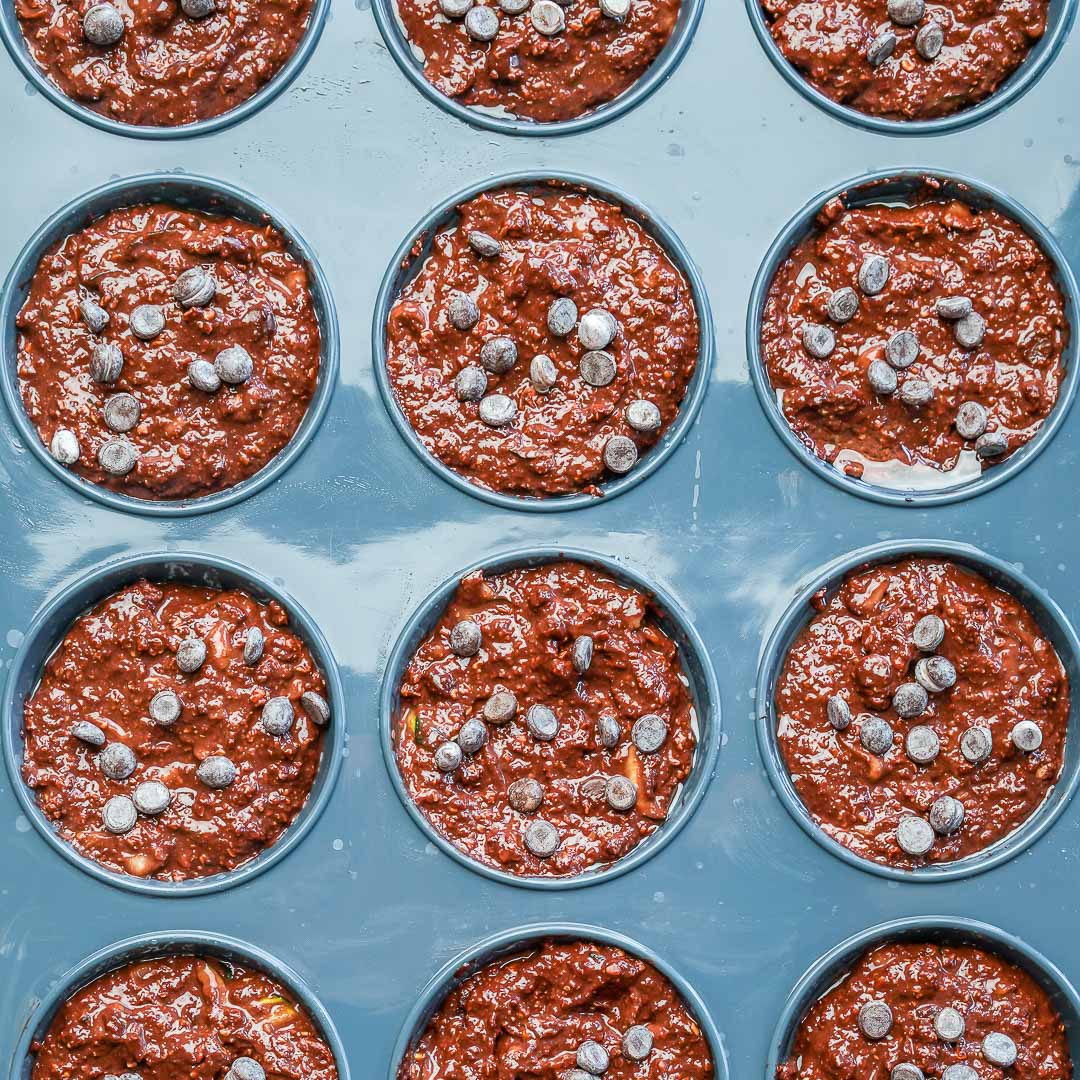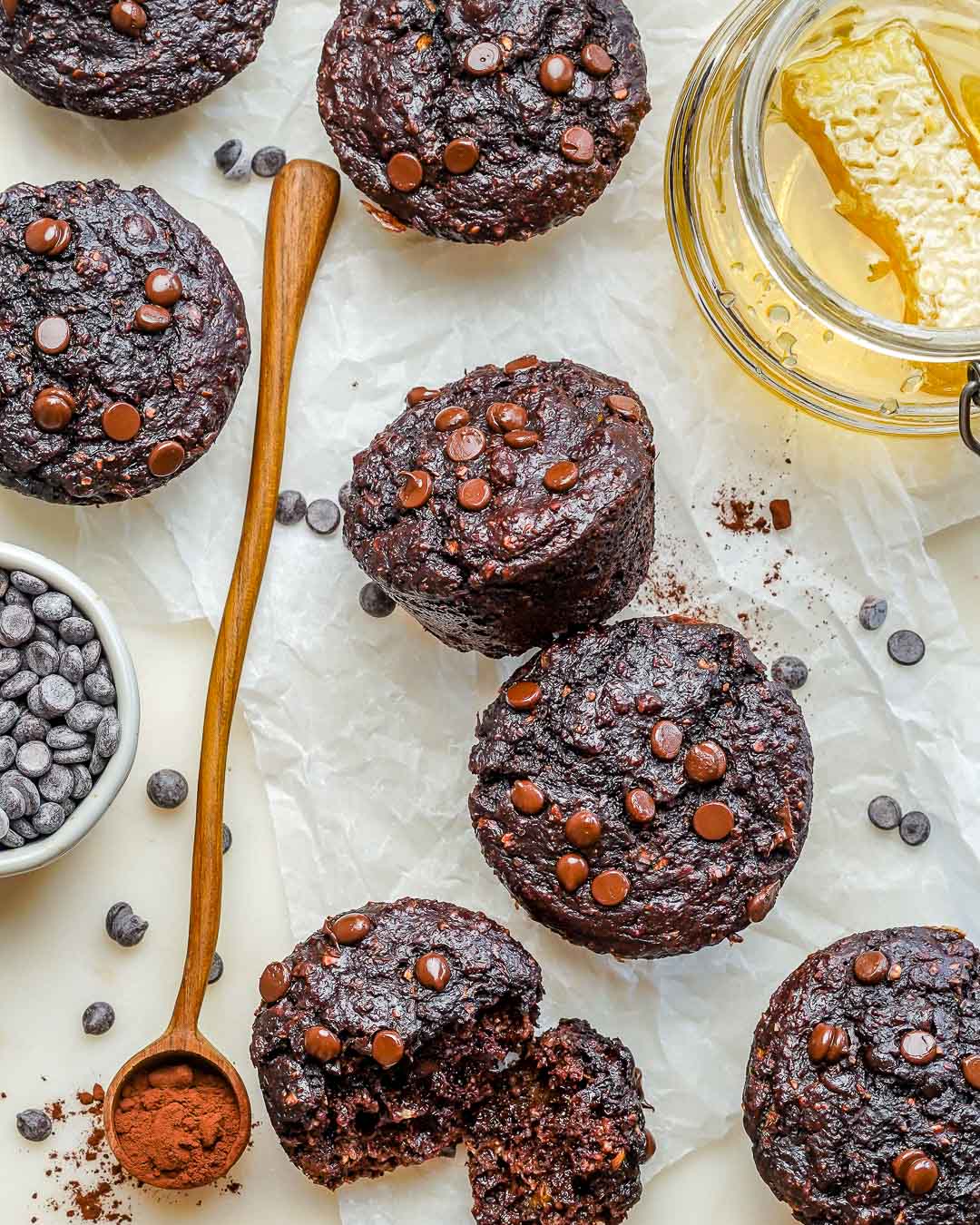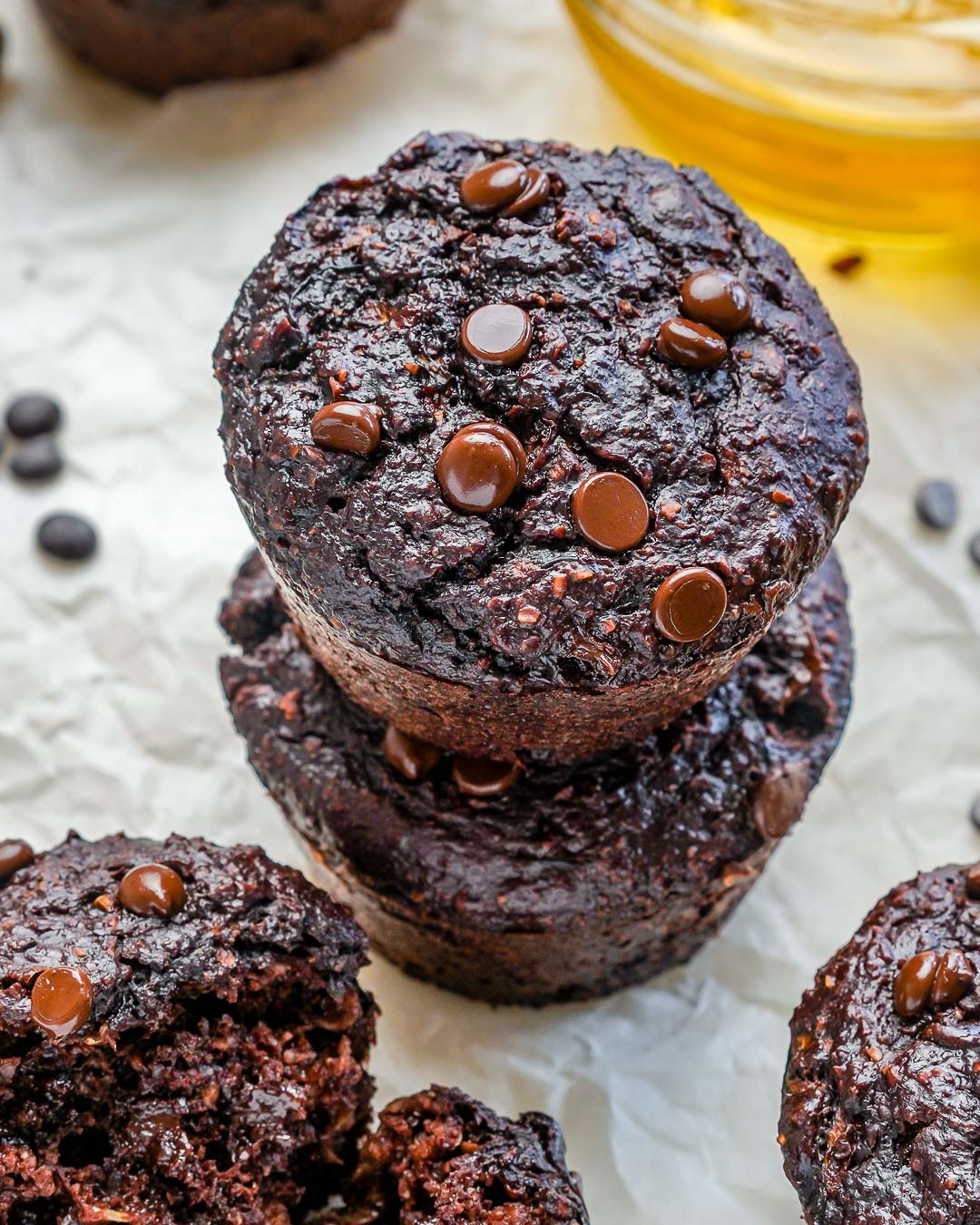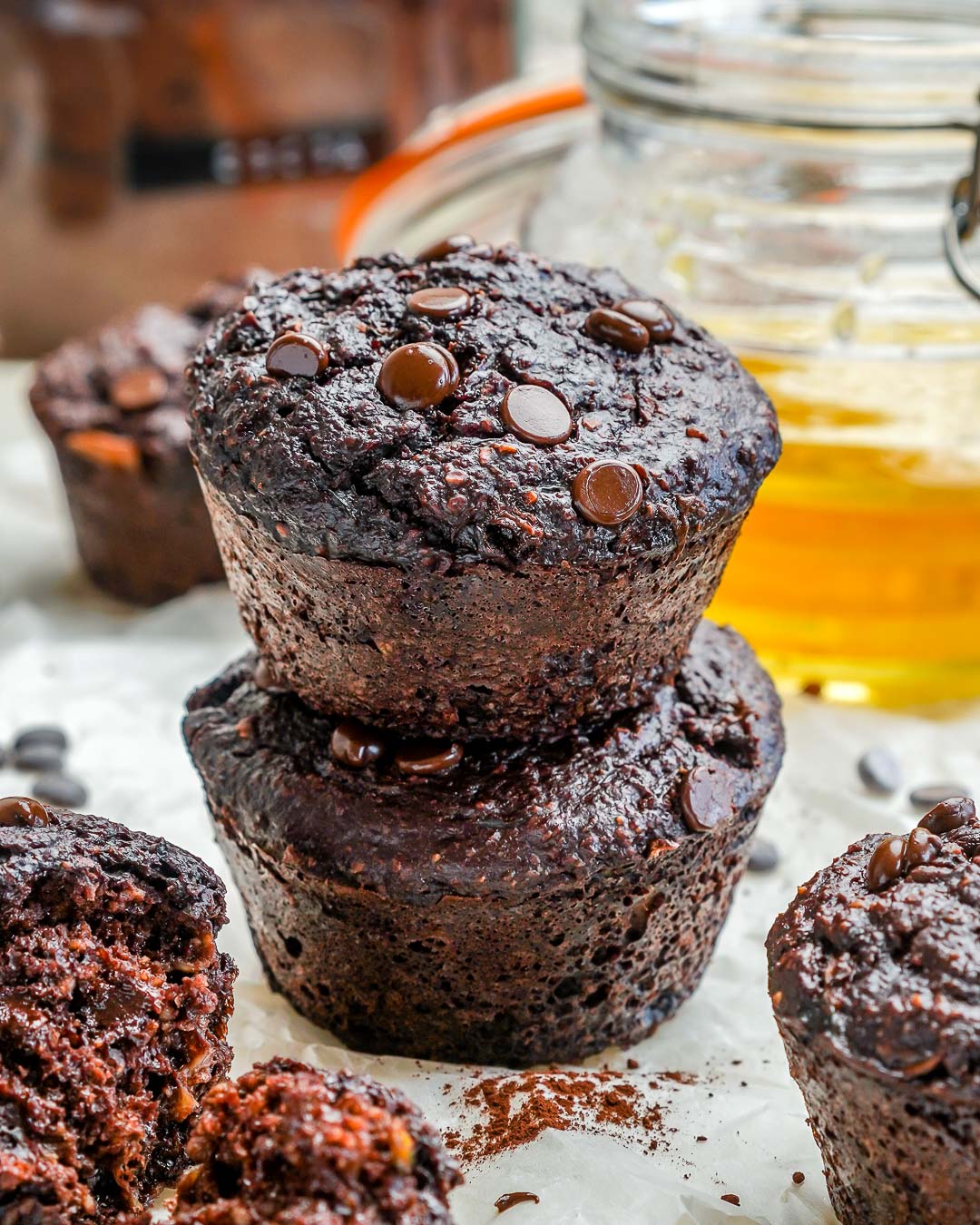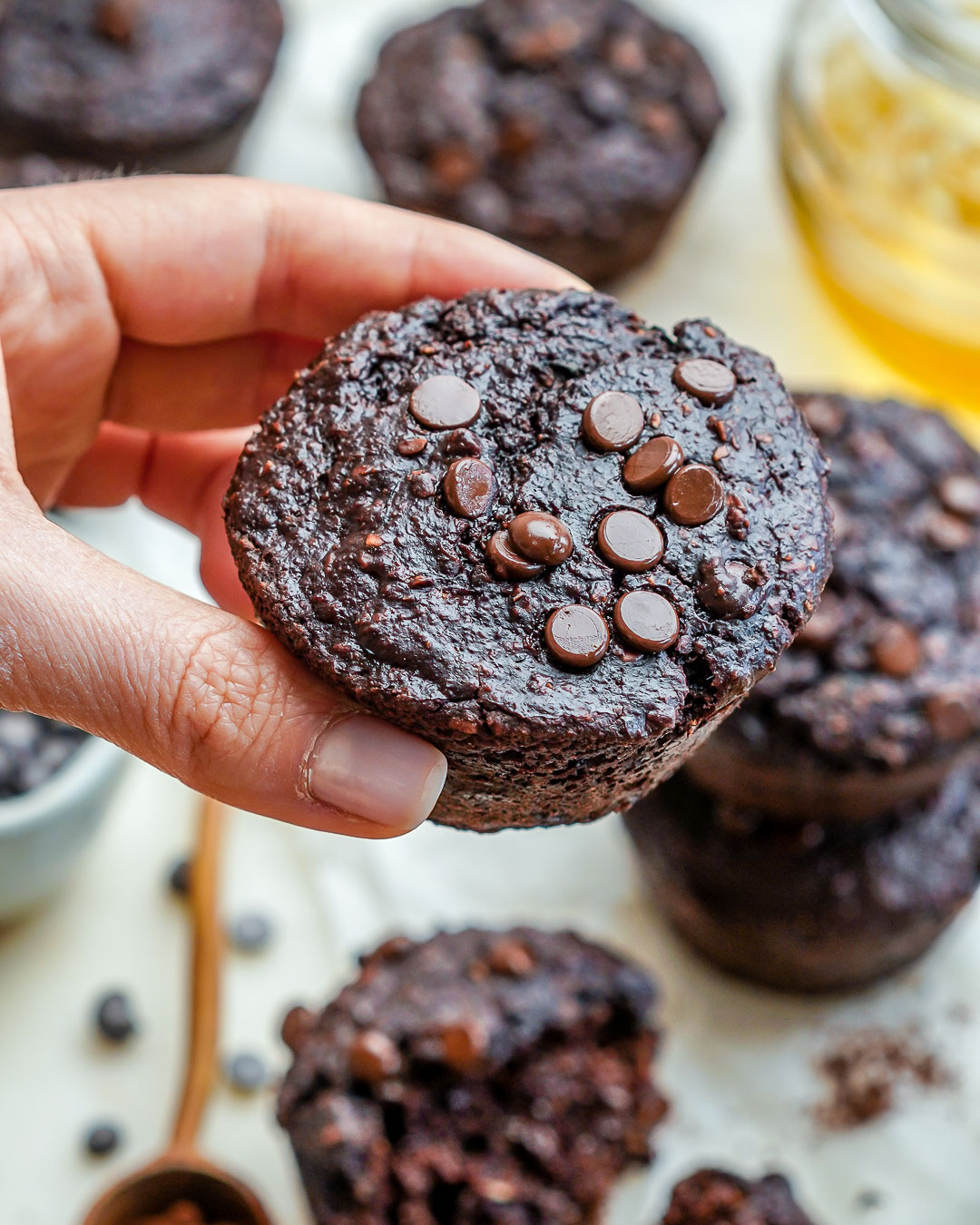 [zrdn-recipe id="1392″]

Leave a Comment Below:
Related Posts :

..