14

Aug, 20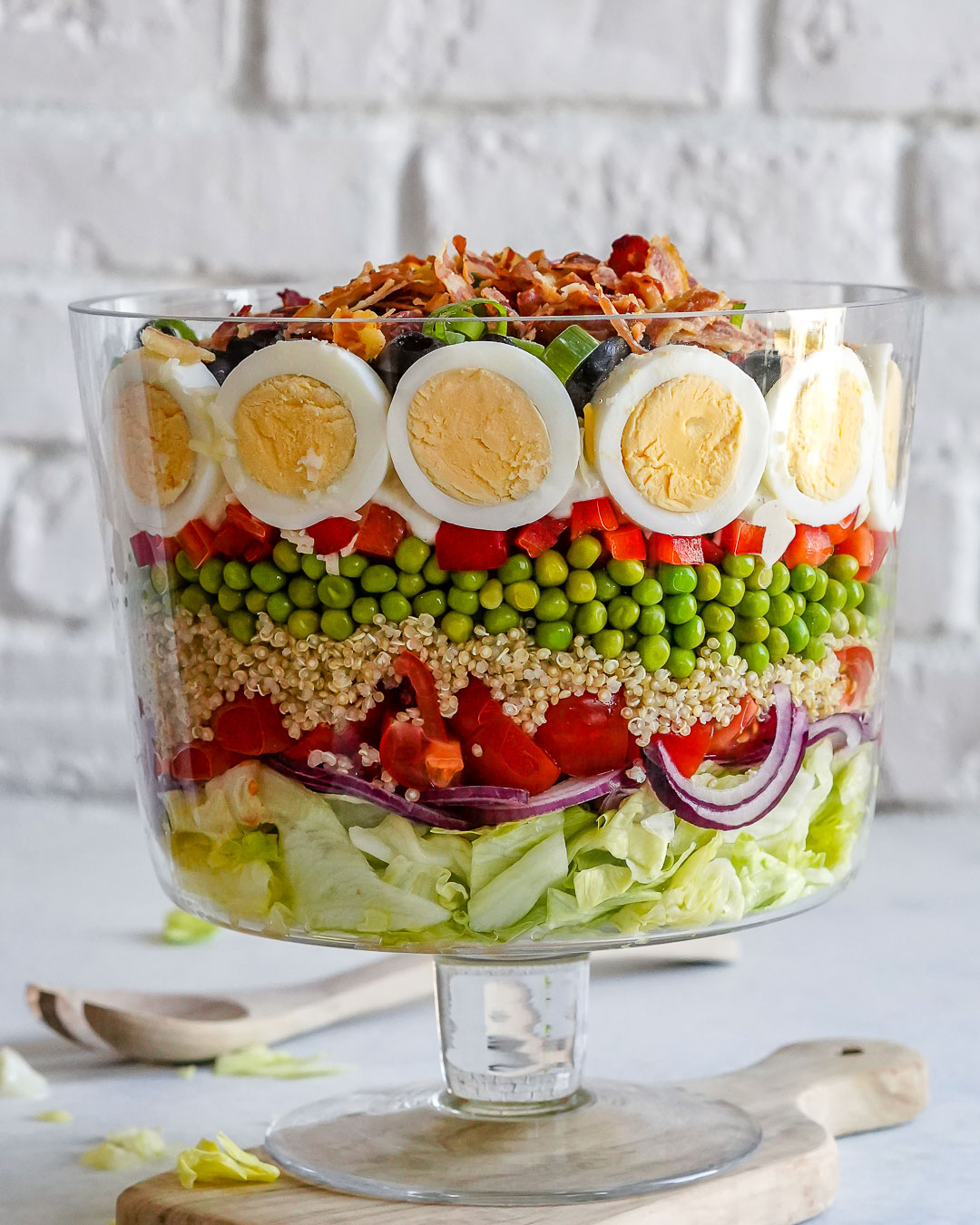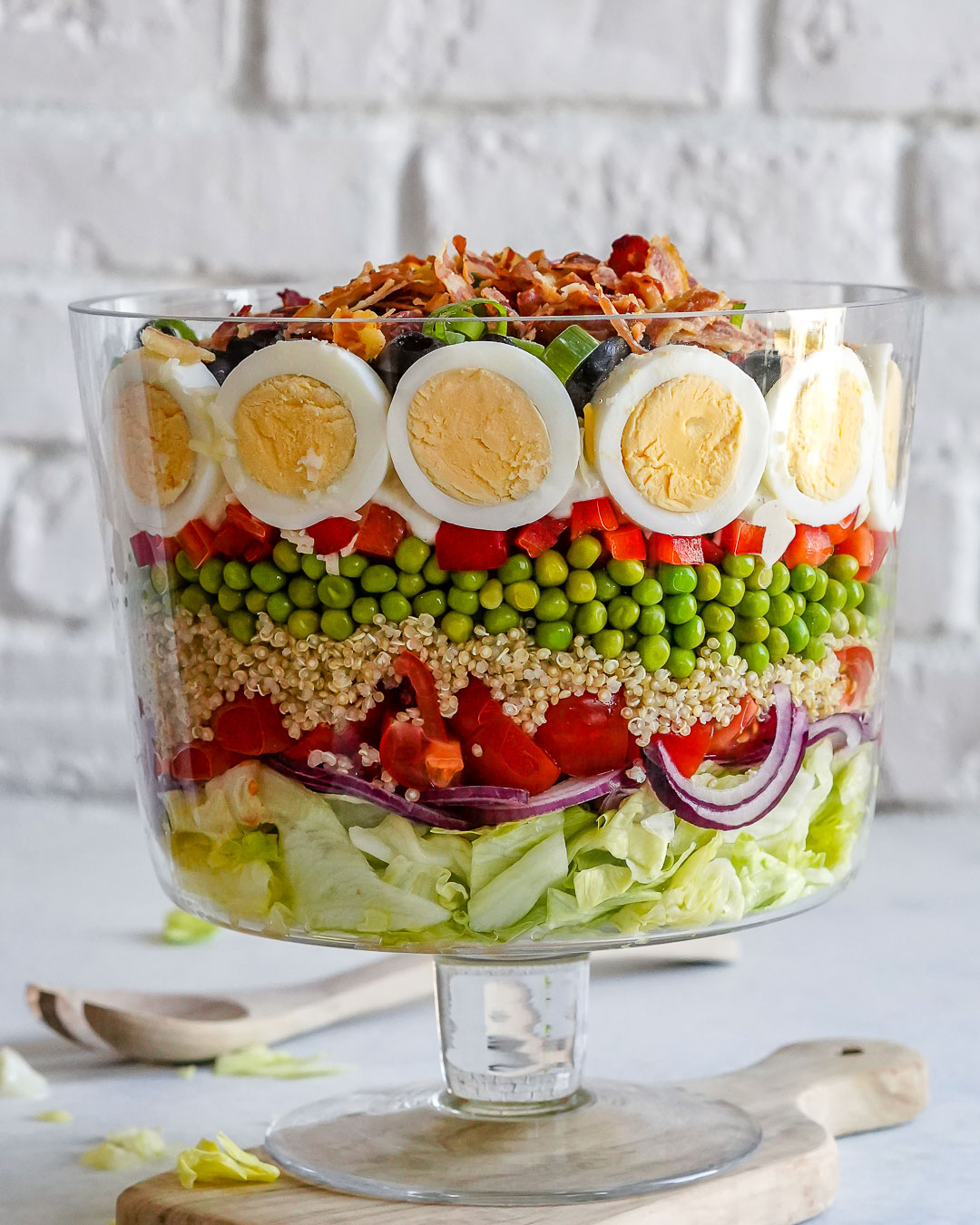 Layered Quinoa Salad
THE ULTIMATE make-ahead salad for entertaining!
This Salad actually tastes better after spending a few hours in the fridge, so not only is it BEAUTIFUL, but it's super convenient to serve guests.
To assemble your layered salad, use a clear glass bowl with straight sides as shown to create this gorgeous layered look.
Not a lot of travel happening this year, so we get to enjoy more of the simple pleasures like good food, and great conversations.
There's no doubt we first eat with our eyes!
Bright layers just beg to be eaten!
Feel free to make substitutions with what YOU have on hand, or whatever veggies you love best.
Get CREATIVE and have FUN with this.
Even though you may be tempted to mix it all together right before serving, don't. Instead, serve with a long deep spoon or tongs, and let everyone scoop out what they want.
Ingredients:
1 cup uncooked quinoa (2.5 cups cooked)
1/2 tsp sea salt
6 large eggs
8 oz nitrate free bacon
6 cups roughly chopped Iceberg lettuce
1 small red onion, thinly sliced
1 pint cherry tomatoes halved
1 cup frozen organic petite peas, thawed
4 oz sliced black olives
1 medium red bell pepper seeded and thinly sliced
1 cup Colby-Jack or cheddar cheese, shredded
2 green onions thinly sliced
Dressing:
1 cup plain Greek yogurt
1 Tbsp raw honey
2 Tbsps whole grain mustard
2 tsps apple cider vinegar
1/2 tsp garlic salt
1/2 tsp lemon pepper
1/2 tsp onion powder
Instructions:
To make the dressing:
Whisk all of your dressing ingredients together into a bowl and refrigerate until ready to use.
To cook the quinoa:
Rinse your uncooked quinoa first in a fine strainer.
In a medium-sized saucepan over medium-high heat, add quinoa and 1-1/2 cups of water. Stir in about 1/2 tsp of sea salt. Cover and bring to a boil, once the quinoa starts to bubble reduce heat to low, and let it simmer for 15 minutes or just until cooked through. Once finished cooking, remove from the heat (drain if needed), fluff with a fork, and let sit at room temperature for about 10 minutes to cool.
To boil the eggs:
Meanwhile, in another saucepan boil your eggs. Place the eggs in a medium saucepan and cover with water. Bring to a boil over medium-high heat for 2 minutes, reduce the heat and let simmer on low for about 8-10 minutes.
Drain and rinse your eggs under cold water until cold enough to peel. Once the eggs are cold, peel and slice them; set aside.
To cook the bacon:
Heat a skillet over medium-high heat, add bacon and cook until golden and crispy, 3-4 minutes each side. Transfer the cooked bacon on a plate lined with a paper towel to remove excess grease. Once cool, crumble and set aside.
To prep the veggies:
Roughly chop your lettuce and thinly slice the onions. Cut the tomatoes in quarters and dice the peppers.
To assemble the salad:
Layer your lettuce, onion, and tomatoes in a bowl.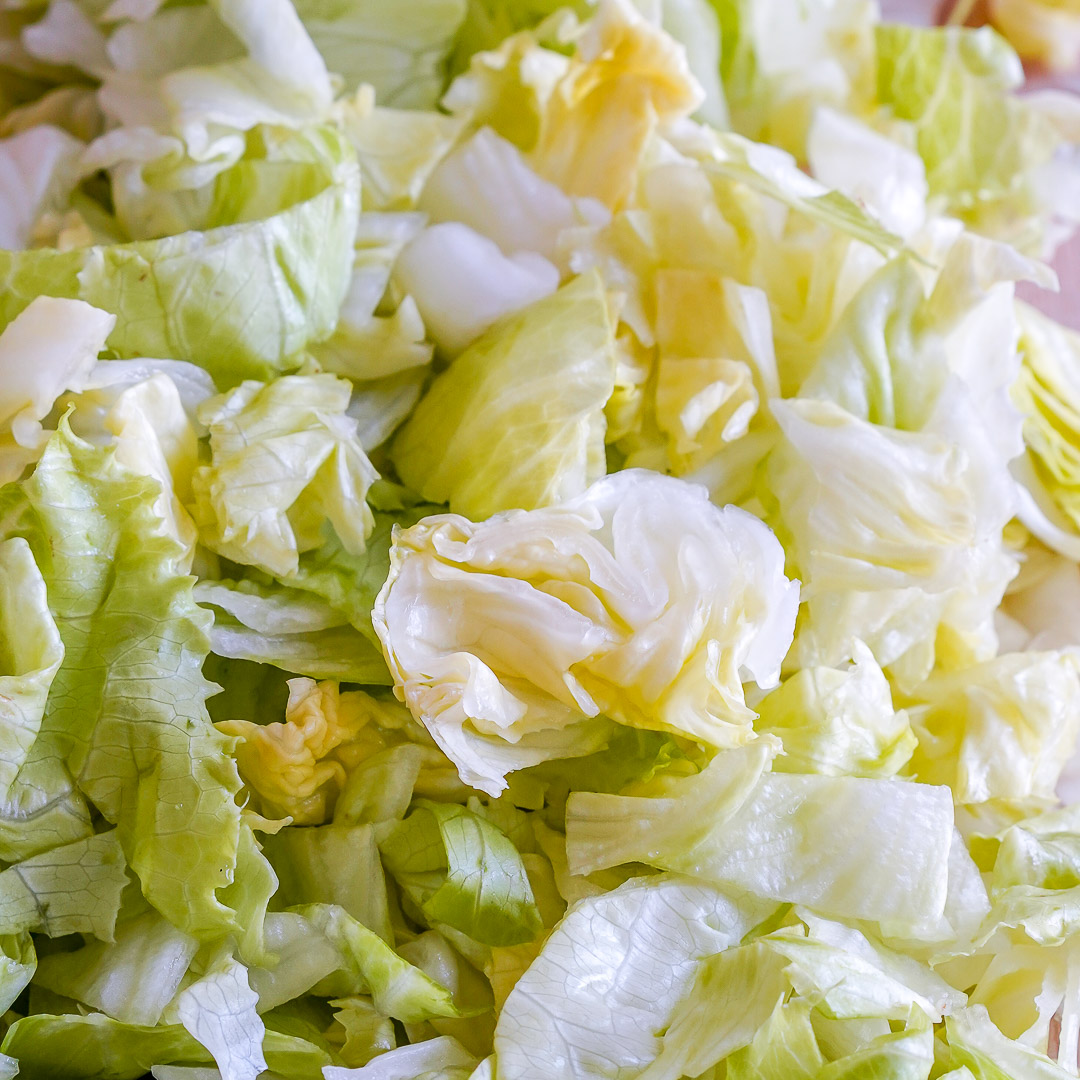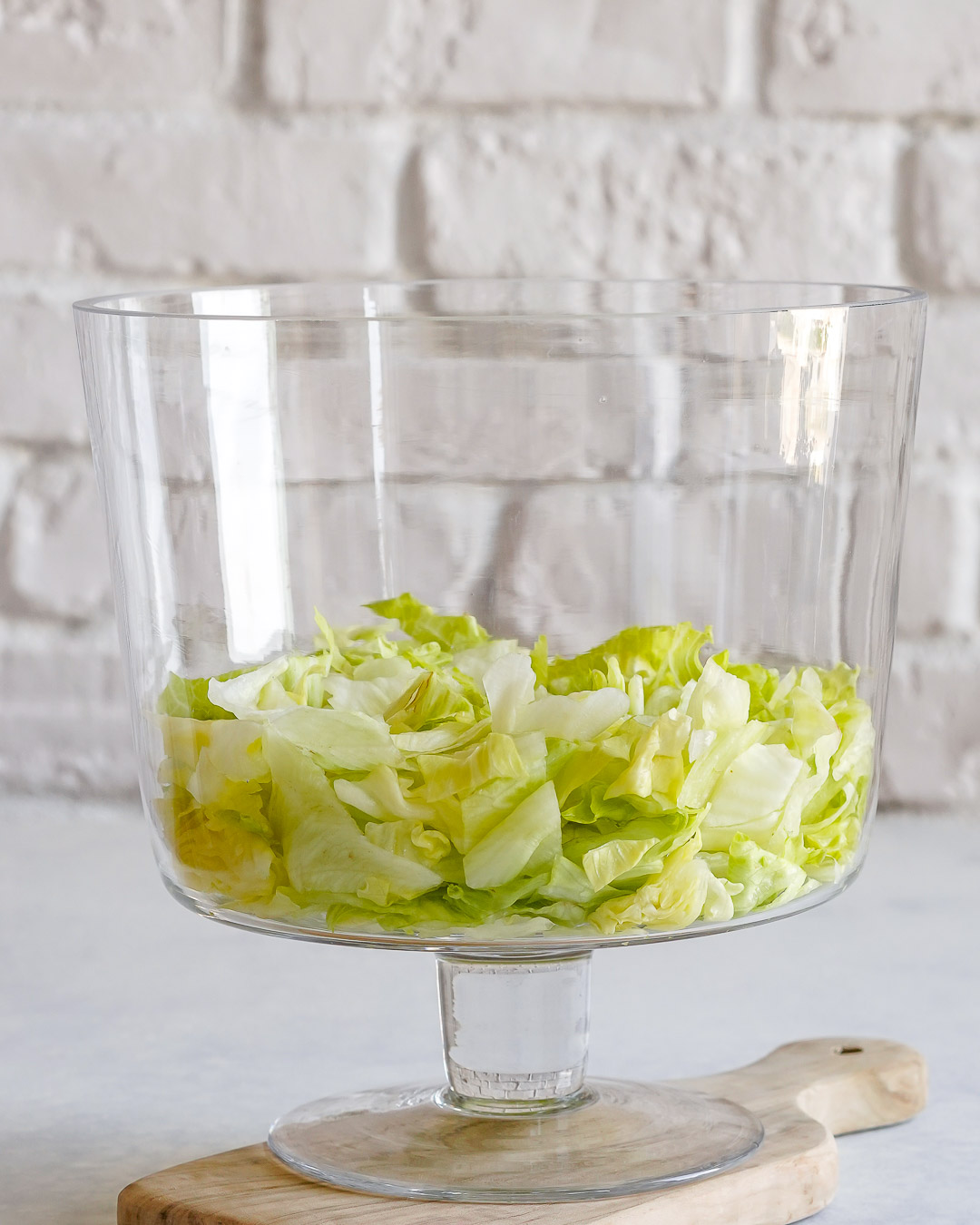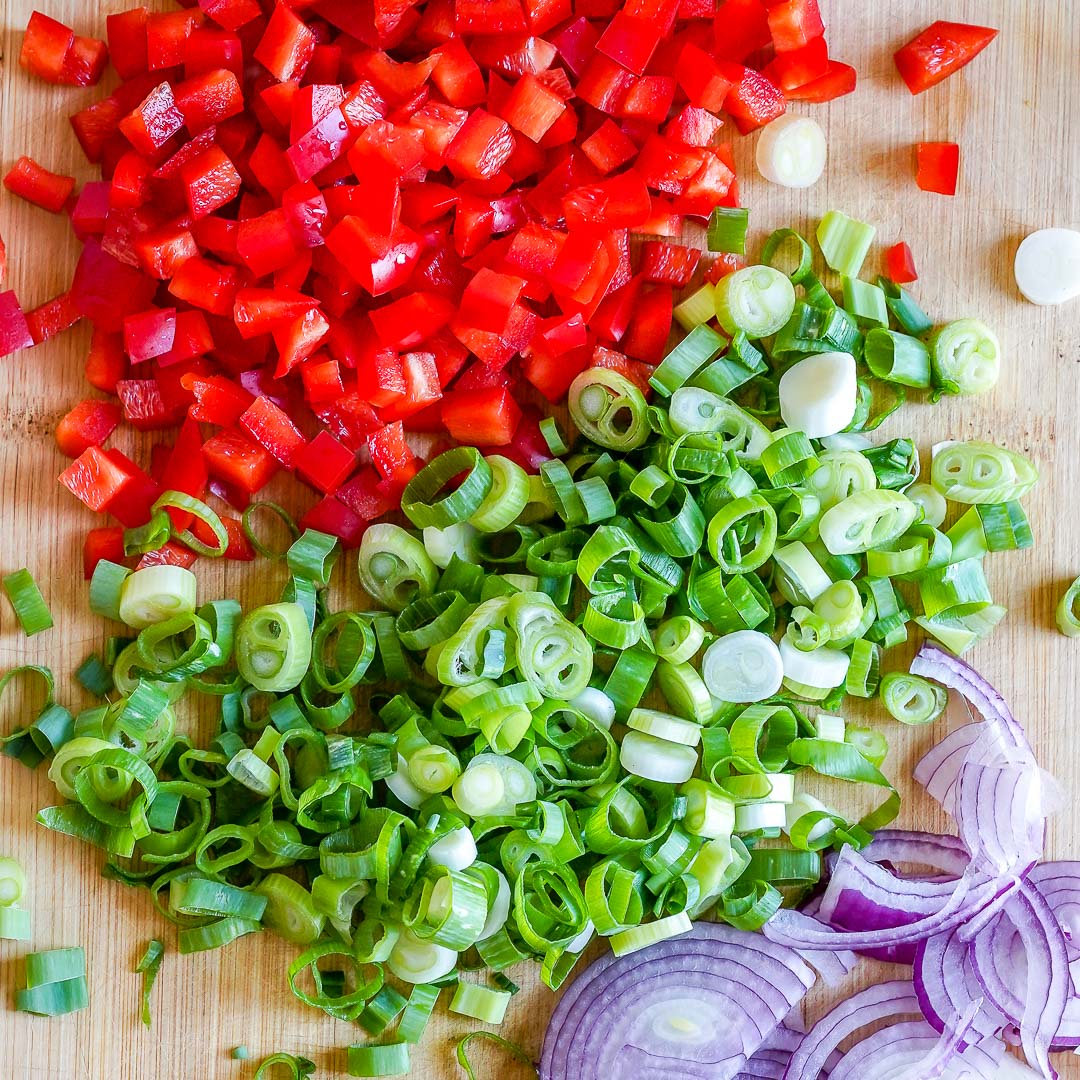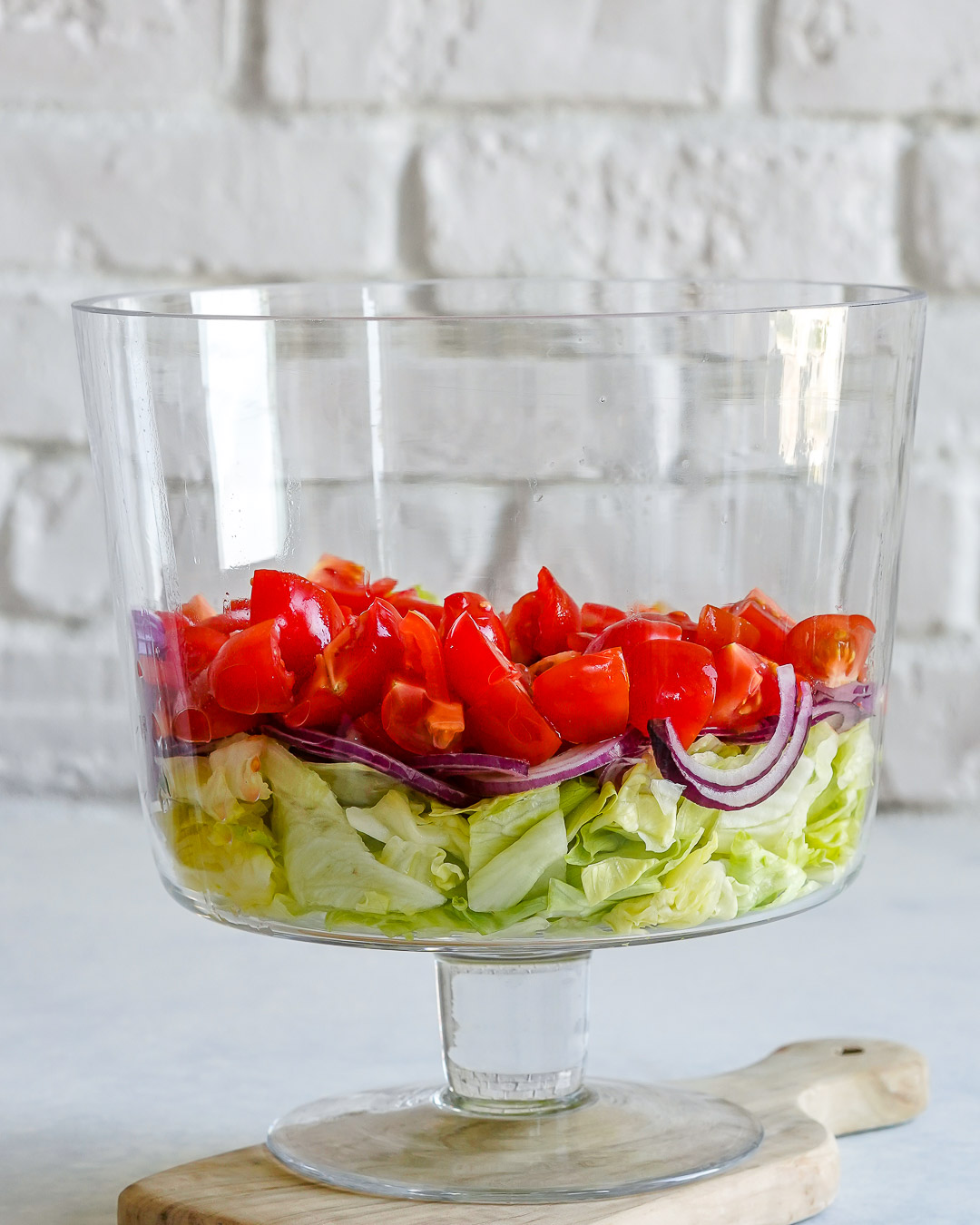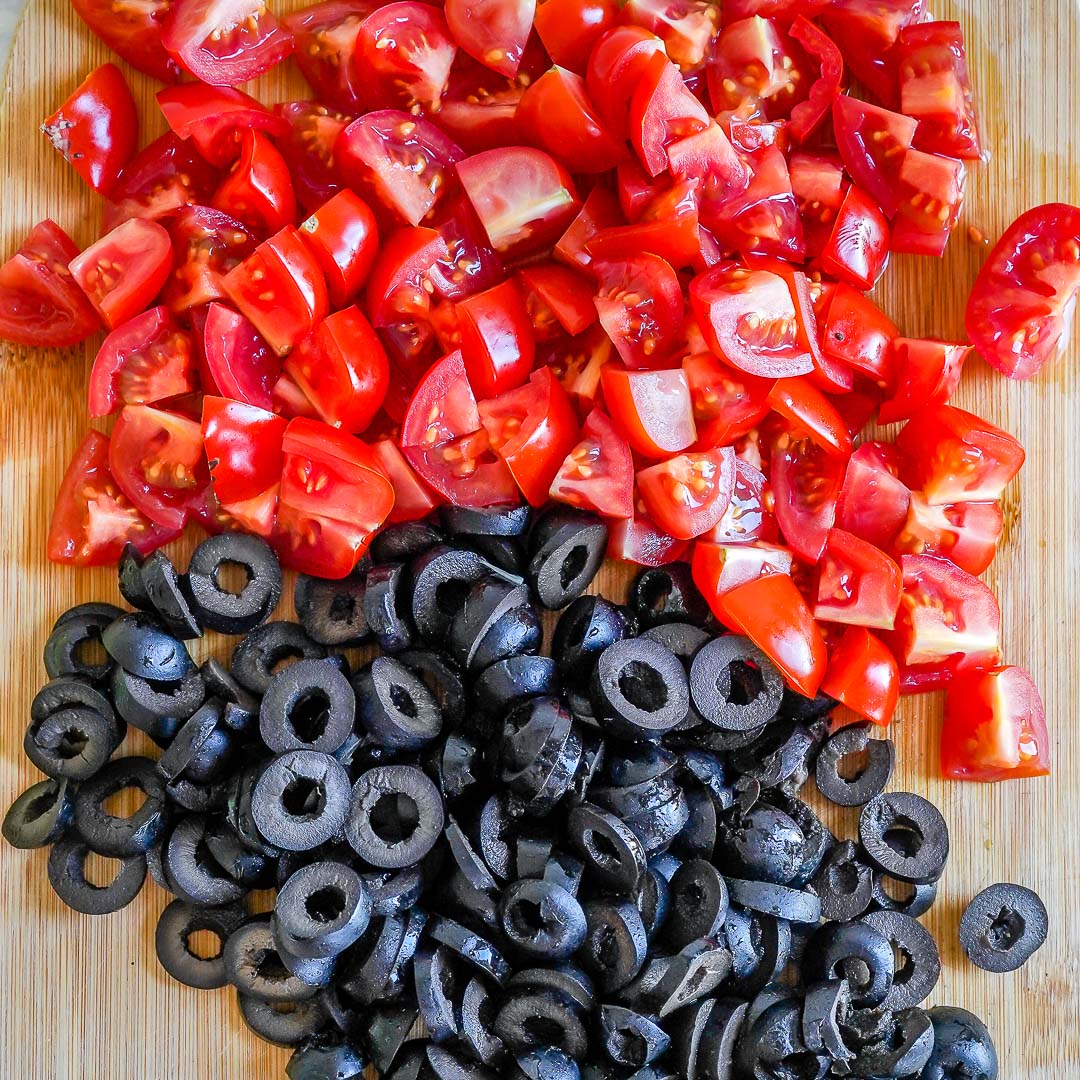 Add peas and bell pepper.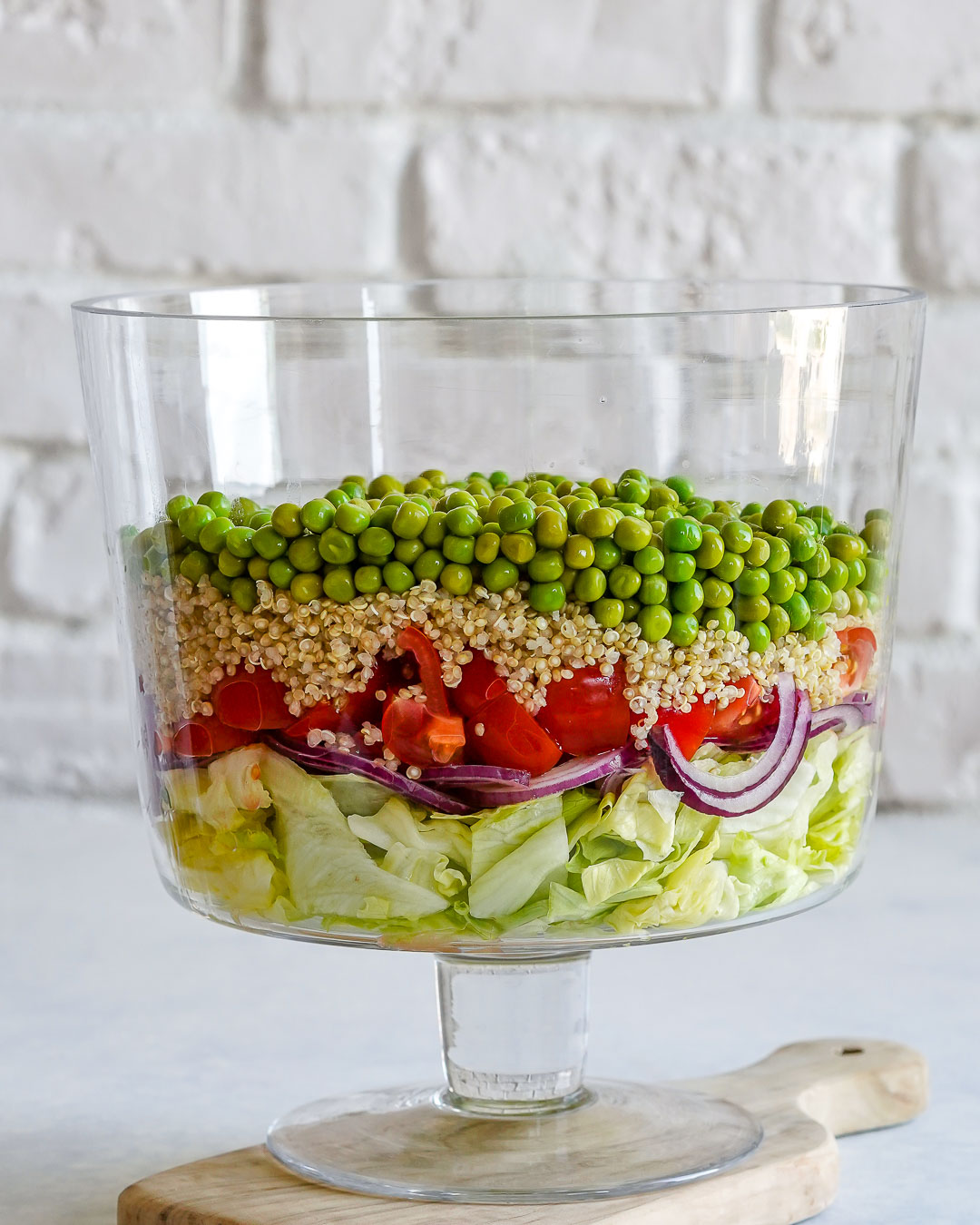 Now add a layer of egg slices, arranging them by kind of tucking them in, so that you can see the full slice through the bowl, as shown in the pictures. Sprinkle with shredded cheese.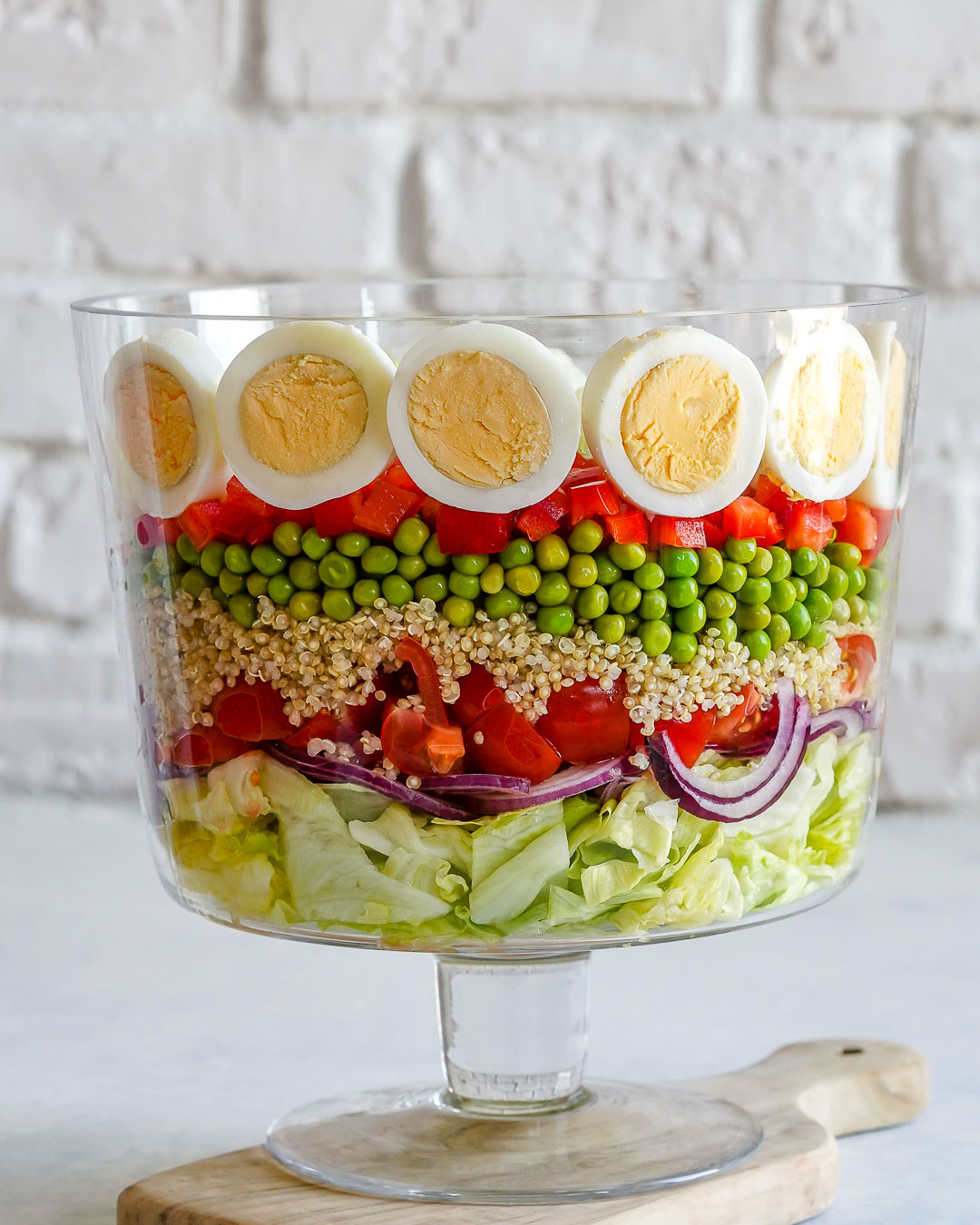 Pour over the prepared dressing, and level it up with a rubber spatula. Top with olives, green onions and crumbled bacon.
Cover the bowl with a plastic wrap and chill in the refrigerator for 8 hours or overnight before serving.
❤Rachel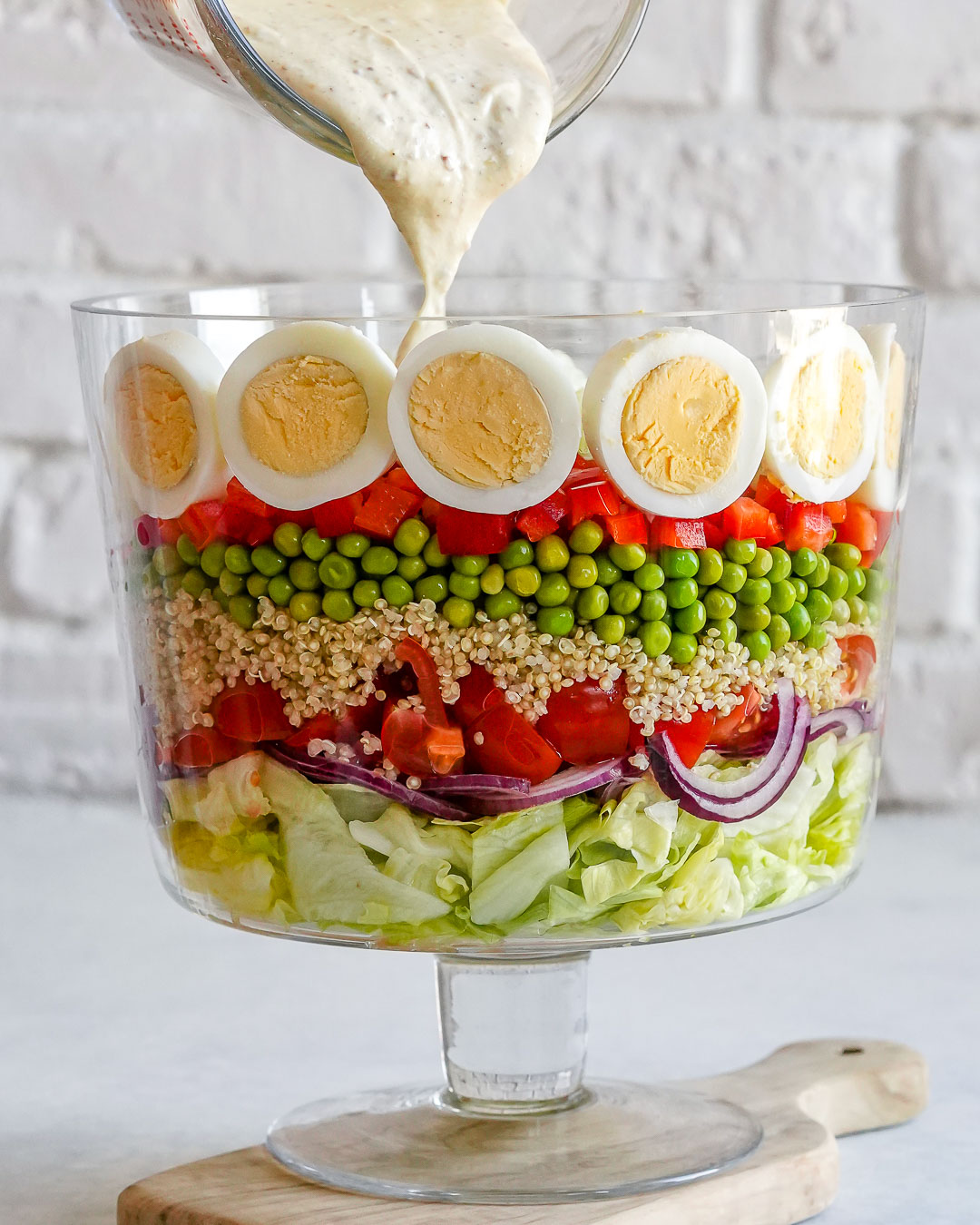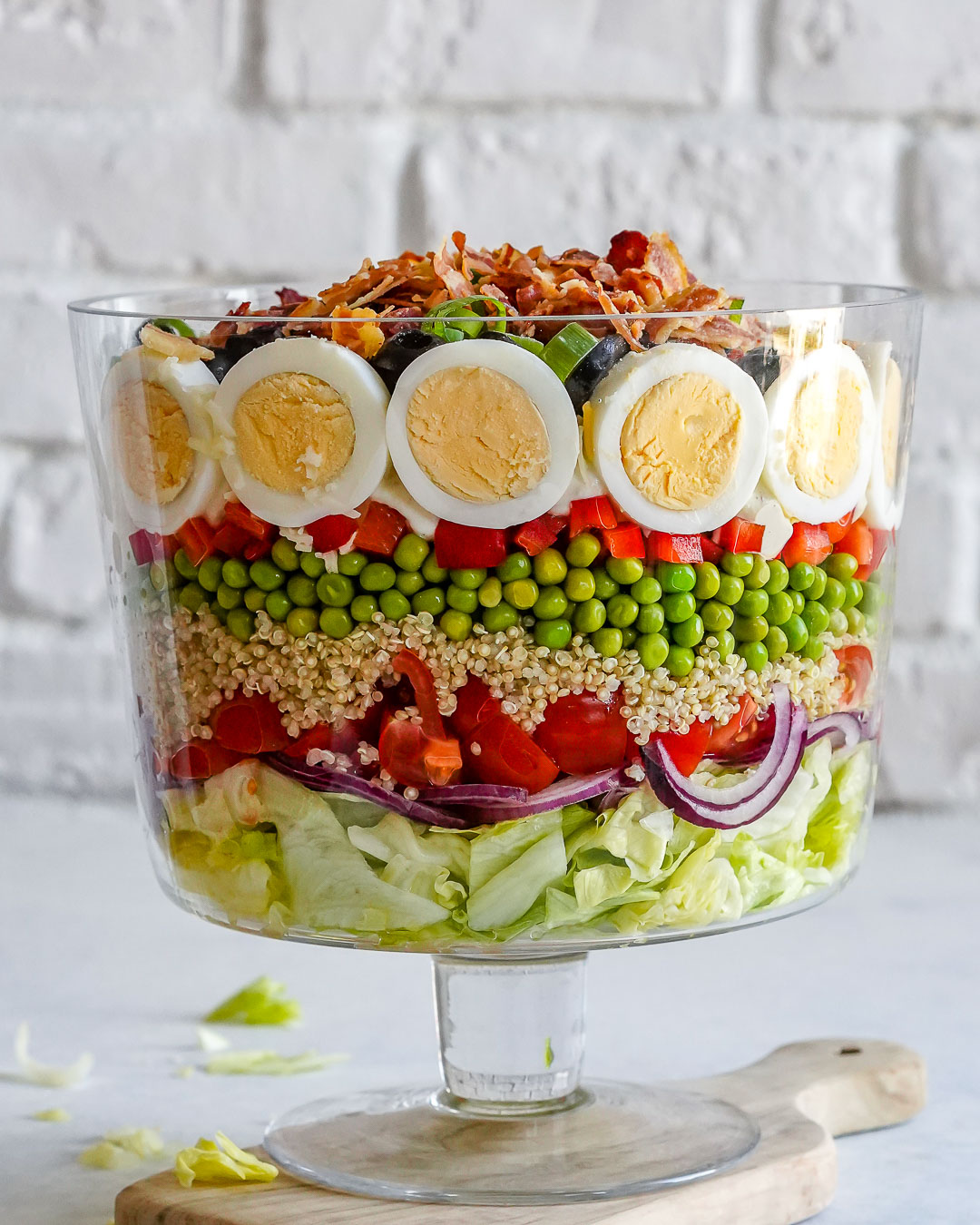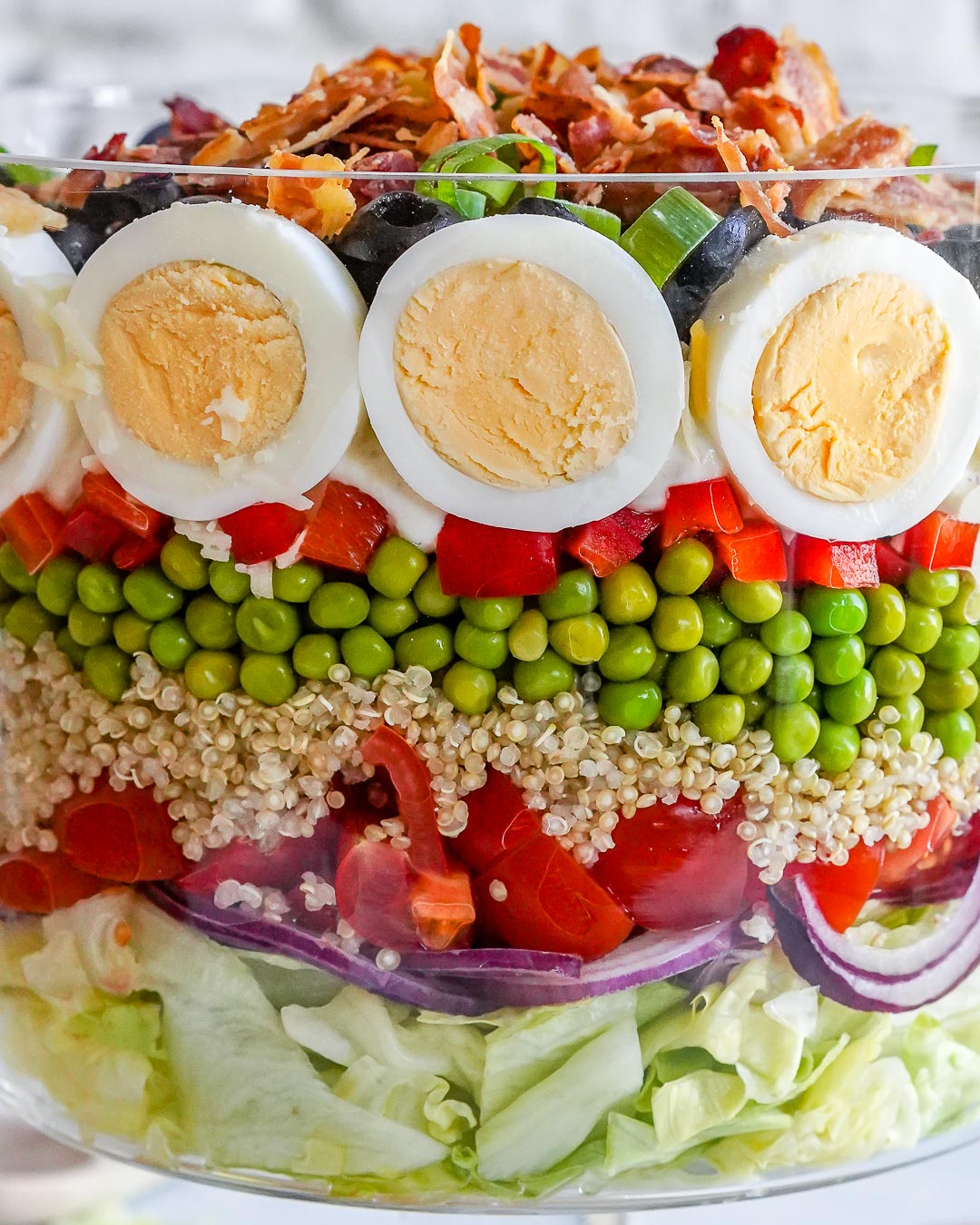 [zrdn-recipe id="1387″]

Leave a Comment Below:
Related Posts :

..