11

Oct, 22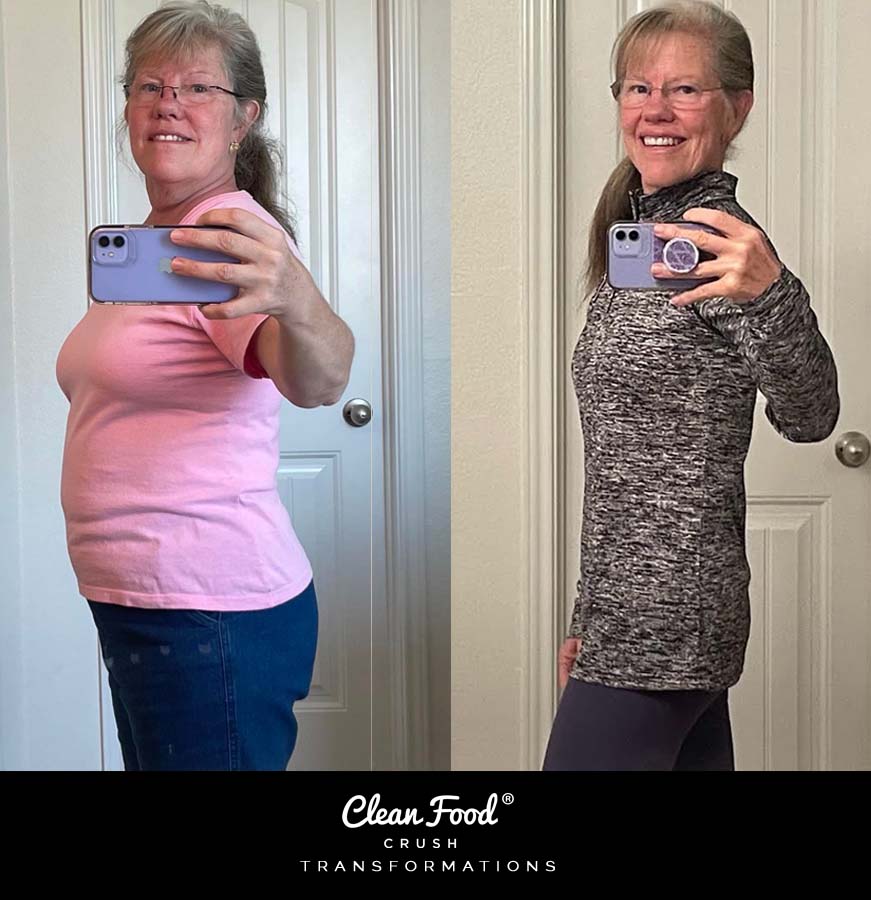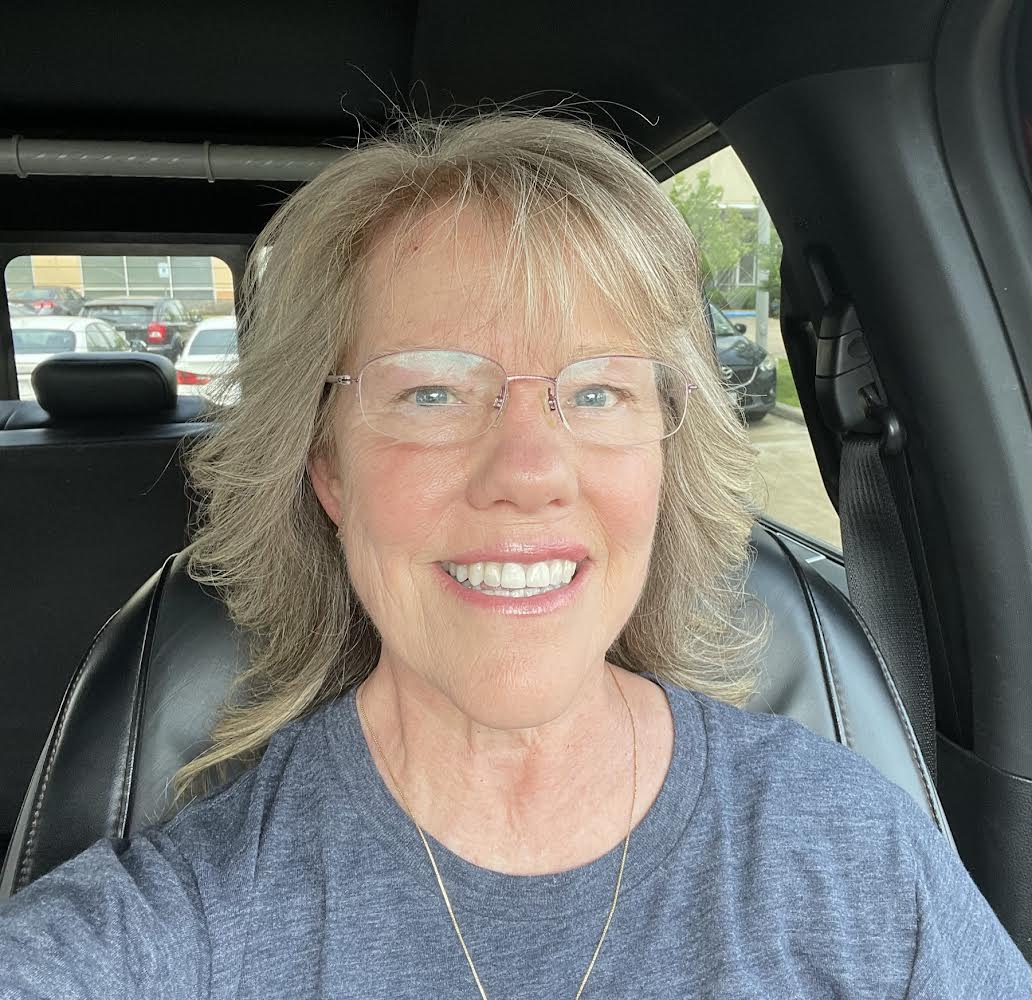 One Year Later – Susan is Still CRUSHing with CFC + Down 55 Pounds!
Editor's Note: Susan first shared her Challenge Sucess Story with us in December of 2021.  She lost an amazing 17 pounds in 30 days.  But Susan didn't stop there! She's living the Challenge lifestyle every day and is now an whopping 55 pounds lighter!  We checked in to see what else she could tell us about her clean eating journey.  We hope you love her story as much as we do! 
---
"It's been almost a year now since I joined the 30-Day Clean Eating Challenge.
I have never really strayed from the plan during that time.
I truly had just decided I was sick of being unhealthy and overweight, and I was ready to make the change that my body wanted. I have eaten more (quantity) than I really needed from time to time, but I have consistently made clean food choices.
The first couple of weeks when I started the 30-Day Clean Eating Challenge, I had to learn how to choose healthy proteins, carbohydrates and fats.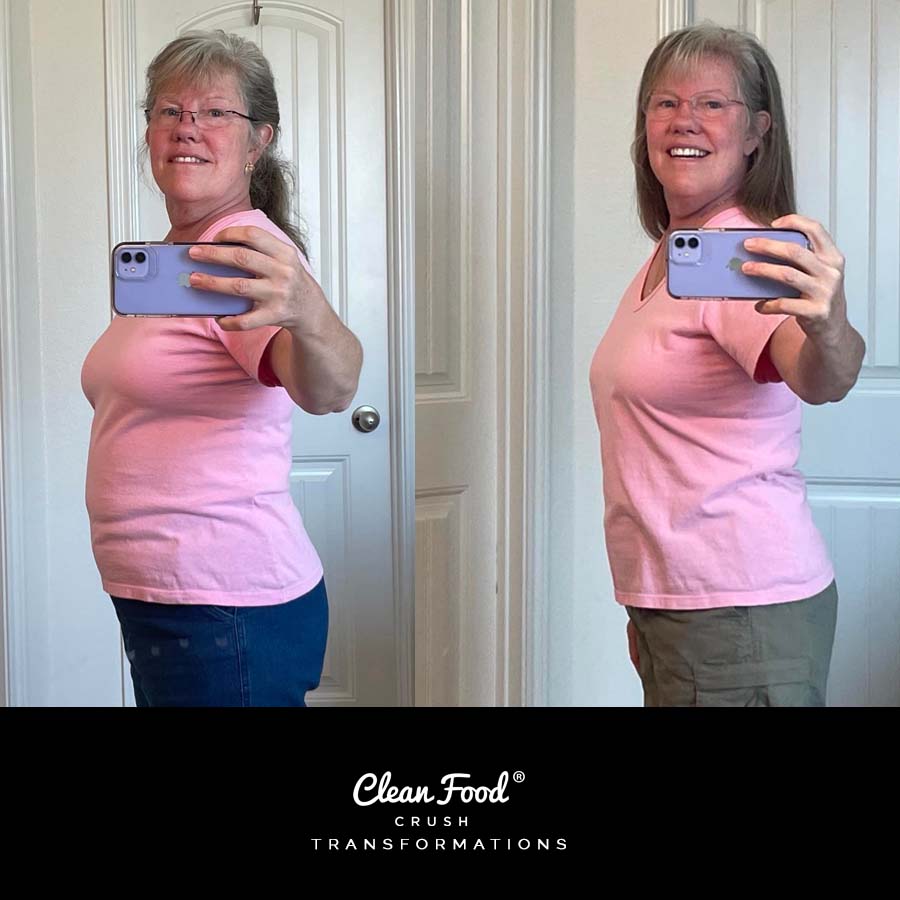 Susan's First Transformation Update - 17 Pounds Down in Her First 30 Days!
I still keep lists on the refrigerator! But as soon as I started branching out and making different recipes from the CFC website all the time, it just became a way of life.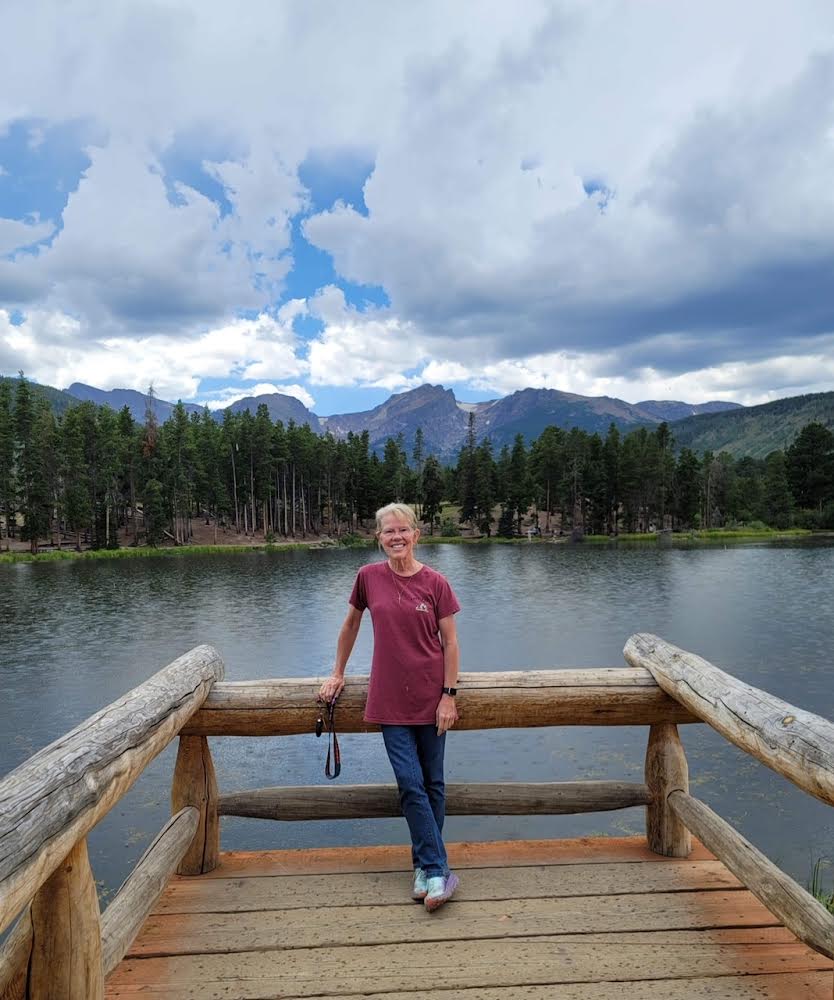 Susan Enjoying a Hike in Colorado
It feels so good to know I am treating my body well!
Clean eating has restored my energy and has helped me to enjoy a more active lifestyle without even making a conscious effort. And I have to admit it was fun buying new, smaller clothing.
The biggest change, of course, is the fact that I lost 55 pounds. Most of that I lost in the first six months.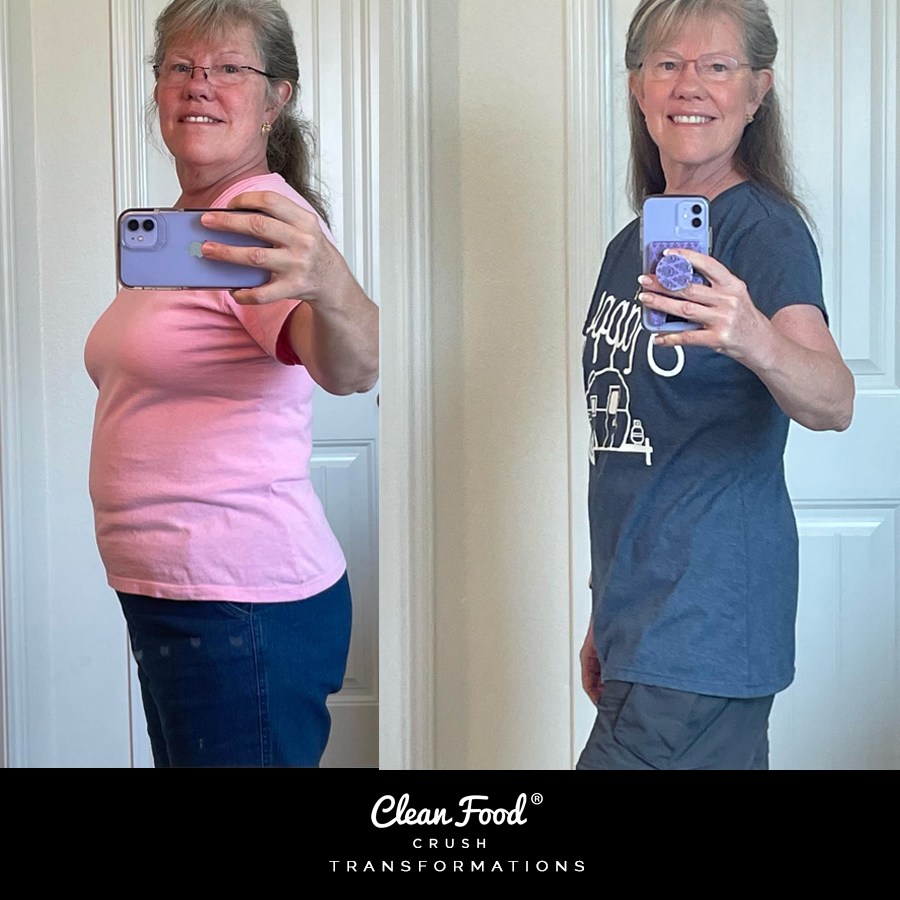 Susan's Second Transformation Update - 45 Pounds Down in Under 6 Months!
And during that time, my doctor told me that I was no longer prediabetic!  Now I have just been working to maintain it and incorporate other activities to increase my strength, balance and overall health.
I became an annual member around the beginning of 2022. I follow conversations closely on Facebook, and appreciate having a steady stream of recipes, positive reinforcement and encouraging words every day. It keeps me focused on what matters!
I've never been an exerciser, but now I go to a Pilates class about five days a week, and I enjoy moving more than I ever have!  I definitely have more vitality now at 63 than I did in my 50s!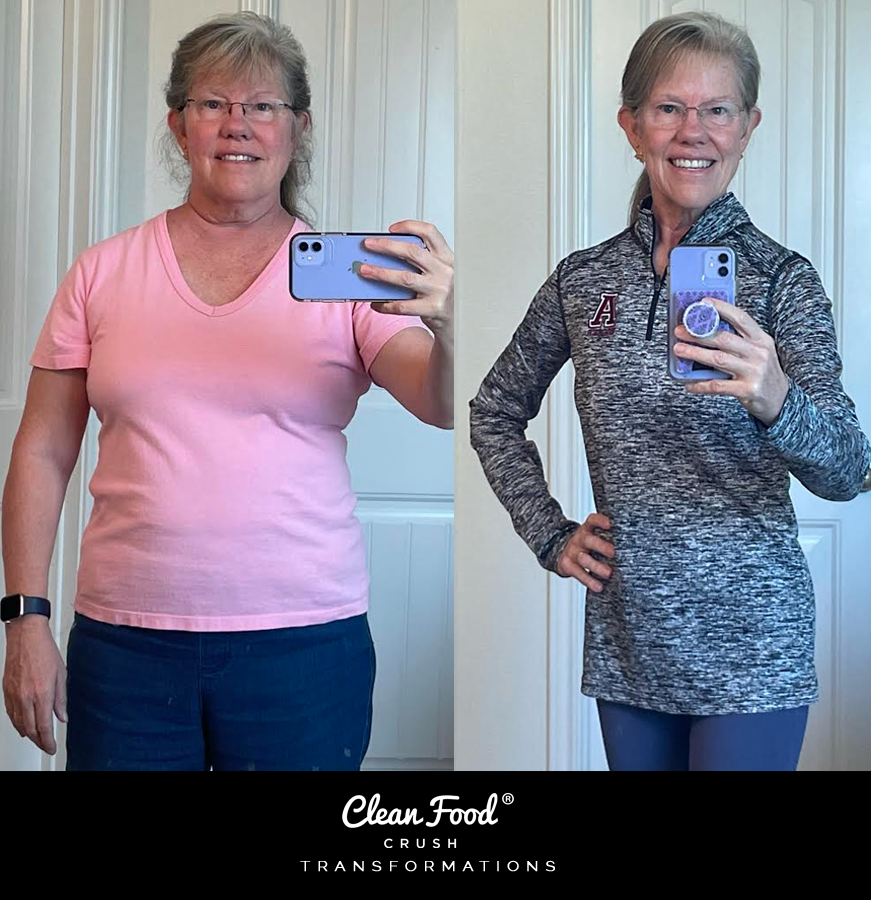 Susan Today, Down 55 Pounds and Still CRUSHing it!
I have been shocked by how easy it has been to lose weight and get healthy with the Challenge.
➡️ I have tried quite a few of the brand-name diet programs, but I always gained weight back at the end, or I got frustrated because nothing was happening fast enough.
➡️ The CFC staff, Facebook challenge groups and website recipes have made it easy and totally sustainable!
➡️ I haven't gained a pound in six months now, and I have no desire to go back to eating the junk I used to eat.
➡️ I love the traditional holiday meals, but it has been pretty easy to clean them up! Sweet potatoes instead of white potatoes; carrots with honey instead of sugar. There are plenty of yummy CFC holiday recipes to choose from. 
The best parts of CleanFoodCrush are the yummy recipes on the website, and the support provided by the Facebook page administrators and staff. You all are great!
My two best friends joined shortly after I did, and we have a great time planning meals and sharing meals together. We are always sending each other pictures of what we made for dinner or breakfast!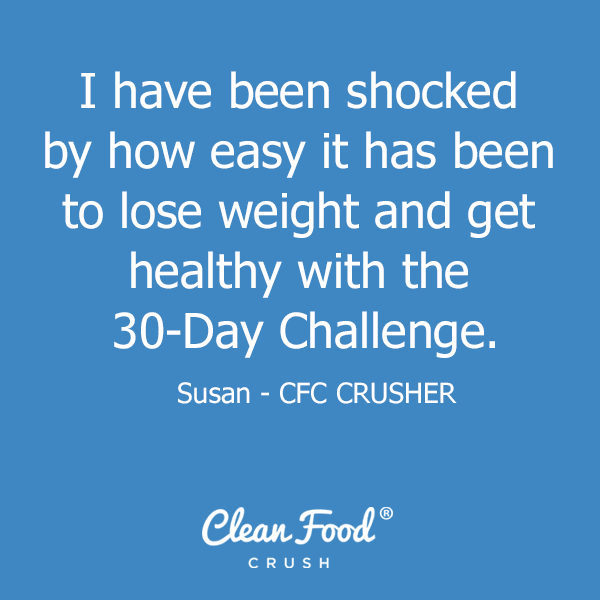 Join the Challenge. Your body is going to thank you!
I have learned that my body craves nutrition, clean and healthy foods, and yours does, too! It will respond with more energy, less fat and a whole new outlook on life.
Don't delay! Better living can start right now!"
- Susan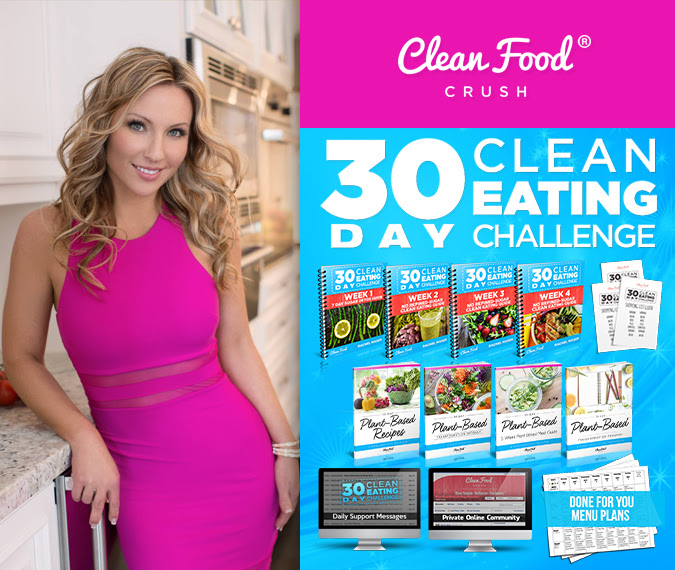 Ready to Get the Tools and Support That Helped Susan Succeed? Come and Join the Challenge!
Leave a Comment Below:
Related Posts :
..