17

Aug, 20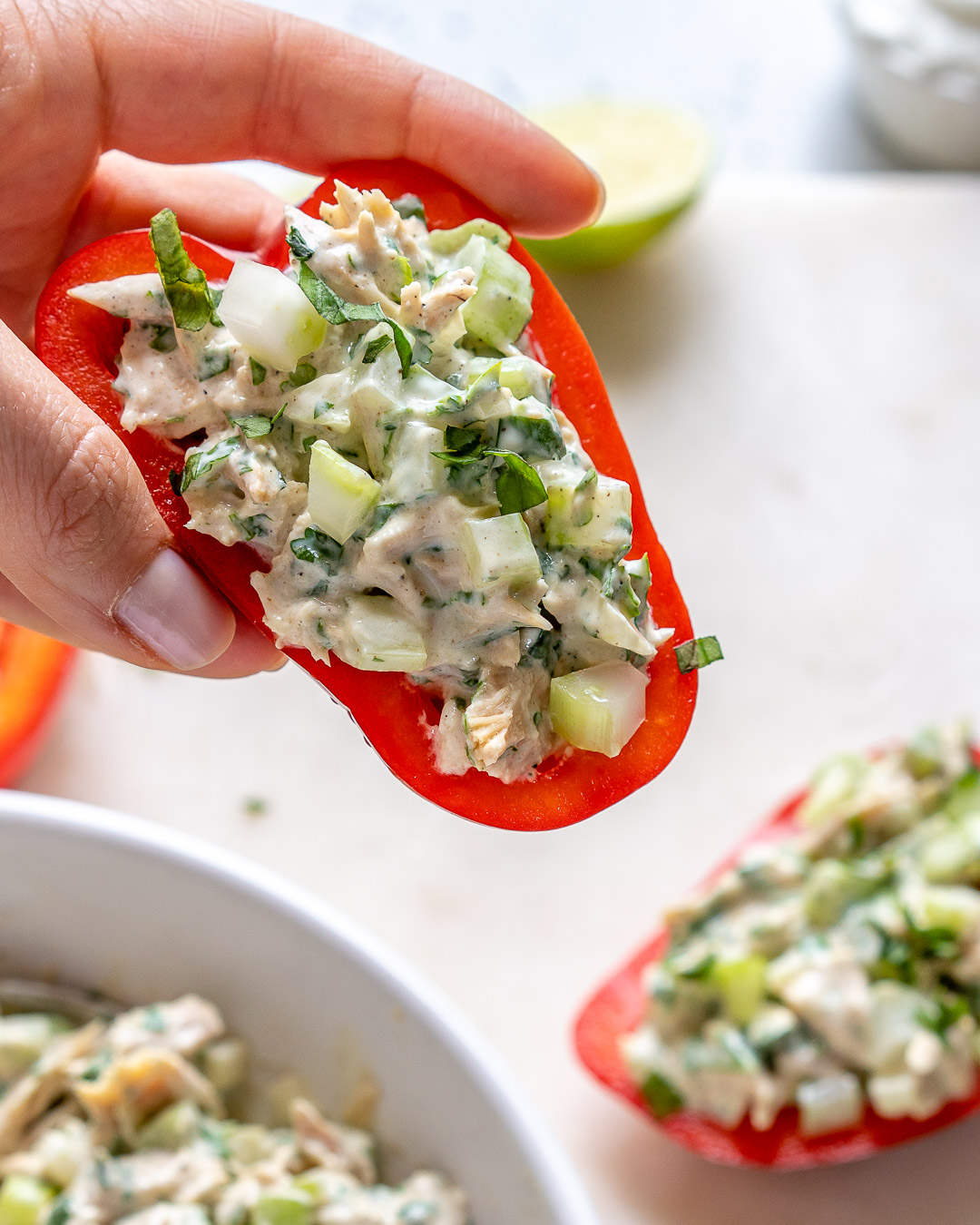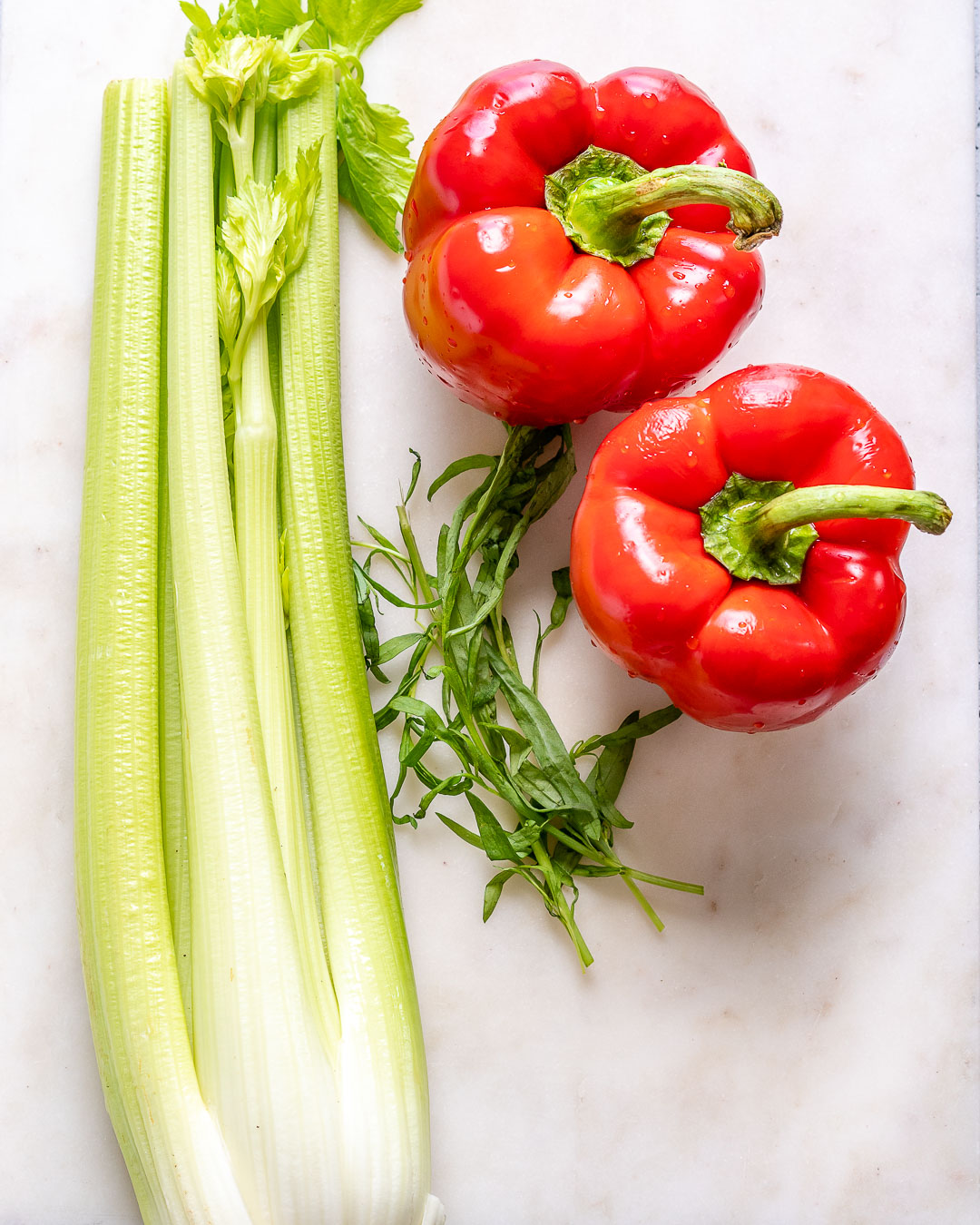 Tarragon Tuna Salad "Boats"
I've received A LOT of requests for cold lunches that can be taken to work or school- with no need to heat up.
Our Tarragon Tuna Salad Boats fit that request perfectly!
Protein-packed to fuel your day, while being SUPER delicious thanks to the fresh herbs and veggies!
Maybe you're like me and have lots of canned tuna or salmon in the pantry? (Yep. This recipe works with salmon too!)
Maybe you're also looking for a way to turn that canned fish into a delicious, and quick lunch or snack for your family?
Most of these ingredients are probably in your kitchen right now, and if not then please note that this recipe is very flexible and forgiving, so add whatever you have on hand, and I'm betting you'll LOVE your results. When I don't have fresh herbs, I use dried herbs, and it's still great!
Embrace improvising and adapting at this time because that has made creating meals FUN for centuries! Experiment with different herbs, and seasoning combinations.
These lil' tuna boats stay great in the fridge for up to 2 or 3 days, so they also make for an EXCELLENT meal prep idea! I do suggest adding the tuna salad to your sliced peppers right before serving, rather than storing them that way – just to keep the peppers crisp!
Ingredients:
3 (5 ounce) cans or pouches, wild caught tuna, drained well
3 celery ribs, diced small
1 small sweet onion, diced small
1/3 cup plain Greek yogurt
2 tsps dijon mustard
a small handful of fresh parsley, chopped
2 Tbsps freshly squeezed lime or lemon juice
a small handful of fresh tarragon leaves picked and chopped
1/4 tsp sea salt, or to taste
1/4 teaspoon white or black ground pepper
2 red bell peppers, to serve your salad
Instructions:
In a large mixing bowl combine yogurt, mustard, lemon juice, sea salt and pepper. Whisk well to combine.
Chop your celery, onion, parsley and tarragon really small, then add into the bowl with the yogurt dressing.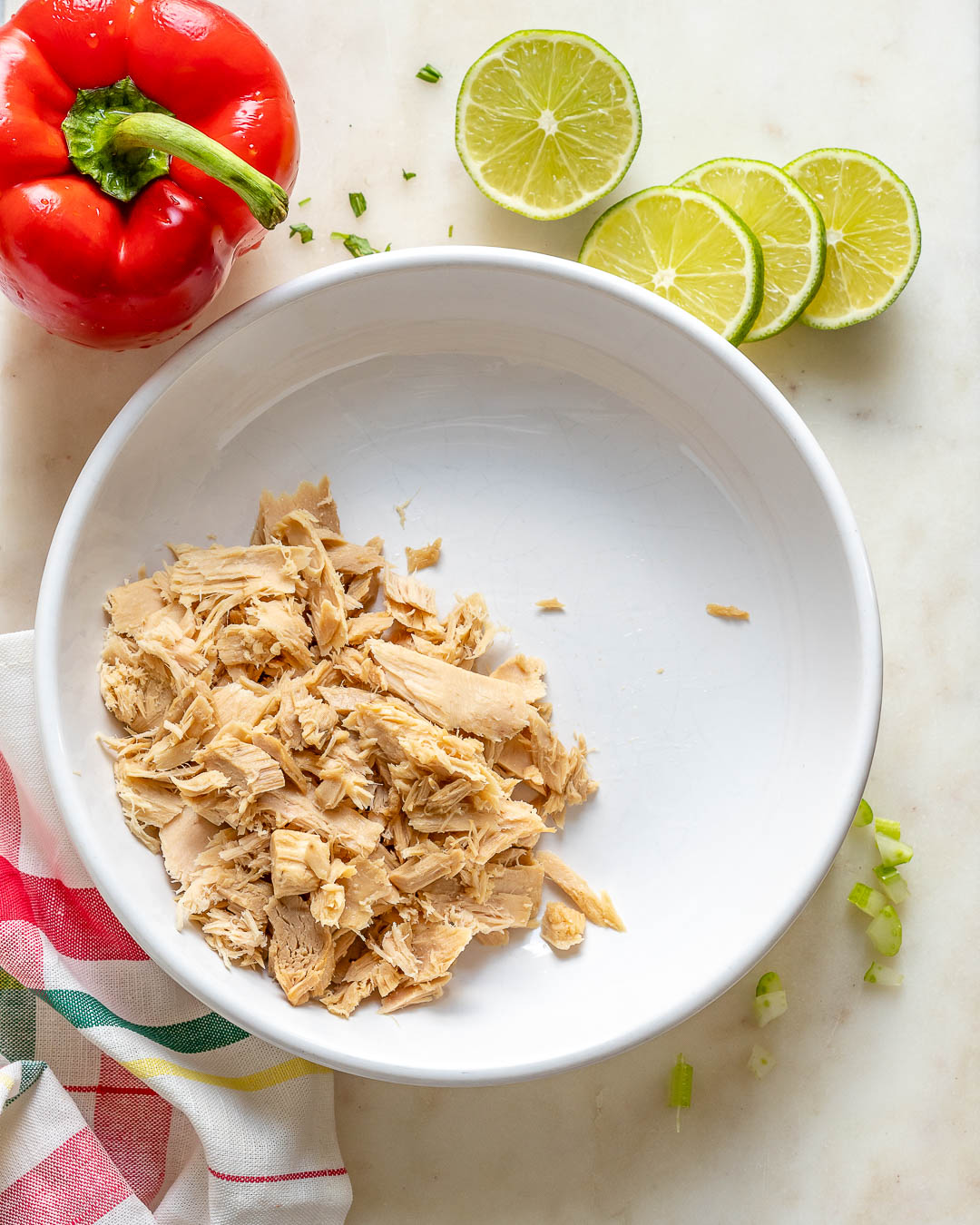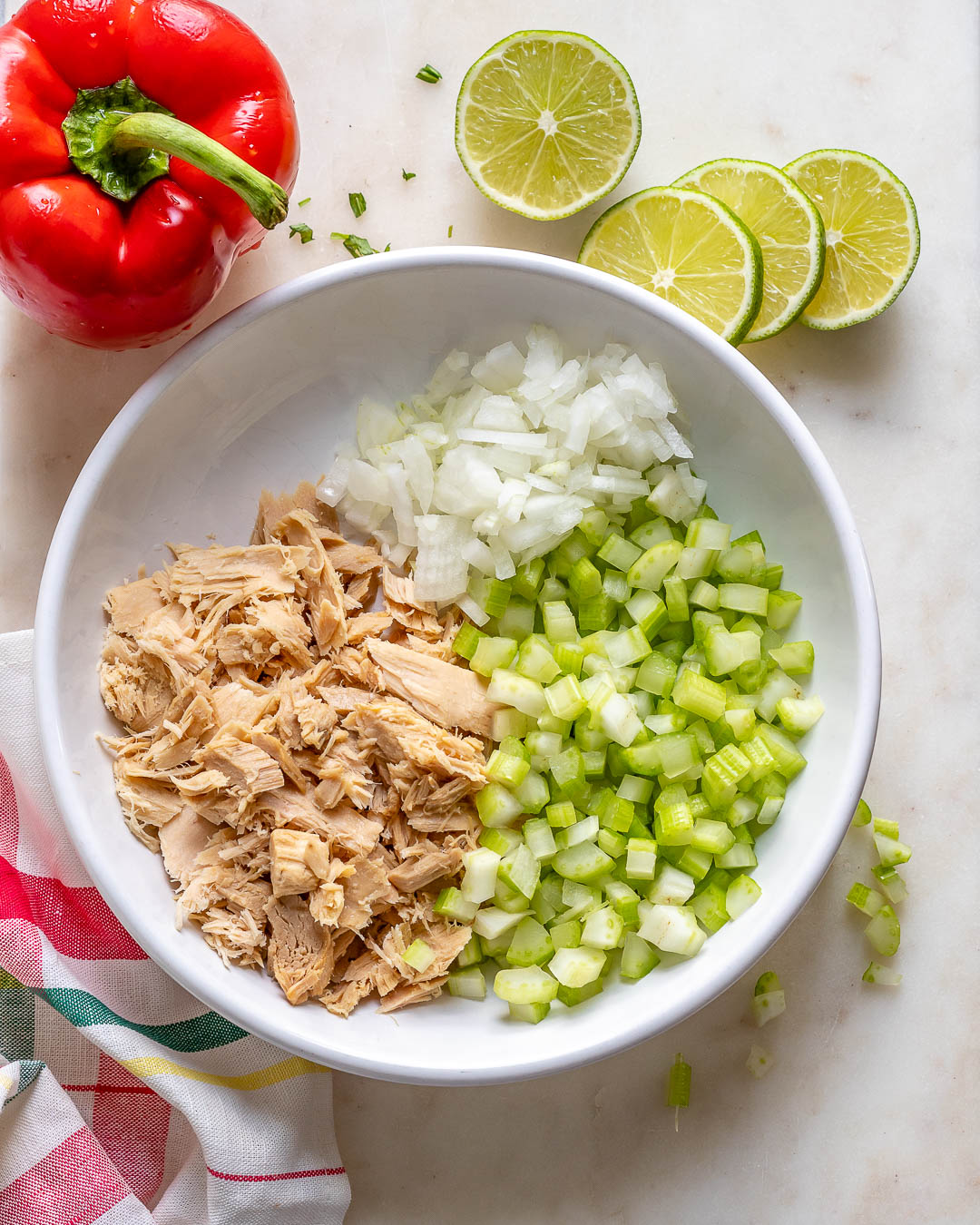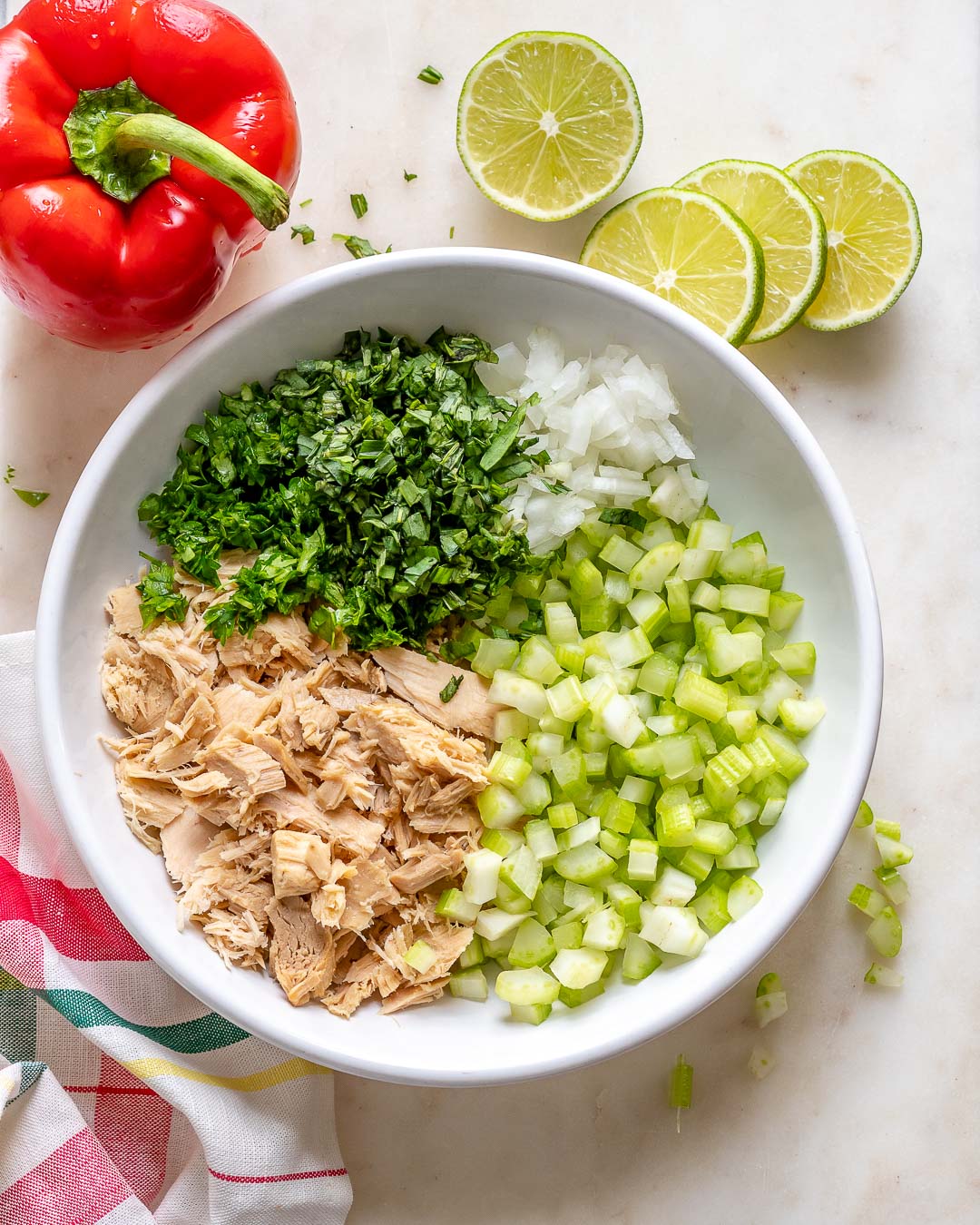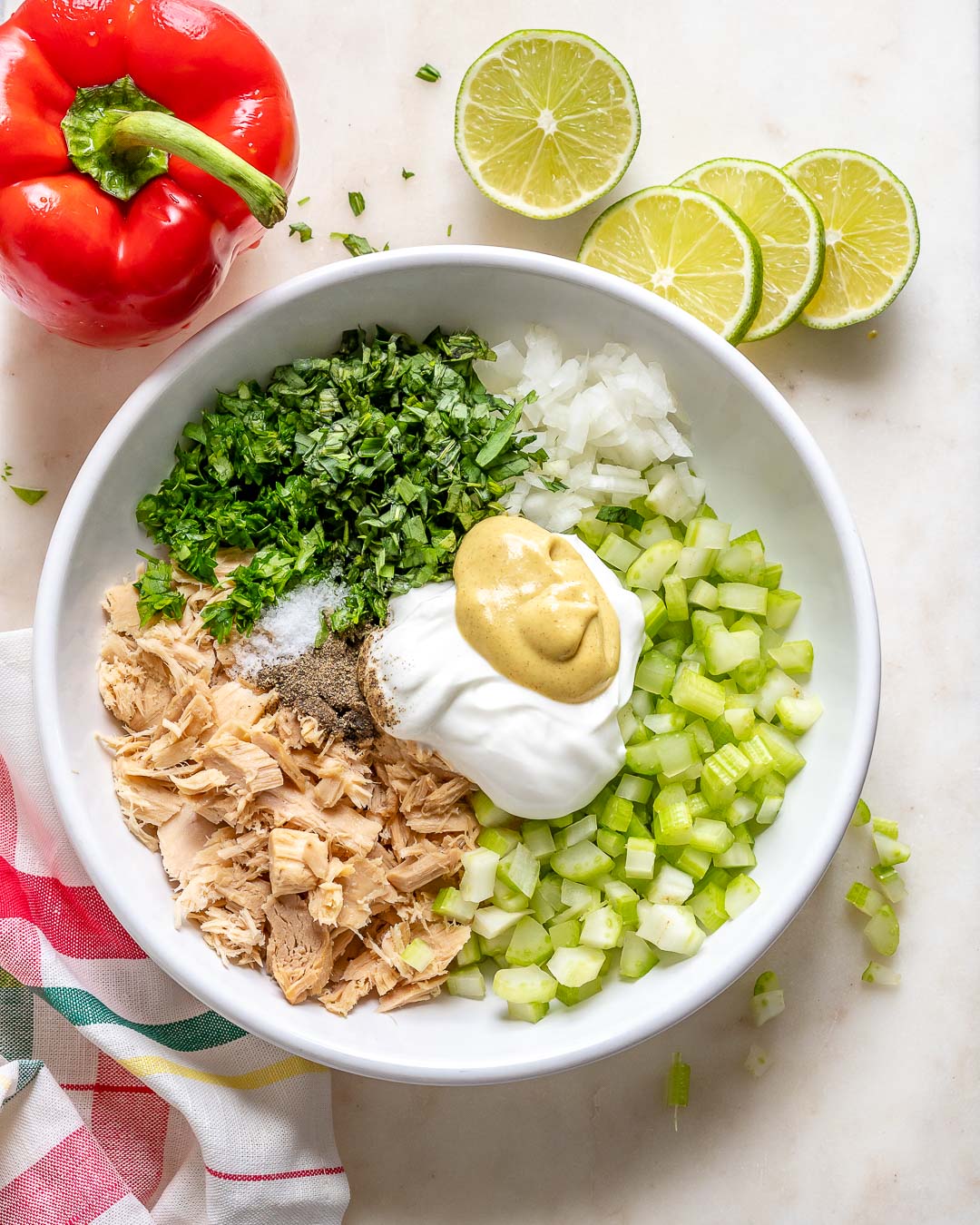 Add tuna and toss everything really well to coat.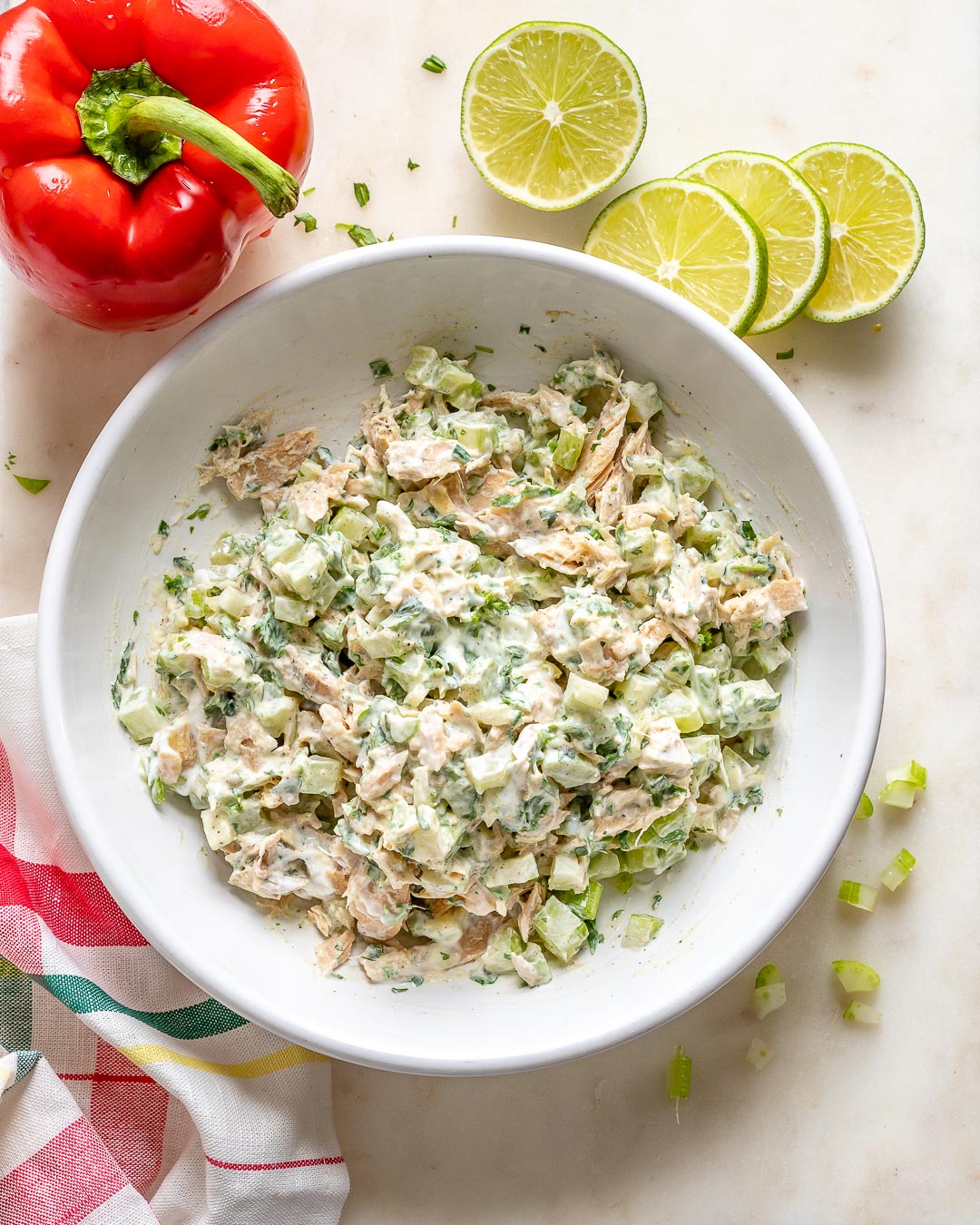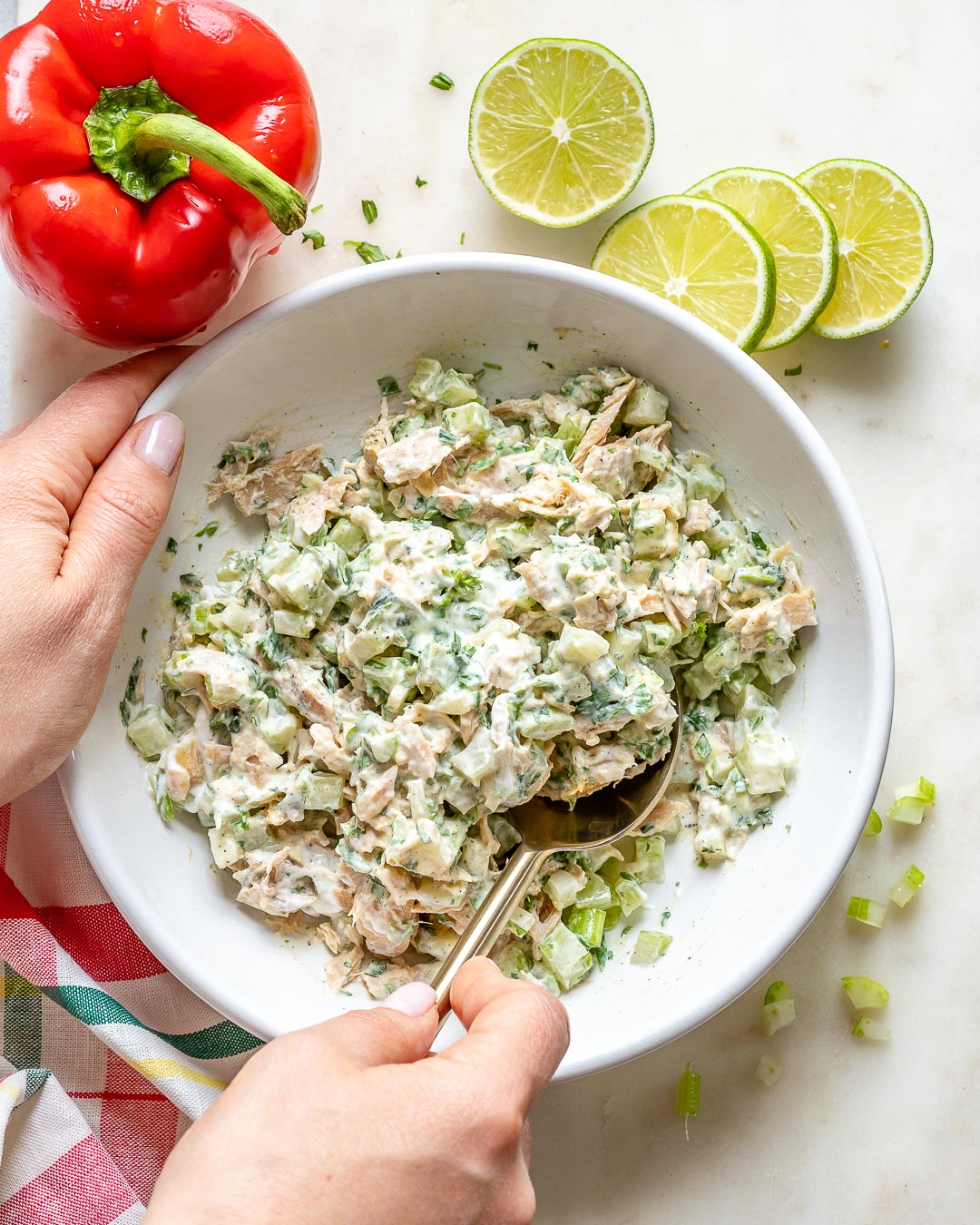 Cut the stems off the bell peppers. Using a paring knife, remove the remaining pith and seeds.
Turn the pepper upside down to shake any loose seeds out.
Next cut the pepper in half vertically through the middle of the stem to create little "boats", as shown.
Spoon your tuna salad into the bell pepper halves and serve immediately.
❤Rachel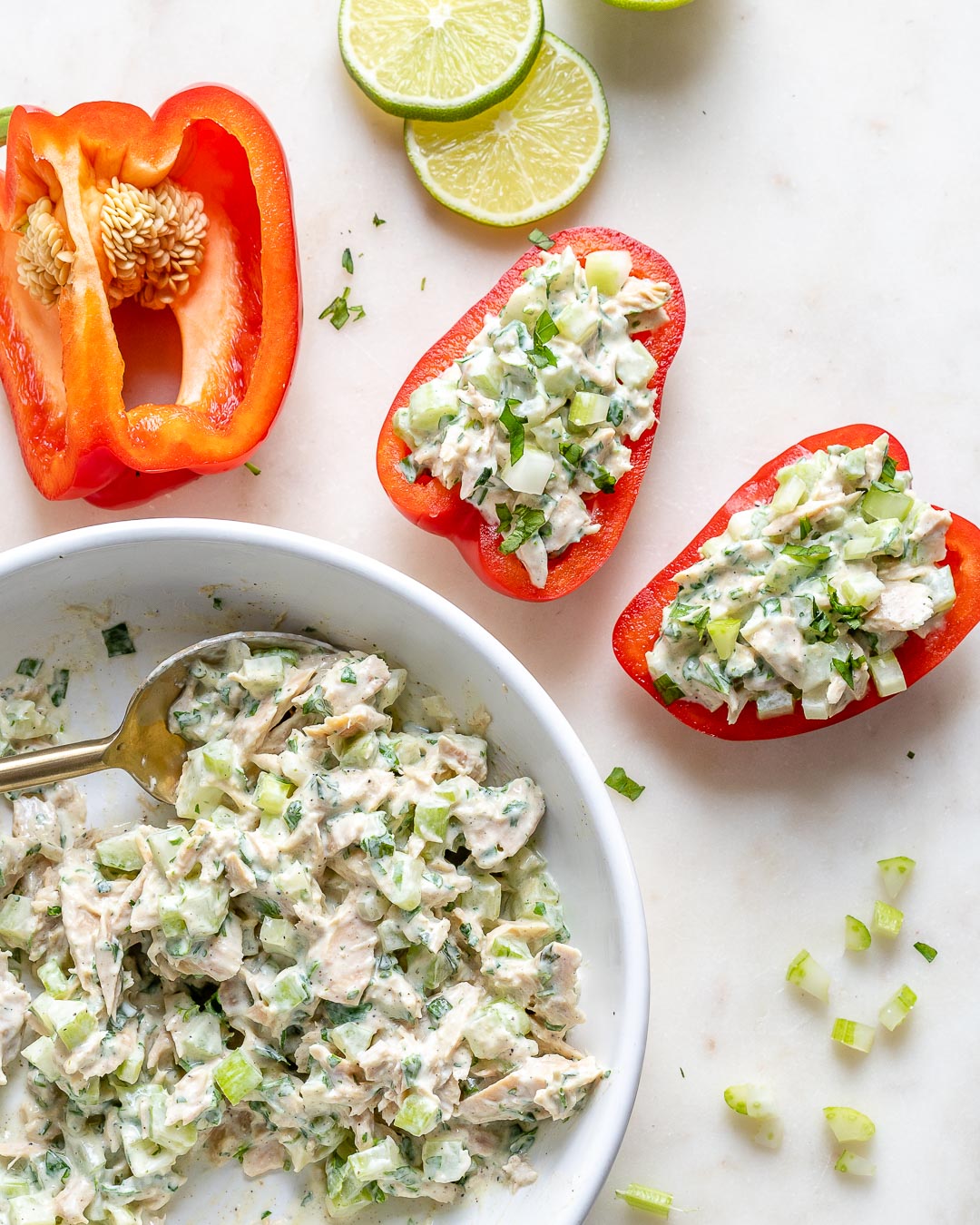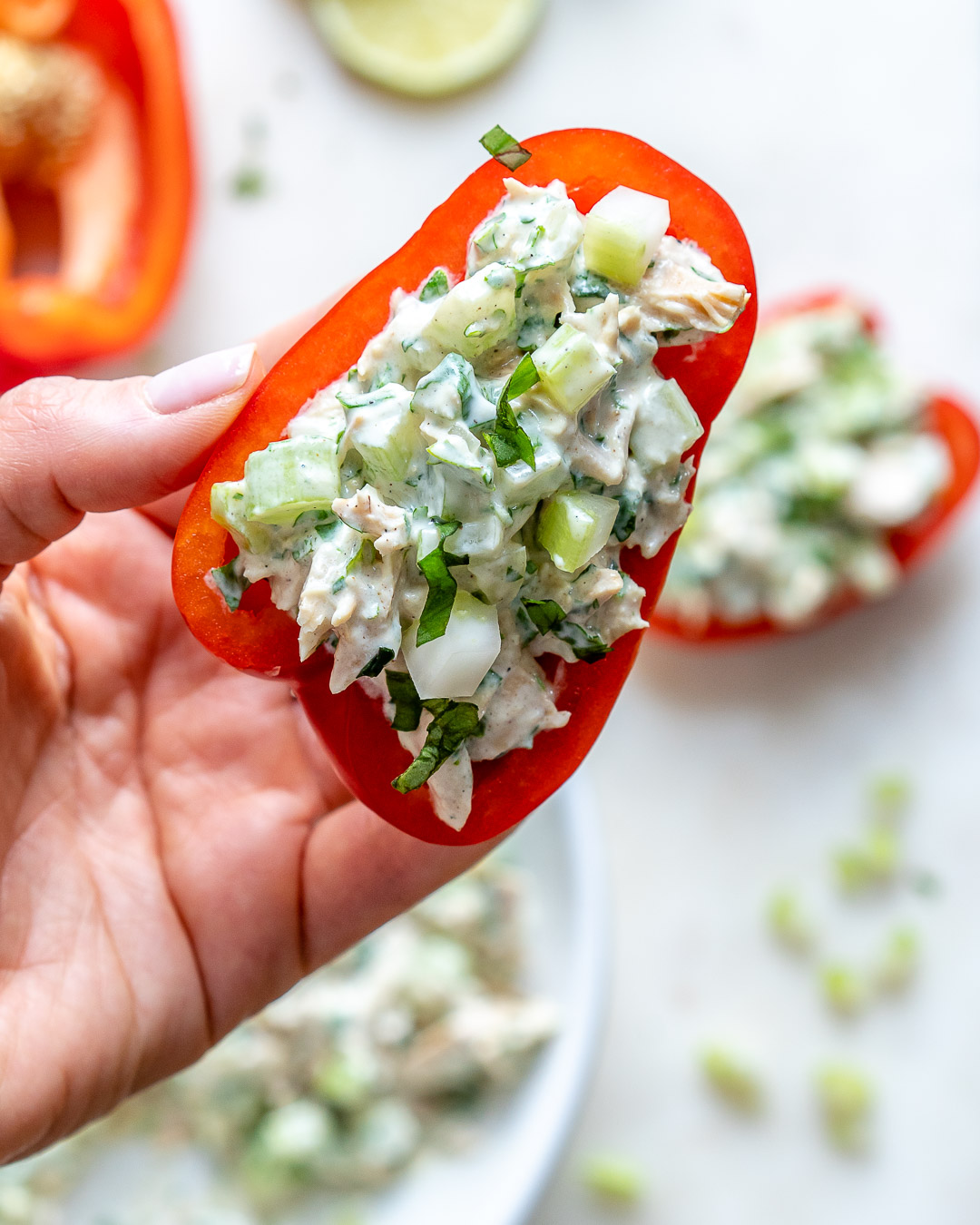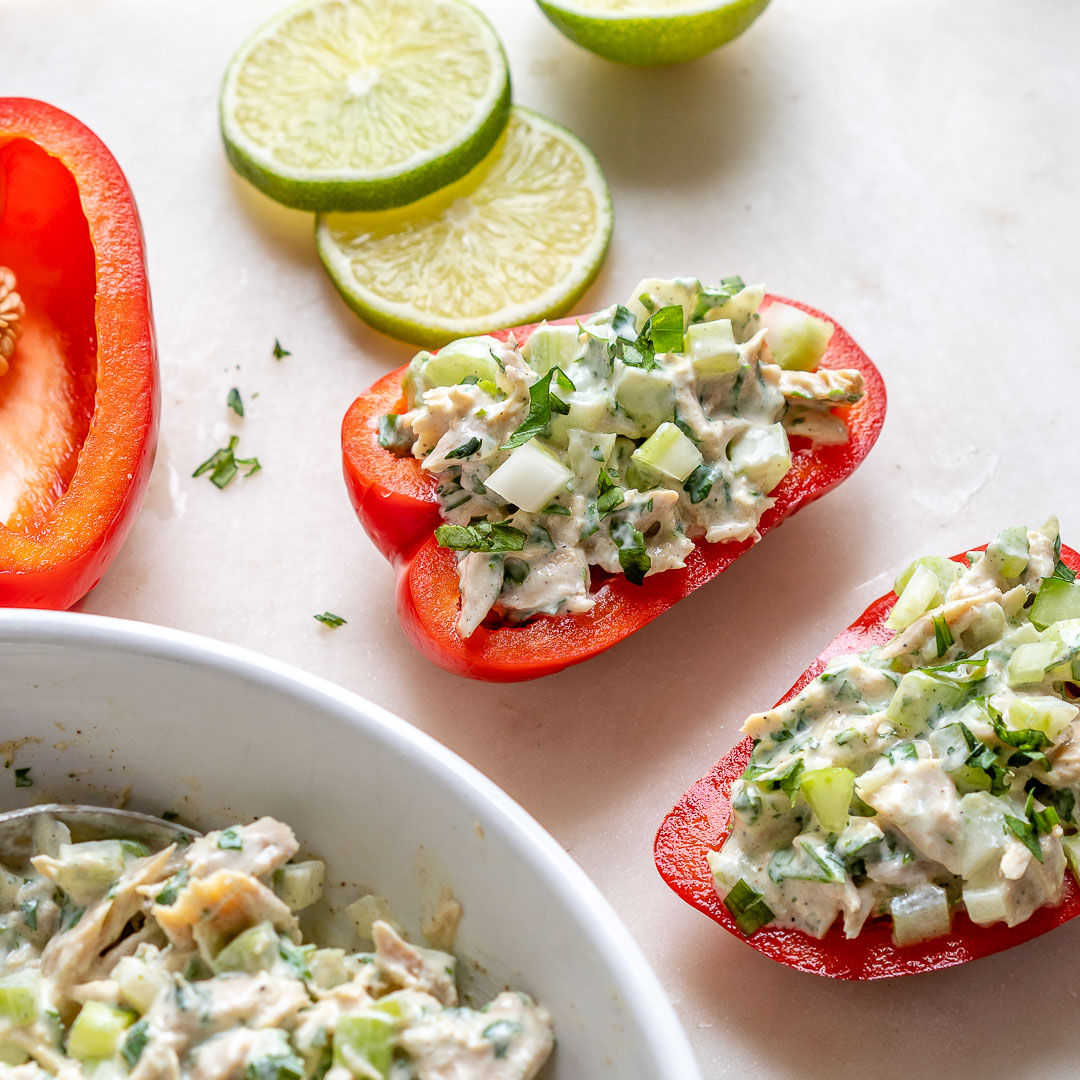 [zrdn-recipe id="1390″]


Leave a Comment Below:
Related Posts :

..