12

Sep, 23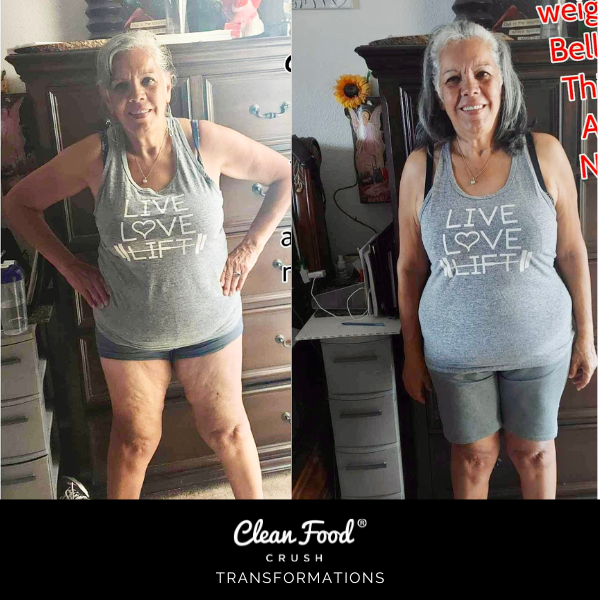 Terry's Transformation: How Clean Food Crush Revitalized My Life at 65
Today we have an amazing grandmother who's sharing her powerful story of transformation with the CleanFoodCrush 30-Day Clean Eating Challenge.

Hi there, I'm Terry, and I'm excited to share my personal journey of transformation with you. At 65 years young, I've experienced quite a lot in life.
I have four wonderful adult children and eight grandchildren, all residing in Nevada. With one of my grandsons serving as a Marine in his third year, I couldn't be prouder.
Professionally, I've been a preschool teacher, nurturing the minds of 16 energetic 2 1/2-year-olds in a privately-owned school. My journey in the daycare field began in 1977, and I've been with my current company since 2008.
Despite my busy life, I find immense joy in simple pleasures – long walks on the beach, dancing, bike rides, and traveling to visit my children.
I've also found love out west, with my boyfriend of nine years.
Life Before the Challenge
Before discovering CleanFoodCrush, my lifestyle was quite different.
I had some unhealthy eating habits, indulging in:
🍭 candy, sweet bread, pan dulce, 🥤soda, and ☕coffee.
I was a night owl, snacking in bed, and felt constantly tired and sluggish, especially after meals.
The desire to stay active was virtually non-existent.
My Turning Point with CleanFoodCrush
My journey with CleanFoodCrush began in 2017 when I stumbled upon it through social media.
I had previously explored various diets, from pills and shakes to fasting and challenging fads.
CFC caught my attention because it seemed different – a plan that involved three meals and two snacks daily.
🤨Initially, I was skeptical about fitting this into my busy schedule, but I decided to give it a try.
I joined my first 30-day challenge and followed it up with another.
🎉 The results were astonishing – I lost 30 pounds! 🎉
With my newfound confidence and improved health, I felt comfortable enough to stop participating in the challenges, but I continued following the challenge principles because once a Crusher, always a Crusher.
However, I made a regrettable decision along the way and gained back 10 pounds 😢.
Coupled with the challenges of aging and menopause, losing weight became a struggle.
In spite of all that CleanFoodCrush has been my guiding light on this journey.
⭐ I've learned to create a healthier shopping list, cook and prep healthier meals, and make cooking a joyful experience with some good music.
⭐ I now have more energy, and I cherish my daily walks, especially during work weeks.
⭐ I've made it a habit to take three 20-minute walks each day – in the morning, during my lunch break, and before heading home!!! 
⭐ My overall health has improved significantly.
⭐ I'm no longer reliant on any medication, just my trusty multivitamins.
My doctor was pleased with my initial weight loss, but that 10-pound gain concerned both of us.
So, I decided to hit the reset button and signed up for another 30-day challenge. Currently, I'm on my second one, and I've already shed 6 of those 10 pounds I had gained.
This is Not a Diet, but a Lifestyle
It's crucial to emphasize that the 30-Day Clean Eating Challenge isn't just another diet – it's a commitment to a healthier way of life.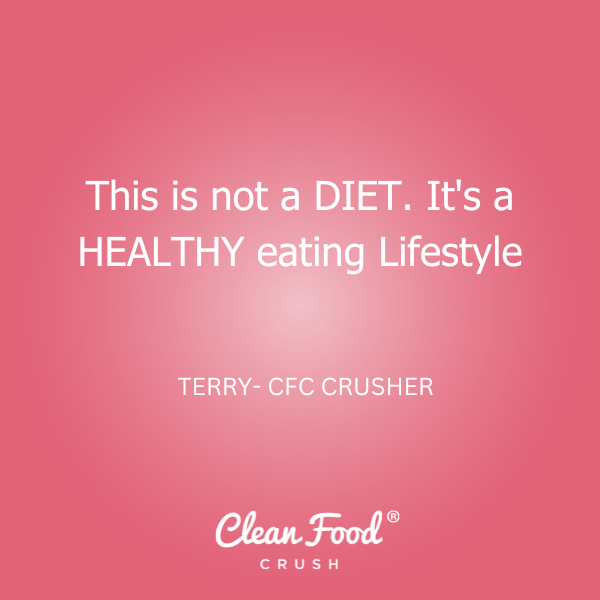 I've bid farewell to soda, cut down on coffee, and ensured my fridge is stocked with cut-up veggies for guilt-free snacking (no more snacking in bed!).
One of the most remarkable aspects of this journey has been the Challenge Facebook group.
The members are incredibly supportive, and Rachel, the creator of CleanFoodCrush, is always ready to respond to our queries.
I've encountered nothing but positivity and encouragement from everyone in the group.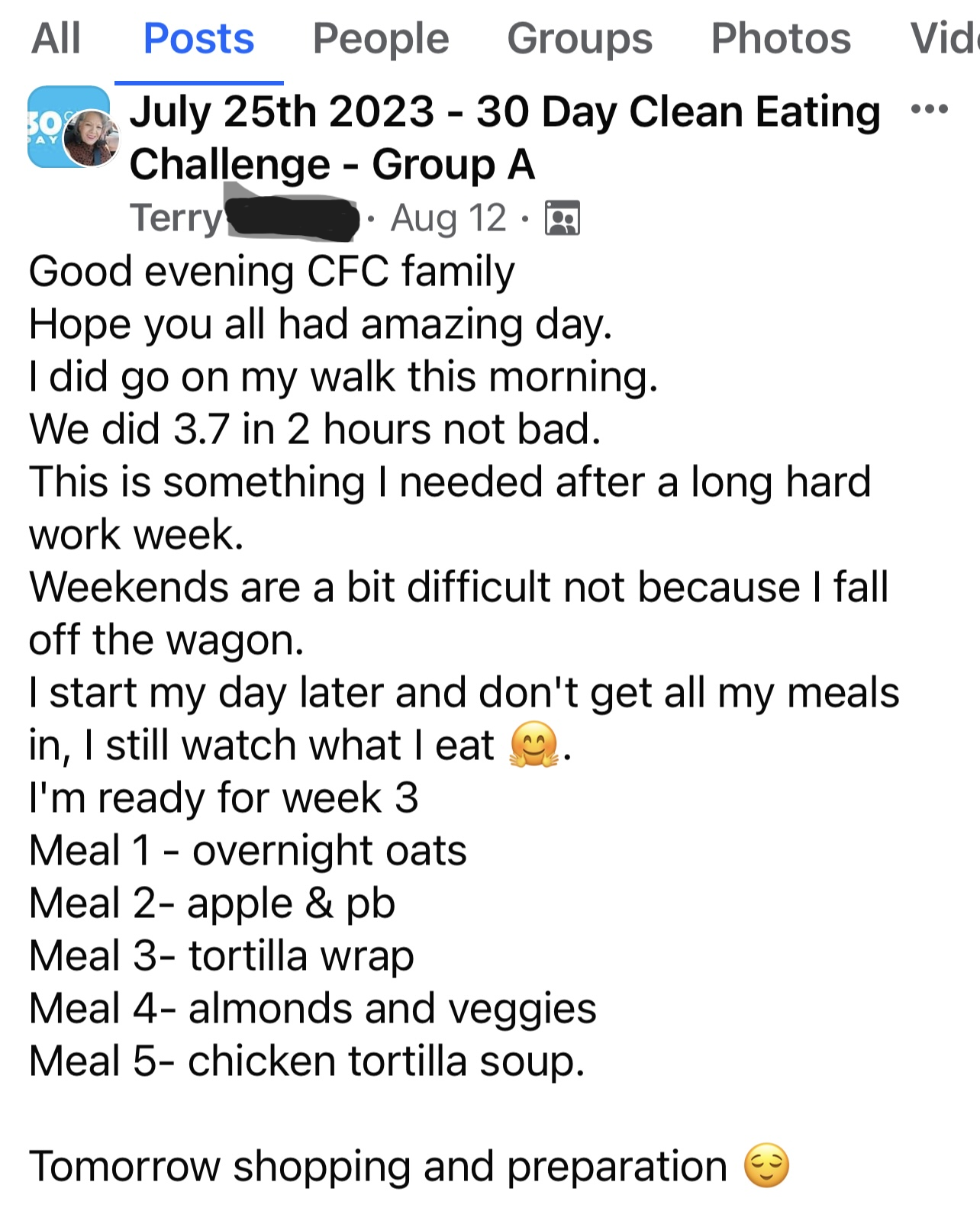 Sharing my day-to-day experiences and progress with pictures has been both motivating and inspiring.
I can confidently say that I am one happy Crusher.
You'll be amazed at the positive impact it can have on your life.
It's never too late to embark on a journey towards better health and happiness, just as I did at 65. Cheers to a healthier, happier you!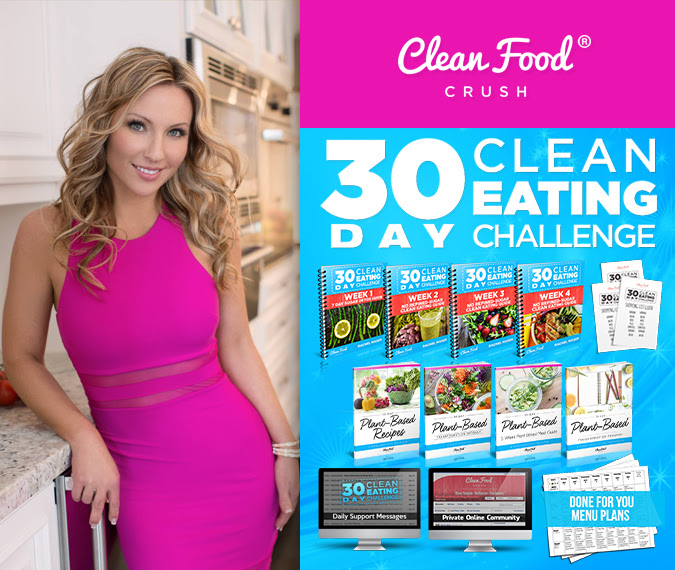 Ready to Get the Tools and Support That Helped Terry Succeed? Come and Join the Challenge!
Leave a Comment Below:
Related Posts :
..