29

Aug, 23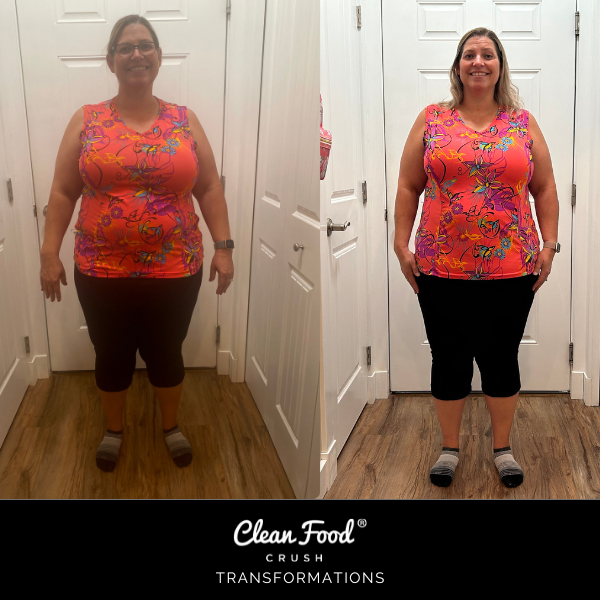 Unveiling Jennifer's 30 Day Transformation
Today, we're excited to share how the 30-Day Clean Eating Challenge has been nothing short of a game-changer in Jennifer's life.

Hey there, I'm Jennifer, a 49-year-old Pacific Northwest native on a journey of discovery, health, and self-love.
If you've ever struggled with your weight, battled your cravings, or felt trapped in a cycle of losing and gaining, my story might resonate with you.
Living in the picturesque Pacific Northwest with my two grown children, I've always cherished family time and exploring new places – especially when it comes to food. You see, food has been my constant companion, my comfort, and my downfall. Working in an office at a bank only added to the sedentary lifestyle, making weight loss seem like an elusive dream. With a partner who loved indulging in junk food, my cravings were seemingly insurmountable.
My battle with weight has been a lifelong journey, intertwined with thyroid issues that seemed to add another layer of complexity. Countless attempts to shed those extra pounds using various programs like GOLo and Weight Watchers left me feeling like a failure.
The programs weren't the problem – it was my knack for finding loopholes and cheats that sabotaged my progress. Seven years of gaining and losing the same 10 pounds had taken a toll on my mental and emotional well-being.
Finding Hope and Transformation
When I was considering gastric surgery as a last-ditch effort, a glimmer of hope appeared – the CFC 30-Day Clean Eating Challenge.
It was like a lifeline extended to me just in time. Seeing people my age with similar struggles sharing their transformation stories ignited a spark within me. With a mix of skepticism and hope, I took the plunge, thinking, "Why not try one more thing?"
Five weeks later, and I'm here to tell you – this challenge has been a revelation.
⭐ From the outset, the plan was simple to follow.
⭐ The first week brought a sugar detox, but I was prepared for the challenge.
⭐ Surprisingly, I was never hungry, except when it was nearing time for my next nourishing meal.
⭐ Sleep, which had eluded me, became a peaceful nightly ritual.
⭐ Energy levels surged, and I bid farewell to those sugar cravings that used to dominate my thoughts.
What surprised me the most was how much I fell in love with the foods I was consuming.
Healthy options started to outshine the allure of junk food.
🎉 In just five weeks, I waved goodbye to 12.5 pounds and 12.5 inches, all while never feeling deprived or starved.🎉
My clothes began to hang loose, and those little victories – like seeing the bones in my feet – became the motivation I needed to keep pushing forward.

The transformation isn't just physical; it's an emotional and mental journey as well.
I've started to nurture a healthy relationship with myself, replacing self-criticism with kindness and self-love.
I've learned that taking care of myself isn't selfish – it's a necessity.
By joining the annual membership, I've committed to this journey of self-discovery, empowerment, and lasting change.
Thank you CleanFoodCrush
Looking back, I wish I had discovered the CFC 30-Day Clean Eating Challenge earlier, but the important thing is that I'm here now, embracing every moment of this incredible journey.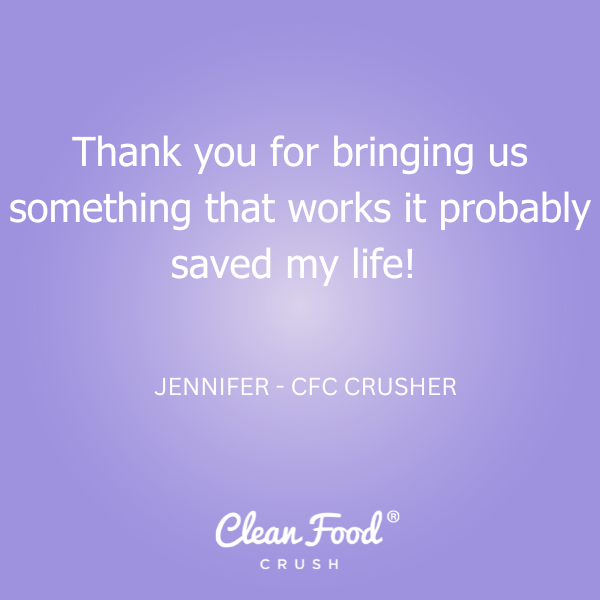 To the creators, coaches, and everyone who makes this program possible – thank you.
You've given me a lifeline, a renewed sense of purpose, and a chance to truly live again.
The CFC 30-Day Clean Eating Challenge might just be the key to unlocking a healthier, happier you. It certainly saved my life, and it could save yours too.
❤️ Jennifer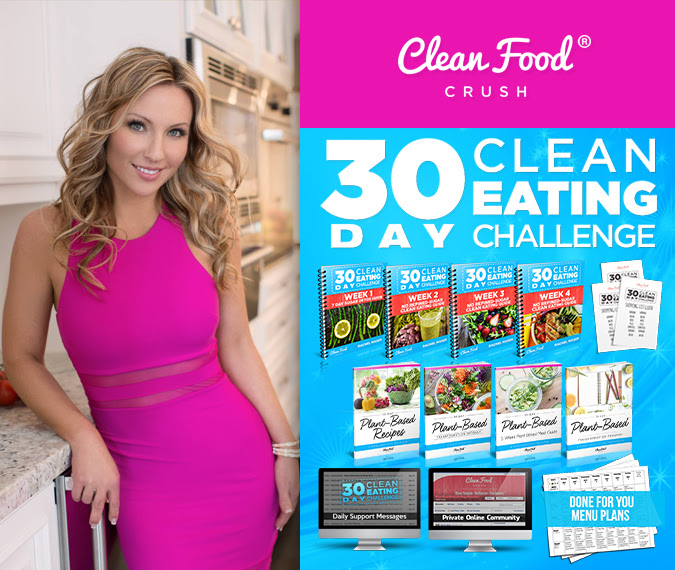 Ready to Get the Tools and Support That Helped Jennifer Succeed? Come and Join the Challenge!
Leave a Comment Below:
Related Posts :
..