2

Feb, 21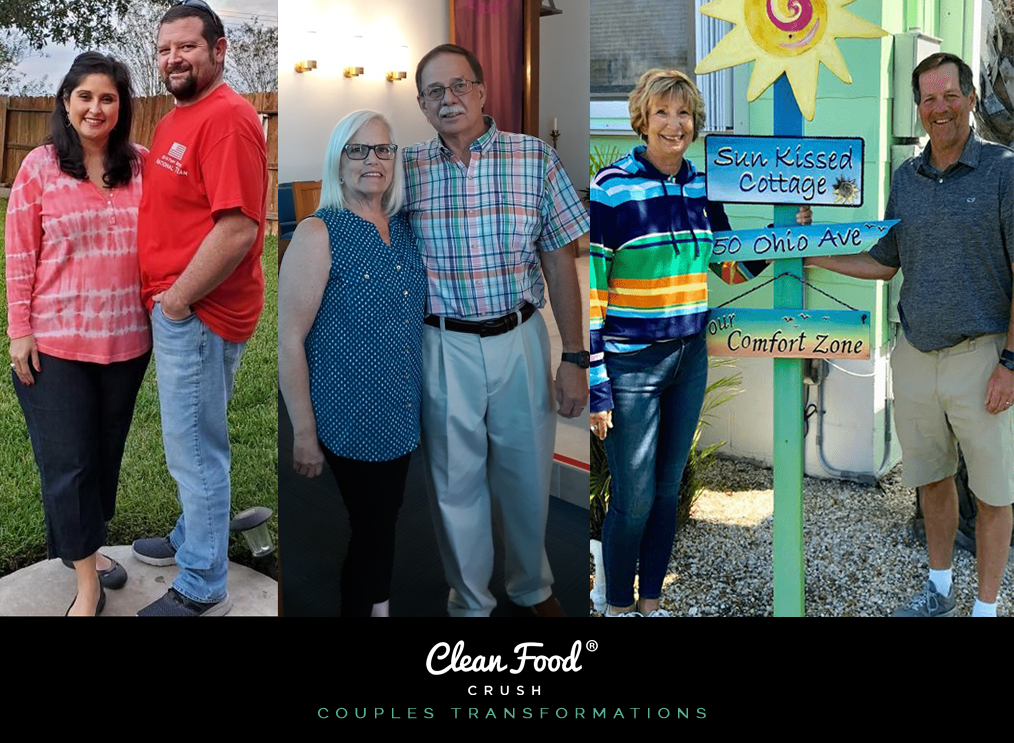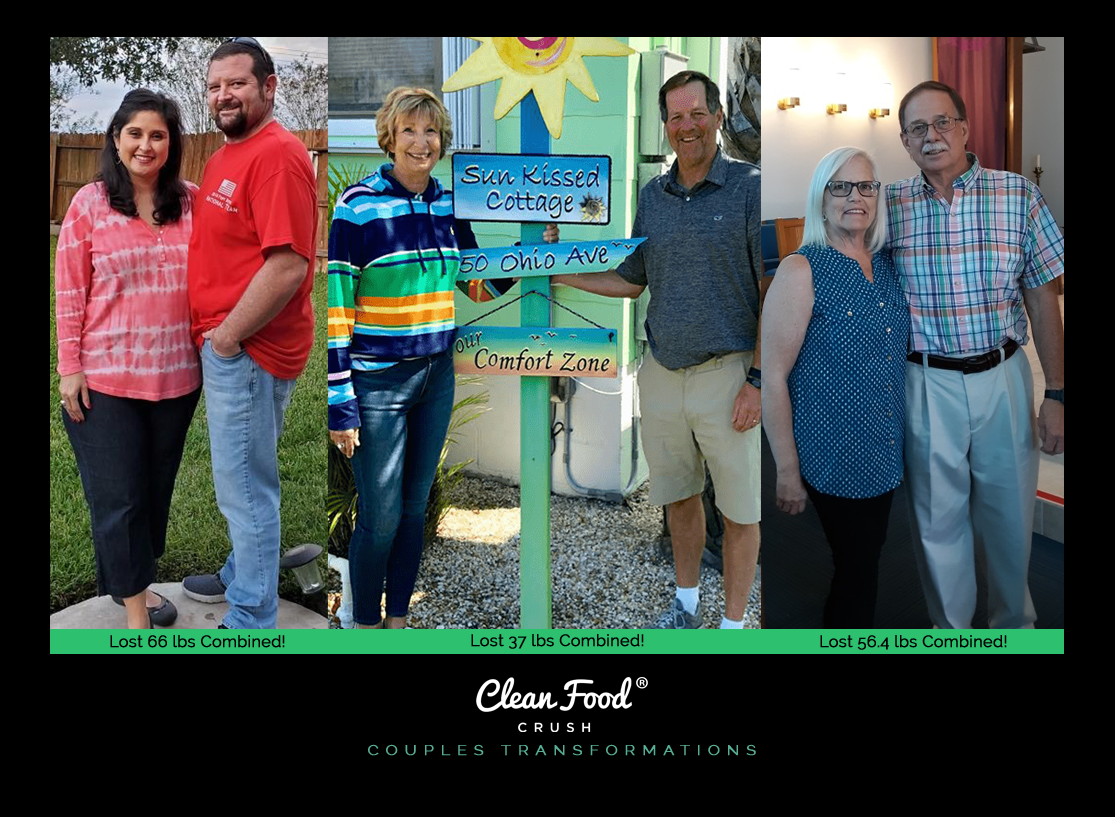 Meet Three Couples Who Transformed Their Lives With Clean Eating, Together!
AND… Find Out How

You Can Get a FREE SPOT FOR YOUR PARTNER

In Our Next Clean Eating Challenge!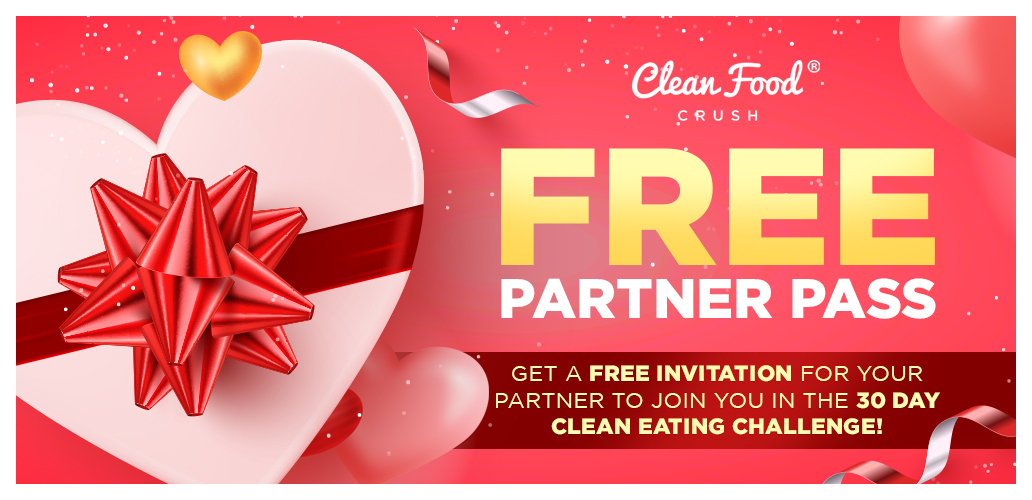 Meet Margie Who Lost 36 Pounds, and Her Husband Lost 30 with CleanFoodCrush!
Hello, my name is Margie.  I am 46 years old and have been married to Scott for 21 years.  We have two beautiful, active young teenage daughters.  My husband and I are very busy with work and their sports/extracurricular activities.  My husband is a high school assistant principal and I teach high school American Sign Language. I love sharing my passion for this unique language and its Culture.  Scott enjoys watching sports.
When I was young, I was very active and my weight was never an issue.  My dad had a massive heart attack when I was 20 years old and his death affected me.  For many years, I was depressed and I no longer had the energy to work out, which caused weight gain.  Scott has struggled with his weight all his life.  We tried many low carb diets but would gain the weight back after we fell back to old habits.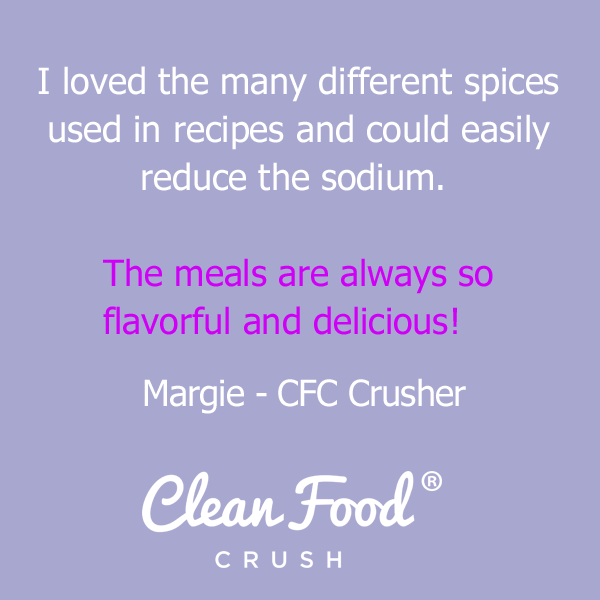 Two years ago, I got diagnosed with Meniere's Disease.  It is a disorder of the inner ear that can lead to dizzy spells (vertigo) and hearing loss.  I quickly had to change my diet, limit processed foods, and caffeine.  I had to start eating low sodium meals.  I began my research and knew I needed to do something to help my hearing loss and vertigo.  It was what I was eating that was triggering my episodes.
I found CleanFoodCrush on Facebook and made a few recipes and incorporated some of them in our weekly meals.  I loved the many different spices used in recipes and could easily reduce the sodium.  The meals are always so flavorful and delicious.
During the quarantine, we gained weight and realized we needed to commit to our health.  We chose to commit to the Clean Food Crush 30 Day Challenge after two years of following them on Facebook!  My husband and I decided to be each other's accountability partners and take control of our health.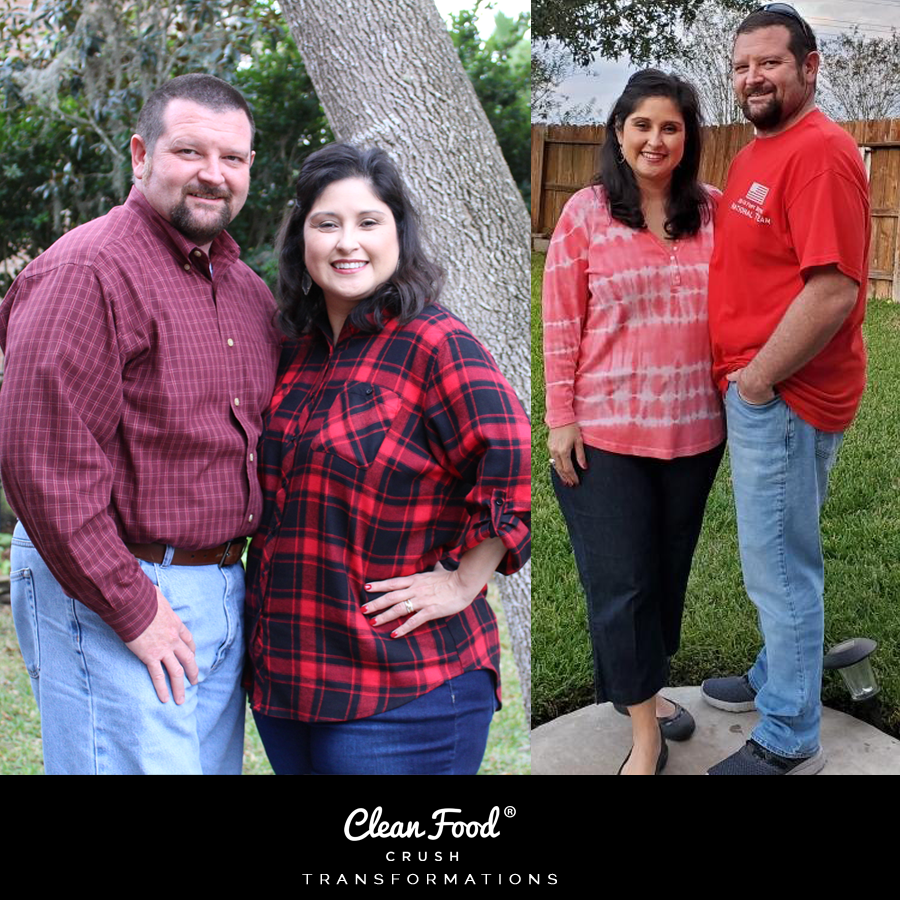 On May 25, our lives changed for the better!
I lost 8 lbs. the first week and 16 lbs. the first month.  My husband lost weight too.  We were hooked.  We felt so much better!  Since we were off work during the summer, we could commit to the new lifestyle and eat until we were satisfied!
We are almost completing our 6th month, and I have lost a total of 36 lbs.  My husband has lost 30 lbs. 
Since I have started the challenge, I have not had a vertigo episode and the ringing in my ear has improved.  Yay!
We feel better, we look younger, and we are still Crushing!
Our favorite meals are Chicken Tortilla Soup and Spicy Pumpkin Chili!  Since we have gone back to campus, we can cook these easy meals (and many others) on any given Sunday and take them for lunch.  My husband is a great cook and loves to grill on his Trager.  He cooks all our meat on the weekends and we eat that for dinner the entire week.  We always like to add a mix of freshly cooked vegetables, salad with our rice or sweet potato.  This system of prepared food works best for us.  Occasionally, we add dessert to our menu!  Oh, how we love the Grainless Chocolate Pumpkin Muffins and the Double Dark Chocolate Brownies.
Starting this challenge was the best thing for us!
Facebook Support is outstanding during that first month.  They answer questions, regardless of how simple they are.  It is a mind shift and process to understand what we should buy and what can work and the team supports us when needed.  We share pictures and other members inspire me to try new dishes.  The team members give us amazing cooking tips, packing tricks, and all the love and support we need.  We are in our sixth month and we still get support and praise from the team.  Now that's SUPPORT!
– Margie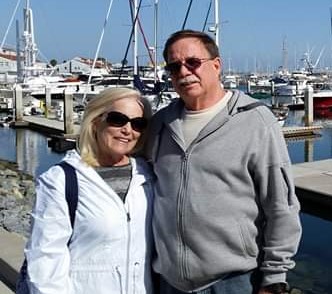 Meet Kelley and John, who lost 15 and 22 pounds (respectively) with CleanFoodCrush!
Hello, we are John and Kelley. My husband John is 65 years young and I am 64 years young. Although we have known each other for many years, we have been married for 5 years. We dated in high school and reunited about 8 years ago. John is a retired Navy Seabee and is currently working for the Veterans Administration retiring completely in June of next year. I retired a few years ago after working for Verizon Communications for 34 years. We are a military family, and our careers have taken us many places. We currently live on the Florida gulf coast and enjoy the beautiful beaches, traveling, children, stepchildren, and grandkids!.
Our story is probably like most people our age. As you get older, your health changes. John's blood pressure was getting out of control. He wanted to try to control it with his diet. I was suffering from constant inflammation, bloating, GERD, joint pain, and IBS.
Because I had done low fodmap and other elimination diets, I had a little bit of control on my diet but wasn't quite there yet. We did a few other programs for the past 2 years and felt better, lost some weight, but they were just not sustainable.
I love to cook, and having tried a few of Rachel Maser's Clean Food Crush recipes over the past year, we started to research the program. We needed something to help us eat correctly and feed our immune systems so that we could enjoy a life without the usual aches and pains and medications.
We wanted simplicity, so we started Crushing on March 8, 2020.  John weighed in at 211 lbs and I was 151 lbs.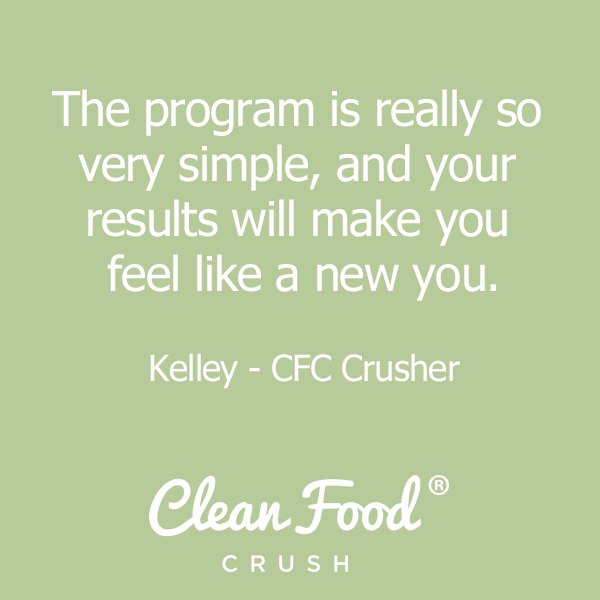 About a week later COVID-19 hit and we thought we really need this now to improve our immune systems as we definitely were in the high-risk group. Shopping for food was the real challenge because everything flew off the shelves during the pandemic. We noticed that the fresh produce however was abundant, and living in Florida with all the fresh seafood and fruits, we decided it probably wouldn't be too hard to find what we needed. We just did the best we could.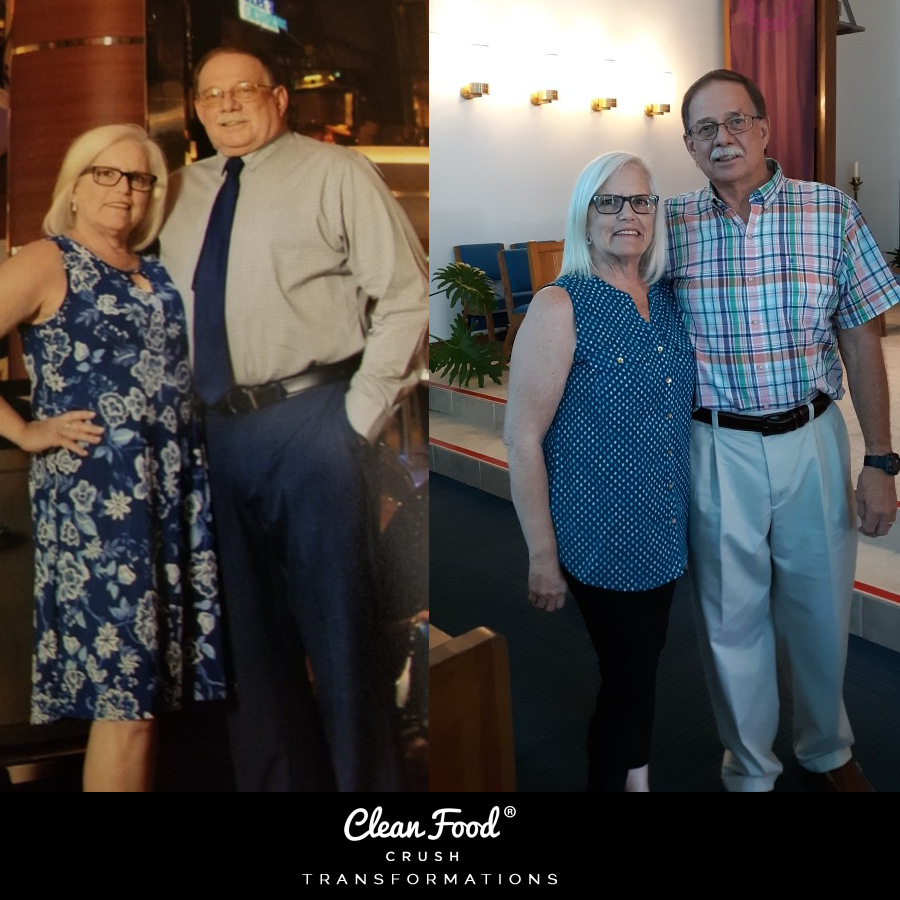 Joining the Challenge was the best decision we ever made.
Week 1 was the hardest, but we learned a lot.
It was simple, and the pounds came off without very much effort on our part.
We just ate, the science behind it did the magic.
Today, John is 189lbs and I am 136lbs.  We have been clean eating for 10 weeks. We weigh in on Sunday mornings and are always excited to see the result.
John's blood pressure is normal to low now.
I have not suffered at all with the issues I was having before.
We crave normal, healthy fresh food.
We ride our bikes and walk as much as we can.
We have maintained or lost weight each week.
If you are looking for a way to feel better about yourself, look no further than CleanFoodCrush.
The support you receive from Rachel and the Facebook groups will help get through. Just read all the amazing results. It's really so very simple, and your results will make you feel like a new you.
-Kelley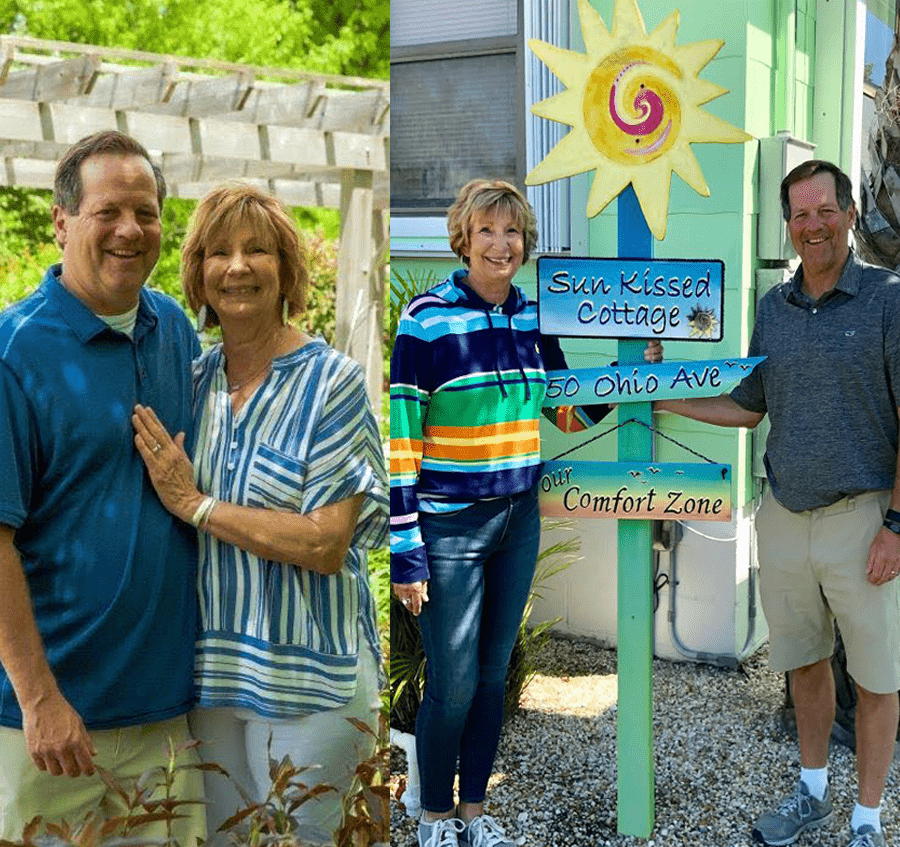 We have been married 27 years and have two daughters and 4 grandsons and we live in Iowa.
We are both retired.  What we do for fun:  We have always walked the neighborhood and trails and biked as well.  We also belong to a rec center.  In the fall, we go to home Iowa football games (season ticket holders for over 30 years) and in the winter we watch Iowa basketball on TV.  Now that we are retired, we are beginning the "snowbird" process of vacationing in Florida for the month of February.
I have done about every diet there is since I was 30. 
I would have success but would eventually gain it back and then some.  Mark never did any kind of diet in his life. I had been following Clean Food Crush Facebook Recipes for 5 months and liked all of the recipes I tried, so that was a motivating factor in our decision to join.
The  "ah ha" (or maybe better stated the "oh no") moment on what motivated us to join the Clean Food Crush challenge was when we had family pictures taken at our grandson's high school graduation in May 2019.  Looking at ourselves in those family pictures and seeing how much weight we had gained over the years, was really eye opening, and the more we looked at them, the more upset we became.  We looked at ourselves and said "How did we let ourselves get that way?" 
One night towards the end of July 2019, while we were sitting on our deck, I explained to Mark about the email I had received from Rachel regarding the 30 day challenge. I suggested that we do the challenge and Mark enthusiastically agreed as we both knew we had to do something.  I went over the plan and I told Mark that he wouldn't be able to have cream in his coffee (which was a staple for him for the last 40 years).  He said "ok, then I won't."  That was when I knew he was ready.   I signed us up and started shopping and reading the material.
The first week is the hardest but it's only 7 days and the support group was amazing.  They explained to eat until you are full – I had been trying to stuff myself to get all of my food in for each meal.  We followed the plan to the "T" and were very committed on not deviating from the plan.  The key to success is to prepare ahead of time.  If I didn't take the time to prepare, it was very stressful.  I made a few days of the egg/banana pancakes for breakfast and put in baggies with our names on it.  Mark gets more than me!  Again it's only 7 days and the next 3 weeks are much easier.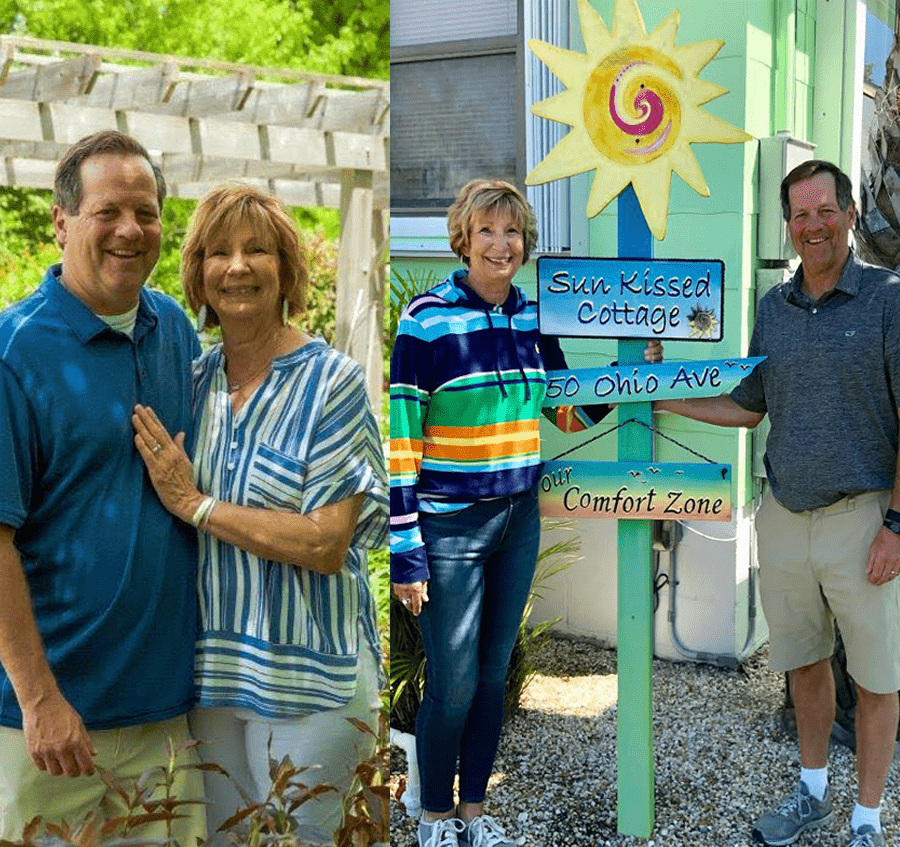 We faced our first challenge of the program during the first week also.  Our grandson was participating in the Iowa State Baseball tournament, which was 2 hours away.  But we were good troopers and had our cooler packed with healthy lunches, snacks, and water (so we got our 16 glasses a day).    No popcorn or hotdogs at the baseball game!  We would drive home every night and head back the next day.  (Our grandson's team won state, by the way).   At the end of the first week I lost 4 pounds and Mark lost 5.8.  Talk about motivation.  (As a side note, Mark went cold turkey on the cream and started drinking his coffee black on day 1.  He now enjoys his coffee so much more and never looks back.)
After week two, I went thru my cupboards and gave away all of the non-clean food I had in my pantry.  I was shocked how many foods with preservatives we had been eating.  I stocked my pantry with all the spices needed for Rachel's delicious meals and started looking carefully at all the labels in the grocery store.  Mark now looks at everything before he puts it into the cart at the grocery store.  No sugar added is huge.  Dill pickles?  Peanut Butter?  Who knew? This has been an eye opener for us and life changing!  And the taste has been fine.  No big changes. Our motto is "if a product has an ingredient with three or more syllables you don't want the product!"
We began our Journey July 31,  2019 and it's been 8 months.  It has not been difficult to stick with this plan.  We went to Florida for 5 weeks this February and I took my printed 3 ring binder with my recipes and we cooked a lot.  When we did eat out, it was for fresh fish/seafood.  I took my small jars and made my overnight oatmeal (10 at a time) and ate that most mornings.  We both love our oatmeal.  It was great being on a winter vacation and not gaining any weight.  We actually took our scale along to keep us accountable.  That definitely helped.
Both of us have lowered our Cholesterol and our doctors were so happy. Our doctors told us to keep doing what we were doing.
We feel so much better physically and mentally.  From July 31 through January 31, we  lost 56.4 pounds.  Mark lost 28.4 and I've lost 28.  Our weight loss has been like the old saying "slow and steady wins the race!".  Each Friday morning we would record our weight and  measurements (stomach/chest/arms/legs/chest/hips). We each would lose anywhere from 0 to 3.0 pounds a week. Some weeks we would be very excited about how much weight we loss, while other weeks we would be a bit disappointed.  However, we would never get discouraged if we did not lose as much weight as we thought we would.  Since January, we have been maintaining, but with spring upon us, we are going to try to lose another five pounds each.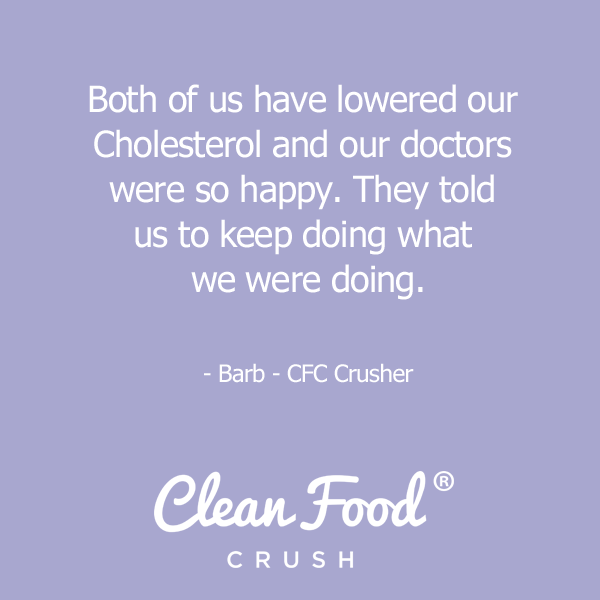 In addition to following the Clean Food Crush 30 Day Clean Eating Challenge, we have increased our exercise activity.  We walk every morning between 75-90 minutes (approximately 4 miles).  Plus, 4-5 times a week Mark will do a second workout in the afternoon of approximately 60 minutes, consisting of cardio or weight training. I may also do a second walk in the afternoon with a friend or neighbor.  We also do yard work on the weekends, for both exercise and upkeep on the house.  We believe exercise is an important part of success on the Clean Food Crush.  Since  Mark and I are retired, we have more time than most people, but I would strongly recommend that people find 30-45 minutes a day to do some exercise.  Between the exercise and clean food living, you will feel so much better!
We would highly recommend this to anyone who feels like they need to lose weight, but also wants to quit putting preservatives in your body. Once you look at what is in the product, you will wonder why you ever would eat that! 
I have to say, we never went to bed hungry and had plenty of food to get through the day.  Rachel's recipes are easy, quick and healthy.  I am still adding to our book as new ones come thru.  Mark is loving the variety we are eating as well.  The support group including Billie Jo, Daisy and the team are there immediately for any questions you may have.  They are very helpful and you will be in that group forever.   Rachel sends out positive thoughts and ideas frequently and I have printed them out to reread if need be.  
We will probably lose a little bit more, but we are happy with our weight now. The program has completely changed our way of life, how we think about food and I have broadened my horizon on eating and cooking things I have never tried.  It is such an easy program to follow, and now it's just a way of life.
Thank you, Rachel and everyone on the team, for helping Mark and me.  We highly recommend you give the 30-day Challenge a try.  After 30 days, it's a slam dunk!
– Barb and Mark
What Amazing Teamwork! And For a Limited Time, You Can Get a FREE SPOT for YOUR Partner When You Join the CleanFoodCrush 30 Day Clean Eating Challenge.

This blog post will last forever, but THE SALE ENDS SOON!  So grab this deal while it lasts!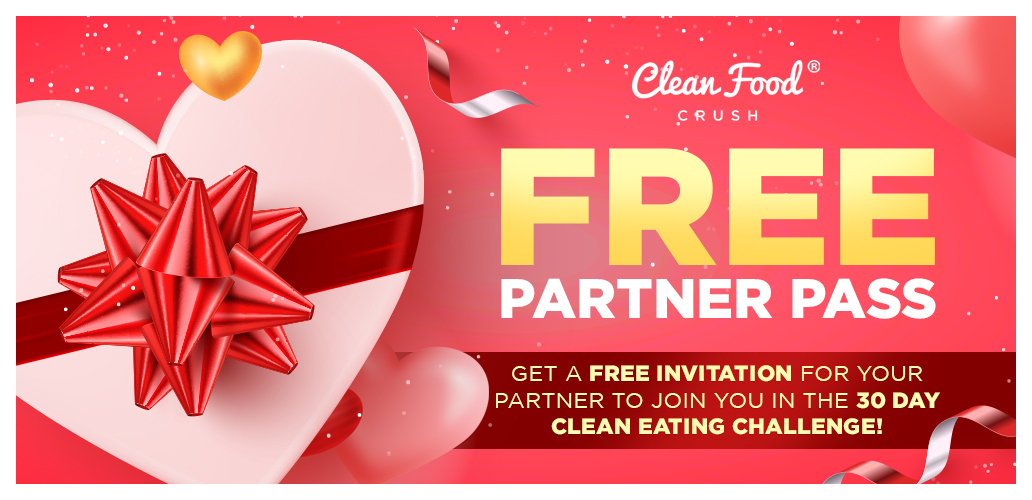 Leave a Comment Below:
Related Posts :
..
Tags: enchilada