9

Nov, 23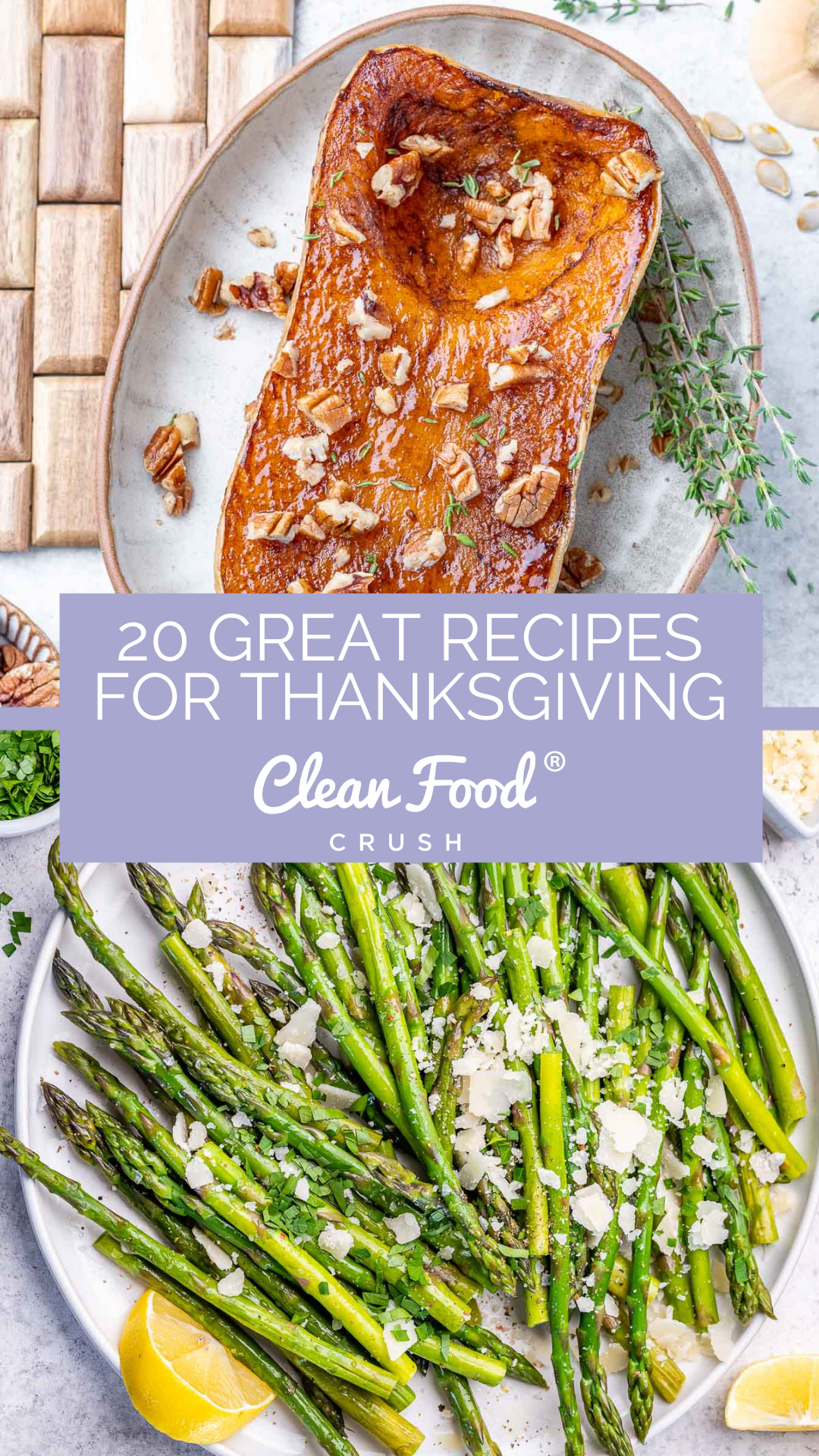 20 Great Recipes for Thanksgiving 🦃🥧🍲
Thanksgiving is a WONDERFUL holiday full of delicious food and time with loved ones. 
However, it's also easy to fall off your clean eating journey. We believe in everything in moderation here at CleanFoodCrush, but Thanksgiving is often anything but moderate!
There is a way to enjoy all the classics of Thanksgiving without over-indulging in carbs, sugar, preservatives, and other unhealthy foods. 

These 20 recipes are all amazingly delicious and fit a clean eating life and, though they can be enjoyed on any normal day, are absolutely perfect for Thanksgiving!
I encourage you to peruse this list, save the recipes you're most excited about, and try some experimenting in the kitchen. 

I have been working on perfecting this recipe and technique for many years, and I'm SO EXCITED to finally share it!
With this guide, you can delightfully present your guests with a beautiful, golden-brown, perfectly juicy turkey. I LOVE this turkey, and I hope you and all your guests do as well!

This is a good alternative for those of you who aren't a fan of turkey or can't have it for one reason or another.
Flattening out your whole chicken creates a crispy skin
and
perfectly roasted juicy chicken meat, as it's easier to prevent overcooking because everything cooks more evenly.

This delicious homemade gravy is full of flavor and perfectly seasoned. Ladle this gravy over your roast turkey and all the trimmings in their beautiful Thanksgiving glory!

Is there anything better than a crispy potato? I think not!
Potatoes are a REAL FOOD and a very nutrient-dense meal option, especially for active people requiring higher carbs for energy.
So, these crispy babies are an awesome side dish idea for your kids & growing teens!

Roasted Hasselback Butternut Squash is an absolutely gorgeous show-stopping dish that is perfectly suited for your holiday table but still doable to make more often!
As an added bonus, the process is much easier than it looks!
One of those recipes that will really impress your guests, yet it won't have you totally stressed out either.

A Holiday classic that is equally delicious and simple, these sweet potatoes and garlic will be a quick staple in your household.
The flavors in this dish are complex and indulgent enough to serve guests the next time you're entertaining, but you're going to want to add this recipe to your regular dinner rotation too!

This might not be a typical Thanksgiving side dish, but it's just as delicious and will fit in perfectly with the rest of the spread!
Also, the casserole includes quinoa, which is a superfood that adds to the dish's nutritional value.
Among quinoa's myriad of health benefits are that it contains several important minerals, including magnesium, iron, and zinc, is a great source of fiber and antioxidants, and may help lower blood sugar levels.

Let's try something a little different this holiday season.
Our wild rice stuffing is
SO
good and packed with complementary flavors and textures while also being packed full of nutrients!
Wild Rice takes a bit longer to cook, but it's really worth the wait.

This roasted cauliflower recipe is incredibly tasty and so easy to make!
Put the ingredients on your shopping list ASAP and make yourself an incredibly flavorful side dish using one of MY favorite veggies.
Cauliflower is one of the most versatile veggies and contains some of every vitamin you need, as well as a healthy dose of fiber and antioxidants.

Brussels Sprouts are a popular side dish on Turkey Day, and while there are several ways to prepare it, this one might just be my favorite!
It's brushed with a lemony garlic oil that will blow you away, and the crispy edges really seal the deal.

Butternut Squash is one of my favorites and an Autumn and Holiday table tradition! This recipe is just so good!
The perfect lightly salty and sweet caramelized combo makes it very satisfying and great to serve alongside savory roasted meat, poultry, or fish.

Everyone needs an impeccable cranberry sauce recipe for Thanksgiving.
This one is undeniably my favorite, and I hope you'll love it too! Because it's so simple to make, you could even have the kids help you out!
There's nothing quite like quality time in the kitchen preparing for Holiday meals. (Except maybe enjoying the finished product!) 

Here's an alternative cauliflower recipe for you in case the previous one isn't your taste. I love lemon on just about everything, so this recipe just completely does it for me!

Another alternative, this time for Brussels sprouts!
If you're looking for a bit fancier preparation for your Brussels that will delight, excite, and impress everyone at the dinner table, this one is for you!

Veggies are seriously the best in an air fryer because it creates a great texture and crispiness, and it's SO convenient!
Plus, green beans are a great source of vitamins A, C, and K (important for a healthy immune system, good eyesight, and great skin) and rich in minerals like manganese, which supports a healthy metabolism and strong bones!

Radishes don't necessarily scream Holiday, but you might be surprised by how well they'll fit on your Thanksgiving table.
These are perfectly seasoned and nice and crispy on the outside, which creates a very satisfying side dish when you're craving something a little crunchy and salty.
Air-fried radishes make for a surprisingly tasty side dish that I think your whole family will love! One taste, and you'll be hooked!

Quick and easy, this asparagus recipe will make cooking for Thanksgiving much simpler.
Knowing you'll have perfectly cooked asparagus in just over 5 minutes removes the intimidation, especially if you're tired after all the other preparation that goes into preparing such a large meal!

Purple cabbage is in season from late fall to early spring and will look great on your dinner table.
This zesty slaw dressing transforms veggies into a tangy bowl of goodness and makes for a beautiful and distinctive dish that will be sure to get compliments!
Be sure to double or triple the recipe to have enough for all the guests.

This crustless pumpkin pie is excellent for those needing a gluten-free dessert, saving their carbs for an extra serving of mashed potatoes, or simply skipping the crust because pie crusts can be tricky to make!
Plus, it's so delicious and silky-smooth that you won't miss the crust! Your family is going to LOVE it, and your friends will definitely ask for the recipe.

These are a fun spin on the traditional Thanksgiving pie dessert! They're
perfect
for taking to parties because they're bite-sized, so guests can grab individual pieces without having to cut a larger pie!
I know cooking and baking for this Holiday can be overwhelming, so I hope this helped by providing you with recipes for your menu and helping you decide what to serve!

Let me know what your favorite part of Thanksgiving is in the comments below!
Leave a Comment Below:
Related Posts :
..