29

Jun, 23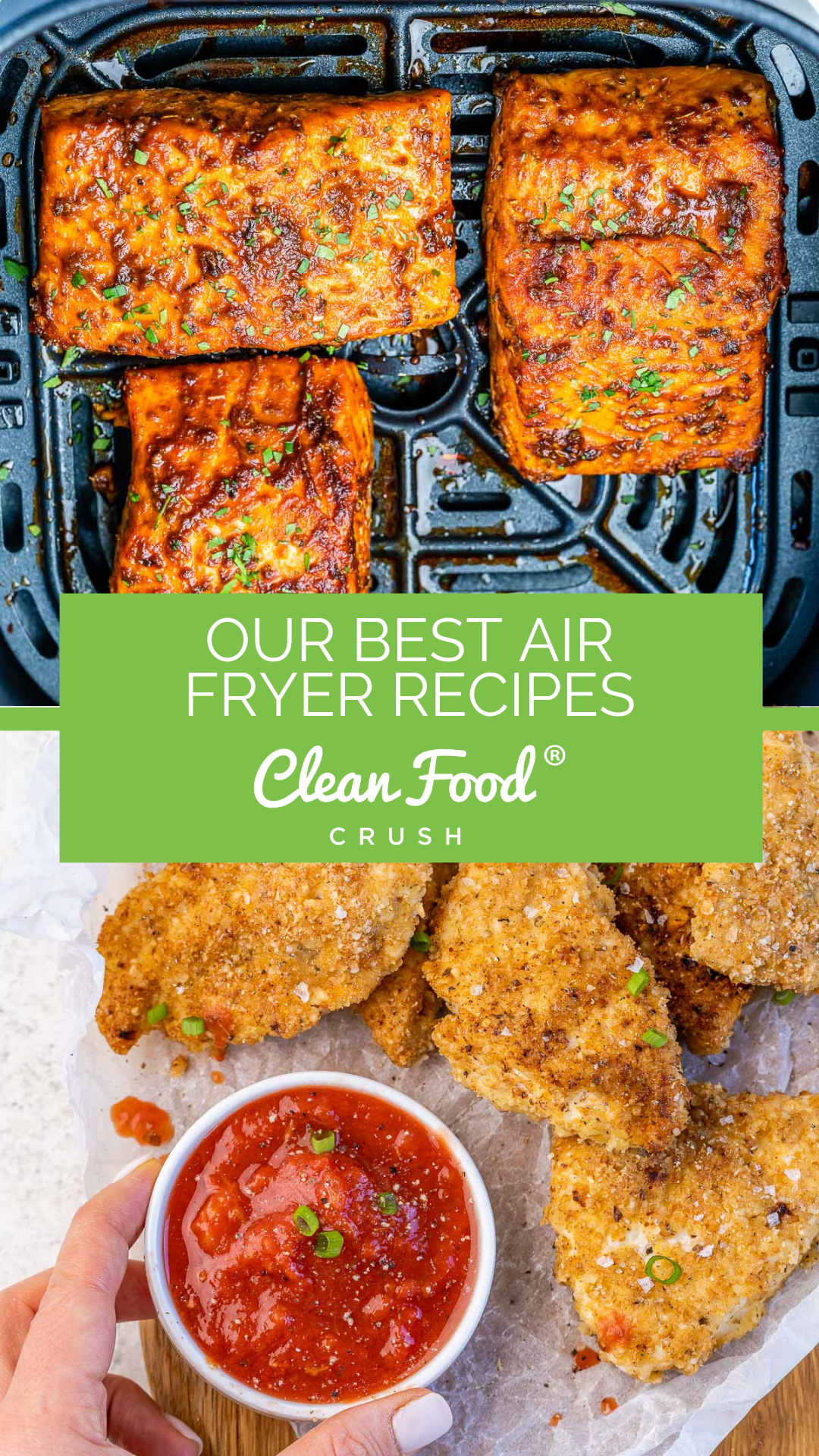 Our BEST Air Fryer Recipes
Have you jumped on the air fryer bandwagon yet?
Sometimes it feels like there are just
too many
small appliances and ways to cook, but I've quickly discovered that the air fryer is totally worth it!
I use mine daily for warming up leftovers, throwing together a quick dinner, and making delicious desserts for the family. So, it's completely worth it, in my opinion! 
If you don't already have an air fryer and want to get one, I recommend spending a few minutes online reading reviews and making a decision based on your personal needs and wants. Brands and features are evolving and changing so often that I shy away from giving recommendations.
The air fryer is super simple, easy to use, and produces
impressive
dishes!
I definitely suggest this small appliance if you're busy, have a big family to feed, need a snack or appetizer to take to a party, or want to get to creative in the kitchen.
Here are 15 of my absolute FAVORITE air fryer recipes for you to try in the coming weeks: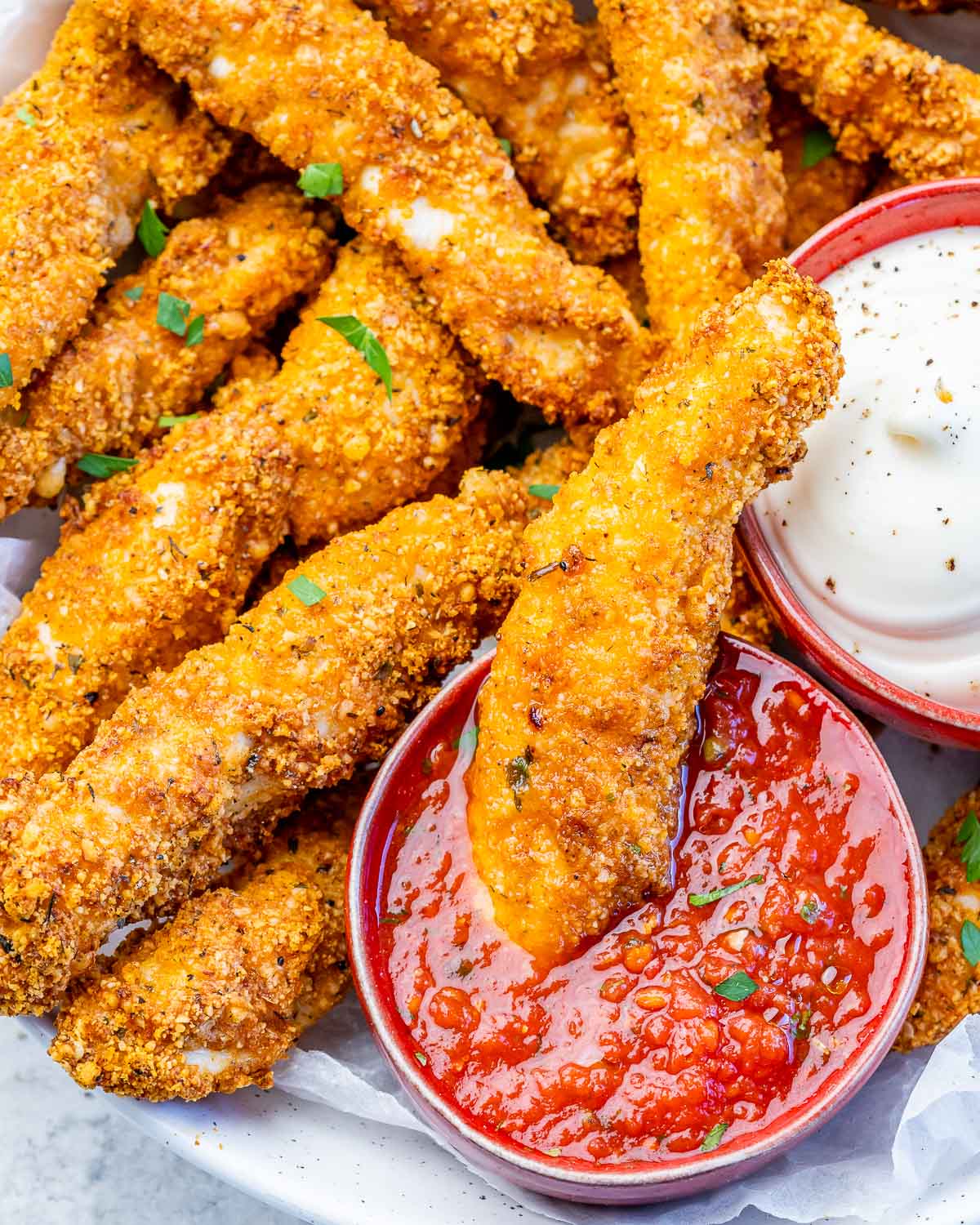 Using an air fryer to make chicken fingers is my favorite method because they are ALWAYS super crispy.
Plus, this recipe is easy to make and packed with flavor.
Perfect for families, parties, finger foods, and really any occasion!

You might be skeptical, but I promise it is possible to air fry an entire chicken!
Tender, juicy-center meat that will impress your toughest chicken critics with that idyllic, show-stopping, crispy, flavorful skin!
You can still make this if you have a busy schedule, as there is little hands-on time.

With the efficiency of an air fryer, we can still enjoy delicious pot roasts on the busiest of weeknights.
This recipe produces a crispy outer layer that an air fryer creates and super tender meat.
Plus, it's nutritious, packed with vitamins, fiber, and antioxidants!

My mouth is watering just looking at these buffalo potatoes!
Potatoes are a whole and nutrient-dense food option, especially for active people requiring higher carbs for energy.
Also, did you know potatoes are filled with more potassium than bananas and contain fiber, vitamin C, vitamin B6, and a little bit of iron and calcium?

These tender, juicy little bites are a total crowd-pleaser!
They're great for meal-time, snack-time, appetizers, and food prep.
T
he crispy outside, juicy inside, and delicious flavors complement each other perfectly!

I find these Brussels Sprouts surprisingly tasty! And they're incredibly healthy.
Like other cruciferous veggies, Brussels Sprouts can help strengthen the immune system to protect your body from disease and health problems, including high cholesterol, high blood pressure, and diabetes.
They're also super high in vitamin K and aid in strengthening your bones!

Salmon is a MASSIVE superfood with protein, heart-healthy omega-3 fatty acids, and a long list of vitamins and minerals – especially B vitamins and potassium.
Cooking salmon in an air fryer is my FAVORITE way to prepare it.
We get that ultra-flavorful crunchy and crispy coating on the outside with a super tender, juicy, flaky, melt-in-your-mouth inside.
It's genuinely the best salmon I've ever had!

These air fryer Cajun drumsticks have the
most
flavorful seasoning combinations!
Once you start making your own spice mixes at home, it's hard to go back to those store-bought blends.
Homemade is far superior in quality and affordability.
Try this recipe, and it'll quickly become a new household favorite!

Broccoli is another powerhouse green veggie that we could probably all benefit from eating more.
They're full of vitamins, minerals, and antioxidants that are fantastic for heart and eye health, support hormonal balance and healthy digestion, strengthen the immune system, aid in controlling blood sugar, and keep your bones and joints strong!

Chicken nuggets aren't just for the kids!
Trust me, pretty much everyone will love these!
They're full of flavor, super easy, and better than any you might find at a fast food joint.
Once made, get a little creative with how you serve the nuggets.
Either pair them with a homemade sauce or add them to a big salad with tomato, onions, and pickles!

Cauliflower is one of our favorite ingredients at CleanFoodCrush because it's so healthy, tasty, and versatile.
If you're a vegetarian, trying to limit your gluten intake, or want to try a clean new buffalo wing recipe, this one is perfect for you!
Simple, delicious, easy, crispy, healthy, what more is there to ask for?!

These baked apples are naturally sweetened, warm, cozy, and rustic all-natural dessert you can easily make after dinner tonight.
You get that warm bubbly taste of apple pie without the hour(s) of work needed.
Your house will smell amazing while they're cooking, and you'll feel great about knowing each ingredient in your dessert.

If you're anything like me and my family, then you
love
avocados!
They're high in (the good kind of) fats, protect against heart disease, lower blood pressure, and are an excellent source of potassium and fiber.
These crunchy wedges are a fun and unique way to enjoy avocados!
Thanks to that crispy coating, the healthy, natural fats, and the tasty homemade dip, they are a SUPER satisfying snack or party food!

Air-fried radishes make for a surprisingly tasty side dish your whole family will love.
These radishes are perfectly seasoned and nice n' crispy on the outside, creating a very satisfying side dish when craving something a little crunchy and salty. One taste, and you'll be hooked!

I'm ending this list with one of my favorites, these
perfect
air fried green beans (which I often eat through much too quickly because they're super crispy and addictive).
These are fantastic for a quick meal and meal prep!
Plus, there are nearly endless reasons to eat more green beans.
They are low in calories, rich in vitamins and minerals, a great source of vitamins A, C, and K (important for a healthy immune system, good eyesight, and great skin), and have a mild taste that makes them popular (even with picky eaters). 
Whether you're an air fryer expert or a beginner, I hope you found a recipe you're excited to try. Let me know your favorite way to use this fun appliance in the comments below, and remember to tag us in your creations!
Leave a Comment Below:
Related Posts :
..