2

Nov, 23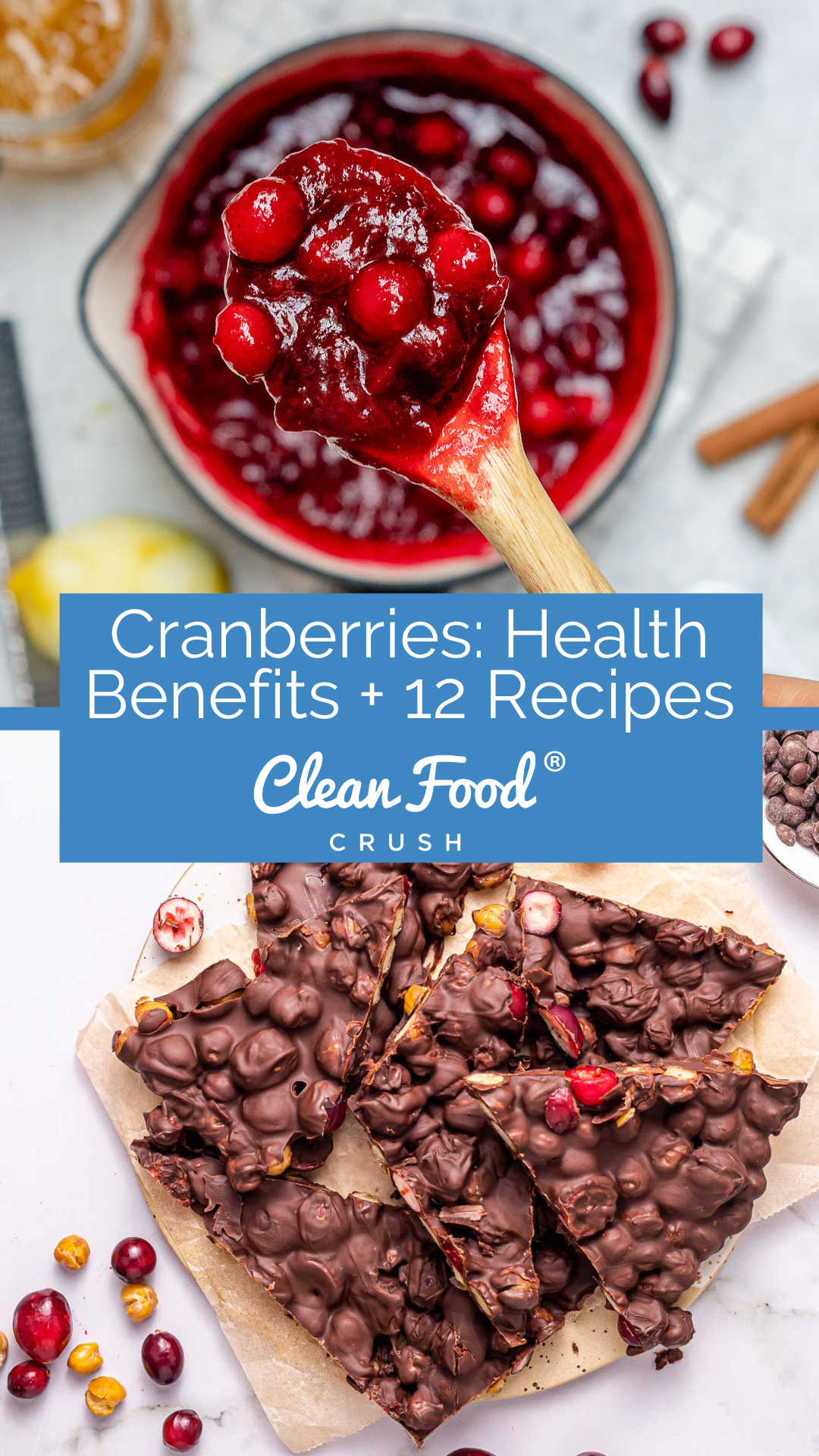 All about Cranberries + 12 Recipes
Cranberries are another seasonal classic fruit that, in addition to being delicious, offer several health benefits! They're
considered a superfood
because they are a fantastic source of certain vitamins and minerals and several unique plant compounds and antioxidants.
Here are 5 of the possible top health benefits of cranberries:

1. Prevent Urinary Tract Infections
First, and perhaps most obvious, cranberries help protect against
UTIs
, which are among the most common bacterial infections (especially among women).
Phytonutrients
, unique plant compounds also known as A-type proanthocyanidins or condensed tannins, prevent
E. coli
from attaching to the lining of your bladder and urinary tract, the most common cause of UTIs, and cranberries are among the richest fruit sources.
Several studies, including
this one
and
this one
, suggest that drinking cranberry juice or taking cranberry supplements reduces the risk of Urinary Tract Infections. However, while cranberries can lower the
risk
of UTIs, they are not a treatment for the infection. 
So, as always, consult your doctor if you have a UTI or any medical concerns.
2. Support Heart Health
The antioxidants in cranberries are
beneficial
for heart health, and several
studies
support the belief that cranberries and cranberry juice or supplements reduce the risk of heart disease. They can
help
lower pressure and
improve cholesterol
balance, both of which are essential for heart health.
However, there are some conflicting studies on this, so you shouldn't rely solely on cranberries for overall heart health.
3. Maintain Digestive Health
The same A-type proanthocyanidins mentioned earlier help reduce the harmful microbes in the colon and
replace them
with good bacteria your body needs. The same process that helps prevent UTIs is what supports digestive health. Additionally, cranberries may also reduce inflammation in and around your digestive tract.
Gut health is vital to overall health, so adding cranberries to your diet is very smart!
4. Reduce Inflammation
Cranberries are anti-inflammatory foods because they're high in antioxidants, especially anthocyanins, and flavanols, which give cranberries their dark hue. This anti-inflammation is crucial to the reduced risk of certain diseases and infections, such as UTIs, heart disease, obesity, and certain cancers. 
5. May Protect Against Certain Cancers
First, let me say that neither cranberries nor any other fruit or vegetable is a cure for cancer or 100% protection against cancers. All serious medical advice should come from a healthcare professional, and if you have
any
concerns, always talk to your doctor.
That being said, cranberries' unique plant compounds
may
lower
the risk of stomach cancer when preventing H. pylori from attaching to your stomach lining.
Ursolic acid
, another antioxidant plant compound found in cranberries, has potential anti-cancer effects. It has been seen to be particularly useful in prostate cancer.
Hopefully, these health benefits will inspire you to try the following cranberry recipes! 

Of course, this list needs to start with a homemade cranberry sauce recipe perfect for Thanksgiving, Christmas, or any other Holiday meal!
Homemade cranberry sauce stays great in the fridge for a week, so definitely make it ahead of the big day.

These granola bars are perfect for a quick breakfast or a tasty snack.
Plus, they are
full
of nutritious nuts and seeds, making them a healthy energy source and natural fuel.
They'll disappear faster than you expect; at least they do in my house! 

A simple cranberry glazed chicken skillet to make soon, either with fresh cranberries or with leftover cranberry sauce.
My only warning is that you'll want to make it again… so keep the homemade cranberry sauce flowing this winter, my friends!

The tangy fresh cranberries are surprisingly AMAZING combined with crispy chickpeas and creamy sweet chocolate.
This combo will surprise you because it's just excellent! Garbanzo beans or chickpeas are full of protein and fiber and are loaded with vitamins and minerals, adding to the nutritional value of this tasty treat!

Your house will smell
divine
while baking, and you'll warm up those bellies with this sweet and nutritious in-season dessert!
Add a dollop of coconut cream or high-quality vanilla bean ice cream on top to make it extra tasty. 

Whether lunch or an afternoon snack, these cranberry chicken salad apple slices deserve a spot on your weekly menu!
They're also fun to put together, so invite your kids into the kitchen to help you for family memories and a chance to teach them the importance of cooking healthy meals.

This is a bright, fresh, and simple recipe to serve some crisp veggies alongside your favorite meals this season.
I created this coleslaw for the holidays, but I think this would be equally delicious served alongside a juicy BBQ rib in the middle of July!

Here's another recipe that makes for either a quick breakfast or a convenient snack.
It will also fill your home with the most enticing smell!
I suggest taking a pan to your next event to impress your friends because I don't know many people who won't LOVE these crumble bars.

These naturally sweet protein balls are super satisfying!
Energy balls are a wonderful, quick, and easy snack to have available and an excellent pre or post-workout snack, treat, or speedy breakfast if you need an energy boost.


Brighten up your dinnertime this weekend with this orange cranberry chicken skillet.
Orange and cranberry go together surprisingly well to create a beautiful flavor profile.
This meal is my favorite to make further in winter, around Christmas, but it's fantastic at any time! 

Here's a healthier option for holiday baking that is fully kid-approved!
The flavors complement each other perfectly, and the cookies can be ready before you know it.
I recommend doubling or tripling this recipe for your holiday celebrations because it's
amazing. 

Another homemade cranberry sauce recipe seems the perfect ending to this list!
This one is super simple and can be ready in just minutes.
It's perfectly sweetened using pure maple syrup and freshly squeezed orange juice, so there's no need to dump cups and cups of white sugar into your cranberries, as most recipes call for.
There ya have it! Twelve delicious cranberry recipes to try these next several weeks. These are sure to take your Holiday meals to the next level.
Be sure to share your creations and tag me so I can see all the delicious foods you're enjoying!
Leave a Comment Below:
Related Posts :
..