24

Aug, 23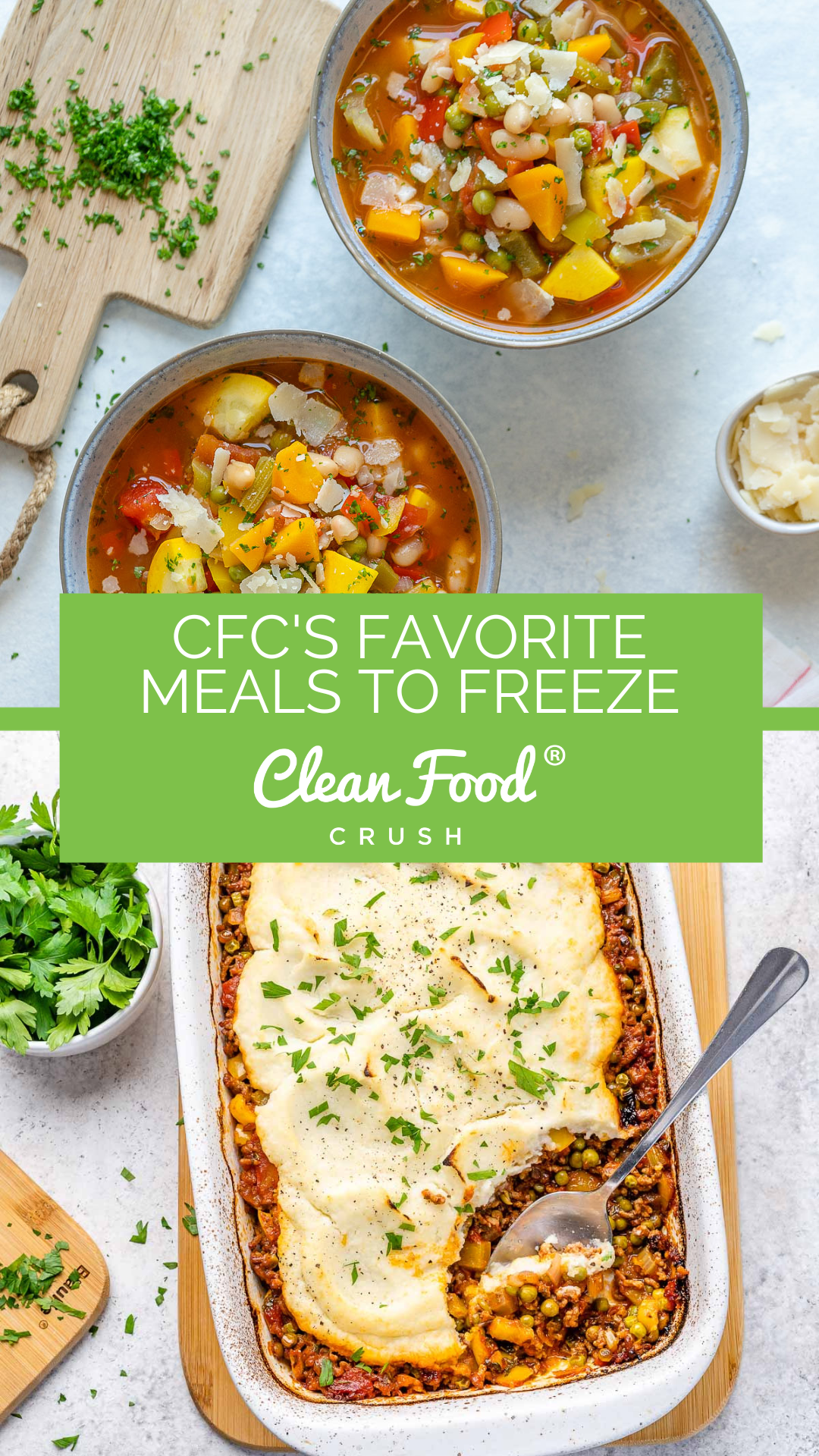 CFC's Favorite Meals to Freeze
Life is BUSY right now, so there's not as much time to spend in the kitchen every day. I can't be the only one feeling that way, so I decided to put together this quick roundup of my freezer faves.
All these recipes freeze well, so you can make them on a free day, pack them up in air-tight, freezer-safe containers, then pull them out to thaw and reheat later when you don't have the time or energy to make something fresh.
As you'll notice, many of these recipes were soup or stew, and there's a reason for that!
Soup tastes even better the next day, so it's a perfect meal to make and freeze.
It also doubles well, is versatile, and is affordable.
But the other recipes are just as great for meal prepping! So, here are 20 of my freezer faves!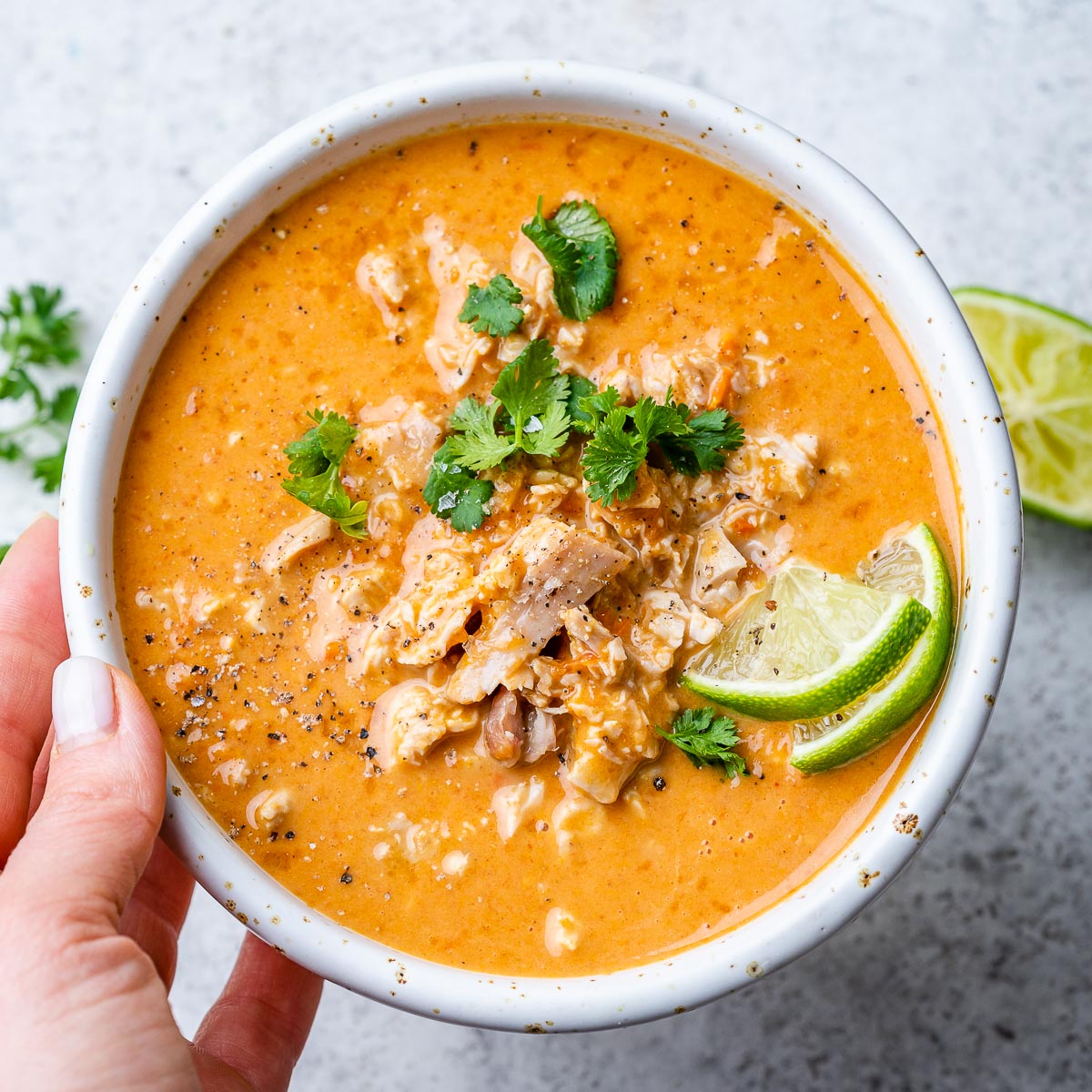 The flavor here is huge, complex, and hits the spot! 'Masala' means a mixture of spices; you will love this aromatic and comforting soup. This soup refrigerates well for 3 days, and you can freeze it for up to 2 months.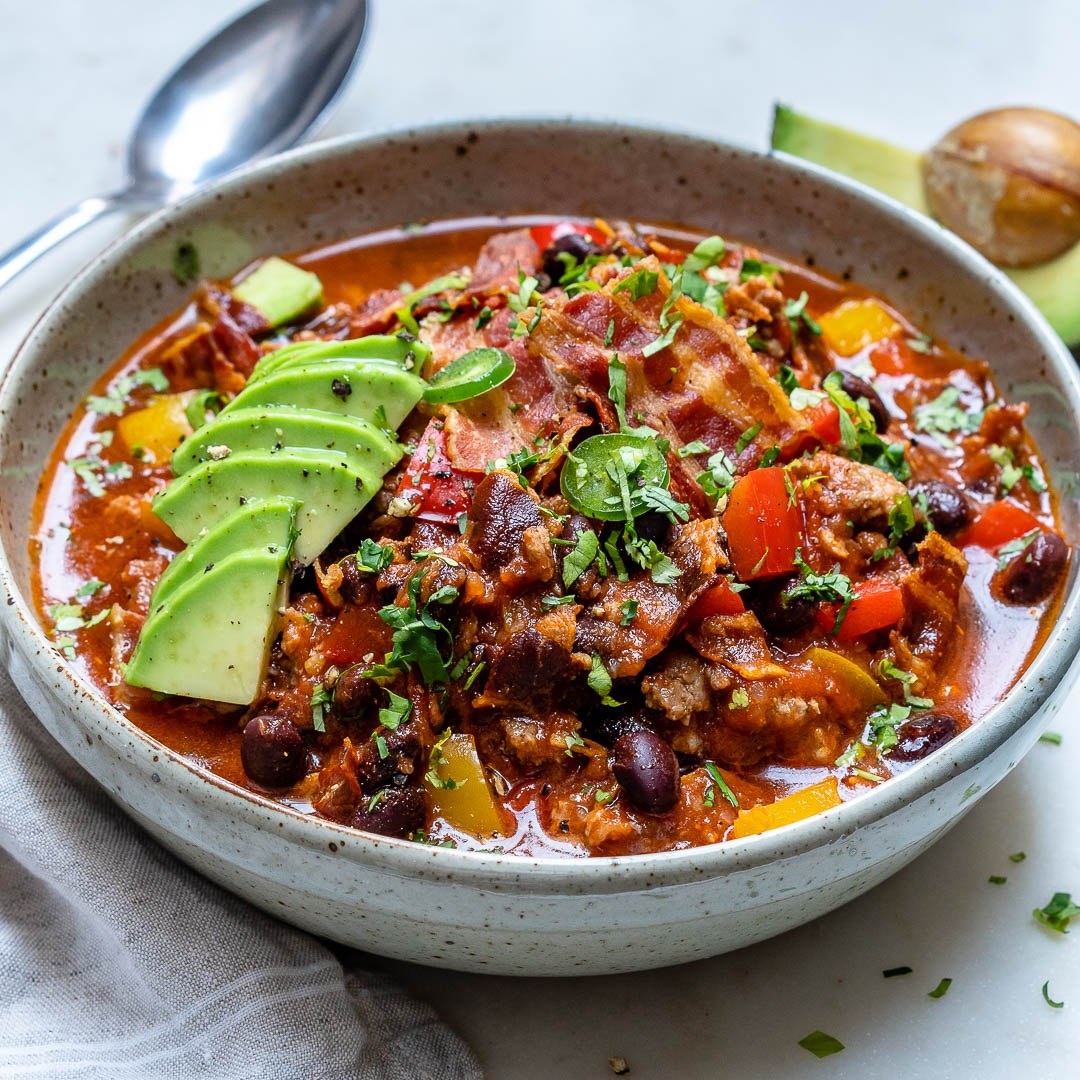 Chili is a family favorite, especially in the autumn, so you'll want to save this one for later months! And it tastes even better the next day, making it a great meal prep meal.
After freezing, the texture of the beans does come out a little different, and you might want to wait to make the bacon until you thaw the chili, but it's still great!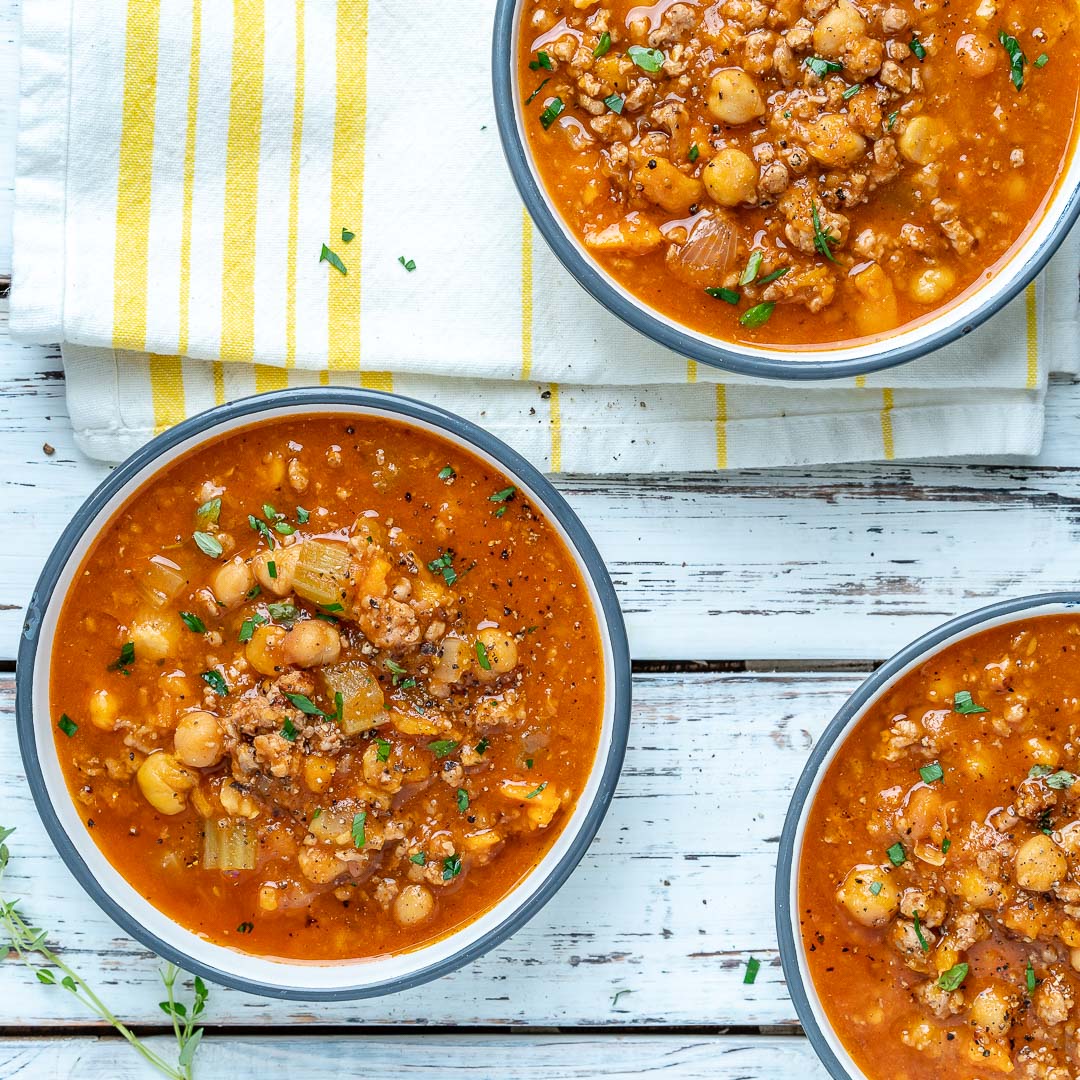 Soup is a life-saver during the busy school season!
It's economical and excellent because dinner is ready anytime, even if you often have a few stragglers coming home late after work or sports.

Anytime buffalo flavoring is added to a meal, I'm confident my family will LOVE it.
If you freeze this chili, make sure to wait until you're ready to serve to top it with crisp celery and blue cheese, which perfectly pulls together all of the satisfying flavors!

This soup is comforting, tasty, refreshing, and bright! It's a fantastic time saver because it comes together fast and saves well. Plus, the beans are incredibly nutrient-dense and filling and loaded with antioxidants.

Baked egg casseroles freeze well for about 2 months, and you can reheat them in the oven or microwave.
This one, in particular, thaws and heats up nicely. It's also the most flavorful, savory, hearty, creamy, nourishing, and comforting rice dish to add to your favorites.

Here's a fun soup spin on the classic comfort meal of chicken pot pie.
The recipe is simple, but the flavors are satisfying! Definitely on the top of my freezer faves list.

You can freeze this turkey and veggie skillet meal,
but
the broccoli will be slightly soft when reheated.
The whole thing comes together in just over 20 minutes, and all ingredients are very interchangeable and customizable to YOUR taste preferences!

This chicken is WONDERFUL for food prep and lasts 4-5 days refrigerated or six weeks frozen. And the best part is that if you have the chick on hand, the meal will only take a few minutes to prepare.

Sweet potatoes and lentils are both packed full of nutritional value. Sweet potatoes are high in fiber and antioxidants, and
lentils
are a fiber powerhouse and can lower cholesterol and protect against diabetes and colon cancer.

Delicious and full of health benefits, you'll definitely want to make this shepherd's pie for the whole family.
Typically, the tricky part about freezing shepherd's pie is the mashed potato top layer, but this one uses mashed cauliflower, which is not only more nutritional but freezes better than mashed potatoes.
However, the texture will start changing around 2 months into freezing, so it's best to only freeze it for a few weeks.

This chowder has all those flavors my family loves and also goes over super well with my large crew since they can each pile their own toppings on their bowls to create something they enjoy!
Overall this meal is incredibly filling, and these ingredients are usually quite budget-friendly.

Crockpot and instant pot recipes are perfect for busy seasons because you can put everything together in the morning, then go to work or run errands, and come home to a fully prepared meal!

Zucchini has quite an impressive nutritional scoreboard – from high levels of potassium, B vitamins, dietary fiber, and antioxidants, all of which benefit our overall health.
And if you want to freeze this lasagna, the best way is to do it after you assemble it and then bake it after rethawing.

Thanks to its detoxifying properties, minestrone stimulates the purification of the liver and the entire body. Make a large pot, portion it into several air-tight containers, then freeze those to reheat individually through the next couple of months!

I purchase rice in bulk and find that this helps to stretch the family food budget tremendously.
I like to cook a bunch of brown rice, portion it out, then freeze it once it's cooked. Cooked brown rice freezes very well, making it even easier to pull together this fried rice like this on a busy weeknight.

This crockpot soup is one of my favorites! It's super simple, filled with protein, ultra flavorful, satisfying, and budget-friendly. Make a giant pot for dinner, save some for the week's lunch, and freeze the rest for the future!

Fiber-full
barley
is excellent for healthy cholesterol and blood sugar levels. It's also got plenty of B vitamins and minerals like selenium, magnesium, and phosphorus. So this soup is not only simple and delicious but super healthy!

While this casserole does freeze well, the texture will be slightly different after thawing.
Even with that in mind, this casserole is fantastic and will make an impressive addition to the weekly menu!

Our Crockpot Chicken Tortilla Soup recipe (as with most soup recipes) is very versatile, and you can leave things out or add extras and more of your favorite ingredients! Make this your own, and it'll quickly become a staple in your house!

I hope this list is helpful and you find some new favorite meals that can save you time and energy in the busier times!
Anything helps when life feels chaotic, especially not worrying about coming up with something to cook every day and carving out time to dedicate. 
Let me know your favorite meal prep meals in the comments below!
Leave a Comment Below:
Related Posts :
..