11

Aug, 22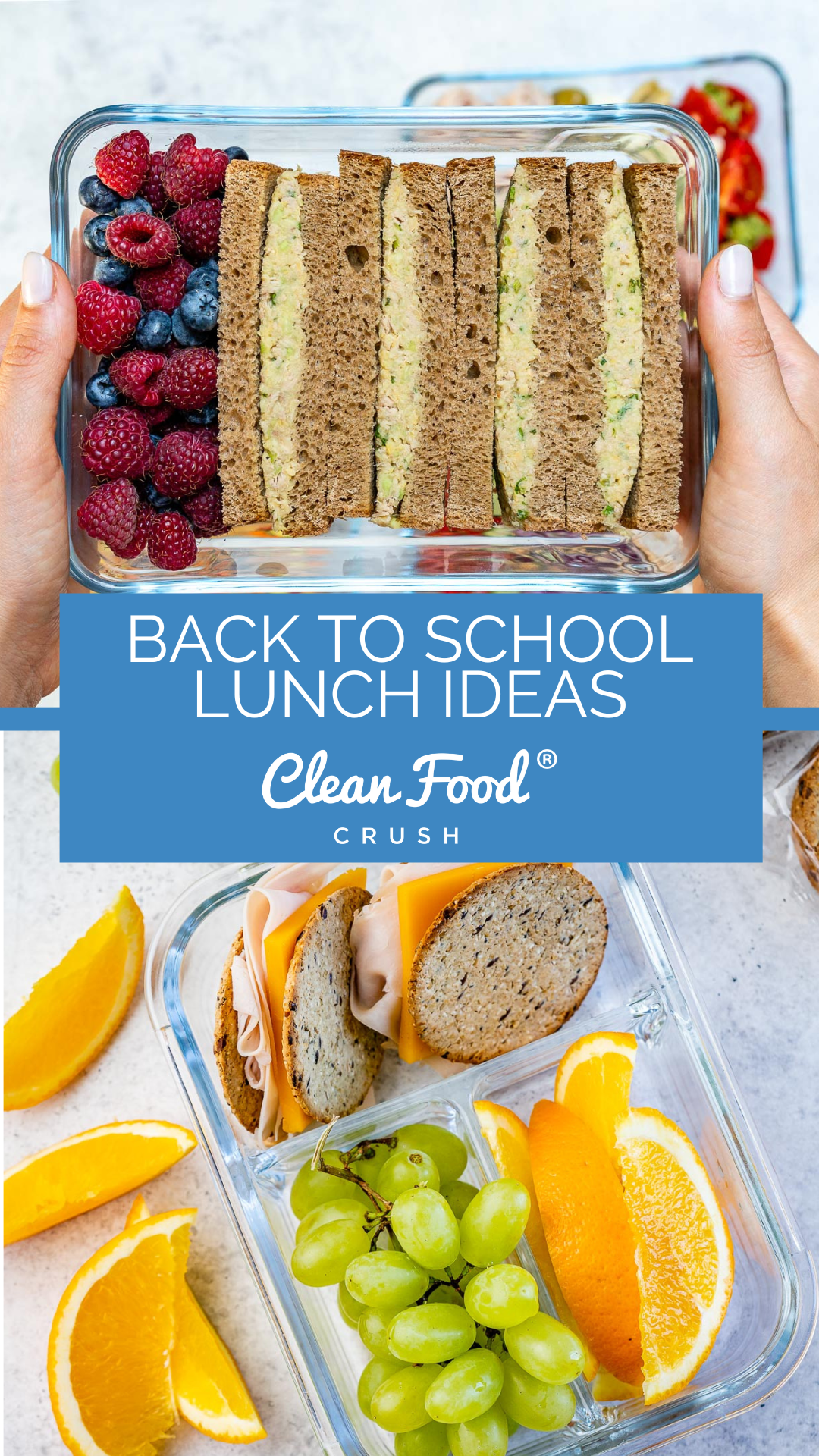 Clean + Cold Lunchbox Ideas for Back to School
I love sharing my recipes with you because it's important to know how fun, easy, and tasty it can be to eat clean. And that extends to the rest of your family, too!
Changing habits can be challenging, and that includes eating habits! Starting a clean eating lifestyle can be overwhelming when you've spent years avoiding dedicated time to cooking healthy meals instead of eating processed foods. That's why introducing healthy habits to your kids early on is so important! The practices you teach them now, when they're young, will follow them into adulthood.
A good diet is absolutely essential for children who are growing, developing, and more vulnerable to illnesses and forming habits. When kids eat healthily, they have a lower chance of developing chronic diseases like heart disease, type 2 diabetes, obesity, and some cancers. They'll also feel better and enjoy life more!
Plus, our recipes are super kid-friendly, which means you can get your kids involved in the kitchen and show them all the yummy ingredients that go into these meals and how easy it is to get all their servings of fruits and veggies without sacrificing flavor. 
Many of our meals can be prepared beforehand, making your early morning school routine a breeze. Having your kids help you make the meals will teach them responsibility and independence. It can also be a great way to spend quality time with your kids while ensuring they get all their necessary vitamins and nutrients.
I'm all about reducing stress, and these recipes are a surefire way of taking some weight off your shoulders as this new school year begins. Read on!
These cute and colorful jars are perfect if you like sushi and efficiency! Full of salmon, carrots, cucumbers, avocados, and rice, these are great for school lunches or quick on-the-go dinners. Plus, you can swap out the salmon for shrimp if you want!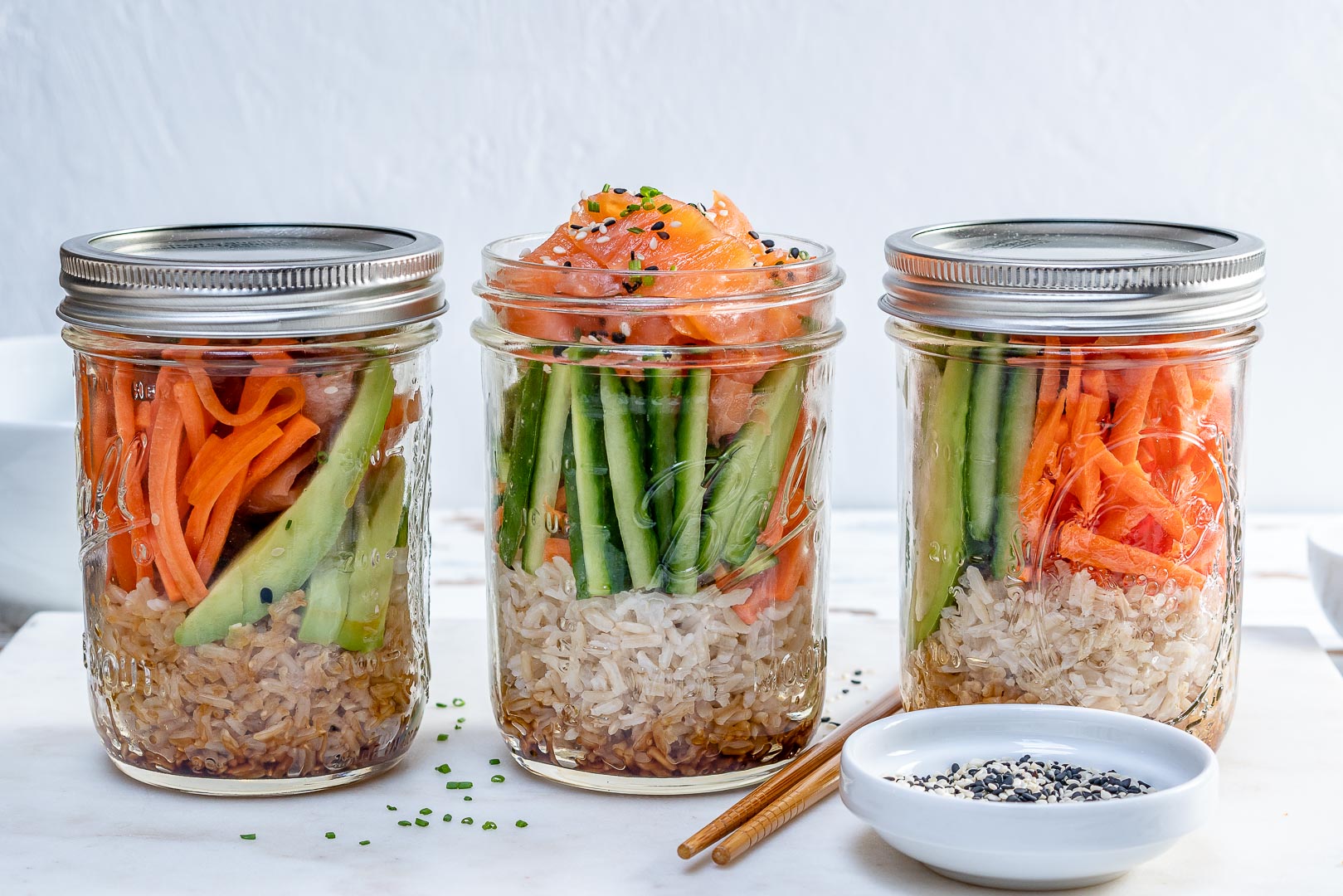 Similar to the previous sushi mason jars, this recipe includes a few more ingredients, including cabbage, vinegar, and honey, which give them a bit more spice and crunch! But they're just as accessible and convenient as the others.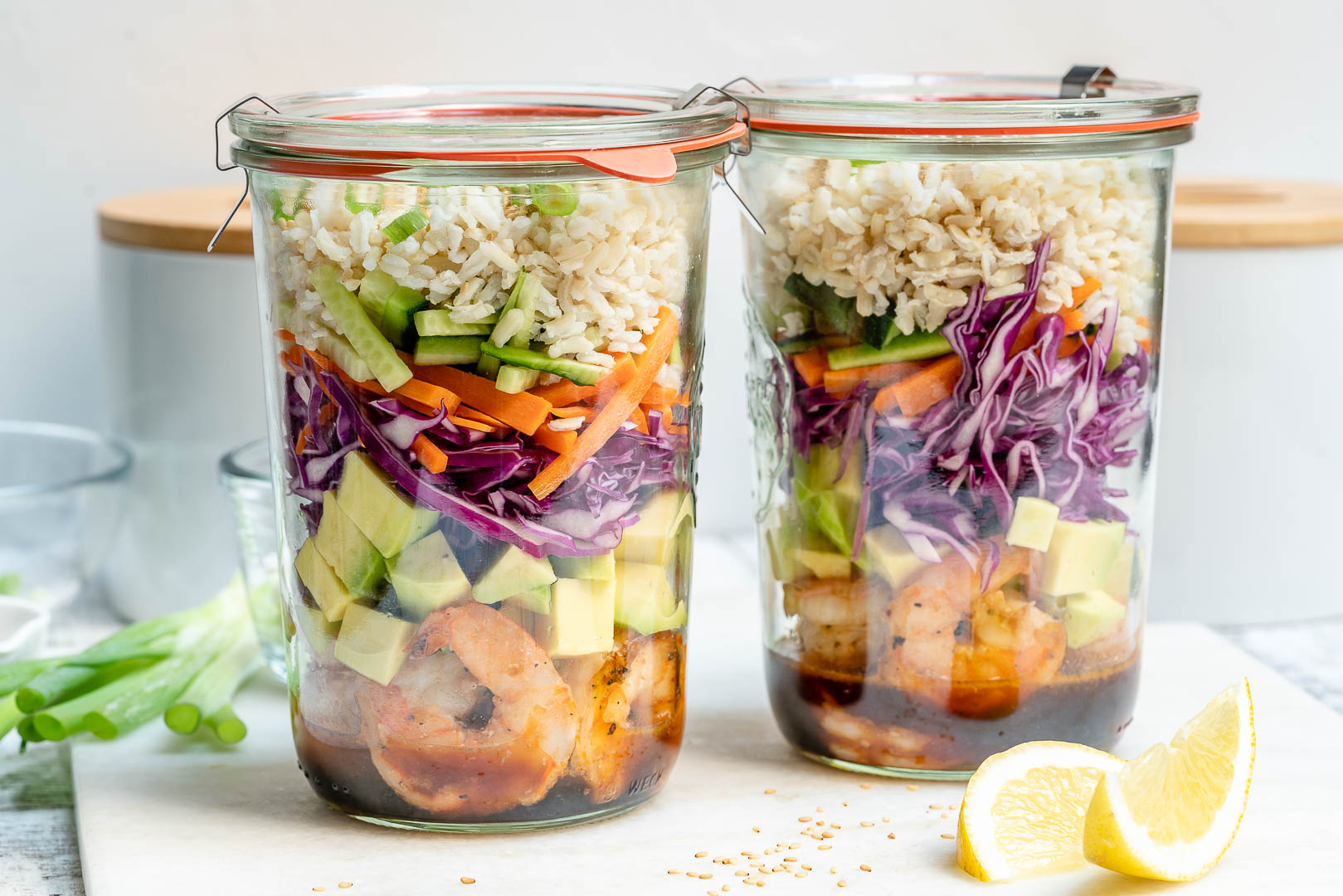 The great thing about these bowls is their versatility. Simply start with quinoa and grilled chicken, then add as many vegetables as you want. Cucumbers, onions, carrots, raisins, apples – you name it, this salad will be all the better for it! These bowls are fantastic for meal prepping. Divide into servings and keep in the fridge for up to 3 days. Simply pull your delicious loaded bowl out of the fridge and enjoy!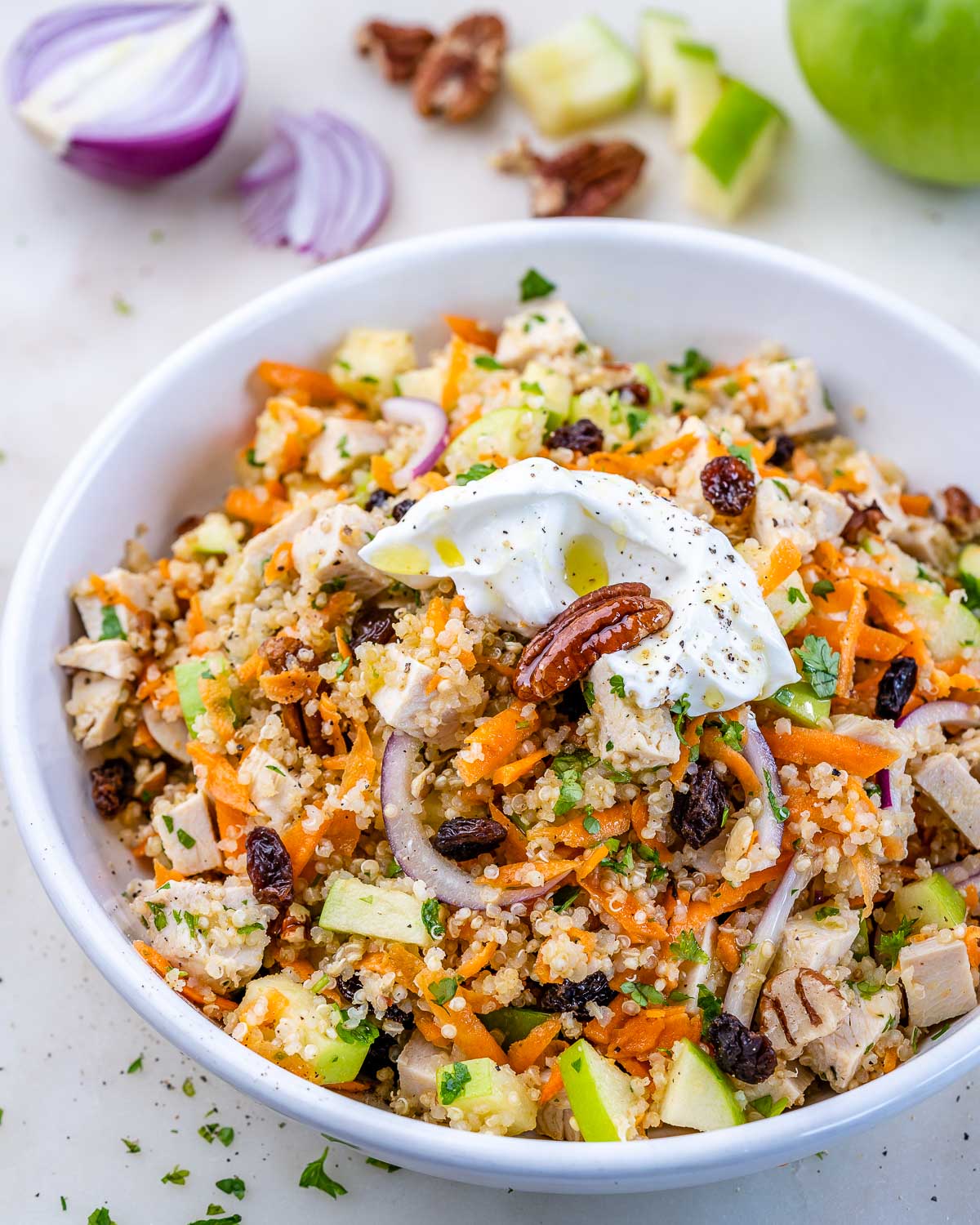 Turkey is an excellent substitute for more common meats like chicken and beef. It's rich in protein and low in fat and makes for delicious meatballs! Add in the cute ribboned veggies and colorful fruits, and you have one appetizing pre-made meal!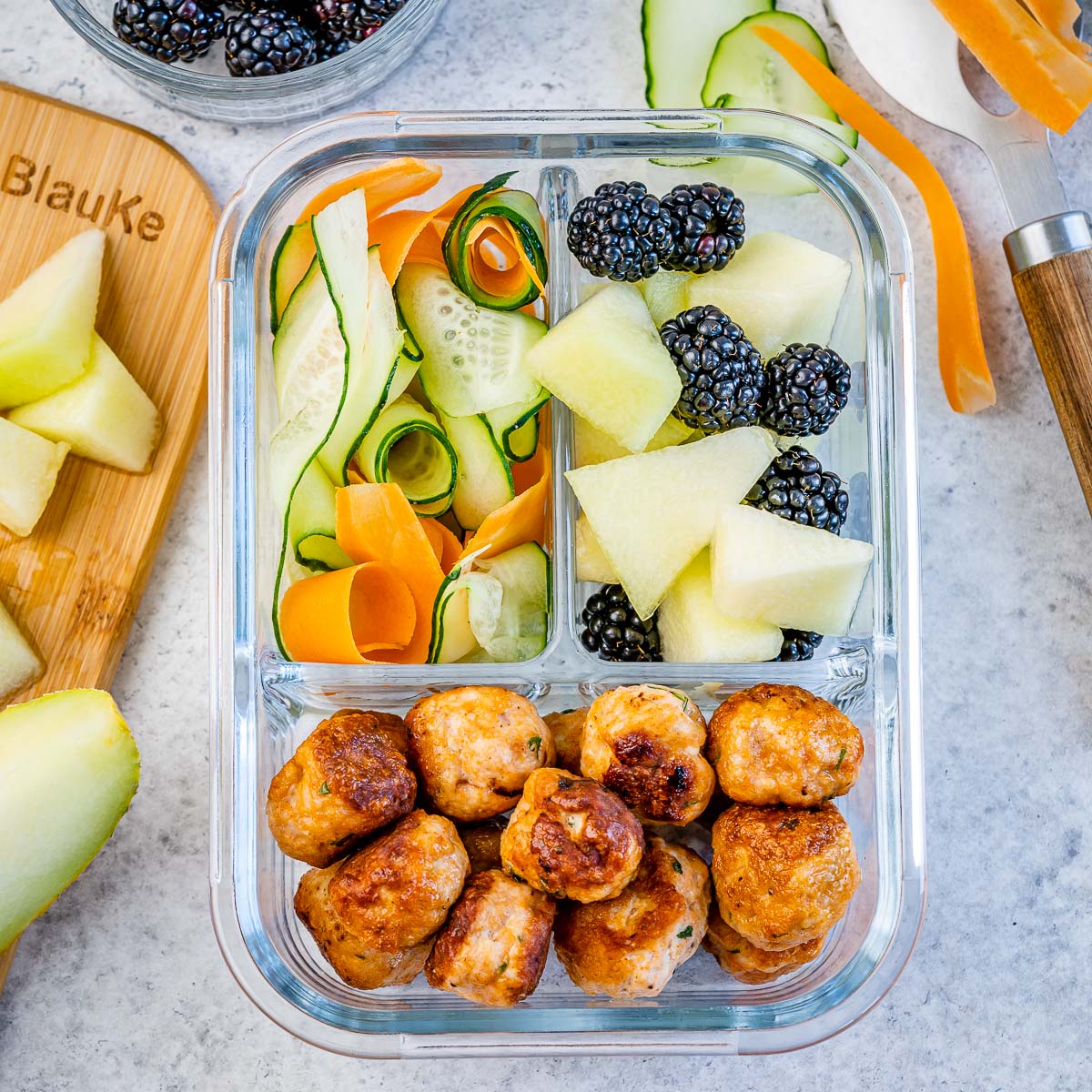 Salmon is rich in omega-3 fatty acids, reducing inflammation, lowering blood pressure, and supporting brain health. It's known as a superfood for a good reason! It's definitely one of those foods you should try to incorporate into your regular diet.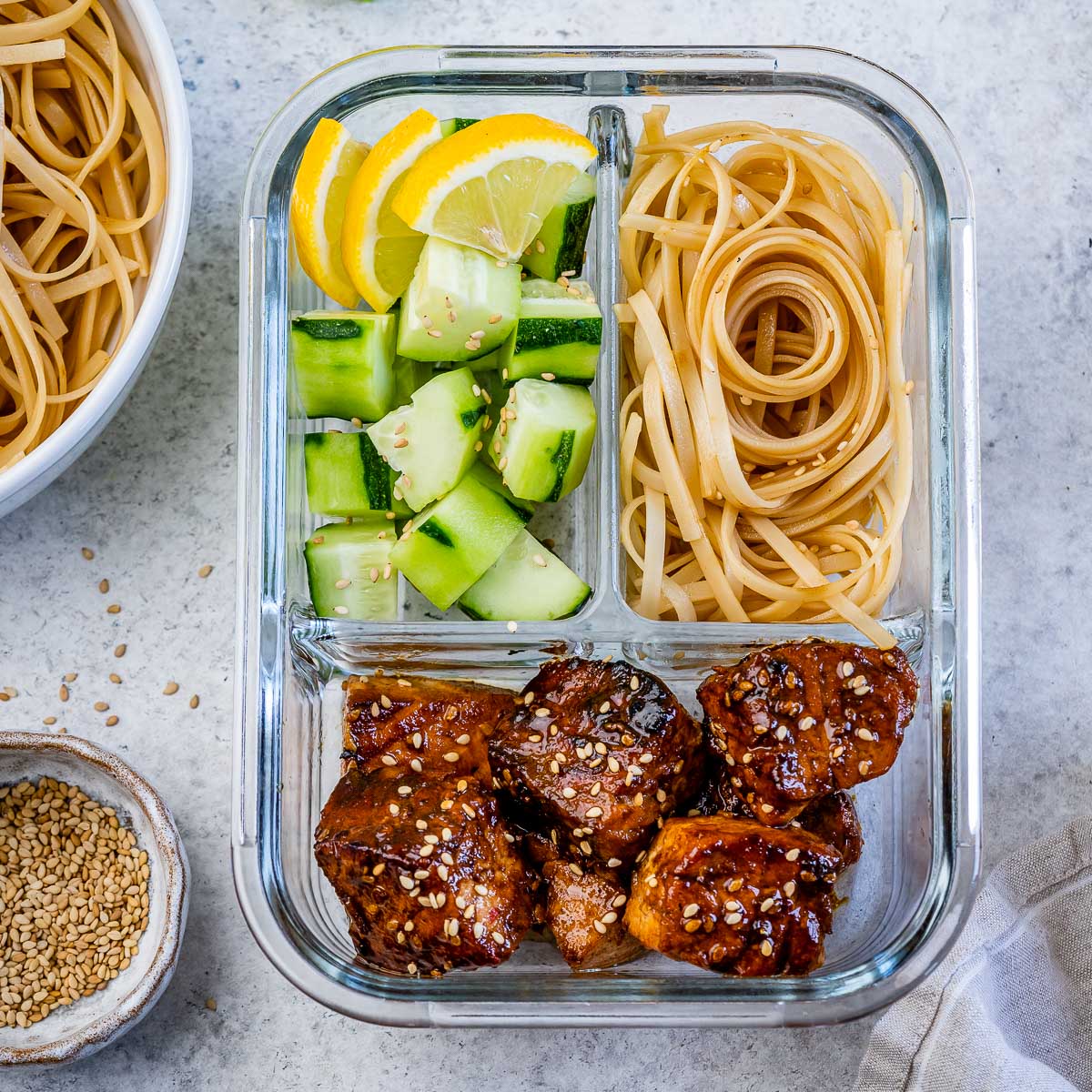 These Ham and cheese cracker sandwiches are a fantastic healthy and yummy alternative to Lunchables! Your kids will love these ham and cheese cracker sandwiches (or switch it up and use turkey) that will leave them full but not tired as they tackle the rest of their day. If you need a quick lunch to tuck into backpacks or purses that'll stay good for a few hours and don't require heating, these are the sandwiches for you!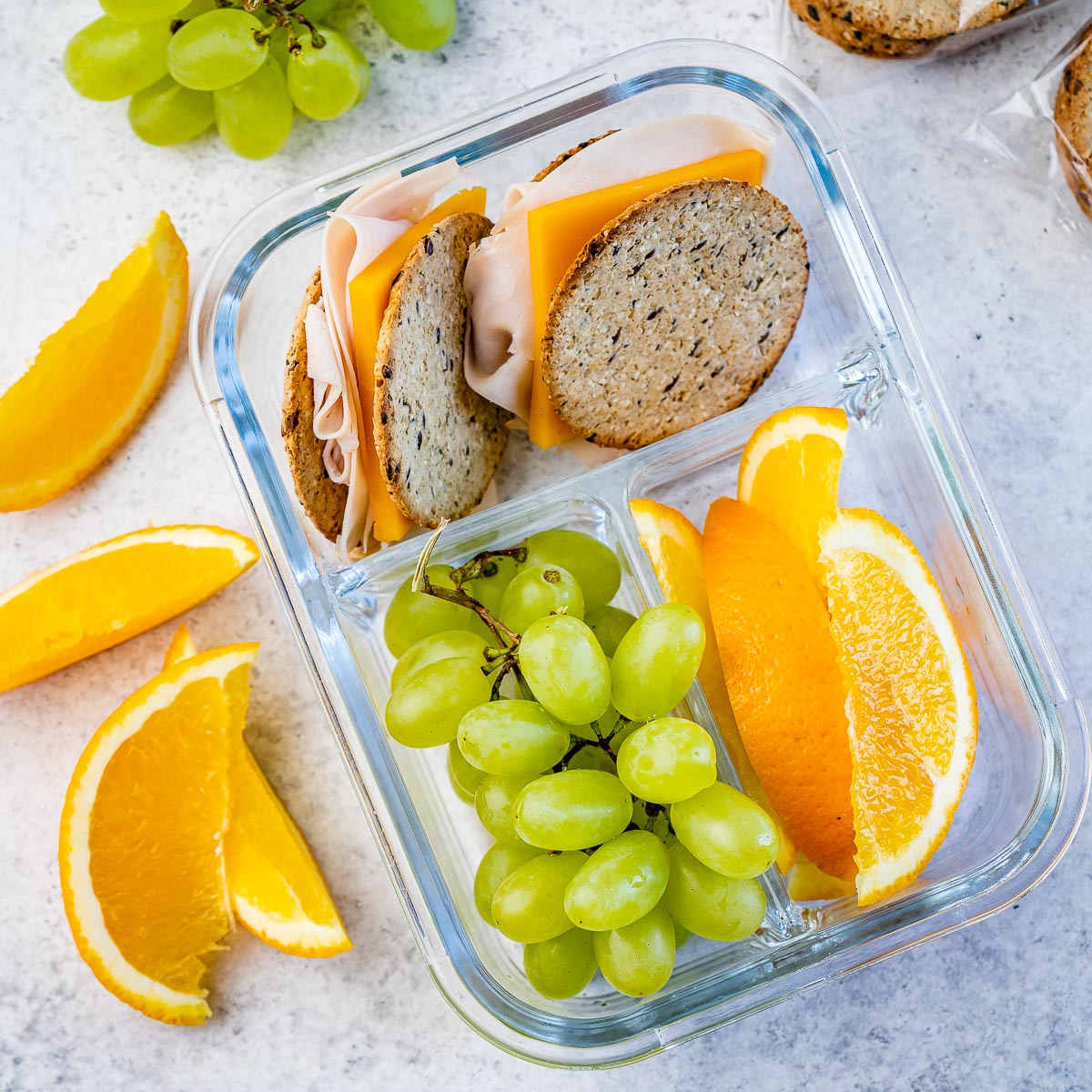 These pancakes are full of complex carbohydrates (thanks to the oatmeal) that will keep you, and your kids fueled during those busy days! Paired with fruits, nuts, and cheese, everyone will love this quick and easy meal.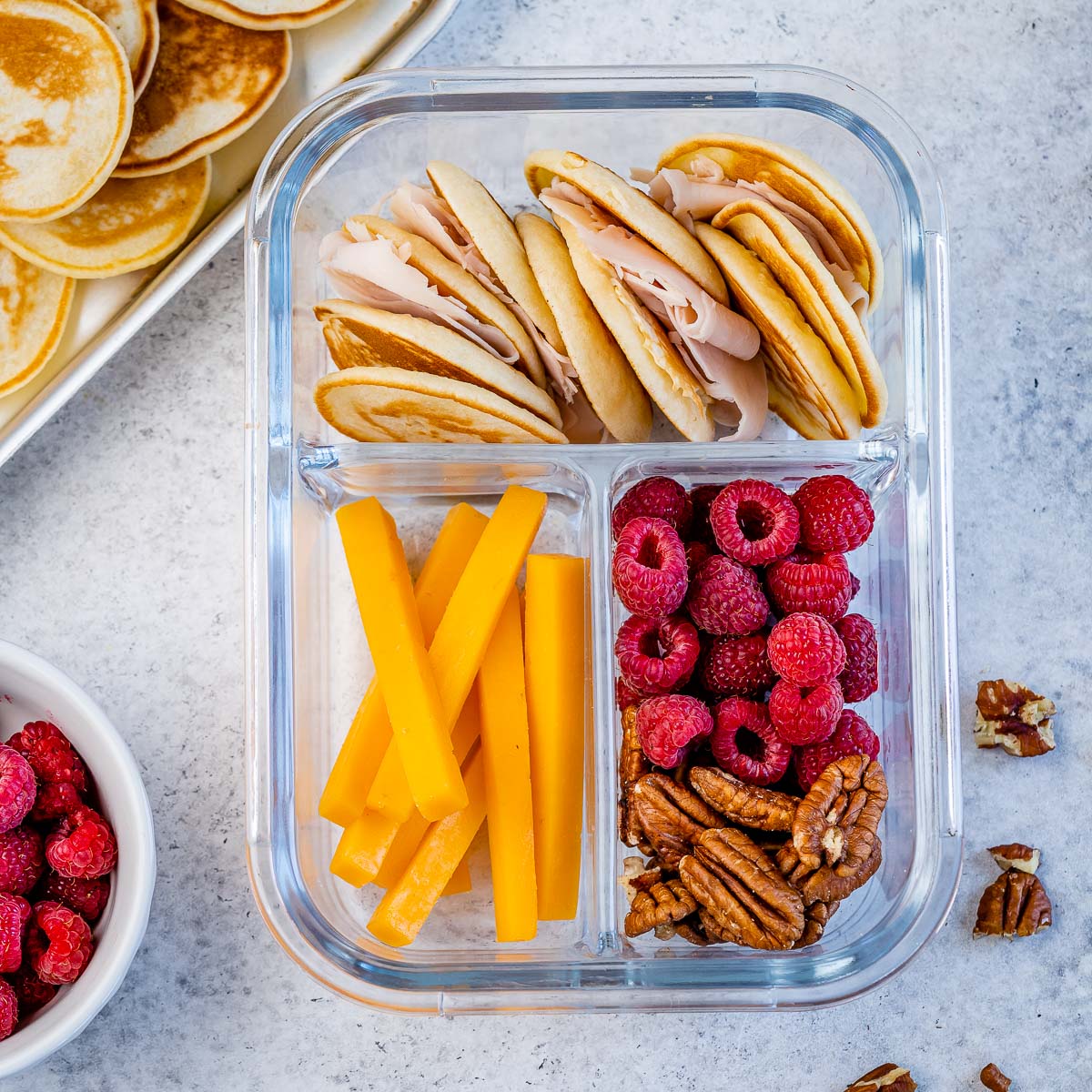 We all love a good helping of chicken salad, right? This one is full of clean, healthy ingredients like celery, onions, golden raisins, and cashews mixed with Greek yogurt and honey. YUM!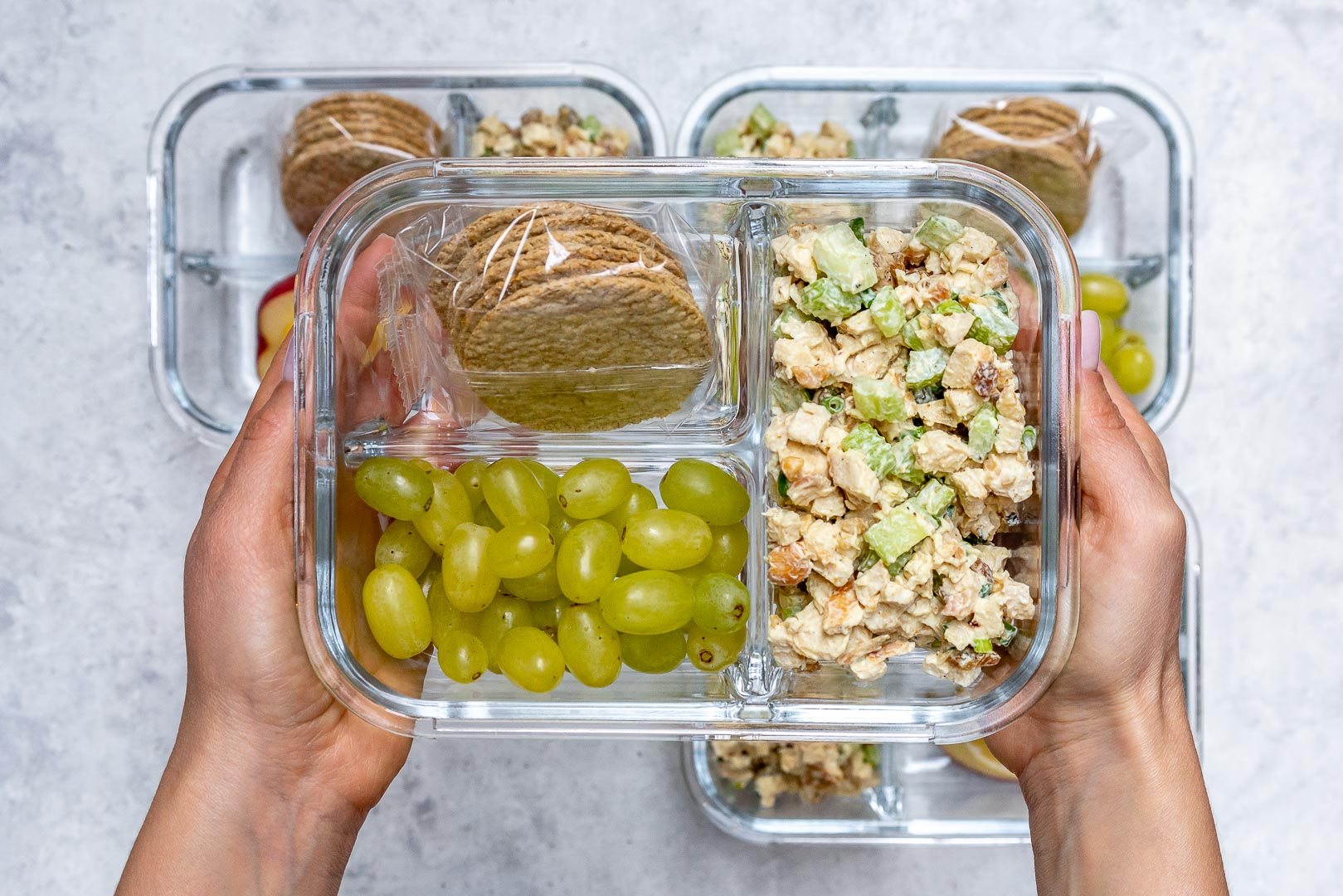 This recipe comes with not one but FOUR different box lunches!! Tuna Avocado Chickpea Sandwich, Greek Salad Lunch Box, Veggie Sushi lunchbox, and Caprese Turkey Salad Lunchboxes – you can't go wrong!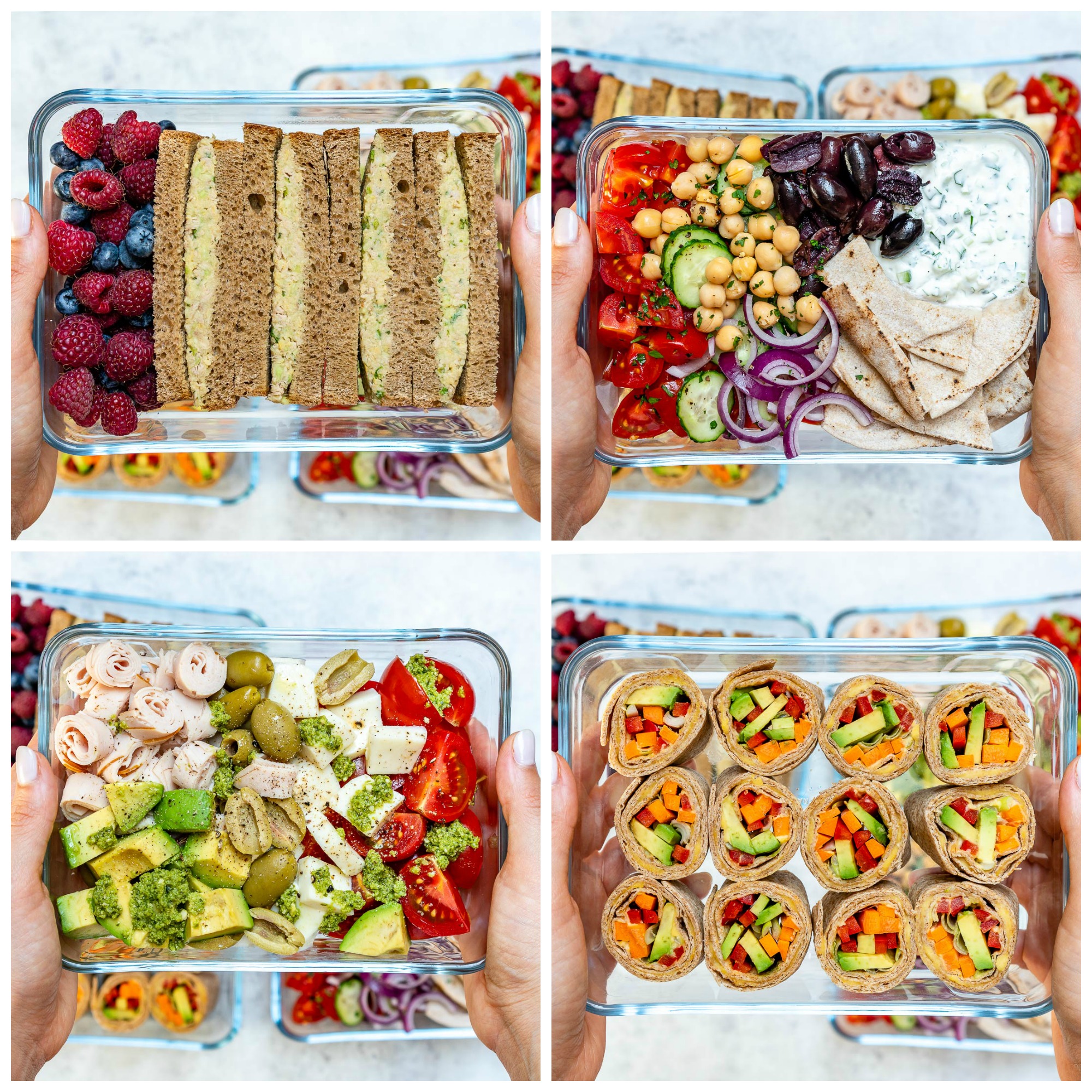 These wraps are simple, light, tasty, and satisfying – all you could want in a boxed lunch! We've already talked about turkey's health benefits, and paired with this fun tahini sauce, you'll never want these to run out!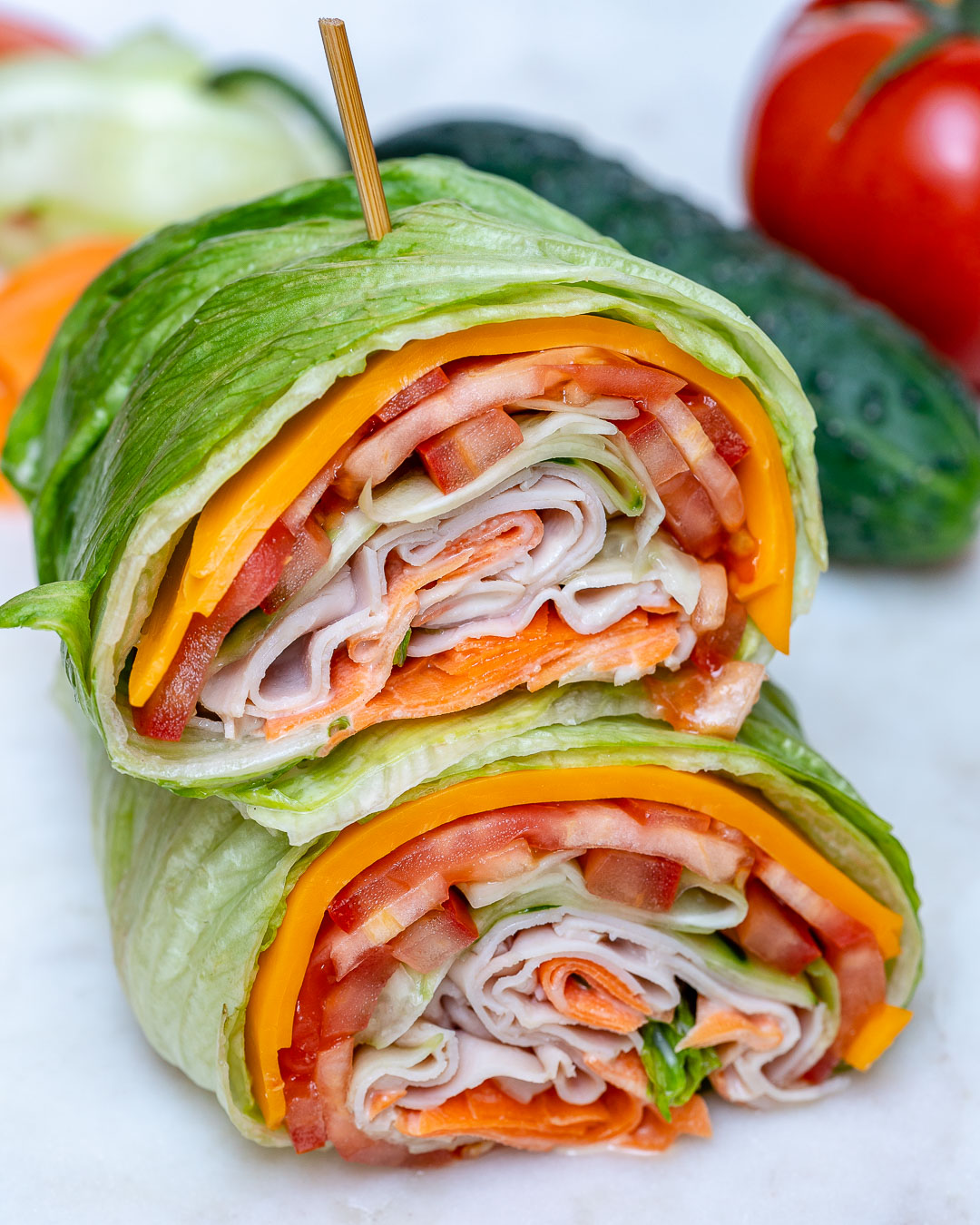 When choosing deli meats, it's best to select one that doesn't include the following: antibiotics, nitrates (sodium nitrate/sodium nitrite), BHA (butylated hydroxyanisole), BHT (butylated hydroxytoluene), smoked/naturally smoked/smoke flavor (could contain unlisted toxic chemicals), corn syrup, or aspartame. This will ensure you're eating clean!!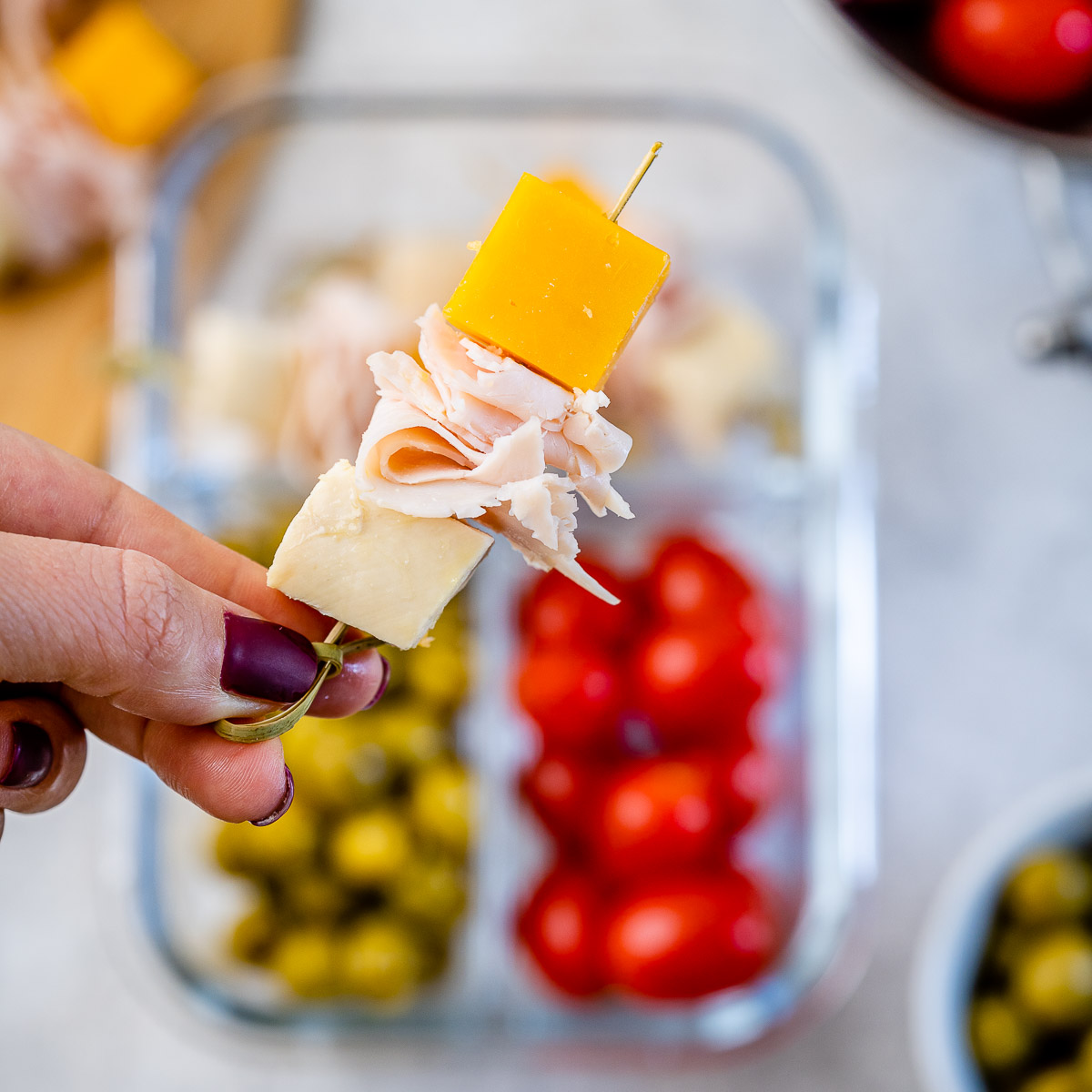 By making your hummus, you can be confident about the ingredients you're putting in your body! Paired with spinach, carrots, cucumbers, and cheese, these wraps are sure to impress you and your kids! Also, you can double up the recipes for bigger appetites or use our lunch box ideas as snacks or post-workout meals.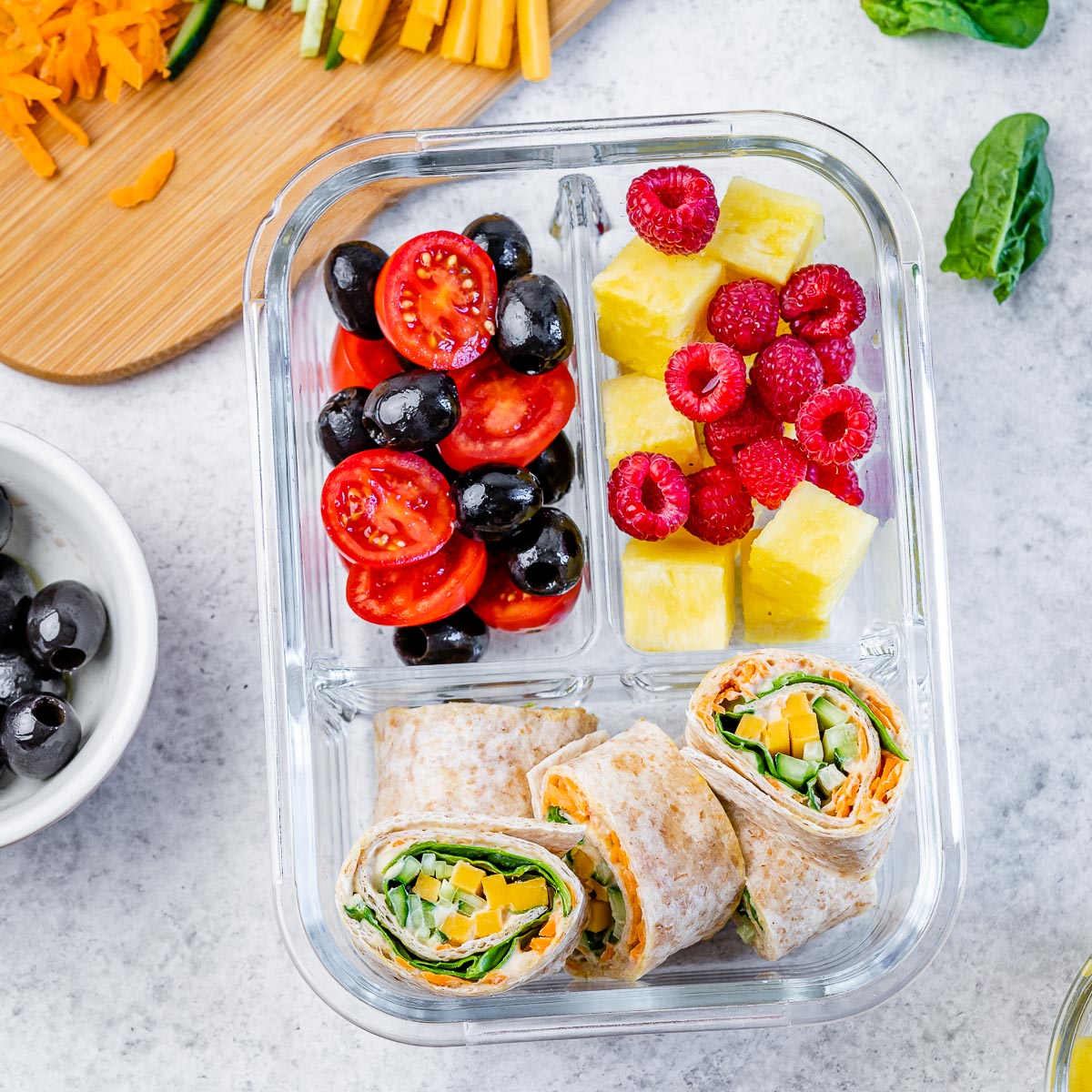 It may not seem like it, but sausage can actually be pretty healthy for you if you choose the right kind! Try to buy some with the least amount of ingredients and the lowest amount of sodium. I buy chicken or turkey sausages that are primarily the actual meat and are gluten-free, nitrate-free, no added sugar, and no weird stuff. That way, I know I'm finding the cleanest sausage available!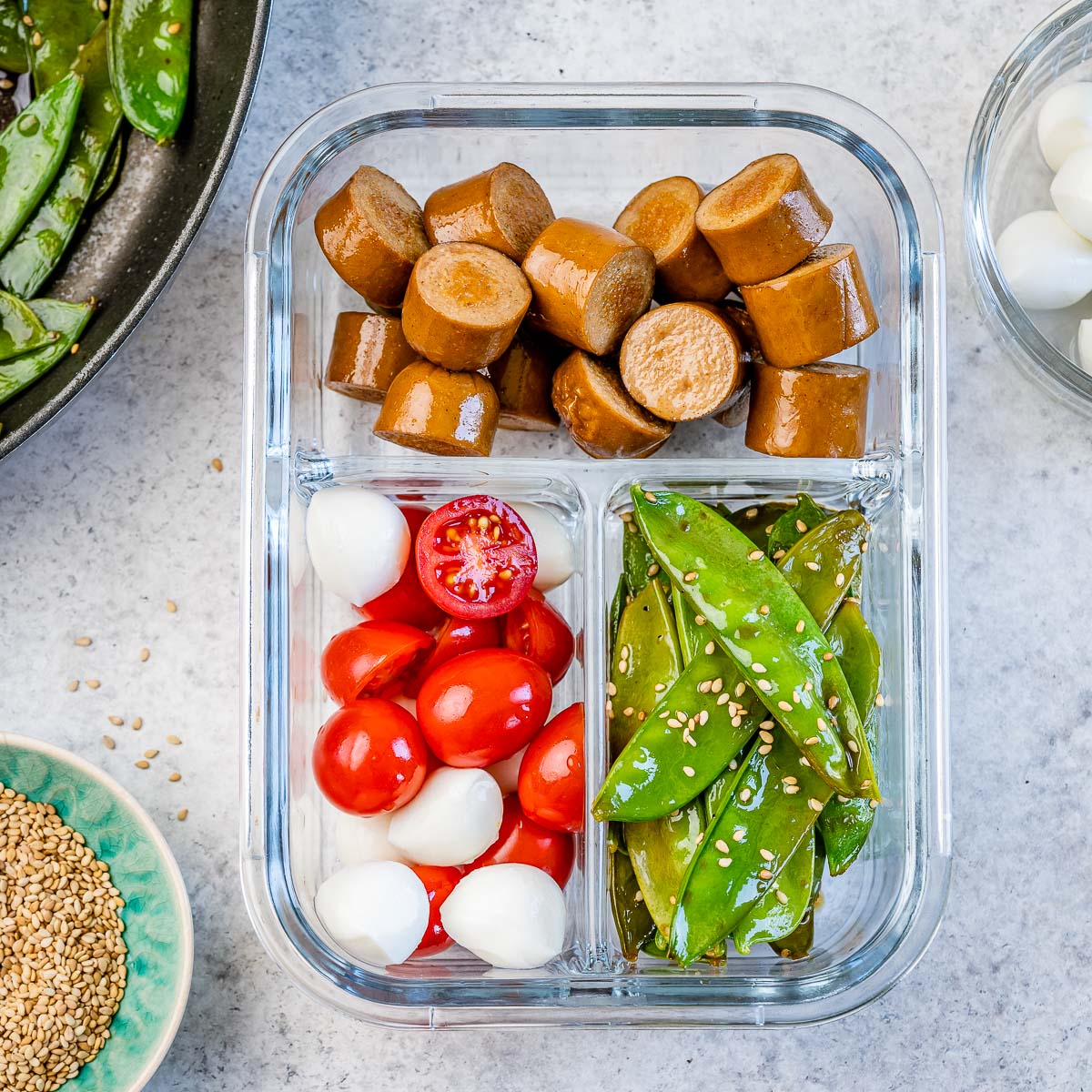 Using glass jars to properly pack the chicken salad is the key to keeping your lunch fresh. These keep for several days in the fridge if you fill them right (dressing on the bottom, then protein, then leafy greens!), and you'll have a go-to meal all week that keeps you feeling full and clean all day!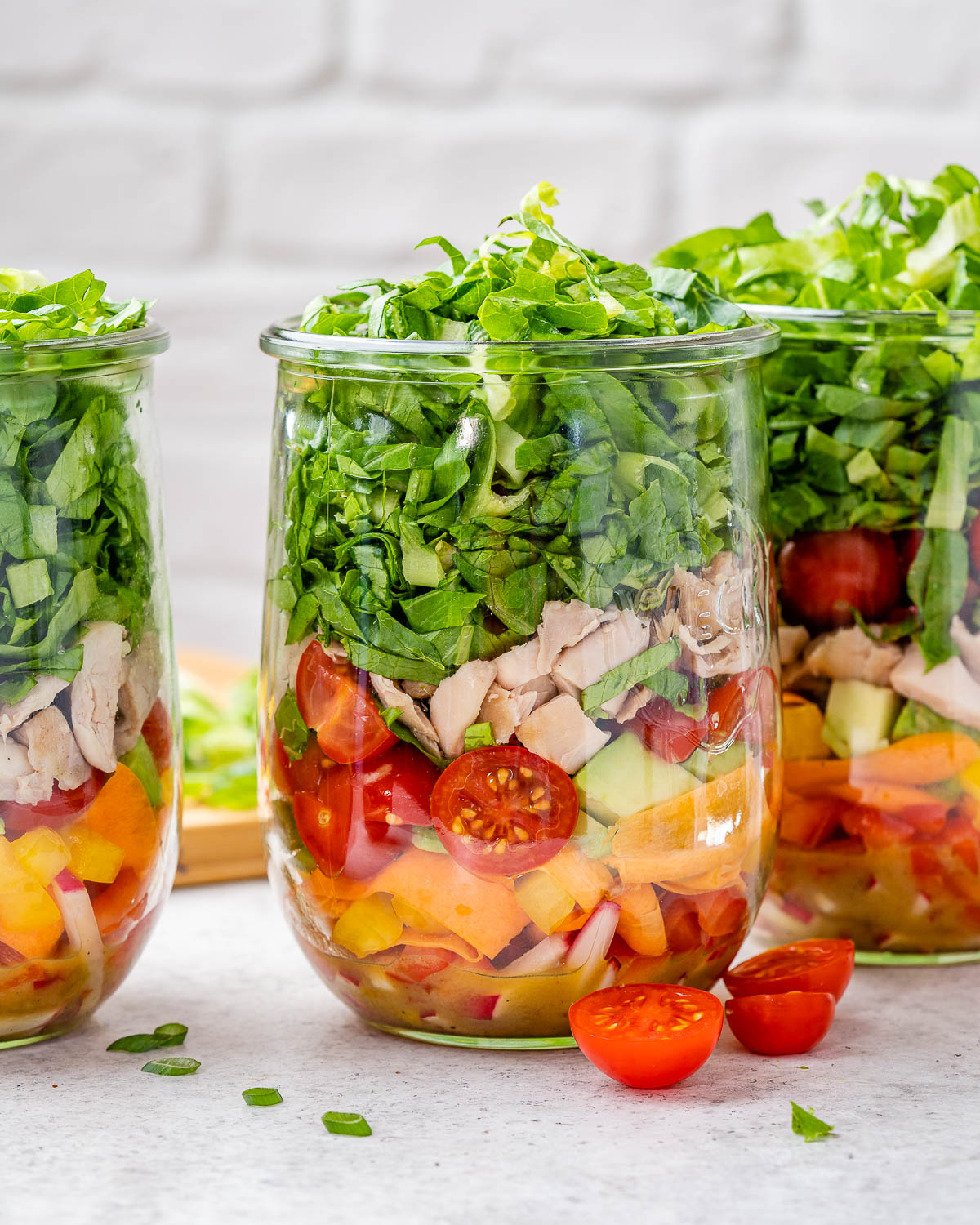 I love how easy and quick these recipes are!
It's essential during the busy school year to save as much time as possible, especially in the kitchen. These lunch box meals are something your kids can help you prepare and that they can enjoy with you throughout the week. Plus, it'll help teach them good eating habits that they can use for years to come. A win-win for all
Drop your tips for preparing quick, simple, and delicious lunches during this busy season in the comments! 
Leave a Comment Below:
Related Posts :
..