12

Jan, 23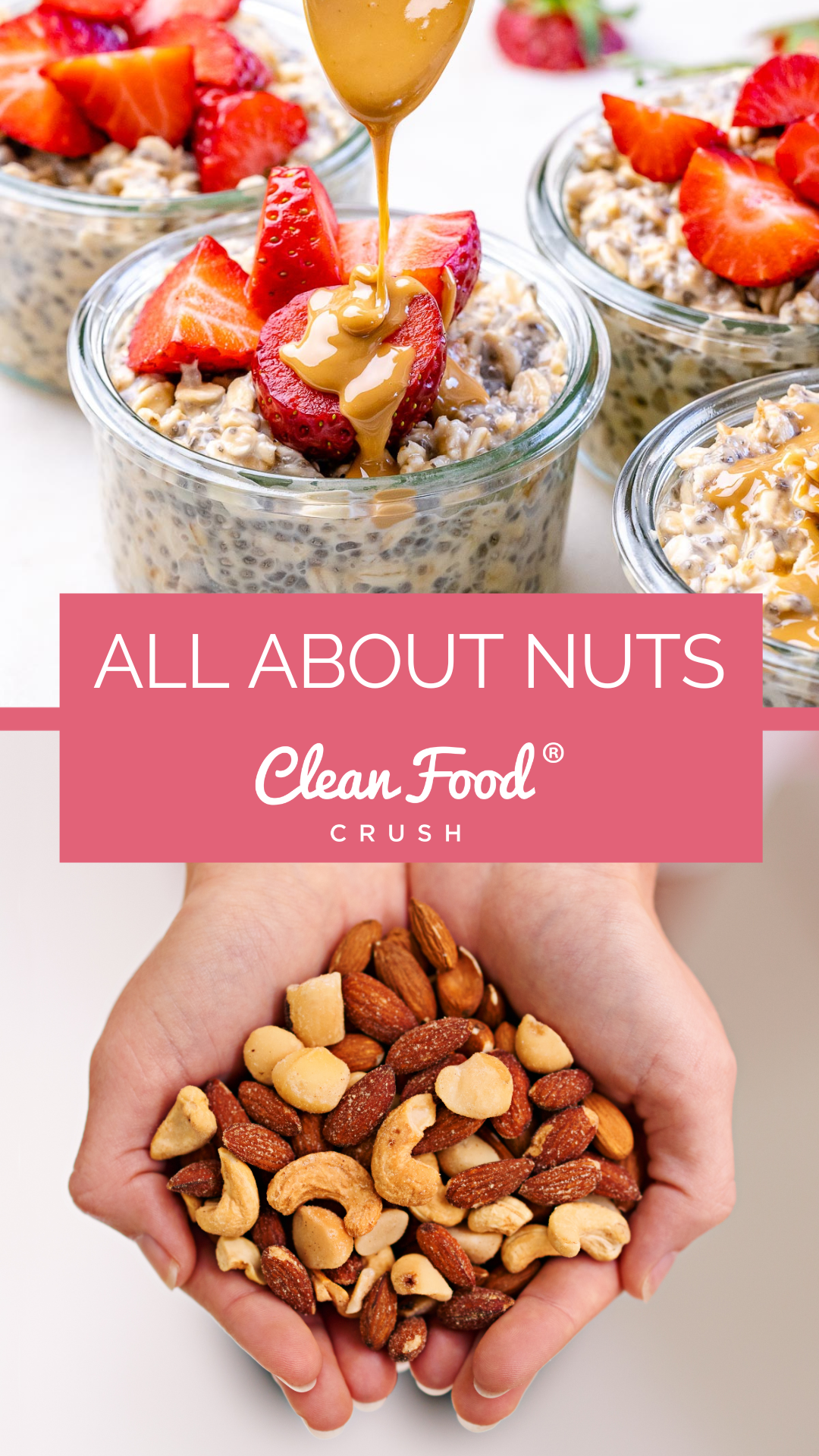 Health Benefits Of Nuts + What To Look For When Buying
(Plus a Simple Nut Butter Recipe!)
There are many reasons to eat nuts. Not only are they tasty, but they're also portable, convenient, and can fit into most dietary needs (with the exception of nut allergies).
Nuts, such as almonds, cashews, walnuts, pecans, and pistachios, have several health benefits. They are genuinely some of the most nutrient-dense foods you can eat. Yet, as with most foods, it's still essential to choose nuts in a healthy form. 
Read on to learn more about the health benefits of nuts, what to look for when buying them, and for a simple recipe to make your own nut butter! (Plus, other recipes to help you incorporate more nuts into your diet!)
6 Health Benefits of Nuts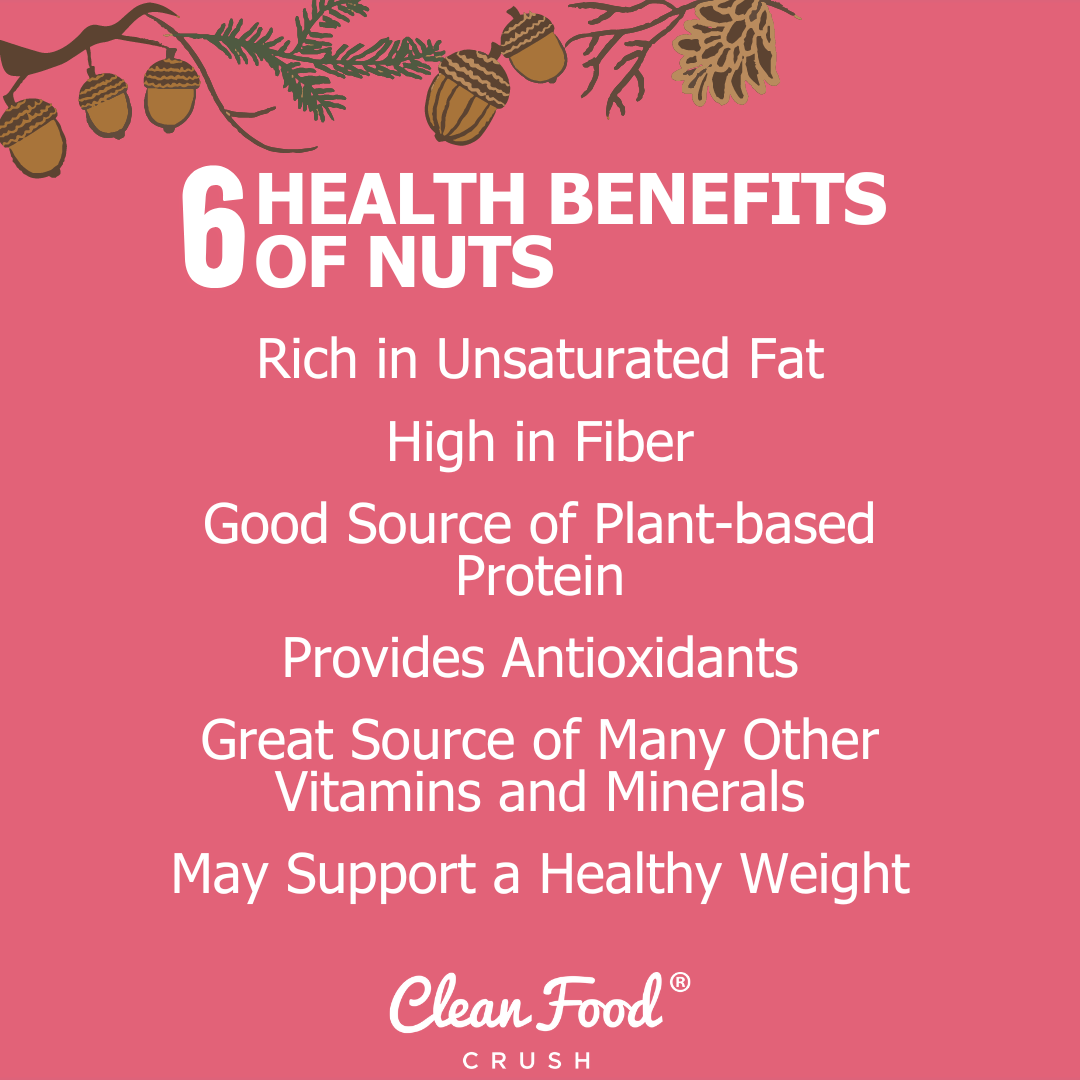 Rich in Unsaturated Fat
Nuts are high in fat, but the majority come from unsaturated fats, which are the healthiest. Unsaturated fat can help lower cholesterol levels, protecting or managing heart diseases. Walnuts, particularly, provide a good source of plant-based omega-3 fatty acids in the form of alpha-linolenic acid (ALA), which can help fight inflammation in your body.
High in Fiber
Just 1 ounce of nuts can provide about 2-4 grams of fiber, which is about 8-16% of your daily needs. The body does not digest fiber, but it has many health benefits you can read about in this article. Some of these include supporting a healthy digestive system, lowering cholesterol levels, and supporting blood sugar control.  
Good Source of Plant-based Protein
Nuts are a fantastic source of plant-based protein for people following vegan, vegetarian, or otherwise plant-based diets, though they also benefit other dietary habits. About a quarter cup of mixed nuts can provide about 5 grams of protein.
When consumed as nut butter, they can provide even more. For example, a 2 Tbsp serving of almond butter provides about 7 grams of protein.
Provides Antioxidants
Many nuts are a good source of vitamin E, an antioxidant. They provide polyphenols and other plant compounds that can protect your health.
Antioxidants support healthy cells by fighting against free radicals that can cause disease. Eating a diet high in antioxidants is proven to help prevent many health issues caused by cell damage.
Great Source of Many Other Vitamins and Minerals
Nuts also provide other important nutrients like magnesium, selenium, phosphorus, and potassium. Each of these nutrients is essential to health, so eating nuts can help make sure you get enough each day.
May Support a Healthy Weight
People often think that nuts can contribute to weight gain since they are high in calories and fat. However, research has not yet shown this. In fact, eating nuts may support weight loss. Their high fiber and protein content contribute to a feeling of fullness, which can help prevent overeating.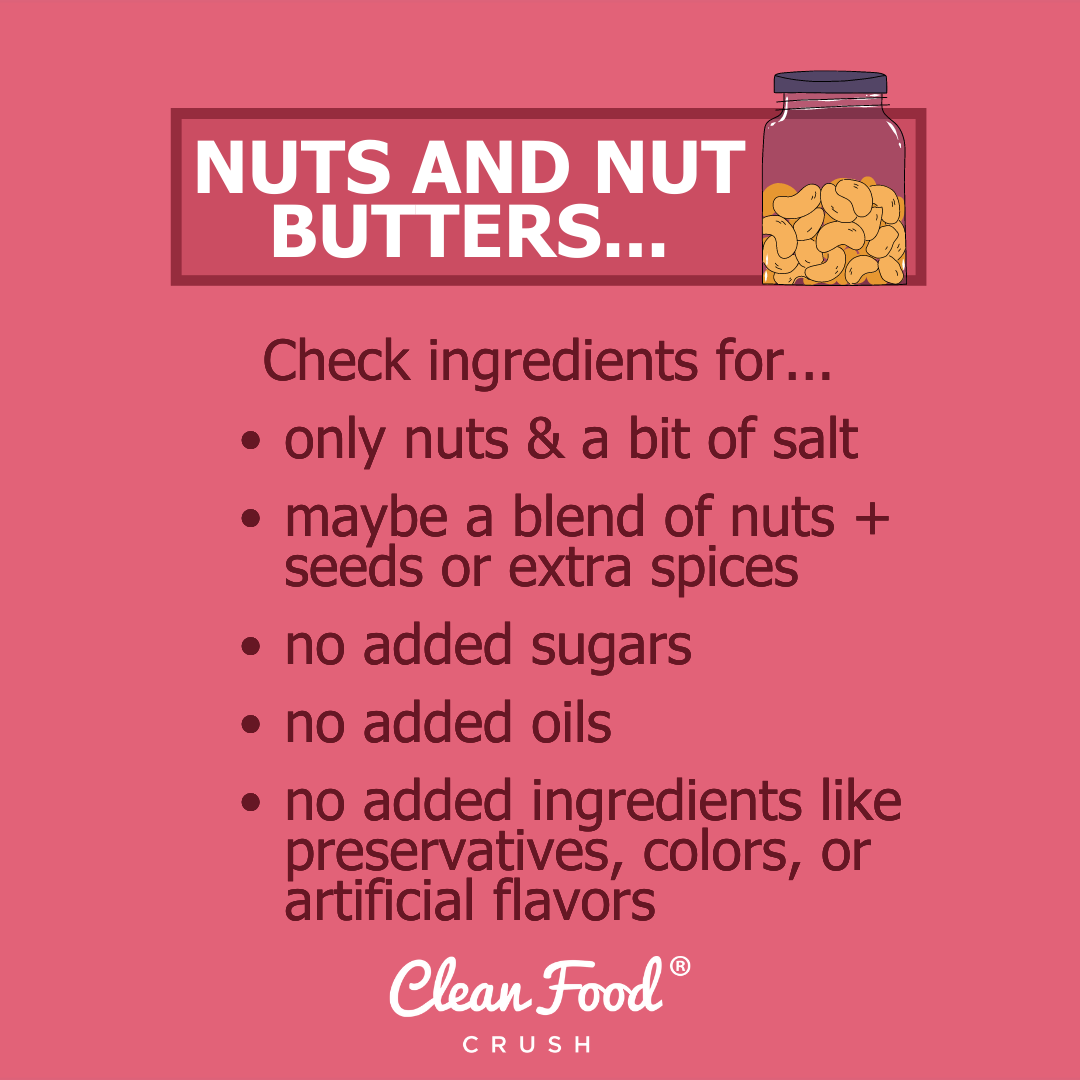 What to Look For When Buying Nuts and Nut Butters:
While nuts are a very healthy food on their own, many manufacturers mix them with less healthy ingredients that can take away from their health benefits. When buying nuts and butters, here are 3 things to look for:
No added sugars

No added oils

No added ingredients like preservatives, colors, or artificial flavors
Basically, what you're looking for on the ingredients list is just nuts plus perhaps a bit of salt. If your nuts or nut butter is flavored or involves a blend of nuts + seeds, it may contain a few other ingredients like spices, chia seeds, etc. This is okay as long as there are no added sugars, oils, or artificial ingredients.
When buying trail mix (another common way to eat nuts), try to buy brands made up of primarily nuts, seeds, and perhaps a bit of unsweetened dried fruit. It is best to avoid kinds that list things like chocolate as the first ingredient.
How to Make Your Own Nut Butter
Sure, you can buy a variety of nut butters in your local grocery store. That said, making your nut butter is super simple and gives you complete control over what goes into it. Making your own allows for unique flavor combinations and extra add-ins that can increase the nutrient density of the final product.
All you need are nuts (you can use a variety for different flavor profiles or stick to a single type), a high-power blender or food processor, and any optional add-ins or extra flavorings (such as sea salt, cinnamon, chia, or flax seeds, etc.). It only takes about 15 minutes!
Directions:
If using raw nuts, roast them at about 325 degrees F for about 10 minutes or until fragrant and golden brown. This is not required, but it helps bring out the flavor of the buts even more. If you purchased roasted nuts, you could skip this step. 

Add the warm roasted nuts to the bowl of a food processor and process until smooth. You will likely need to scrape down the side of the bowl and continue processing for a couple of minutes until a creamy butter forms without too many chunks. 

Add in any flavorings as desired, and then process until everything is well-incorporated. 

Transfer the nut butter to a sealable jar and store it in the refrigerator for up to 3-4 weeks. Enjoy it on things like toast, fruit, oatmeal, etc.!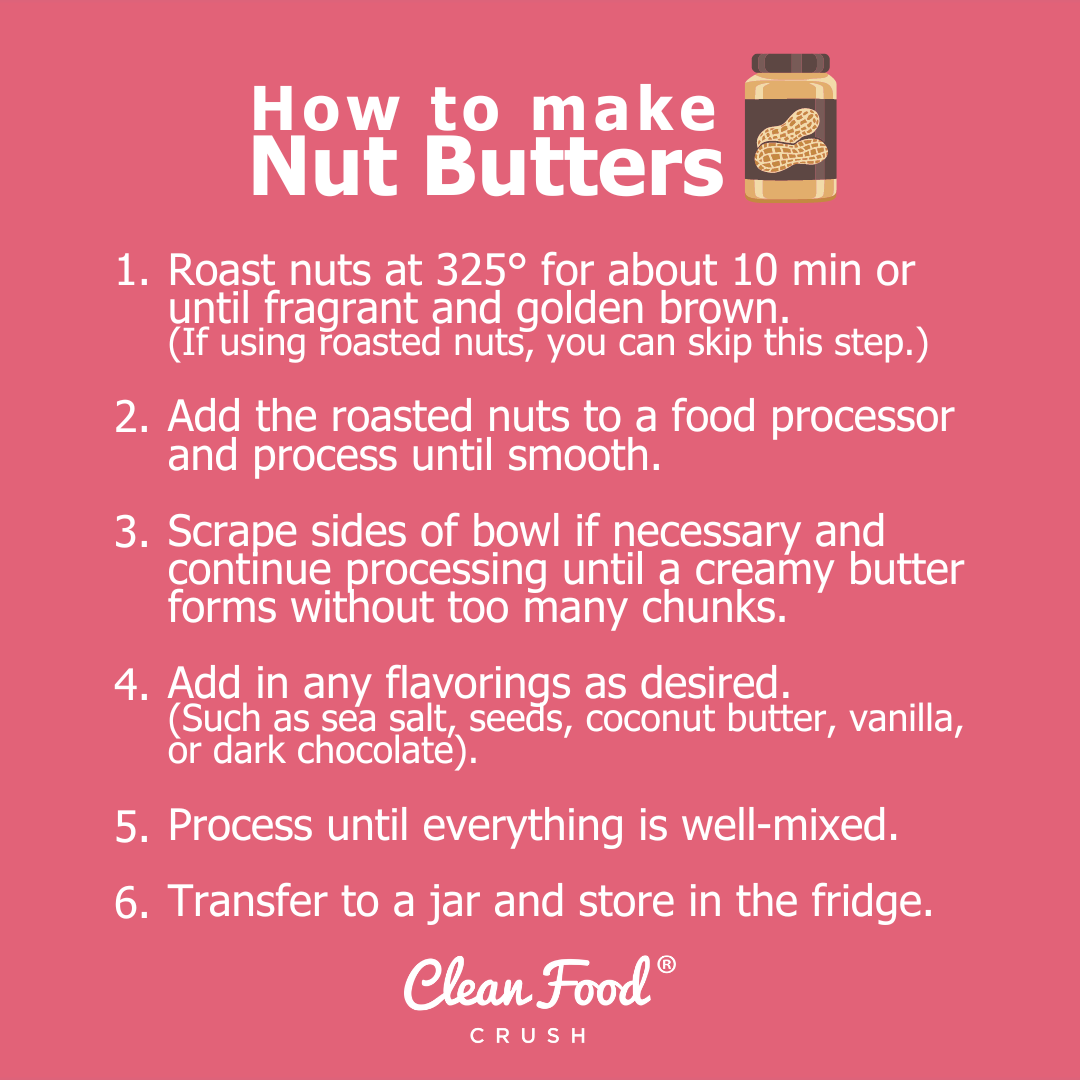 Healthy Recipes Using Nut Butter
There are MANY delicious and simple recipes here at CFC involving nut butter. Here are a few of our favorites!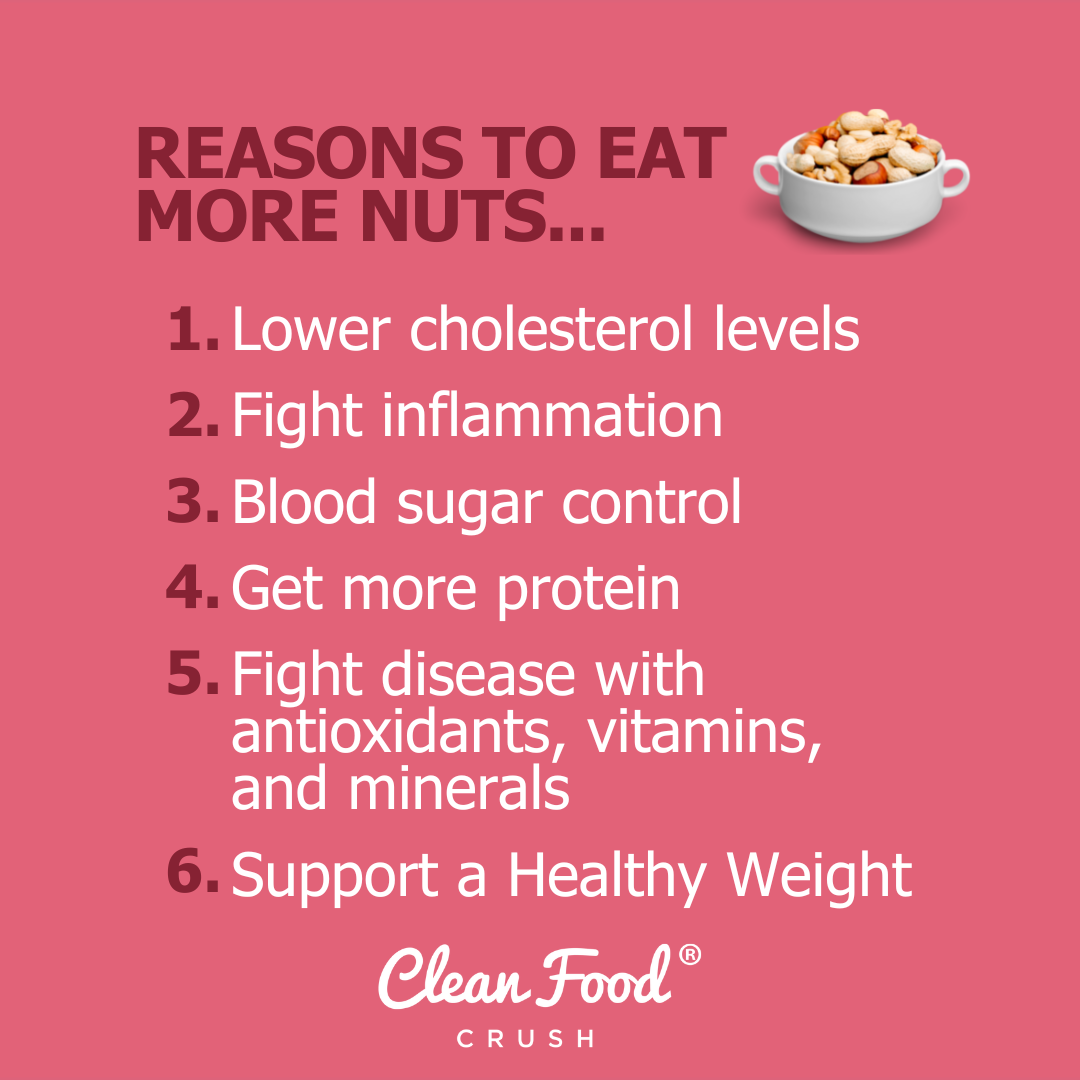 In Summary
Nuts can absolutely be part of a healthy diet. They have many health benefits and are incredibly versatile, convenient, and delicious.
Consider snacking on nuts or adding them to oatmeal, smoothies, salads, soups, sandwiches, and so much more to help you receive their many benefits.
What is your favorite nut or your favorite way to enjoy them? Let us know in the comments below!

Leave a Comment Below:
Related Posts :
..