23

Oct, 14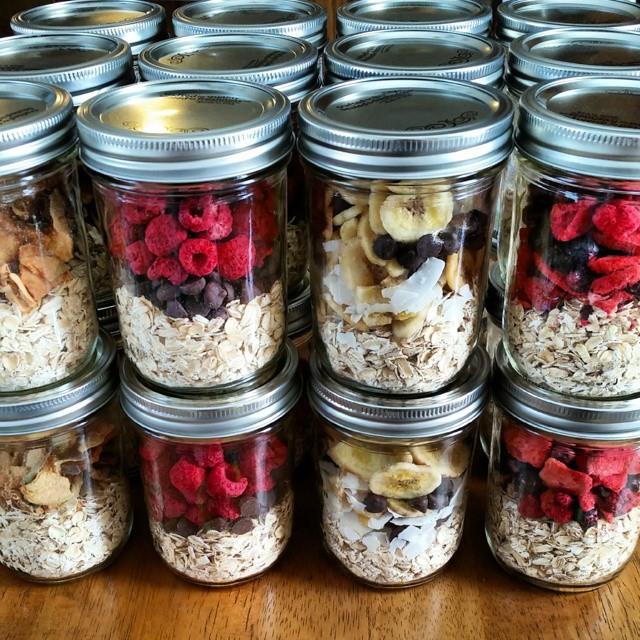 "Instant" Oatmeal Jars
Oatmeal Jars are so convenient & versatile for busy mornings!
Endless Flavor Combinations.
Simply fill with HOT milk or water…finish getting ready for the day….grab & GO!
The kids & I prepared an entire weeks worth of jars together.  We had a lot of fun creating our own unique mixes and combos!
Allowing the kids to make their own little weekly  "stash" of oat jars, sure makes mornings easier!
Prepping ahead saves SO much time, and ensures everyone always gets a healthy breakfast.

FLAVOR COMBINATION IDEAS:
I use all freeze dried fruit (no sugar added). It's crunchy and sweet.
Freeze-dried fruit maintains all of it's vital nutrients and vibrant flavor, making it a convenient shelf-stable healthy option.
(no refrigeration needed)
Apples & Cinnamon
Raspberries & Dark Chocolate or Cacao Nibs
Monkey Mix
 Triple Berry
(1/4 cup freeze dried triple berry mix
a pinch of granulated stevia, or granulated sweetener of choice)
 Blueberries & Cream
 Peaches & Cream
Strawberry & Banana
Try adding your favorite chopped nuts, or a 1/2 scoop of protein powder to any of these varieties.
(THINK: Banana-Pecan, or Raspberry-Walnut! GET CREATIVE)
Instructions:
Use Pint glass canning jars to ensure that you will have room for your liquid & stirring.
The photo shows 1/2 pint jars that were assembled for my children using smaller 1/3 cup portions of rolled oats. 🙂
  Add 1/2 cup dry rolled/old fashioned oats to the bottom of the glass jar.
(note: this method will NOT work with steel-cut oats)
  Add your favorite flavor combos.
  Seal tightly, and store in the pantry until ready to use.
(For freshest flavor use within 10 days)
 TO SERVE:
Pour 1 cup BOILING HOT water, or milk (unsweetened almond, coconut, or cashew milk are favs at our house) into each jar.
(note:  These jars can handle the heat because they are made for canning & high heat)
Let sit for 10-20 minutes(depending on the consistency you like), while you finish your morning routine.
Grab a spoon, and enjoy on-the-GO!
Enjoy!
❤Rachel
It's the perfect time of the year to make this!
This recipe is one of 30+ in my new 30 Days of Clean & Easy Recipes eCookbook.
You can be reading more clean eating recipes in just MINUTES!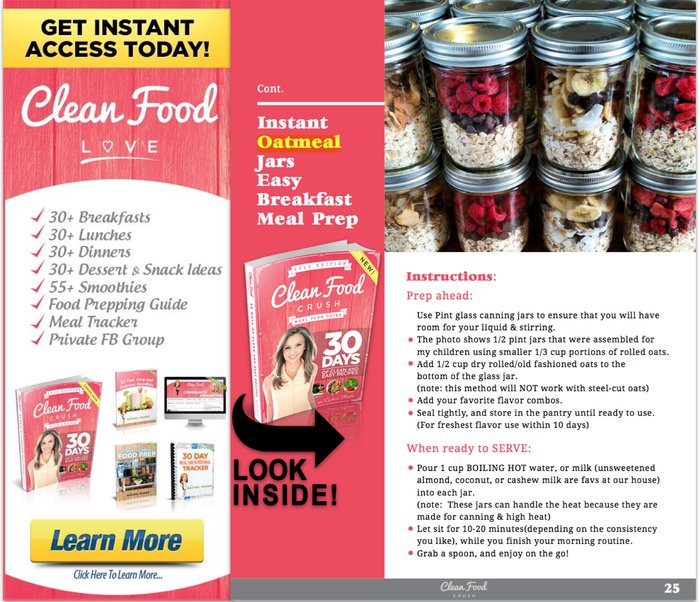 Leave a Comment Below:
Related Posts :
..
Tags: clean breakfast ideas, clean eating, clean eats, easy breakfast, Easy Breakfast Meal Prep, freeze dried fruit, jj virgin, mason jar oatmeal, meal prep, meal prep mondays, oatmeal, oatmeal in a jar, oatmeal recipes, over night oatmeal, overnight oats, sunday meal prep, terry walters, weekly meal prep