7

Sep, 23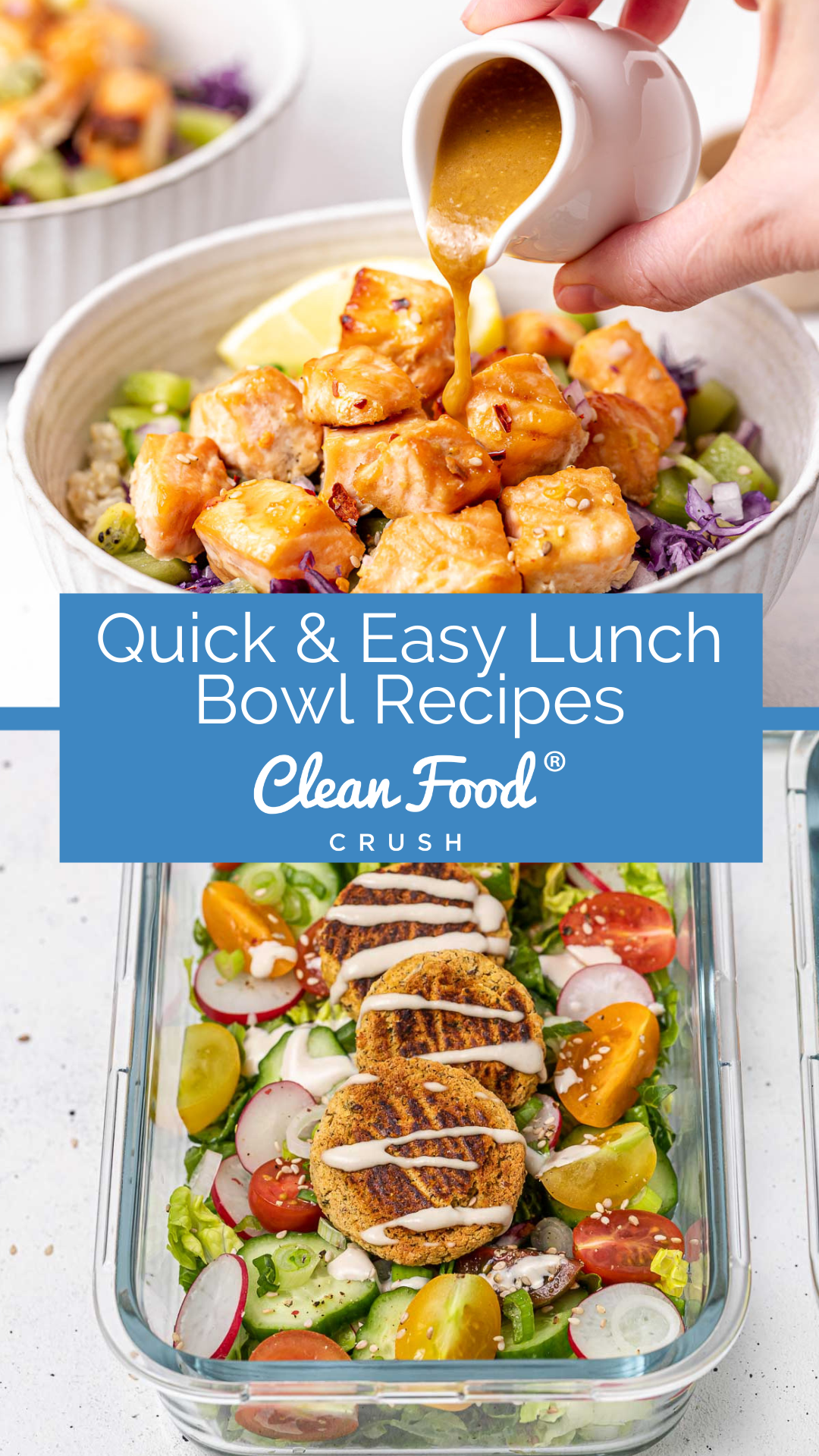 Jump to recipe
Quick and Easy Lunch Bowl Recipes
We
LOVE
quick meal ideas over here!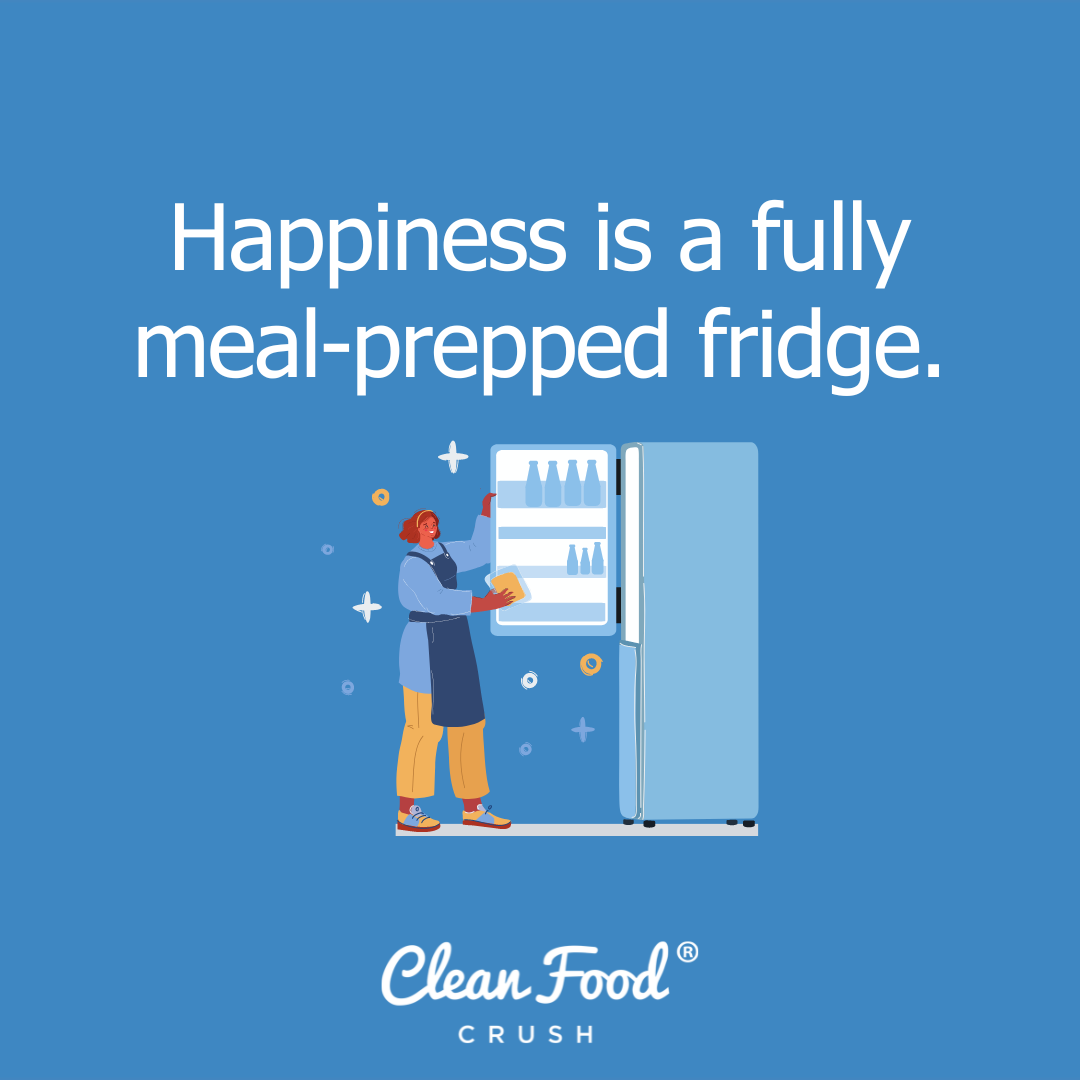 A huge request during this back-to-school (or office) season is lunchbox ideas to easily tuck into backpacks or purses that'll stay good for a few hours until lunchtime.
Many of these are cold meals that don't require reheating, but some would be best if thrown in a microwave before enjoying.
That's why I put together this roundup of bowl recipes perfect for quick lunches. Make them in advance, then send them with your kids to school, or take them to work for a later lunch! Fast, easy, and delicious! 

Rich in Omega-3s and Vitamin B, these Salmon Bowls are packed with balanced nutrients and super tasty flavors. It's even better with wild-caught salmon, which has more vitamins, minerals, and anti-inflammatory benefits.

You will LOVE the complex, complementary flavors in this falafel salad. I specifically love the tahini, which has an earthy, nutty flavor with a tinge of bitterness taste.

These bowls are so bright and colorful, not to mention hearty.
They taste just as good reheated, so if you have a microwave or something similar at lunchtime, these are great for meal prepping lunch. Plus, they're great for a healthy diet.
Bell peppers are rich in many vitamins, especially vitamin C, and antioxidants, meaning they're packed with several health benefits.

With the fall season comes countless pumpkins. Thankfully, we have many
pumpkin recipes
here at CleanFoodCrush.
This particular recipe is plant-based, extremely hearty, satisfying, and tasty, thanks to a fabulous homemade dressing.
If you like it and want to learn more about pumpkins, check out
this post
about the benefits of the autumn fruit.

You only need one pan for this recipe, making it super easy with minimal clean-up.
The flavors may not seem like they go together, but they complement each other perfectly. But don't take my word for it.
Make these bowls for dinner tonight, and you'll see yourself! Then, the leftovers can be tomorrow's lunch.

Okay, this isn't technically a
BOWL,
but I still had to include it because these turkey meatballs are absolutely amazing, and the whole meal makes a perfect cold lunch box.
Feel free to make it your own by switching up which fruits and sides you include!

If you're still experiencing some warmer days, then you should definitely make these chicken hummus bowls soon.
They're light and refreshing and super
hydrating
, which is incredibly
important
.

Not only tasty and straightforward, these tropical salmon meal prep boals are full of health benefits. Mango is low in calories yet high in nutrients — especially vitamin C, which aids immunity and iron absorption, among other benefits!
It also contains several qualities, such as lots of water, dietary fiber, and enzymes that help to break down food, which make it excellent for digestive health.

Packed with flavor, protein, and veggies, these green bean turkey bowls are fulfilling and satisfying! Green beans also help fight inflammation and can aid in regulating blood pressure.

Let's pretend this is packed in a bowl so it fits right in! Like the meatballs, I couldn't pass up adding this meal prep meal to the list because it's SO quick and easy. You can make a ton and split it up for several lunchboxes.

The traditional elements of a poke bowl often include marinated or seasoned bite-sized cubed raw fish (usually ahi tuna), rice, various fresh veggies, and flavorful sauces or dressings to add the final touch.
This unique version, though, is not traditional but really fun and just as tasty! Plus, the
watermelon
is a FANTASTIC way to hydrate the body.

Have you ever eaten a meal that satiates your pallet in every single way: textures, colors, immense flavors, aromatics – that you feel entirely fulfilled and satisfied, and it just checks all the boxes for you?!
If not, then you're about to with this chicken power bowl! It will also provide you with a
ton
of energy.

Talk about eating the rainbow! Just by a glance, you can tell that this spring roll bowl will taste amazing and provide a crazy amount of nutrients. The homemade dressing recipe just ties it all together.

Here's a simple recipe to help you get more green veggies in your daily or weekly menu. Broccoli and asparagus are both nutritional powerhouses and very versatile. I hope you love it!

Here are salty, sweet, garlicky, flaky, delicious, and melt-in-your-mouth salmon bites nestled in perfectly balanced quinoa + veggie bowls for your must-try list!
It's topped with a drizzle of the incredibly flavorful, crave-able, homemade dressing to compliment the roasted fish.

The entire family DEVOURED these bowls! I love meals like this, where we can just set out the toppings, and it's "build-your-own style" because all of our teenagers seem to like creating their own bowls, and everyone is happy because they're in control.
So, make this enchilada chicken and top it with whatever needs using up in your fridge! Your family will love it!

This is the last fake-bowl recipe, I promise!
It couldn't be easier to throw together these wraps and prepare a perfect lunch for the family.
Have fun with these and make them your own depending on what's in season and what you have on hand.

If you're a fan of steak or avocados, then you need to try this bowl recipe! It provides the body with some much-needed protein, energy, and fiber.

Quinoa is a superfood for a reason. The fiber in the grain can help with cholesterol and blood sugar levels, lowering your risk of diabetes and heart disease. In addition to the health benefits, this bowl recipe is excellent for meal prep.
Divide into servings and keep in the fridge for up to 3 days. Then, simply pull your loaded delicious bowl out of the fridge and enjoy!

Have you ever tried halloumi cheese? It's a traditional Cypriot semi-soft, white, salty (briney) cheese made from a mixture of goat's and sheep's milk (and sometimes cow's milk). I honestly loved it and think it's worth a try if you can find it on sale and are looking for something new to create for an interesting vegetarian meal.
I tried to give you a little of everything in this list of 20 quick and easy (mostly bowl) lunch meals so that you can find something you know you'll love and something new to try.
Once you pick a few out, meal prepping and lunches will become much easier and take a load off your busy schedule.

Let me know your favorites in the comments below!
Leave a Comment Below:
Related Posts :
..
Tags: enchilada