23

Jul, 20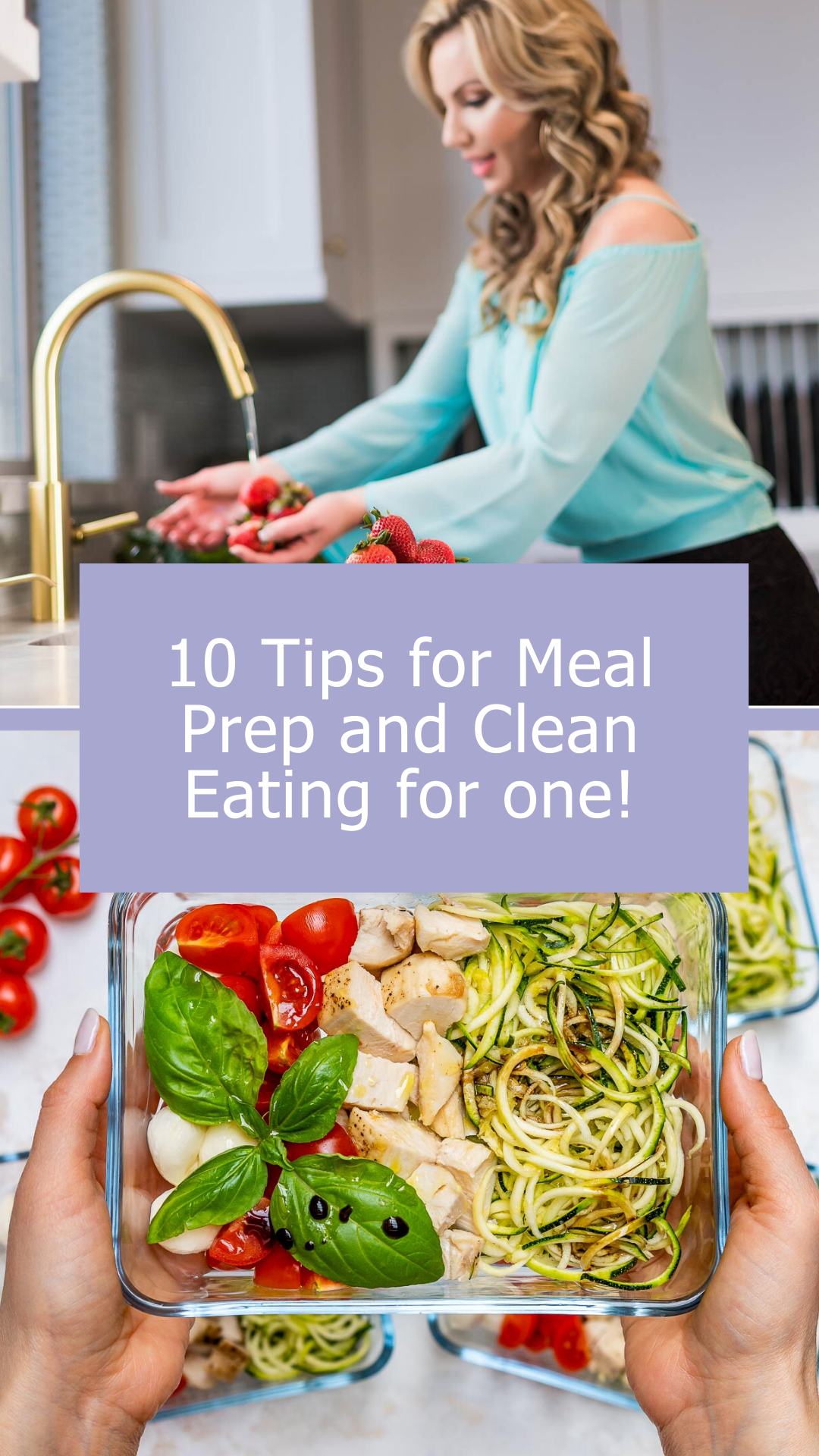 "Meal planning is so hard when you are only planning for one!"
Many of our recipes are geared towards families, especially since I have a big one! But we've received a few messages from those cooking for just one or two and find those larger recipes difficult. Scaling down can be time consuming and meal prep, overwhelming. Often, you may find that by the time Friday rolls around, there's still a gallon of the salad made on Monday sitting in the fridge. Planning for one, and keeping it exciting, is challenging but totally doable and will ultimately help you look and feel your best.
So, I've put together 10 practical tips for having the best experience when meal planning for one.
1. Plan Further Ahead
When we think of meal planning, we often get tunnel vision and plan for a week at a time. Instead of isolating a week at a time, plan for two weeks with the ability to freeze servings of meals to eat the next week. That way, you're less likely to waste food and get stuck eating the same thing every day. 
PRO TIP: Write your own mock-menus and meal plans for easy access! Or check out the ones we created for you (and weekly plans) included in The Challenge.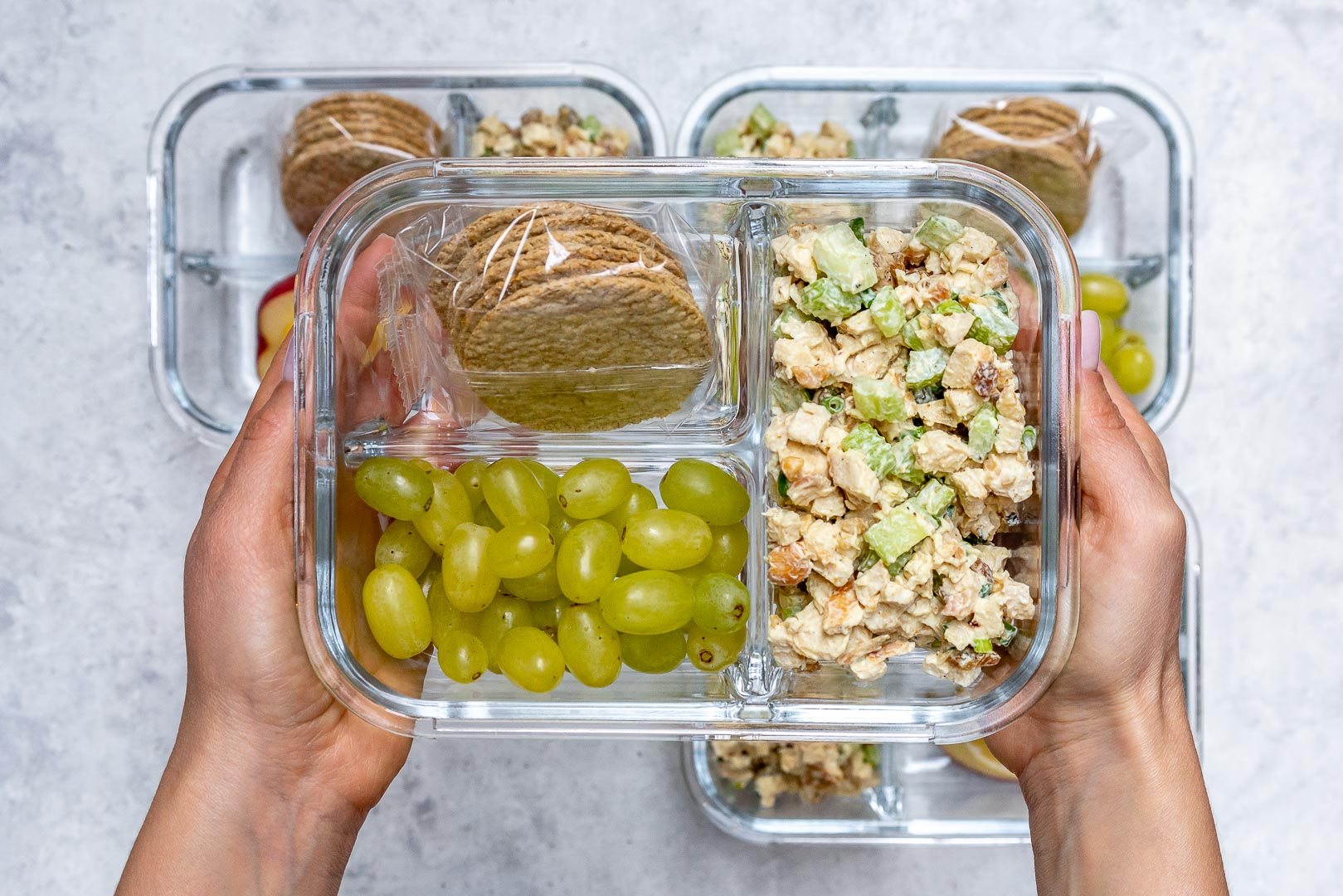 Lunch For One?  YUM! Here's Some Chicken Salad for Easy, Healthy Lunchtime Convenience!
2. Your Freezer is Your Best Friend
Freezing leftovers while they are still fresh preserves flavor and nutrients. Dedicate an hour to organizing your freezer so using it for prepping becomes easier and stress-free! That time will be worth it, I promise! Always remember to think ahead. Freeze leftover vegetables and fruit if you don't think you'll be able to eat them before they go bad. (Happens to everyone!) This will ultimately save you money so you're not buying twice as many vegetables and throwing half of them out.
PRO TIP: Frozen vegetables and fruits make DELICIOUS smoothies!
3. Always Keep At Least One Type of Burger and/or Single Servings of Soup In the Freezer
I'm sure you've seen SO many different soup recipes here at Clean Food Crush. I am a BIG fan of making large quantities of soup and freezing it for later meals! They are super easy to make in advance and freeze beautifully. You can even freeze your soup in individual portions (I recommend 500 mL mason jars) as it melts quicker and then you can only thaw what you need. But always remember to leave room at the top for the liquid to expand when using mason jars for freezing. Otherwise, the jar will shatter.
PRO TIP: If you forget to thaw soup in advance, simply boil a pot of water and set the mason jar in. Let it melt to the point where you can dump it into a pot to reheat. 
4. Frozen Fruit Is the Best Thing Ever
See the pro tip under number two! This is worth being mentioned twice because it's true for several reasons. First, fresh berries can be annoyingly expensive. (Anyone on a budget?!) It is way more cost-effective to buy frozen berries. Plus, you won't have to worry about them growing gross mold within a couple of days. Also, you have more options in the offseason for fruits that still have delicious flavor and they are a great staple for breakfasts and smoothies. Frozen grapes also make a terrific snack for when you're craving something sweet.
PRO TIP: In berry season, you can buy and freeze your local berries to keep summer going all year long. That way, you're supporting your local business AND getting the best flavor!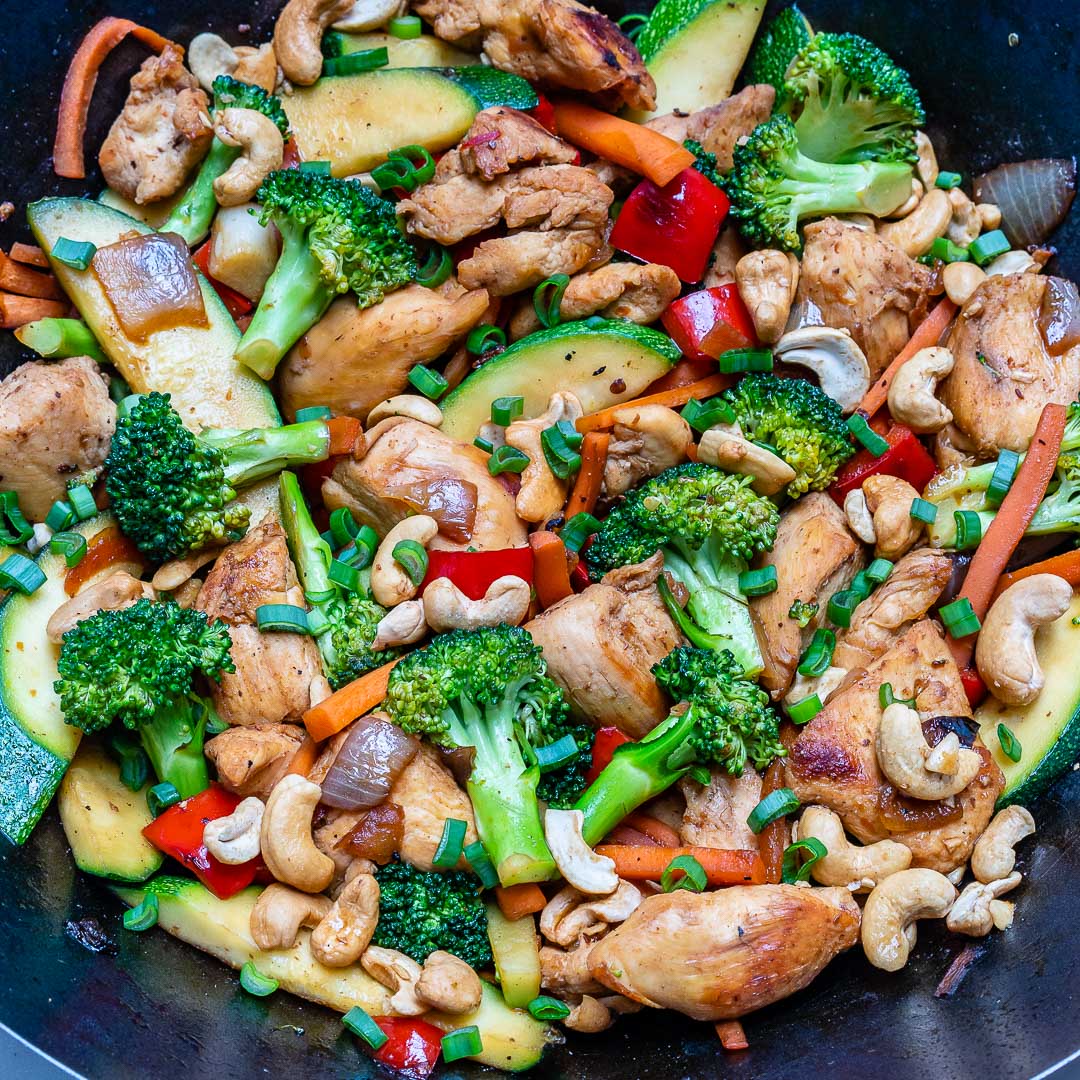 Meals Should NOT Be Boring!  This Cashew Chicken + Veggie Stir Fry Turns Left0vers Into Meal Prep Heaven!
5. Smart Grocery Shopping
This is when those meal plans come in handy! You should ALWAYS have a grocery list when going shopping, which will help you save money by only buying what you need instead of going into the store blindly and throwing anything and everything into the cart. If you are shopping for two weeks at a time, do a bigger grocery shop the first week and that way, the second week can be dedicated to filling in the gaps with things like fruits and vegetables that need to be purchased fresh.
Check out this post to simplify grocery shopping! 
PRO TIP: Never go grocery shopping while hungry! That empty stomach will play tricks on your mind and convince you that you need pizza rolls when you're really in that frozen food aisle for veggies. 
6. Power in Numbers
Recruit your friends who also value healthy eating to do this with you! Here at Clean Food Crush, we are FIRM believers that a support system makes all the difference. That's why we have private groups with coaching included with the challenge and larger groups for products like the bundle! You always do better when you have others with the same goal surrounding you. 
It also makes preparing meals a bit easier! You can make it a party to prep your meals together. Chopping vegetables suddenly becomes more fun with a movie in the background and your bestie next to you. Going on this journey to clean eating and a healthier life is always easier when you have others surrounding you, encouraging you, and joining you. 
PRO TIP: Share your meal creations with your friends and family and they can share their favorite recipes with you too! You might find your new favorite meal this way. 
7. Don't Neglect Your Protein
 I've found clean sources of animal protein to be the most effective way to eliminate cravings and lose weight. Our challenge plan is based on my personal experience and witnessing thousands of others transform their life, health, and bodies through Clean Eating. That's why protein is an important part of clean eating and meal prepping! If you have enough protein in your diet, you'll be buying less snacky items. You can get your protein through meats, eggs, nuts, fish, and dairy. In general, a serving of protein is 4 ounces for women and 8 ounces for men. (Servings of nuts are usually doubled for men.) 
Don't ignore this one if you're a vegetarian! You can still get protein in your meal plans. I've put together a guide for picking plant-based proteins that you can read here.
PRO TIP: Make sure your meals are balanced. In general, a "balanced meal" means you don't eliminate entire food groups or micronutrients, and you try to include a bit of everything (proteins, carbohydrates, and fats). You don't have to love everything you eat, but occasionally eating foods that you know are good for you and offer something you don't normally get in your diet is a nice touch.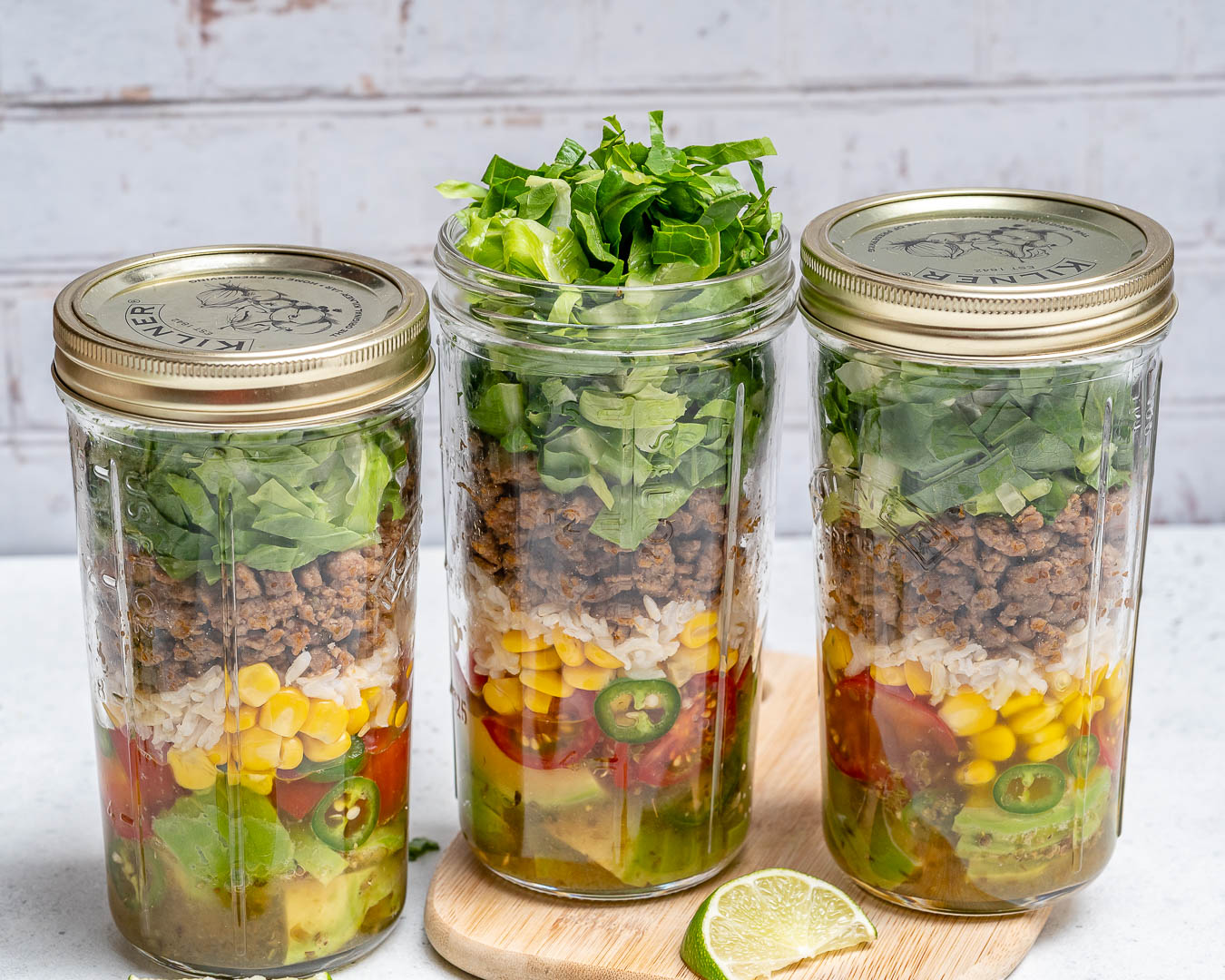 Meal Prep For One?  Enjoy This Tasty Taco Mason Jar Recipe!
8. Plan for Leftovers
When meal planning for one, you're scaling down a recipe and things can happen like being left with half a pepper from yesterday's dinner. (I've even had half an egg left over before!) Plan snacks into your plans that encourage the full use of a vegetable. For example, if you see you're going to be left with a few half veggies as leftovers, plan in a snack for the next day where you pair the veggies with hummus. Waste not, want not!
PRO TIP: Find multiple ways to enjoy vegetables. You may like the asparagus on your toast one morning and in stir fry the next night. The spinach may be mostly used in your smoothie but those few extra leaves are perfect for a side dish!
9. Get the Right Equipment
You can still prepare AMAZING meals even if you aren't a professional chef. (I mean, who really is?!) The right equipment makes the actual preparation and cooking process so much more effective and efficient. On this post I talk about my favorite and affordable kitchen tools that you should check out right now! 
And here are some other tools you might already have but aren't making full use of:
Microwave: The almighty microwave is useful for making oatmeal and eggs in the mornings and reheating meals.
Slow cooker: This baby lets you cook without 

actually 

cooking. Just throw a bunch of things into the slow cooker, "set it, and forget it." I generally cook larger amounts of protein in the slow cooker.

Here

are many of our slow cooker and insta pot recipes! 

Rice cooker: A legit rice cooker will save you 

so much

 time. You can even steam your veggies (or potatoes) along with cooking the rice. 

Blender: 

Smoothies

are some of our FAVORITE recipes here at Clean Food Crush. Blenders are also really convenient for whirring together sauces.

Food processor/scissors: While some have the time to slice and dice their foods like kitchen ninjas, not everyone does and that's where the food processor becomes a lifesaver!
PRO TIP: Know what your tools can do! Blenders can puree foods like cauliflower and Food Scissors may be an easier way to cut your meats.
10. Organization Is Key
Last but not least, keep everything in your pantry, fridge, and freezer organized to save tons of time. If you can save $10 from buying yet another bag of almond flour instead of using the one buried at the back of the cupboard, isn't that organization worth it? I recommend using glass containers like mason jars and stackable Tupperware.
For more detailed examples and suggestions for organizing your pantry, check out this post! 
PRO TIP: Cross-reference your grocery list with your newly organized pantry, fridge, and freezer so you're not doubling up on anything you already have.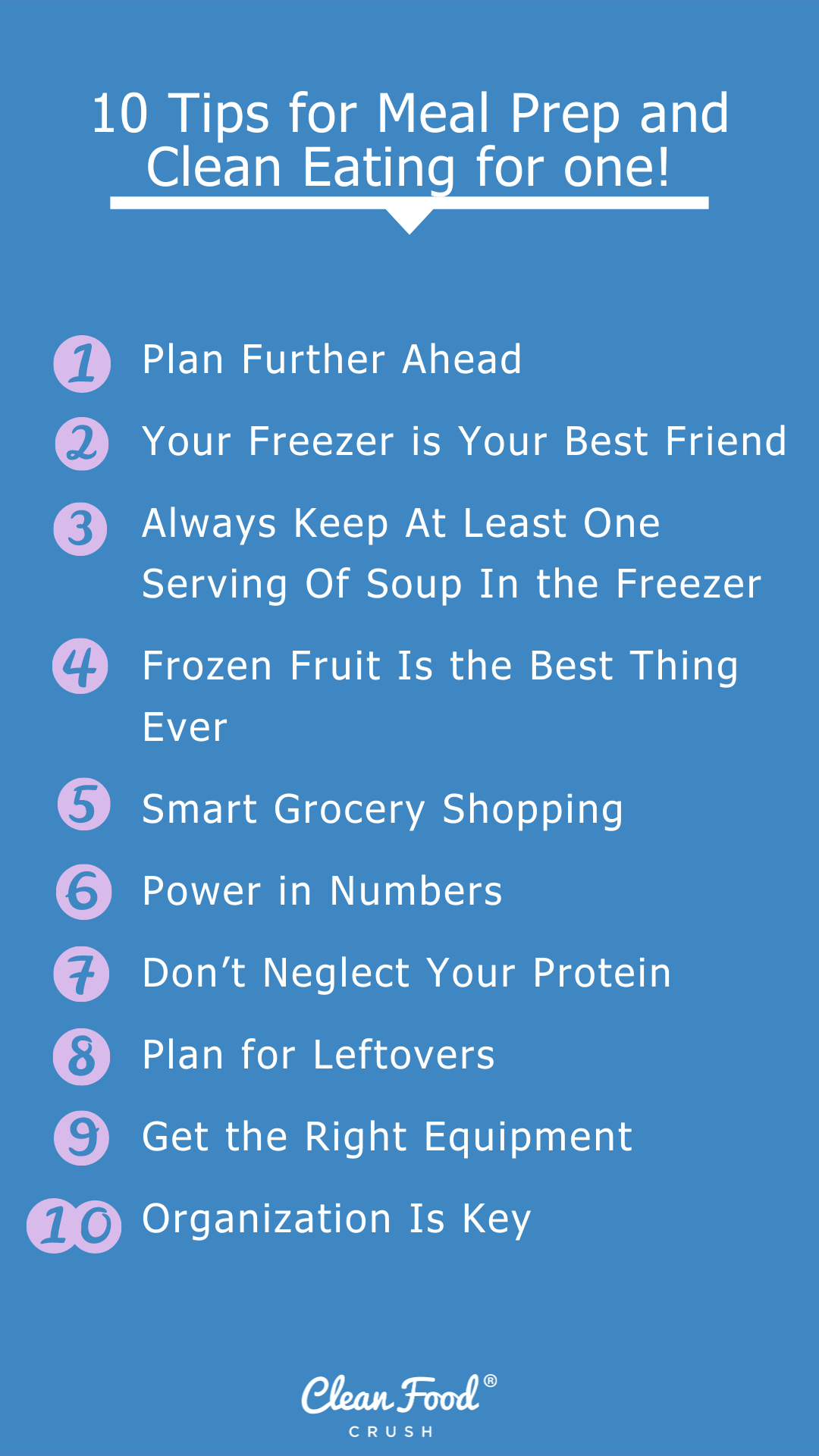 Leave a Comment Below:
Related Posts :
..