20

Oct, 22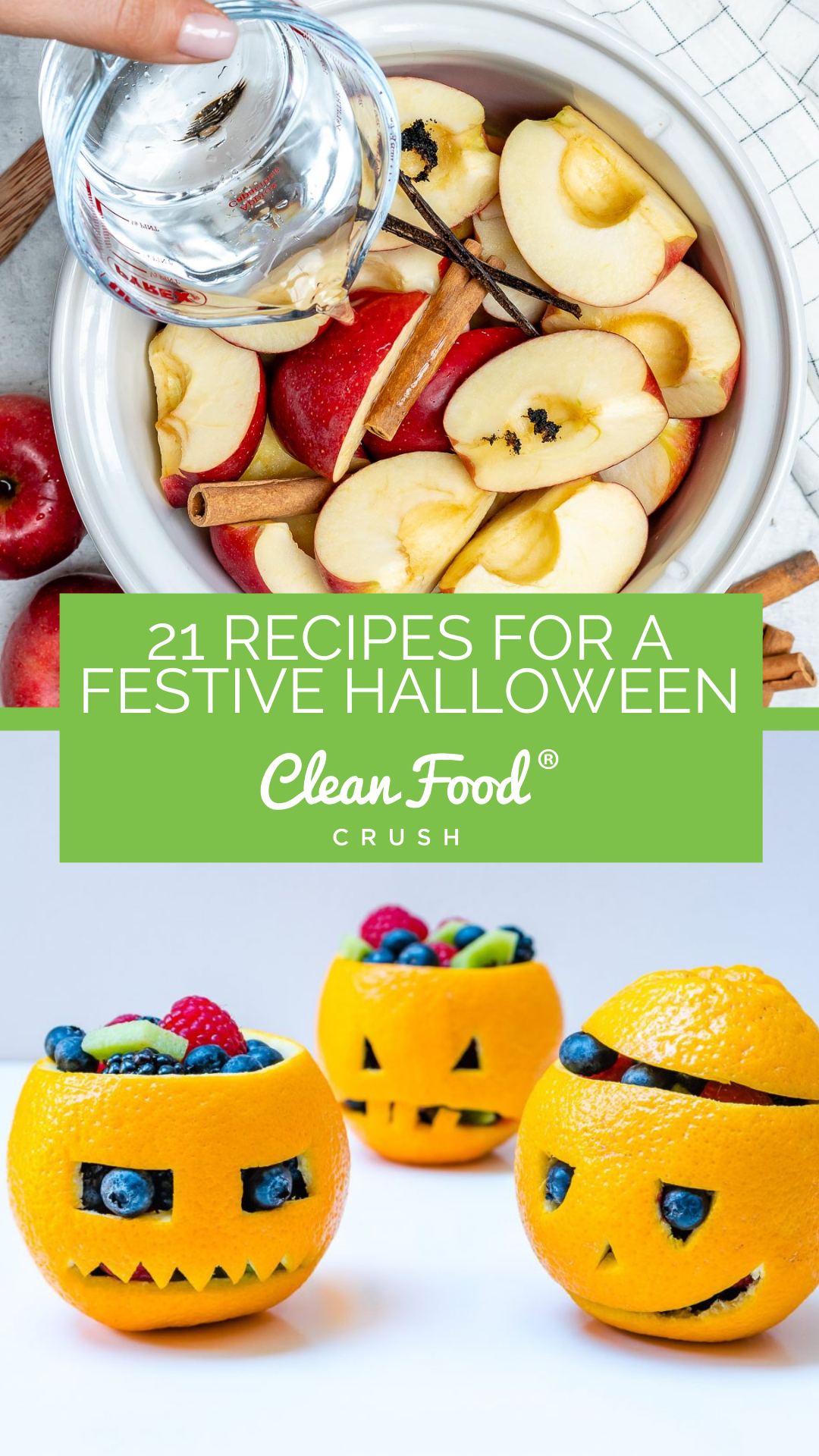 21 Delightful and Creative Recipes for Halloween Treats and Dinners
🎃Trick or treat?! 🎃
It's October, which is the perfect time to round up the recipes of the most delicious and healthy treats you and your family can enjoy together to get into the spirit this Halloween season!
What better way to enjoy the cozy fall atmosphere than cooking and baking spooky-themed comfort foods out of all the nutritious autumnal spices, fruits, and vegetables?
Here are a TON of fun treats to enjoy making with the kids during the week and a few tasty suggestions for dinner on Halloween night. I hope these food crafts and meals are perfect for you and your family this Halloween season!
"Bone" Appetite! 🦴😋😂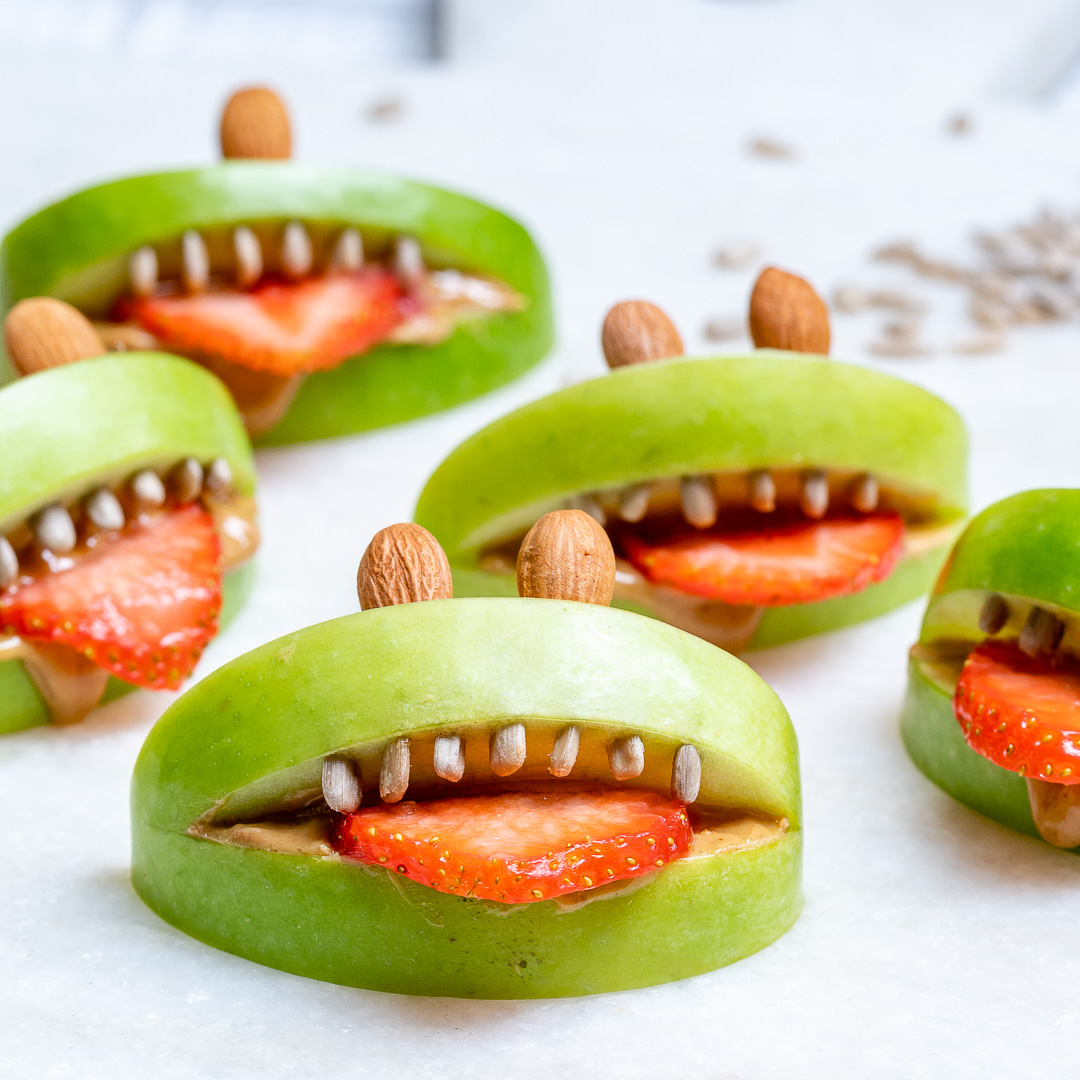 Not only do these taste fang-tastic, but they are excellent for you! Gather the kids together for a fun food-craft activity to decorate these delicious and nutritious little monsters. The apple, peanut butter, and sunflower seeds provide a complete balance of protein, fat, and fiber, making this a great snack to keep your little monsters healthy and fueled!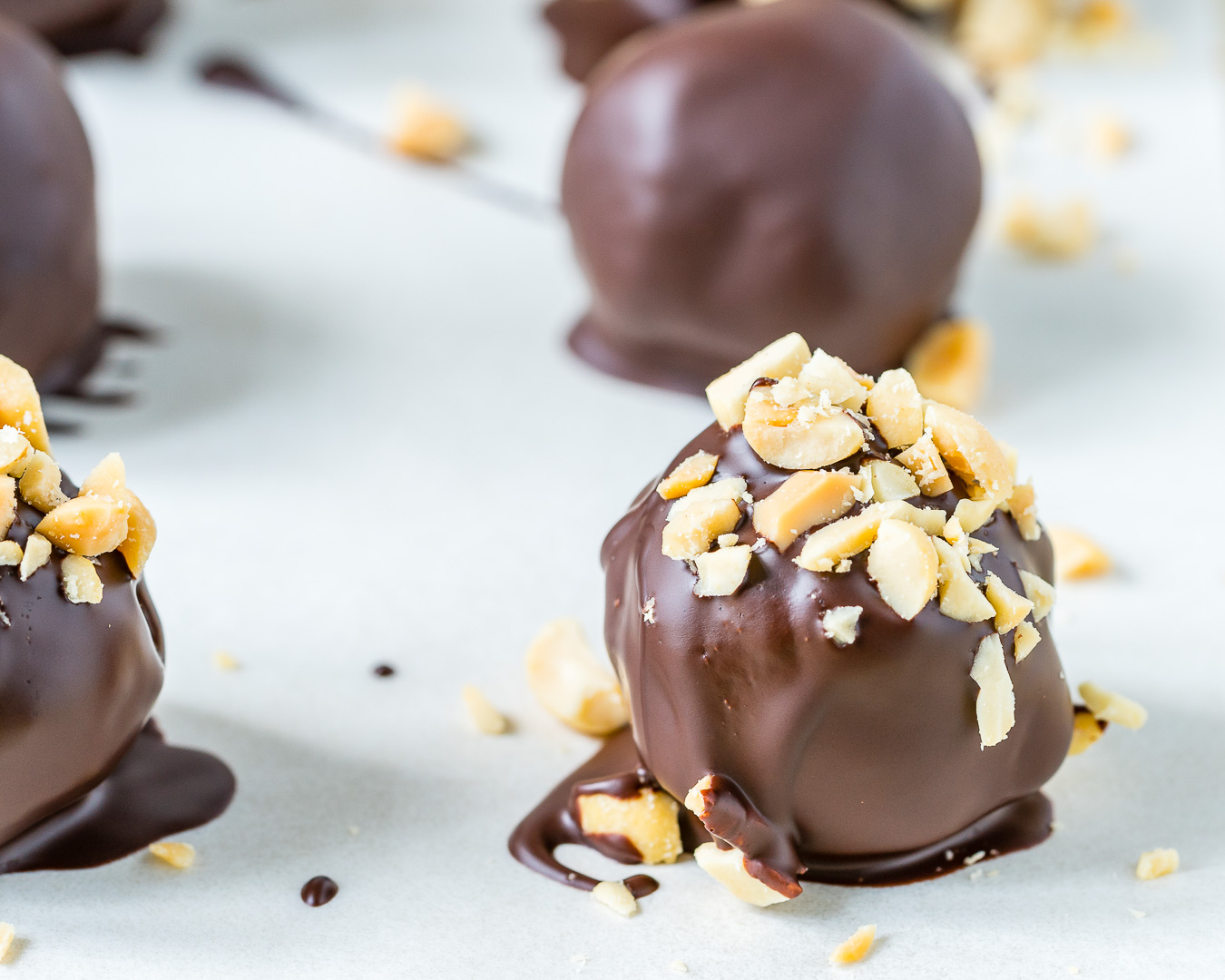 You have to try these chocolate peanut butter balls – it will be love at first bite… These gems are 100% fruit sweetened, made with natural raw ingredients to satisfy your sweet tooth while boosting your energy levels. The key ingredient – dates – are a rich source of natural sugars, antioxidants, fiber, and vitamins. Dates are known to promote bone density & can help to prevent cancer and Alzheimer's disease.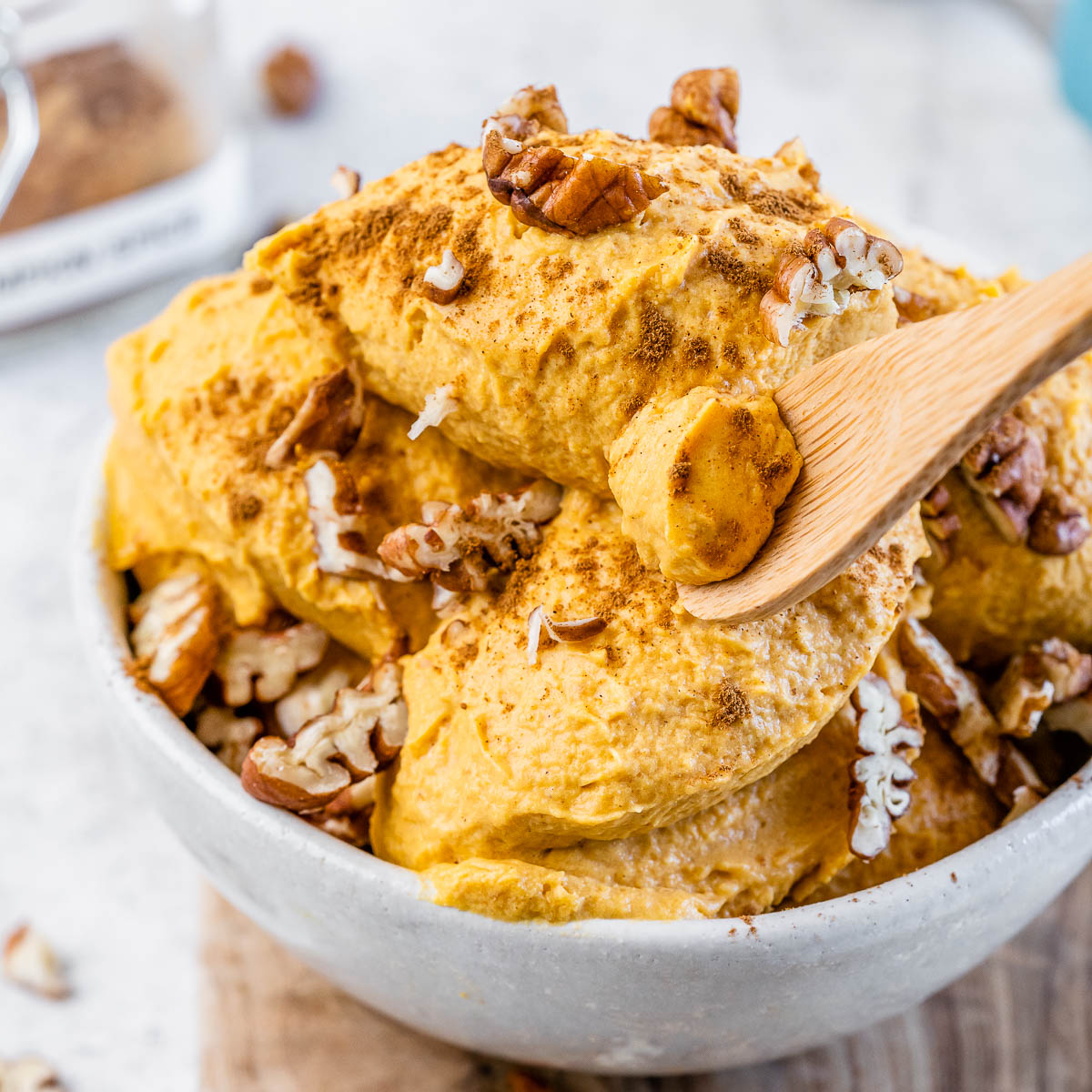 Have you ever had homemade pumpkin ice cream? If not, then you're missing out! 
This pumpkin ice cream recipe is a fun, sweet treat for those warm and sunny fall afternoons that your family will love! Pumpkins are full of nutritious vitamins and minerals that boost your vision and immunity while lowering your blood pressure. Add more pumpkin to your recipes this season to reap the full benefits of this versatile fall fruit!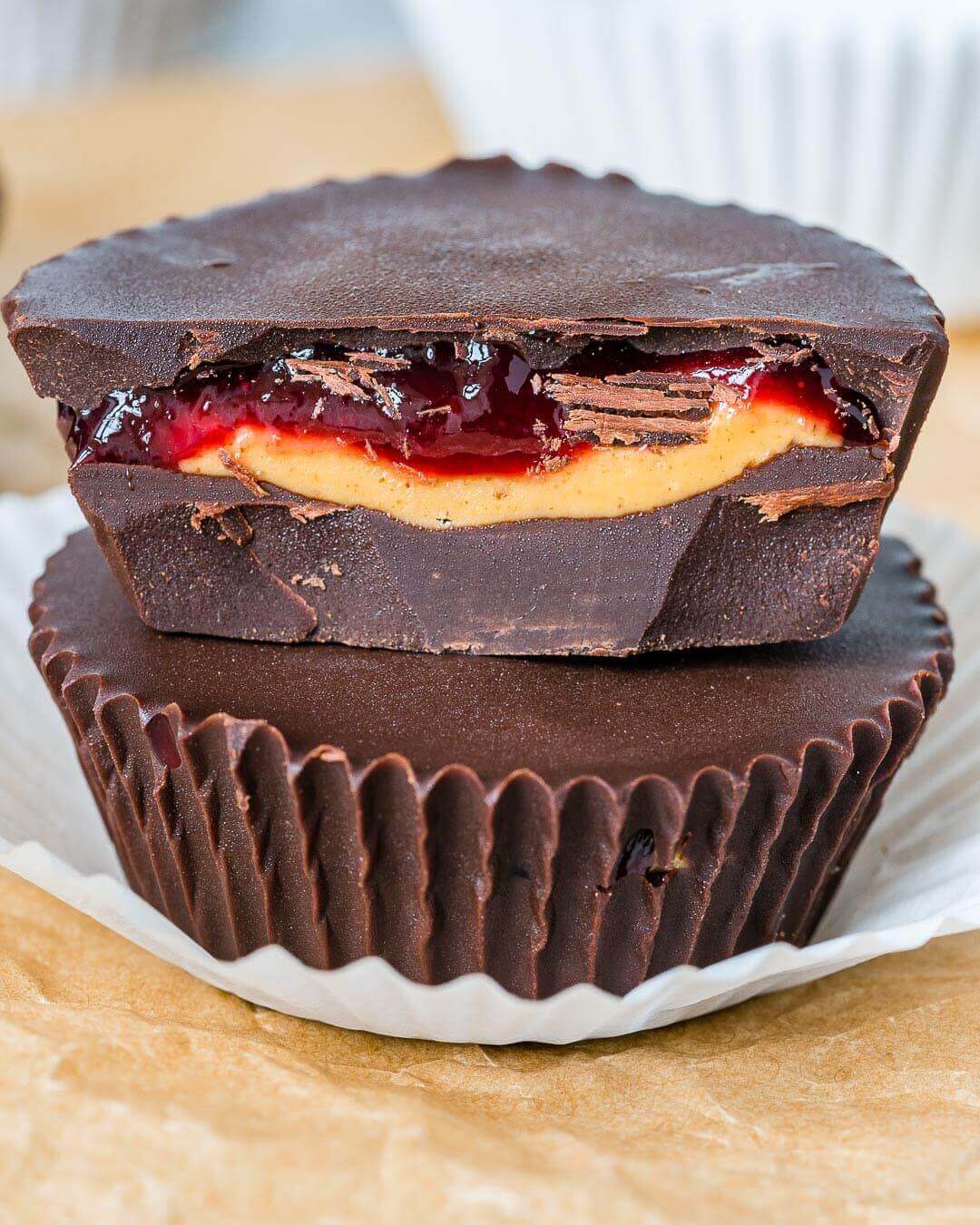 These goodies are eerie-sistible! The insides of these chocolate-covered treats ooze with natural fruit preserves and peanut butter filling that will surely satisfy any sweet-tooth craving. Make these as a sweet but healthy snack for your next Halloween movie night!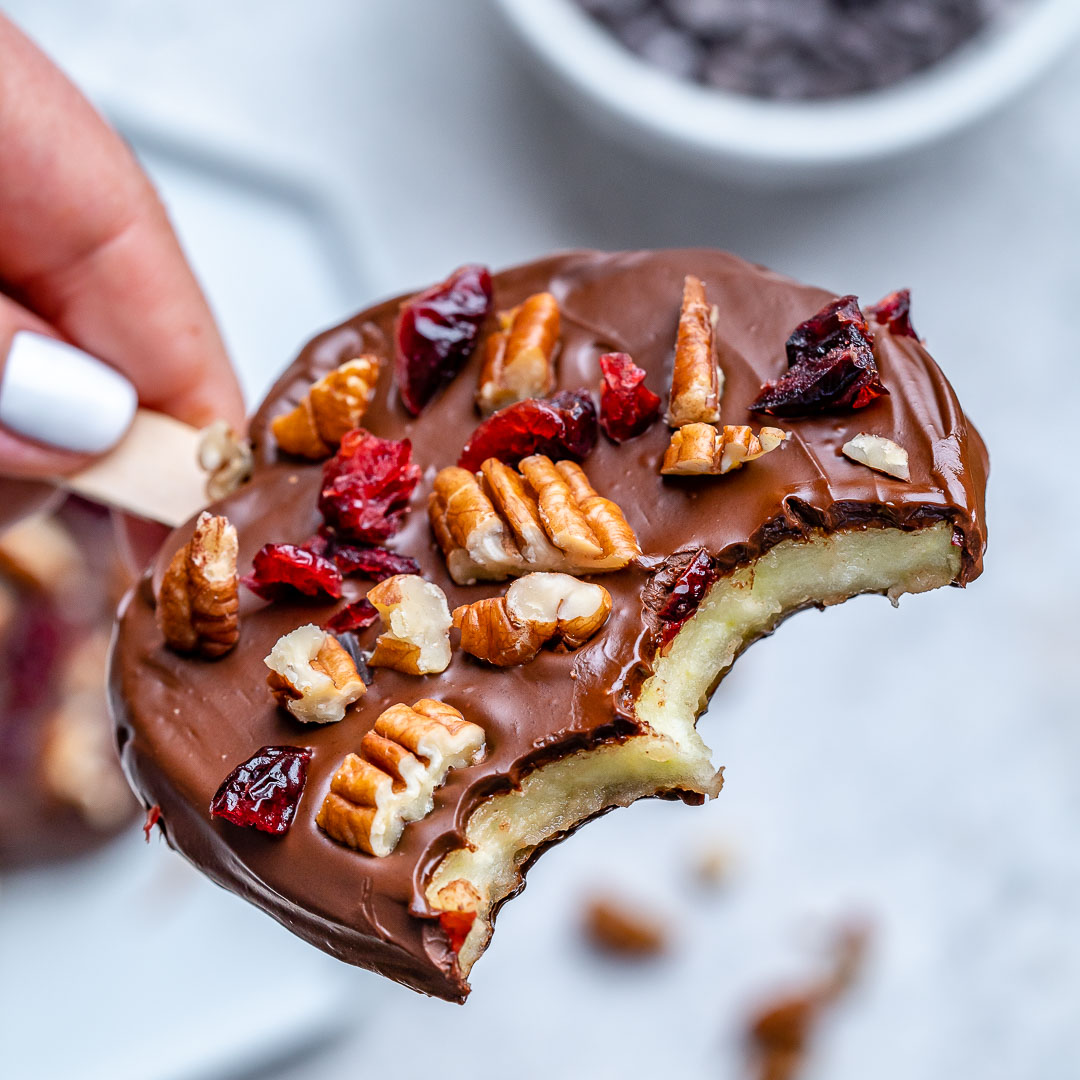 Treat AND Trick your kids into eating a balanced snack full of fruits, nuts, and protein with these playful chocolate apple slice pops! This snack is a fun way to get creative with your family – have everyone decorate their own apple slice pop with chocolate, fruit, and nuts to create silly pumpkin faces and spooky Halloween-themed designs.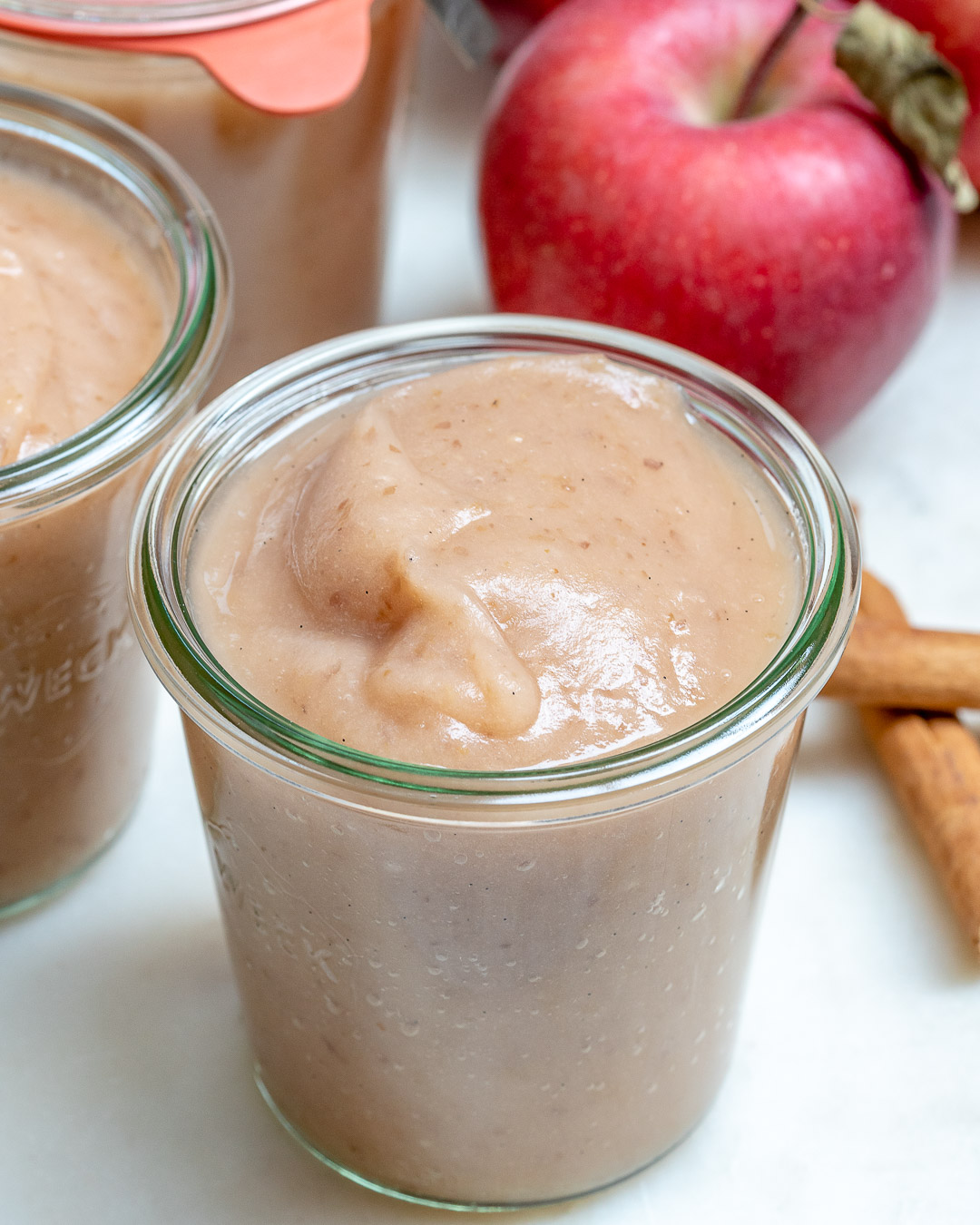 Have an abundance of apples left-over from apple picking with the family? Try your hand at making some delicious and fragrant homemade applesauce – this recipe will brighten up your house with the fresh scent of autumn while it simmers. It's super easy to throw together using a crockpot; homemade applesauce is the perfect fall comfort food for the whole family!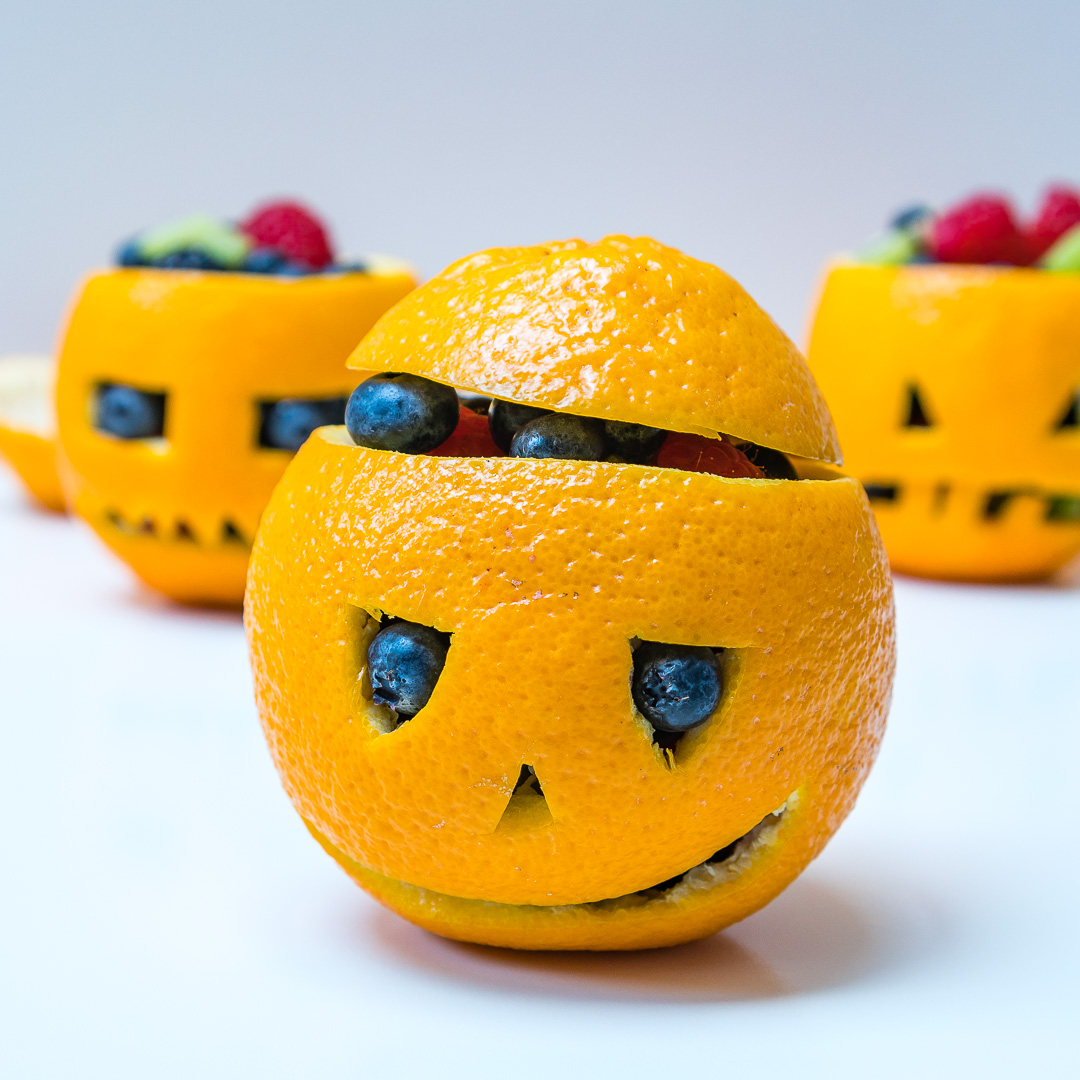 Looking for a simple Halloween food craft to enjoy with the kids? Design Jack O'Lantern faces and "carve" them into orange peels – the orange "Jack O'Lanterns" are a cute container to be filled with delicious fruit salad. Try creating these healthy Halloween snacks with the kids! They'll have a great time making memories with you in the kitchen, and you'll have a great time knowing your kiddos are enjoying some fruits rather than sugar-filled candy!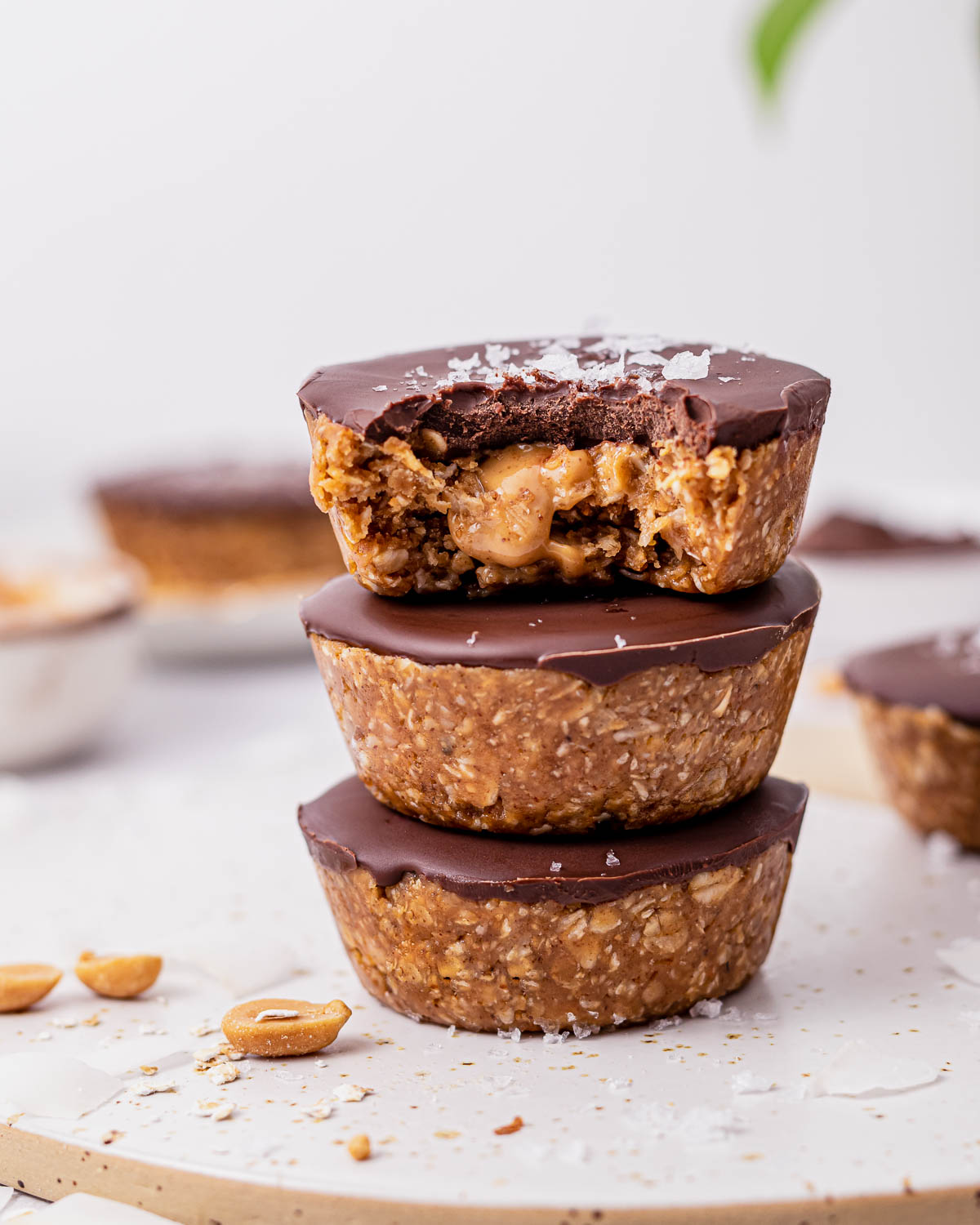 Howl good do these treats look? And they are good for you, too! These chocolate peanut butter oat cups are satisfying, nutritious, and simply delicious – a must-try for all chocolate & peanut butter lovers. Have the kids help with mixing and molding ingredients into muffin tins – this is a fun recipe for collaboration!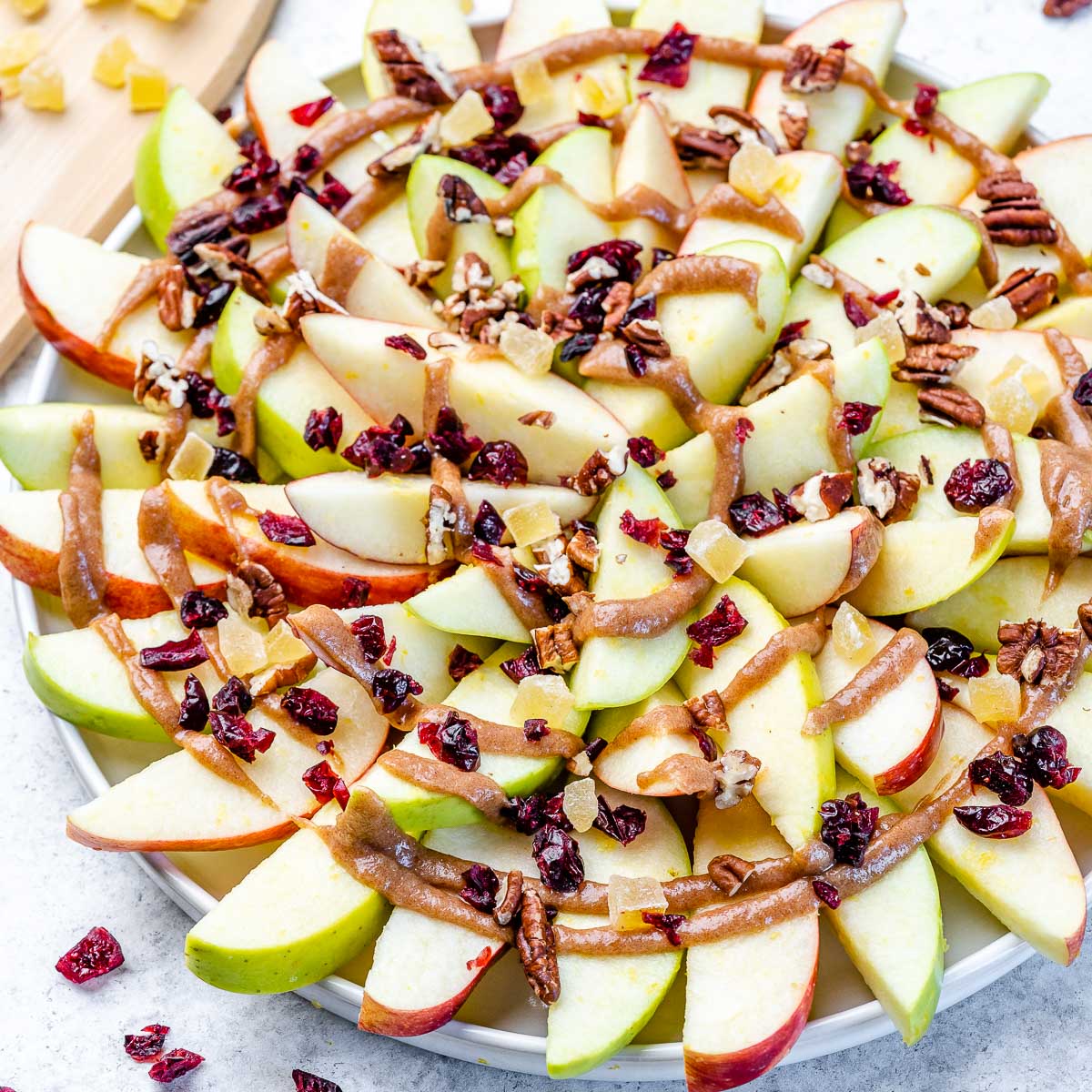 An apple a day keeps the ghouls away! These apple nachos with homemade toffee drizzles are an easy, customizable, healthy snack guaranteed to fuel the whole family. Apples promote a healthy immune system, lower cholesterol, regulate gut health, and contain potassium and fiber. This snack is simple to put together, a creative activity for your family, and highly beneficial for your health!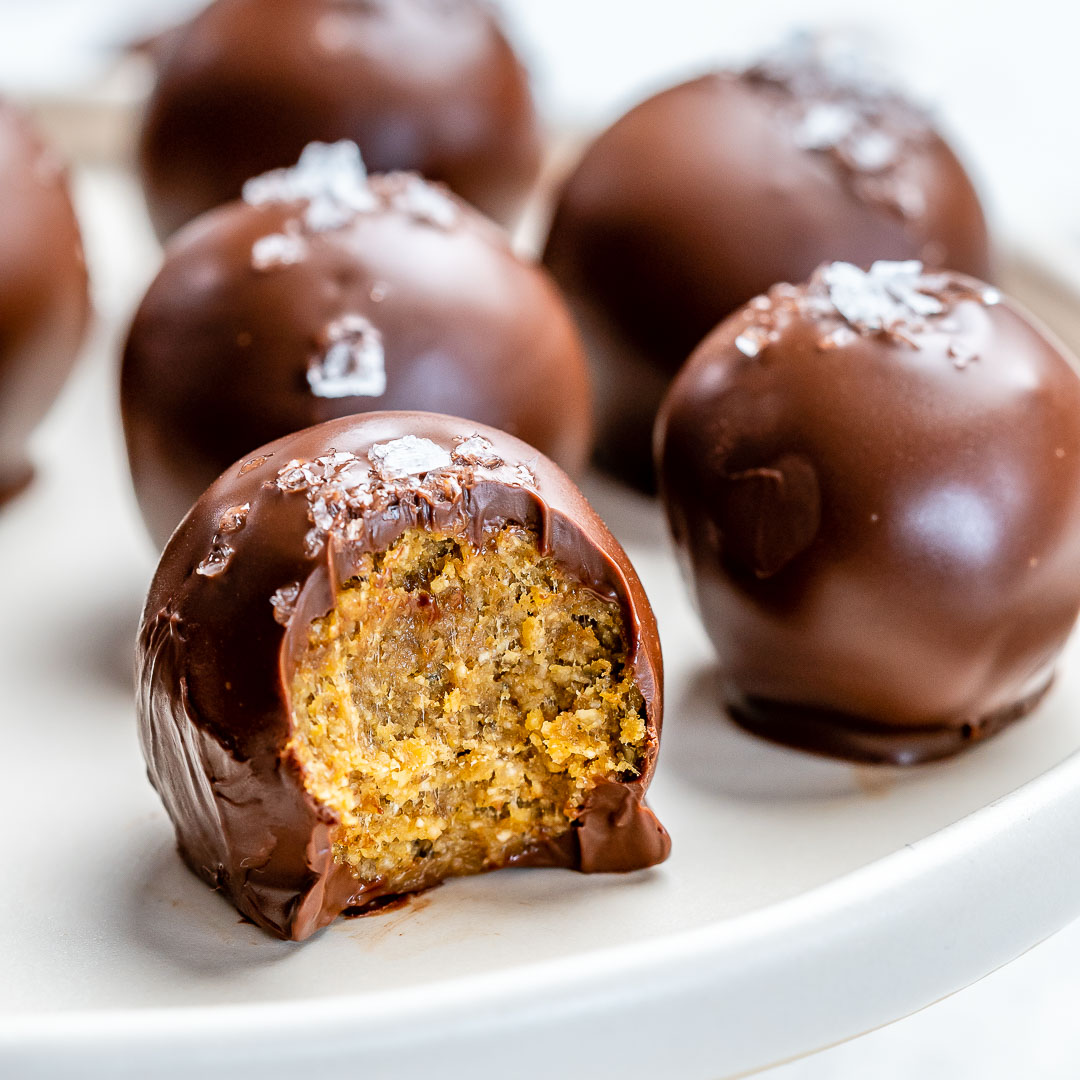 It's that time of the season for Halloween truffles! These chocolate pumpkin balls provide a sweet and nourishing energy boost. Pumpkin is low-calorie and nutrient-rich – including more pumpkin in your diet can have various health benefits, such as boosting your immunity and preventing heart disease. (And who doesn't love some pumpkin this time of year?)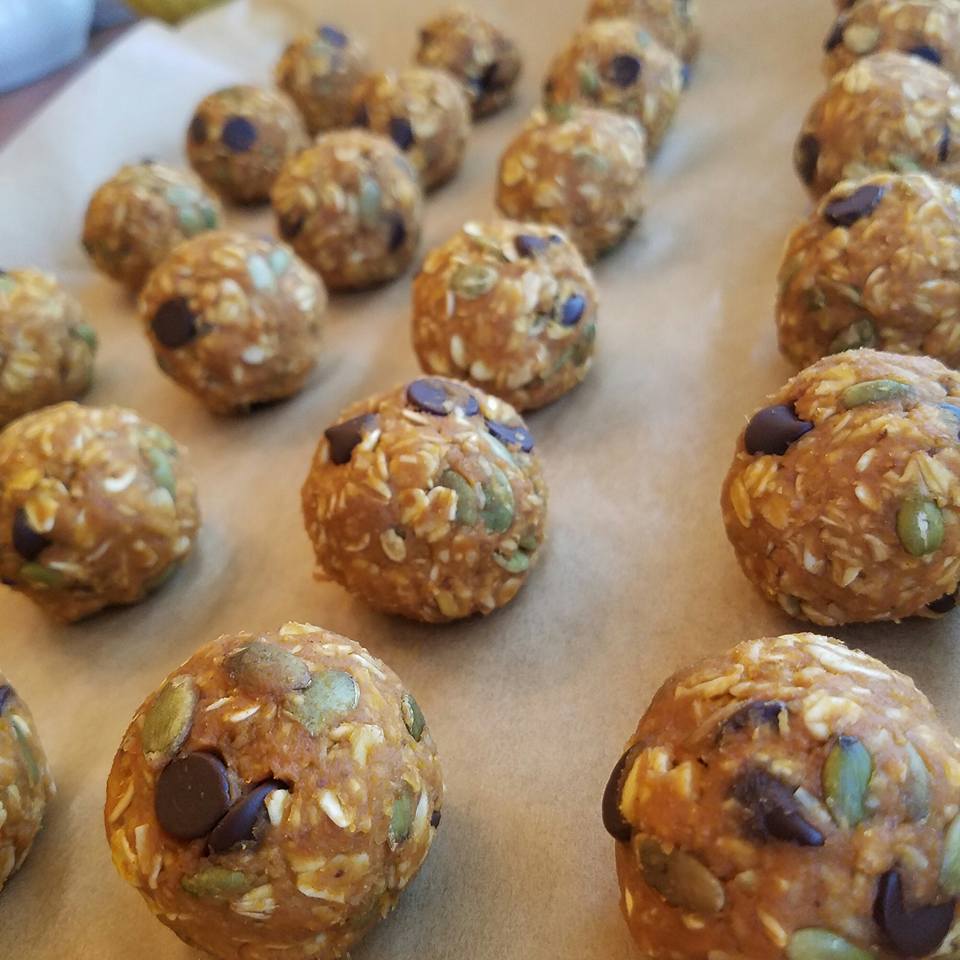 This snack is an excellent energy booster to meal prep for those busy fall mornings and tiresome afternoons following school and work. Full of nut butter, pumpkin, and seeds, these energy balls are a sure way to lift your mood and brighten your day!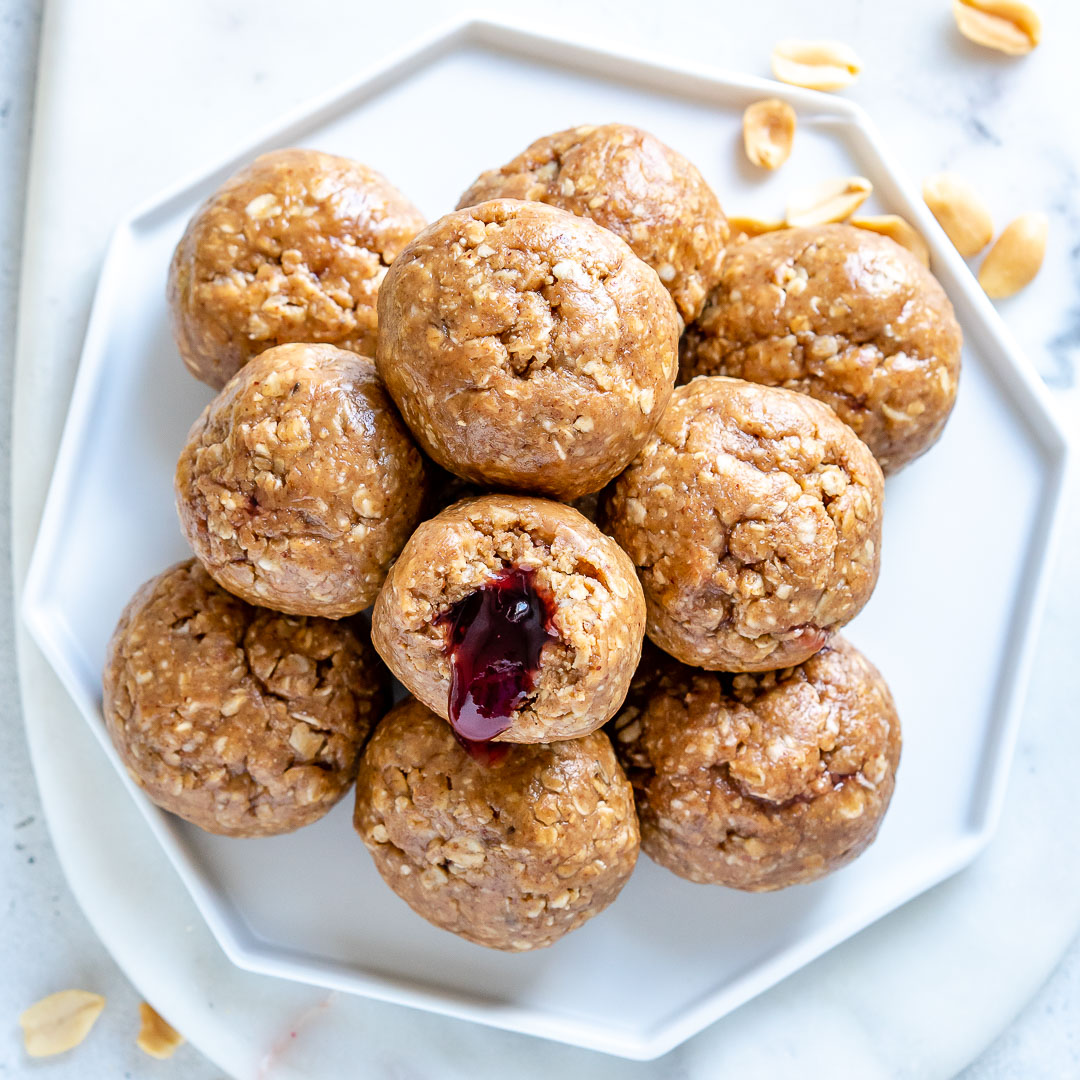 I promise that these peanut butter rolled oat balls filled with tasty fruit jam are an irresistible perfect energizing snack for after a workout, a long day at school, or a busy day at work. They're super simple to prepare and easy to store. The whole family can make and enjoy these quick and tasty treats all year!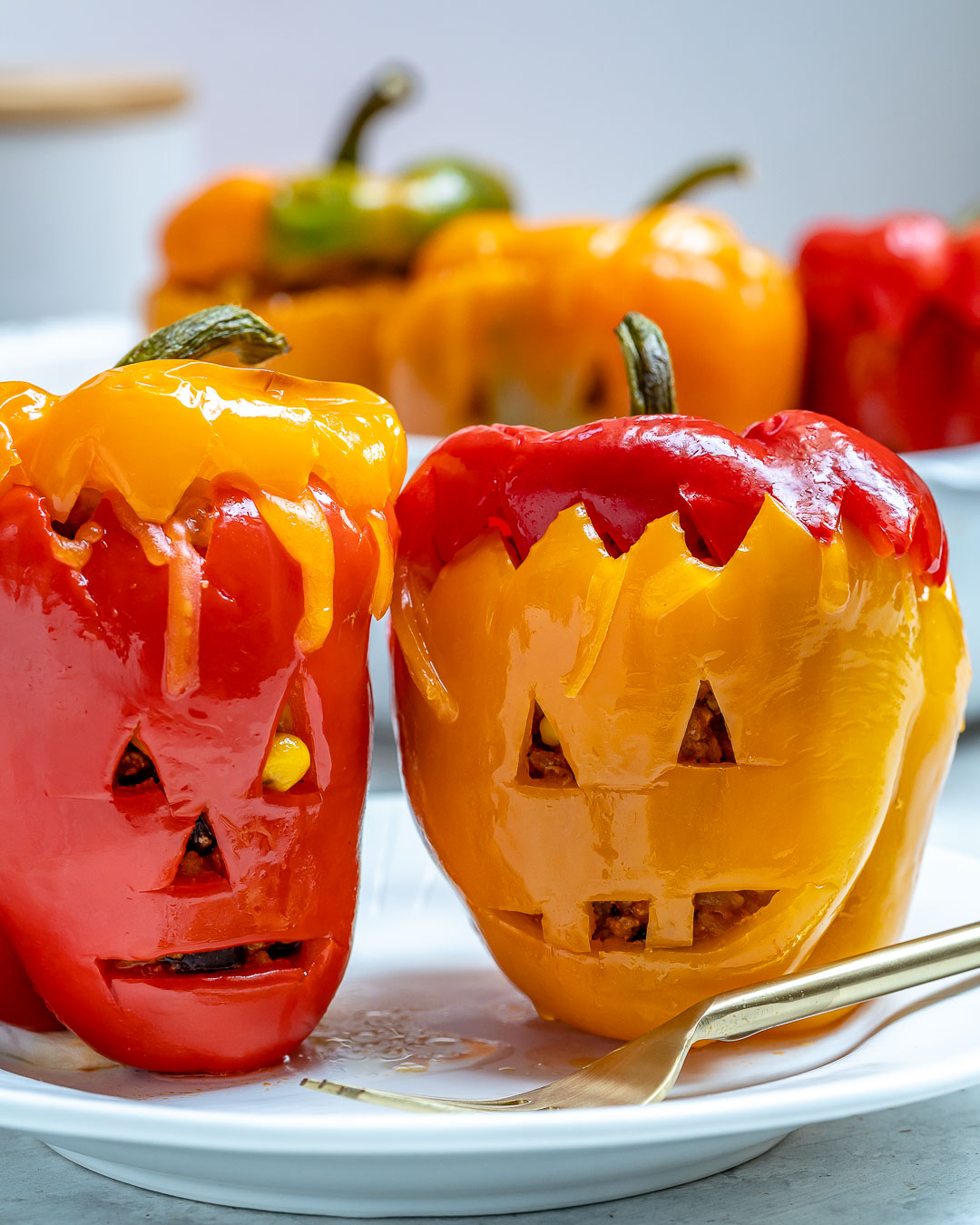 Boo-yah! Try your hand at making Jack O'Lantern stuffed peppers that are a perfect dish for a themed Halloween party! "Carve" out creative Jack O'Lantern faces into the peppers and fill them with the delicious protein-packed filling detailed in this recipe. Get creative with the fun faces and monsters you make! (This is the one time of year your kids CAN play with their food!)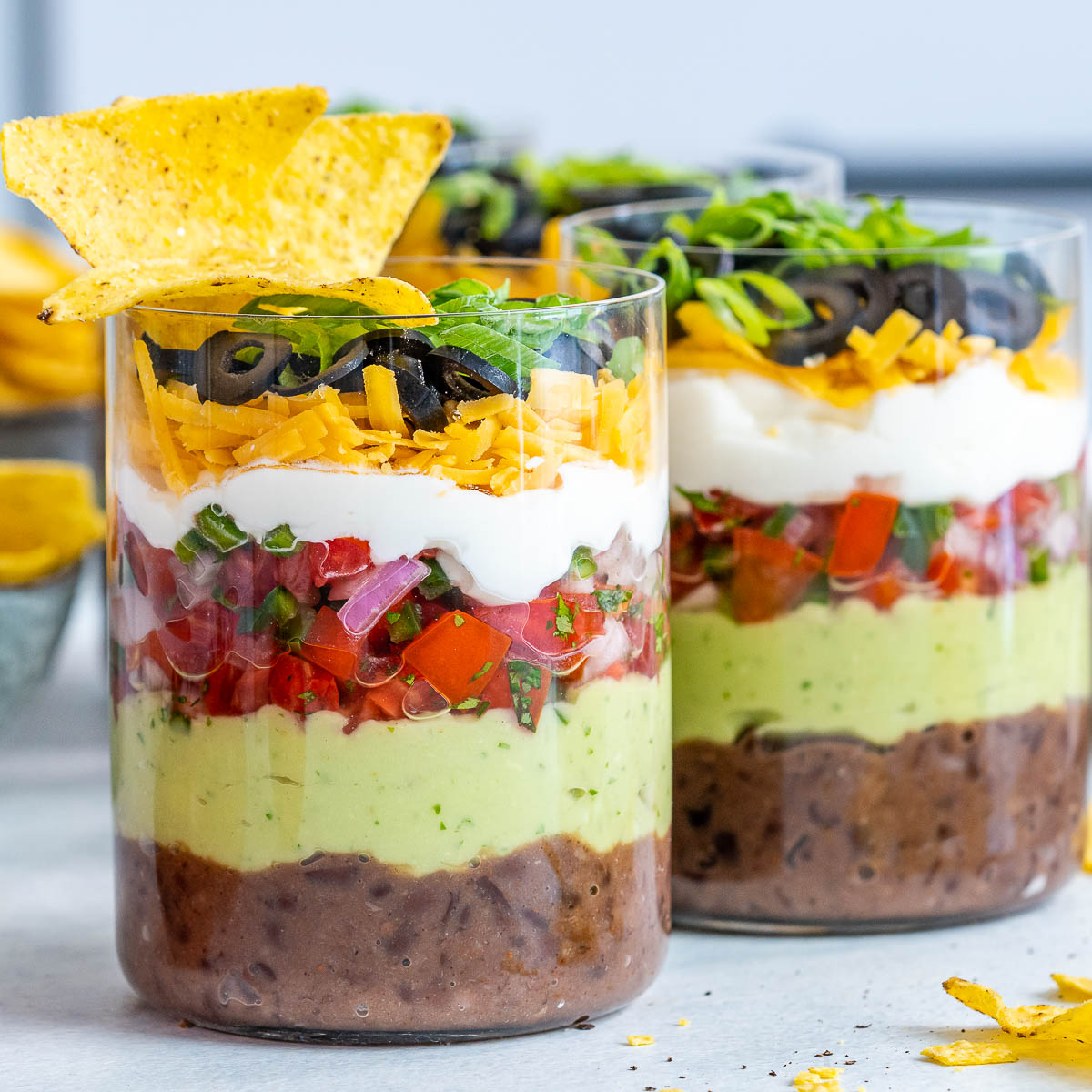 Consider making these 7-Layer Dip Cups as an appetizer when serving a group. The layered ingredients are proportioned in clear serving cups, preventing double dipping at large gatherings. Bring these 7-Layer Dip Cups to your next Halloween party – they are sure to be a hit!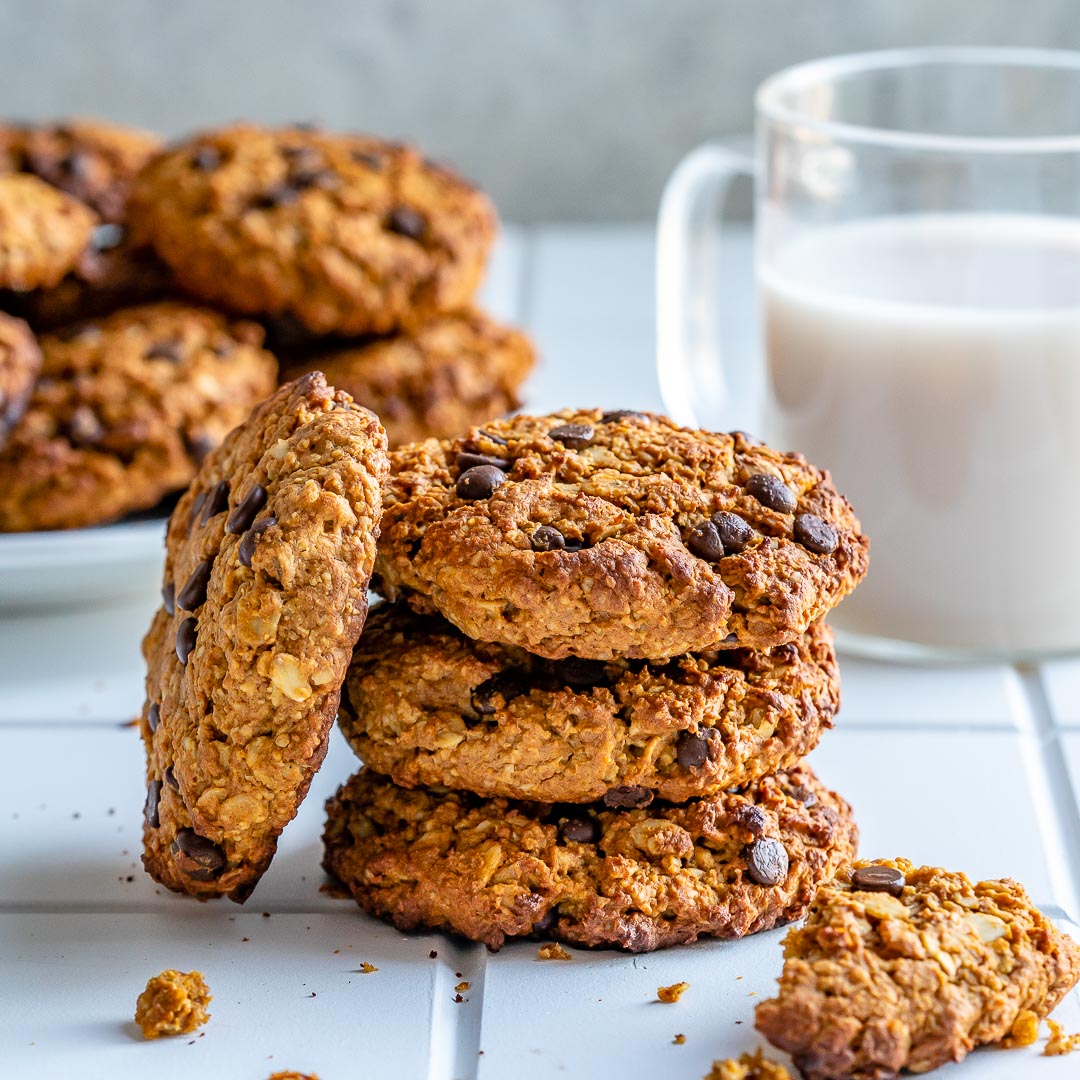 It's time to get off the cozy couch and whisk together these scrumptious chocolate chip peanut butter pumpkin cookies! These are so simple to make – you probably have all the ingredients already in your cabinets. Trust that you will not be disappointed with this cookie combo! 
My dinner tradition on Halloween is to put a huge pot of chili on the stove and leave it simmering all afternoon while family, friends, guests, and trick-or-treaters come and go.
Chili is the perfect Halloween meal because it requires little attention once it's assembled and warming on the stove. My absolute favorite recipe to make is the Spicy Pumpkin Chili, but here are some other options I highly recommend: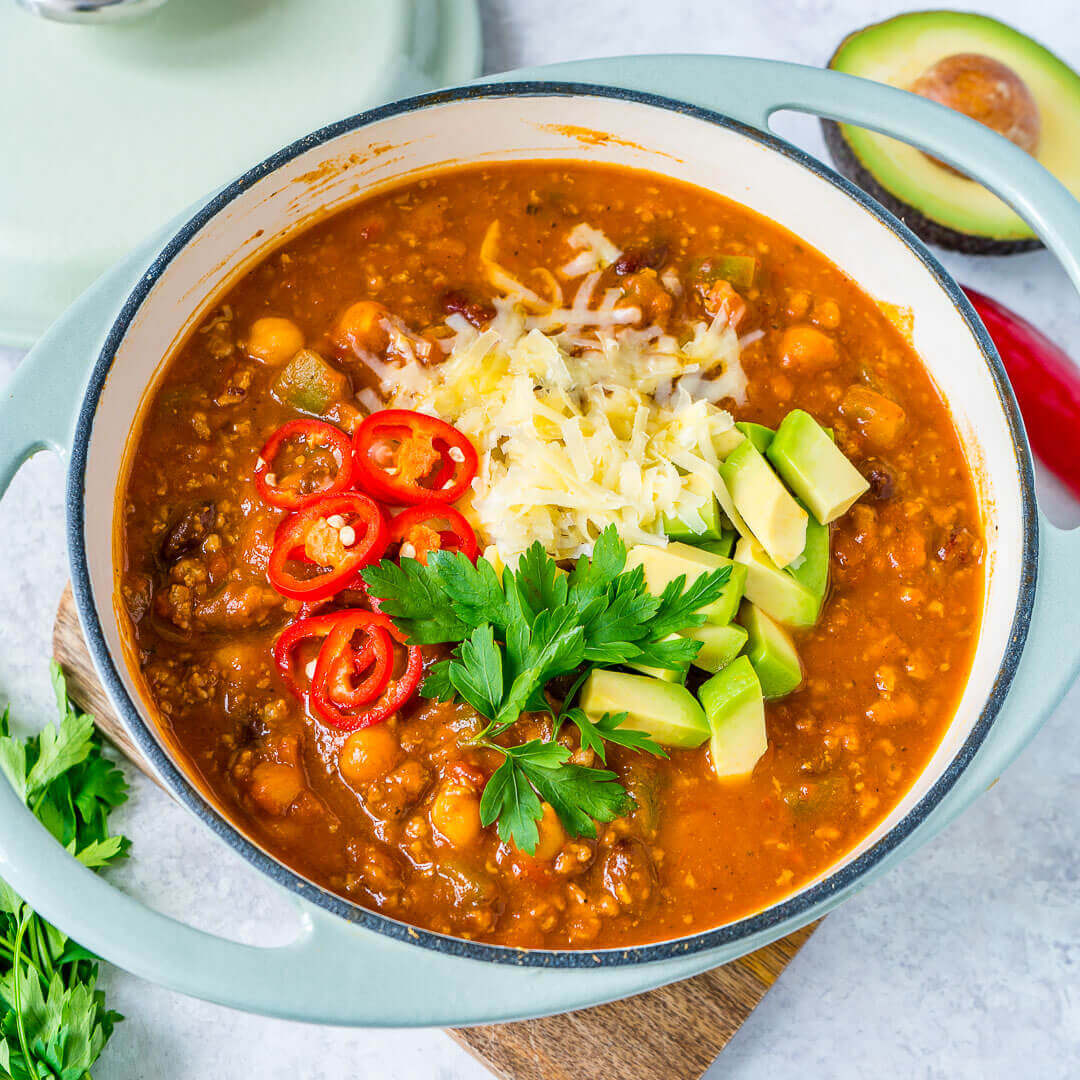 Pumpkin, spice, and everything nice! A great way to add more pumpkin into your diet is to make this spicy pumpkin chili! It's delicious, fragrant, nutrient-rich, and my all-time favorite festive fall dinner for Halloween. I hope you and your family and friends love it just as much as I do!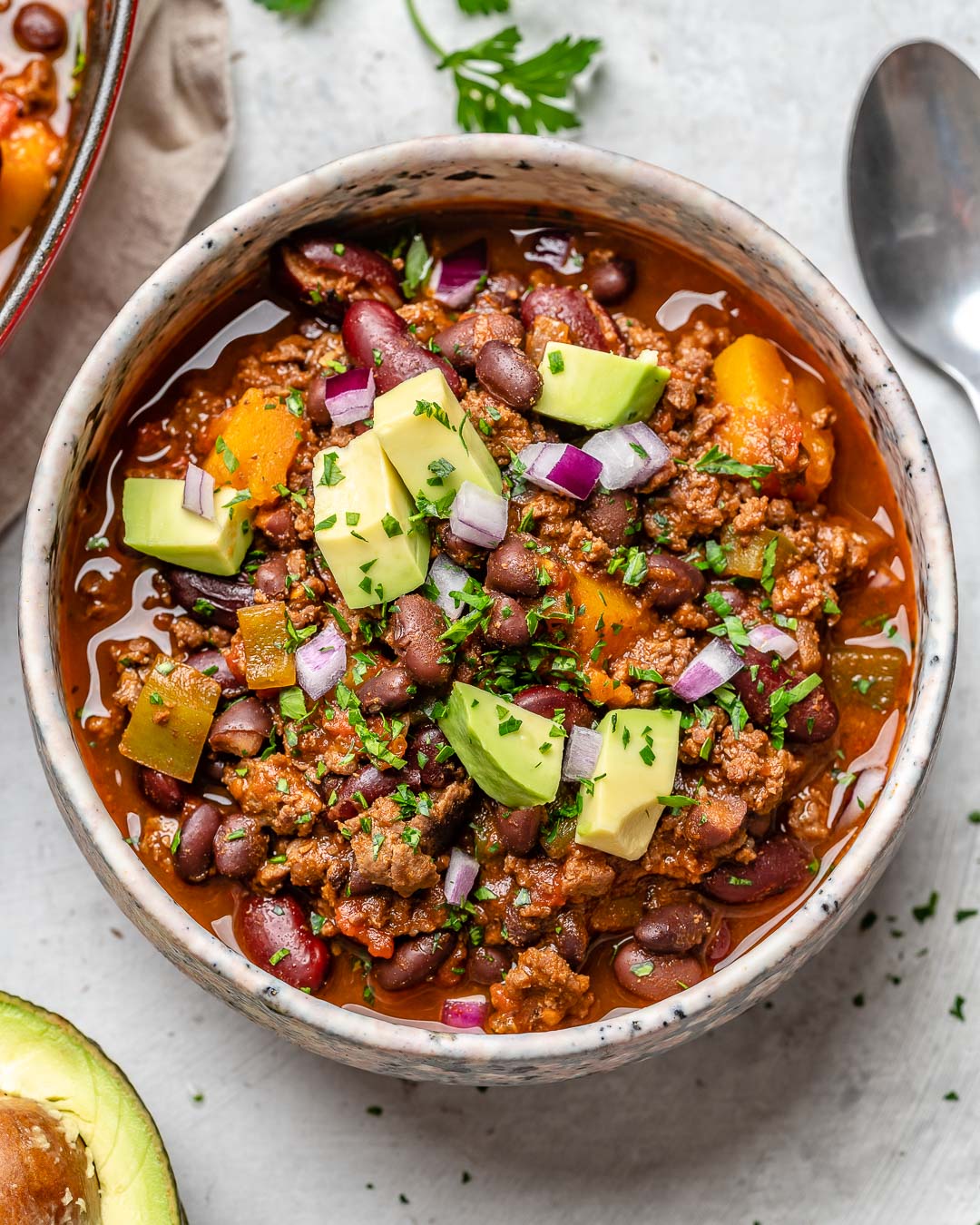 Squash goals! Do you ever have that butternut squash you picked up from the farmer's market that you have no clue what to do with? Throw it in a pot with a bunch of these common ingredients from your pantry to create a delicious and nutritious chili dinner. When all the ingredients come together, this chili packs a punch!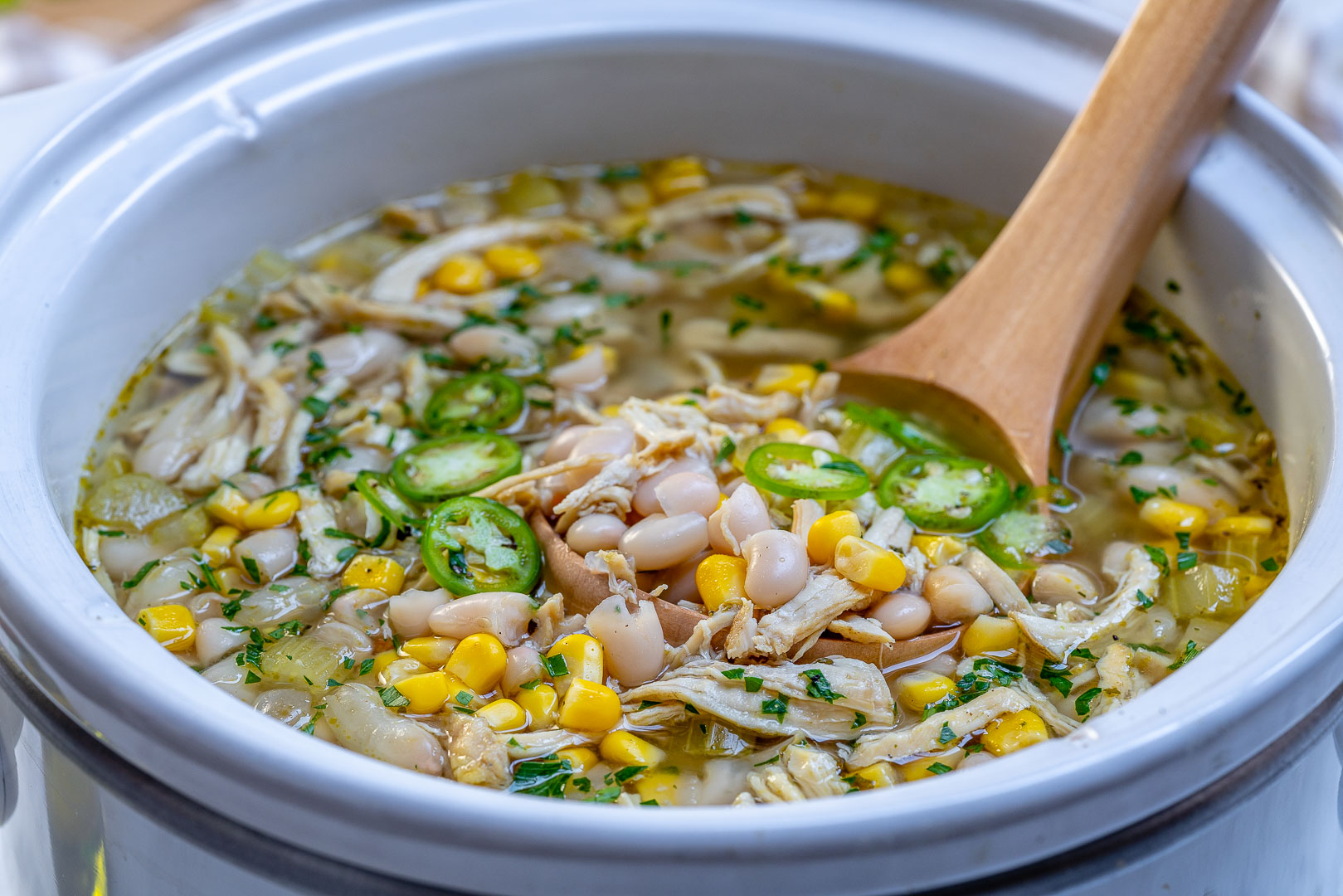 I love using crockpots and instant pots because they are low hassle/high reward. This particular chili includes some cannellini beans, which are rich in iron, magnesium, and potassium, and spices such as coriander and cumin are excellent antioxidants. Make this delicious and healthy dinner in abundance for meal prep throughout the week!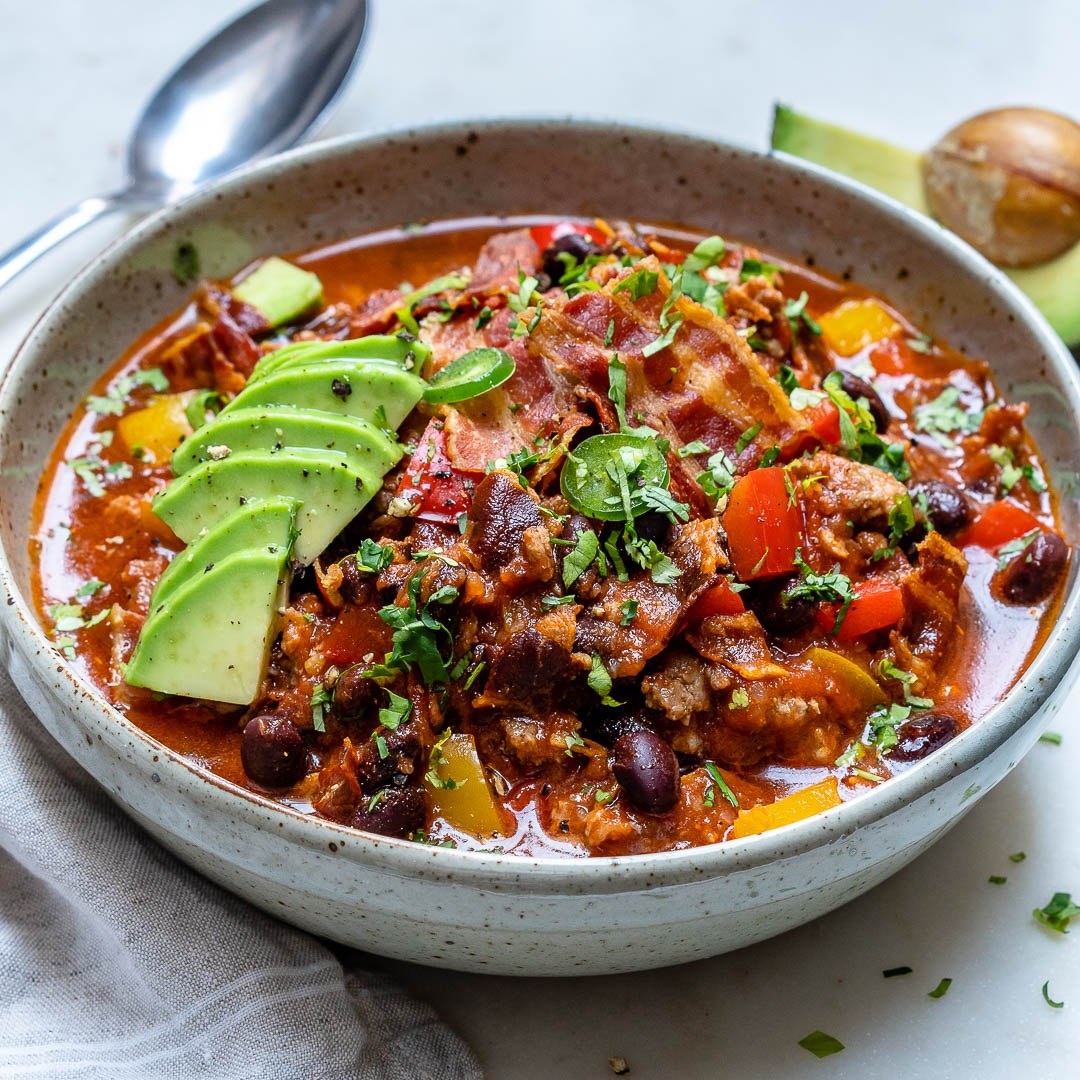 What's better than chili made in a crock pot? Chili made with BACON in the crock pot! Adding crumbled bacon to your chili is a game changer. If your family is anything like mine, they will appreciate a bit of bacon with their evening meal. The smoky and spicy flavors complement each other well – you'll have to try it!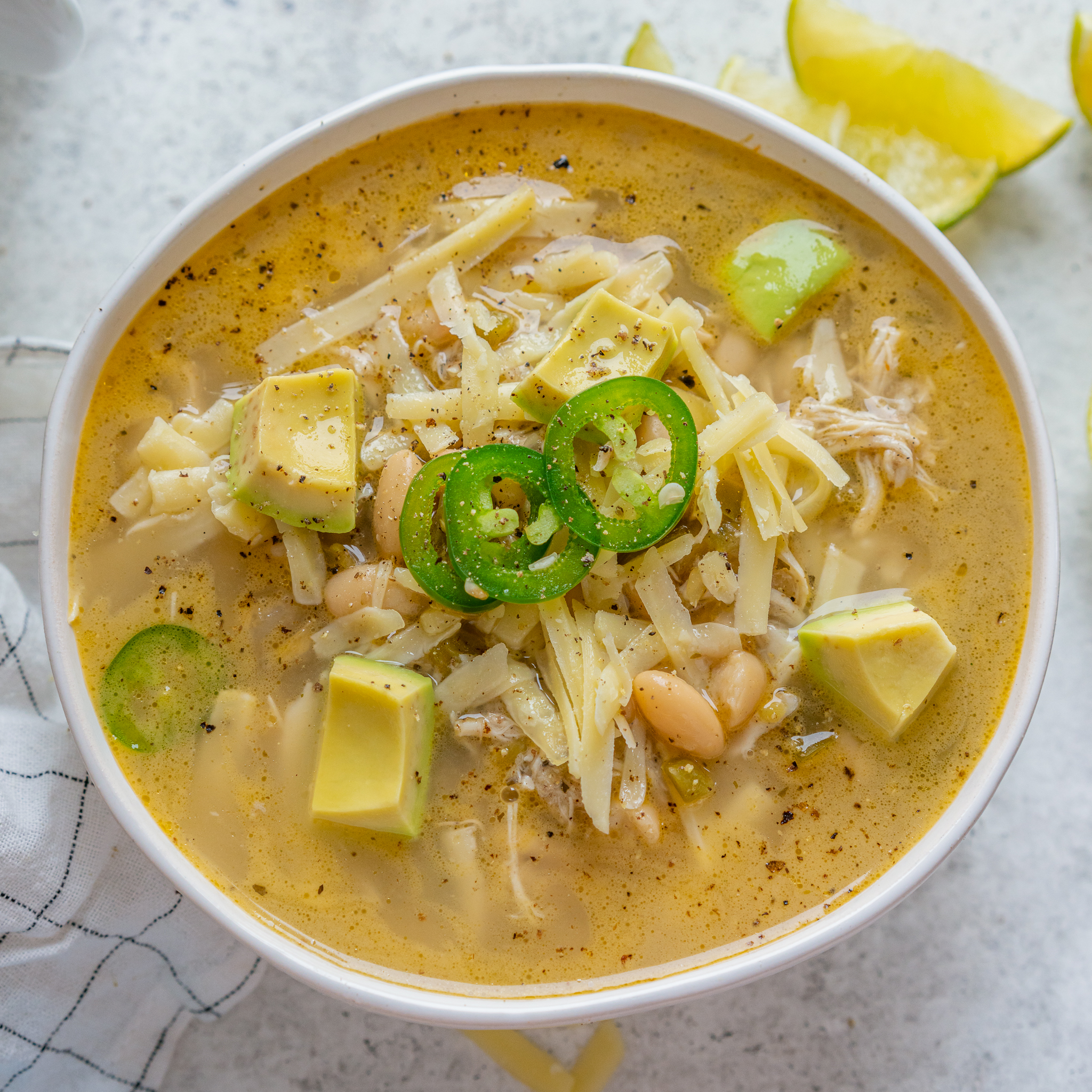 This nourishing dish is a fan favorite for those cold autumn and winter days and is excellent for serving a group or feeding the family for the week. The ingredients are inexpensive and super easy to prepare! This recipe calls for great northern beans, an excellent source of essential B vitamins, calcium, and zinc!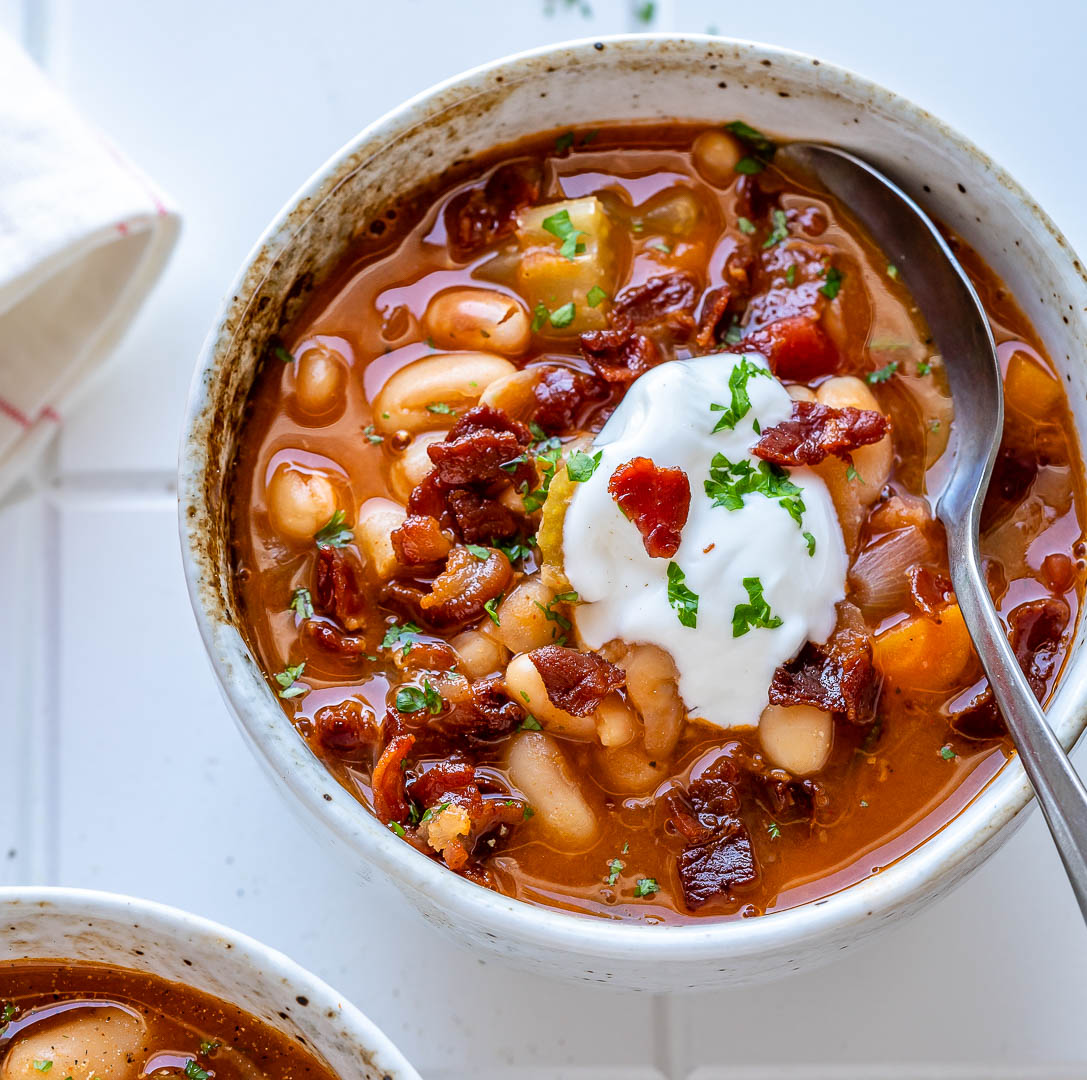 As the name suggests, this soup is guaranteed to leave you "loaded" and "super satisfied." During the cold months, I always turn to a big pot of hearty and nutritious soup to get me through the day. Bone broth is vital for the health of your joints, skin, hair, and nails, and the bacon in this soup elevates the flavor to keep you coming back for more. Best to make a big serving because the soup will continue to taste even better leftover; trust me!
No matter what your fa-boo-lous Halloween plans are this year, I'm sure you can find something to enjoy from the spooktacular list of treats above!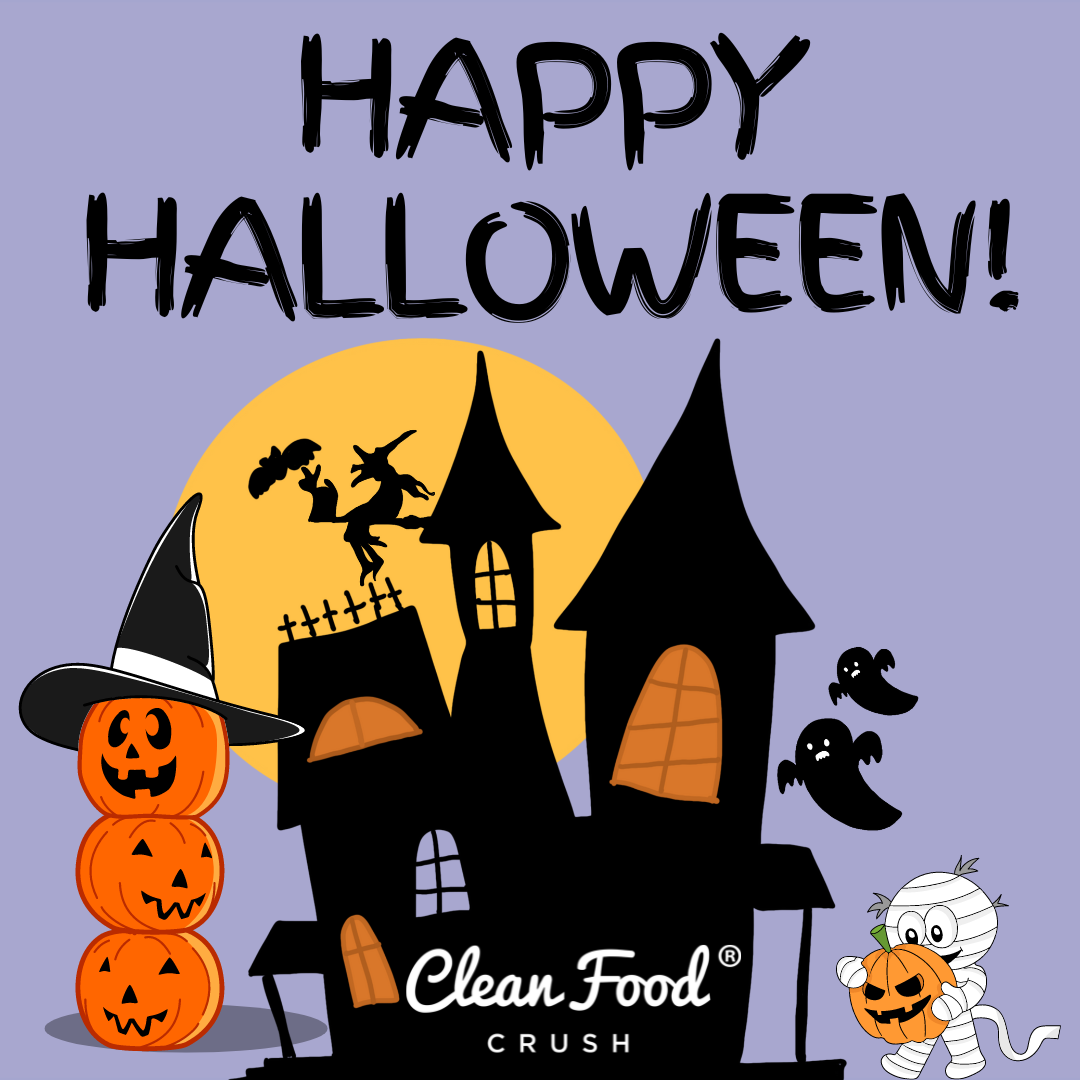 Which recipes are you trying this season?
Creep it real and drop your favorites in the comments below! 
I wish you all a very Happy Halloween with special treats and lots of exciting tricks! 
🧡Rachel
P.S. Need help staying on track through the holidays or restarting your clean eating journey? Check out our 30 day Clean Eating Challenge, which includes a complete set of meal plans over the course of 1 month, breaking it down per week, and detailed instructions on how to cut down on sugar and processed foods!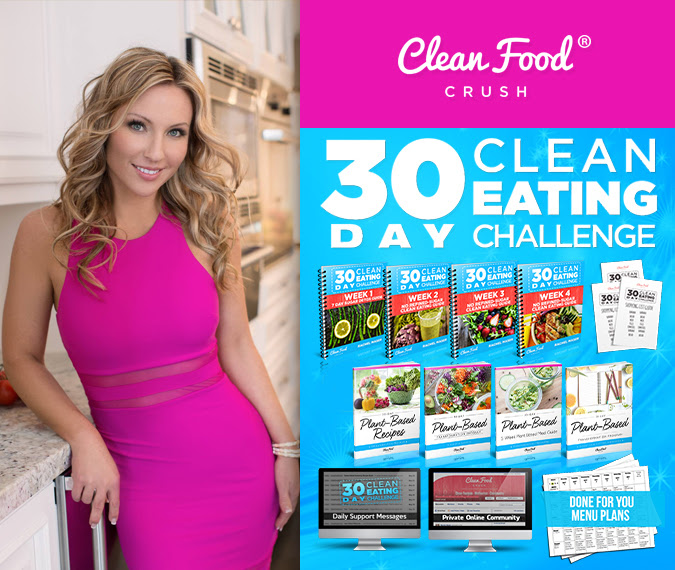 Leave a Comment Below:
Related Posts :
..