10

Aug, 23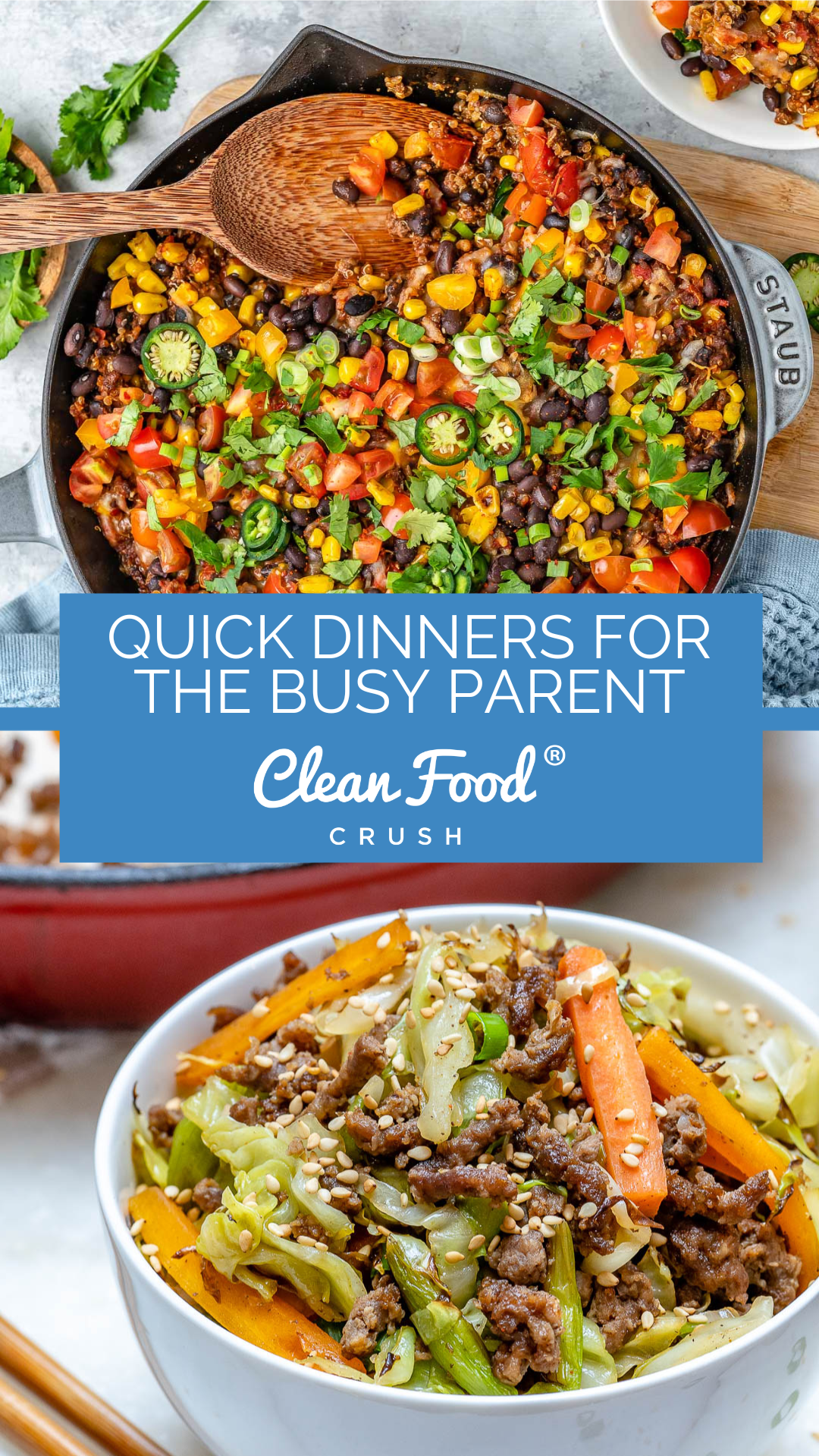 Quick Dinners For the Busy Parent
With school coming up (or maybe already started!)(CRAZY how fast the year flies by), I'm sure I'm not the only parent out there with less and less time on her hands!
Life is only getting busier with work, errands to run, kids to take to school and extracurriculars, houses to clean, homework to help with, books to read, self-care to practice, meals to prepare, and so much more.

Lack of time is an extremely common reason for going through drive-thrus, eating packaged foods, and neglecting their health.
But preparing dinner for yourself and your family doesn't have to be a stressful, all-consuming, hours-long affair!
Here are 25 dinners PERFECT for everyone who feels overwhelmed and too busy to dedicate more time to the kitchen.
All of the following recipes are delicious, simple, and take half an hour or less to have ready and waiting on the dinner table.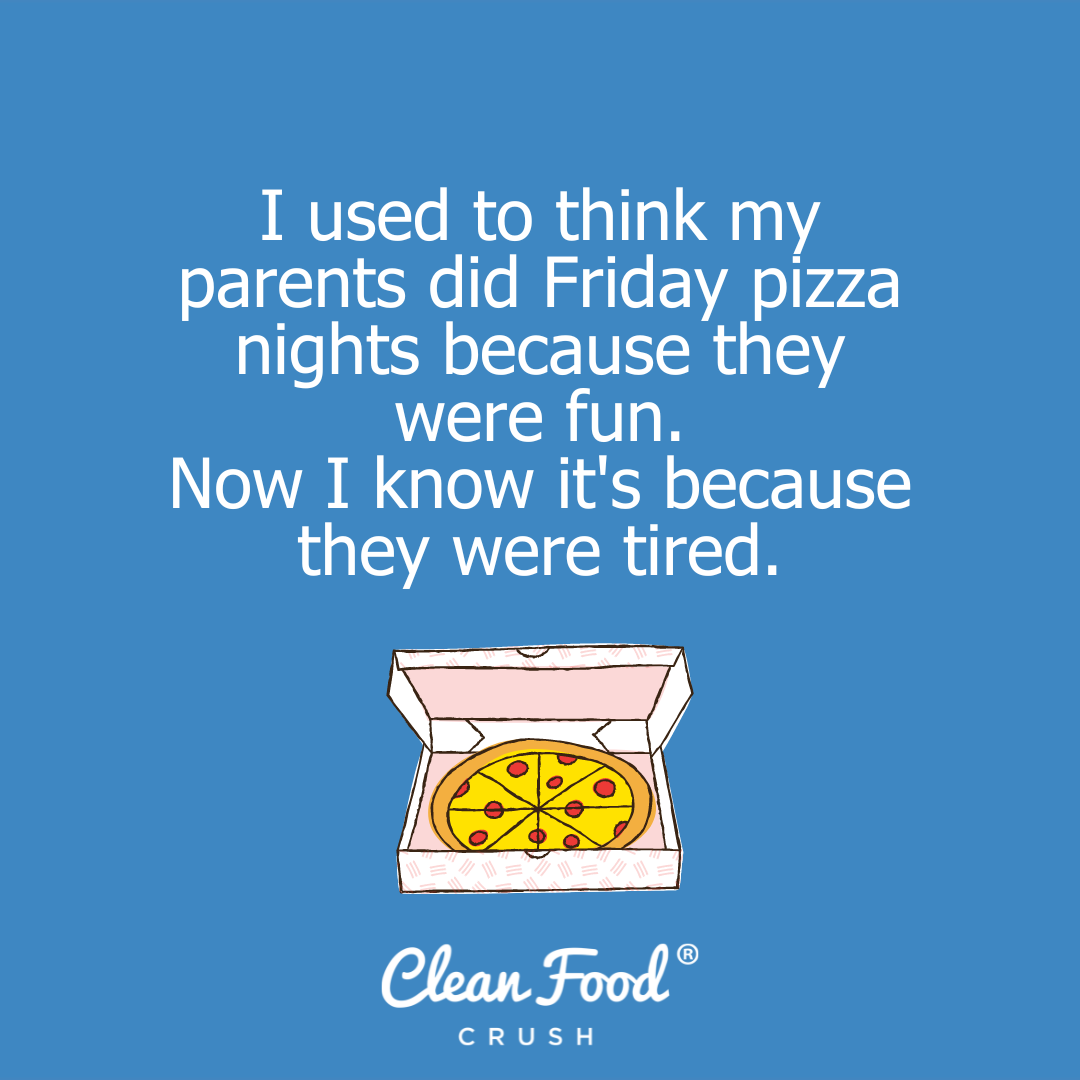 Nothing is better than a super tasty, satisfying, and QUICK one-pan skillet meal on a busy weeknight!
And this is one of my all-time favorites because pizza is a classic dinner, and this recipe comes with all the flavors we love in pizza AND much more protein that can help you stay on track with your goals!

Rice, chicken, and delicious veggies, all deliciously seasoned and combined, make for a wonderful dinner!
While this dish requires some time to simmer due to the brown rice, the hands-on time is minimal.

This recipe is for all the curry lovers out there who are short on time. You'll have all your favorite tasty deep curry flavors in minutes… perfect for weeknights or meal prepping!

While I still adore my crockpot, being able to throw everything in the Instant Pot and have a delicious meal a few minutes later (without planning earlier in the day) is amazing and has been very convenient.
Instant Pot is the queen of last-minute meals that taste like it cooked for hours.

You only need one pan to get this fabulous dinner on the table within 20 minutes. Plus, you get to use all of those beautiful Summer vegetables.
Skillet meals to the rescue!  

 Yep… you read that right. FIVE MINUTES!
Grab your ingredients out of the fridge, whisk your simple dressing right into the bottom of a big ole salad bowl, pile in your ingredients, toss everything well, then dive in. It's that easy.

This recipe combines two of my FAVORITE things: cheeseburgers and soup.
It's super satisfying and flavorful while being packed with protein. Also, it has all the
fantastic aspects
of soup, which is an excellent meal for the busy family, anyone hoping to follow a budget, and those trying to sneak more nutrients into your daily menu.

This recipe is a mouth-watering, satisfying, and affordable nutrient-packed family meal. It will impress everyone at the table. It's definitely going into our regular dinner rotation!

Your youngsters are going to ADORE this recipe! You'll be surprised how tasty this one turns out – especially considering we used minimal ingredients and only needed a few minutes to prep!

Quinoa is a superfood you'll definitely want to serve your family as often as possible.
It's gluten-free and packed with nutrients like protein, zinc, fiber, folate, and antioxidants.
This meal tastes even better reheated the next day or two, making for an excellent food prep idea!

If you're a fan of Asian cuisine, then you will LOVE this recipe!
It gives a whole new, creative, and healthy spin on the typical egg roll. Instead of a fried, stuffed roll, it's unstuffed and made at home with cleaner oil.

Have you ever eaten a meal that satiates your pallet in every single way: textures, colors, immense flavors, aromatics – that you feel entirely fulfilled and satisfied, and left you full of energy, and without that late afternoon yucky-tired slump that the fast food/fried food lunch run often gifts us? Because this power bowl does exactly that!

Packed with protein and tasty flavors, this soup is your answer if you're trying to stick to a budget and feel like you have no time to cook!
It's also great for meal prepping, so make a large pot at the beginning of the week and refrigerate or freeze the extras for future meals.

Okay, here's another spin on the classic cheeseburger. I don't know about your children, but my kids
LOVE
cheeseburgers, so these recipes are very popular in my house.
This one is great because it's easy, quick, and versatile. You probably have most of the ingredients at home, too!

This casserole will please even the pickiest of eaters and sneak plenty of nutrients into your children's meals. I also doubled up the recipe to make a few lunch portions to send with the kids to school during the week. 

With this recipe, you'll only need a handful of ingredients, one pan, and twenty minutes to create a delicious meal for dinner tonight or meal prep for your week ahead!
While your kids enjoy their food, you can relax knowing they're getting tons of vitamins and minerals from shrimp, broccoli, and quinoa. 

Taco Tuesday for the win with these crispy and delicious turkey tostadas!
This recipe also includes a few quick tricks to crisp up the tortillas quickly for a big group (I have a large family to feed, so this method keeps things easy!).
There's also a homemade taco seasoning recipe, so you have everything you need to feed a big group something unique!

Rice and sausage are common favorite foods among kids, so it's safe to assume this will be a hit at the dinner table!
Plus, the butternut squash is packed with vitamin A, which helps keep your skin, eyes, and bones healthy. It's also loaded with vitamin E, which supports brain functioning.

Here's another wonderful soup that's quick to make and perfect for meal prepping. All you need to do to enjoy your favorite restaurant-style Tuscan soup while sticking to your clean eating plan is make a few healthy swaps! You don't even need to sacrifice the flavor.

Hummus disappears like CRAZY in my house. Everyone loves it not only as a snack but as an ingredient in great meals like this one.
These wraps take less than 10 minutes to make, and the result is gorgeous and makes the phrase "eat the rainbow" feel literal!

I absolutely adore one-pan meals and their simplicity and quick cleanup. So, of course, I had to include one last skillet meal to this list! And this is full of
fantastic
flavors and a great serving of Veggies all in one!

Green beans help fight inflammation and provide the body with folate, potassium, protein, and fiber, all of which are essential nutrients that help lower cholesterol and regulate blood pressure, among other things. 

Despite being incredibly easy to make, this salmon piccata is SURE to impress your family and any guests joining you for dinner.
In addition to the simplicity and tastiness of the meal, there are several
health benefits
of salmon! Salmon is very low in saturated fat and a good source of protein, vitamin B12, potassium, vitamin D, and several other nutrients.

Not a fan of the piccata but still want to add a salmon dish to your weekly menu? Then you should try this one as soon as possible! It's different from the salmon piccata but has all those health benefits. 

This entire meal will come together in under half an hour, but you'll receive praise as if you just cooked for many HOURS!
Because I'm positive, everyone will love this creamy, cheesy, melty, warm, and satisfying Chicken Fajita Flavors. So as far as I'm concerned, this is the ideal meal situation to be in.
I'm still often amazed at how just a few simple, fresh ingredients can become such a satisfying and delicious meal in minutes. I hope one of these quick dinners makes your life a little easier during this busy season! 
Let me know your favorite in the comments below!

Leave a Comment Below:
Related Posts :
..