31

Mar, 22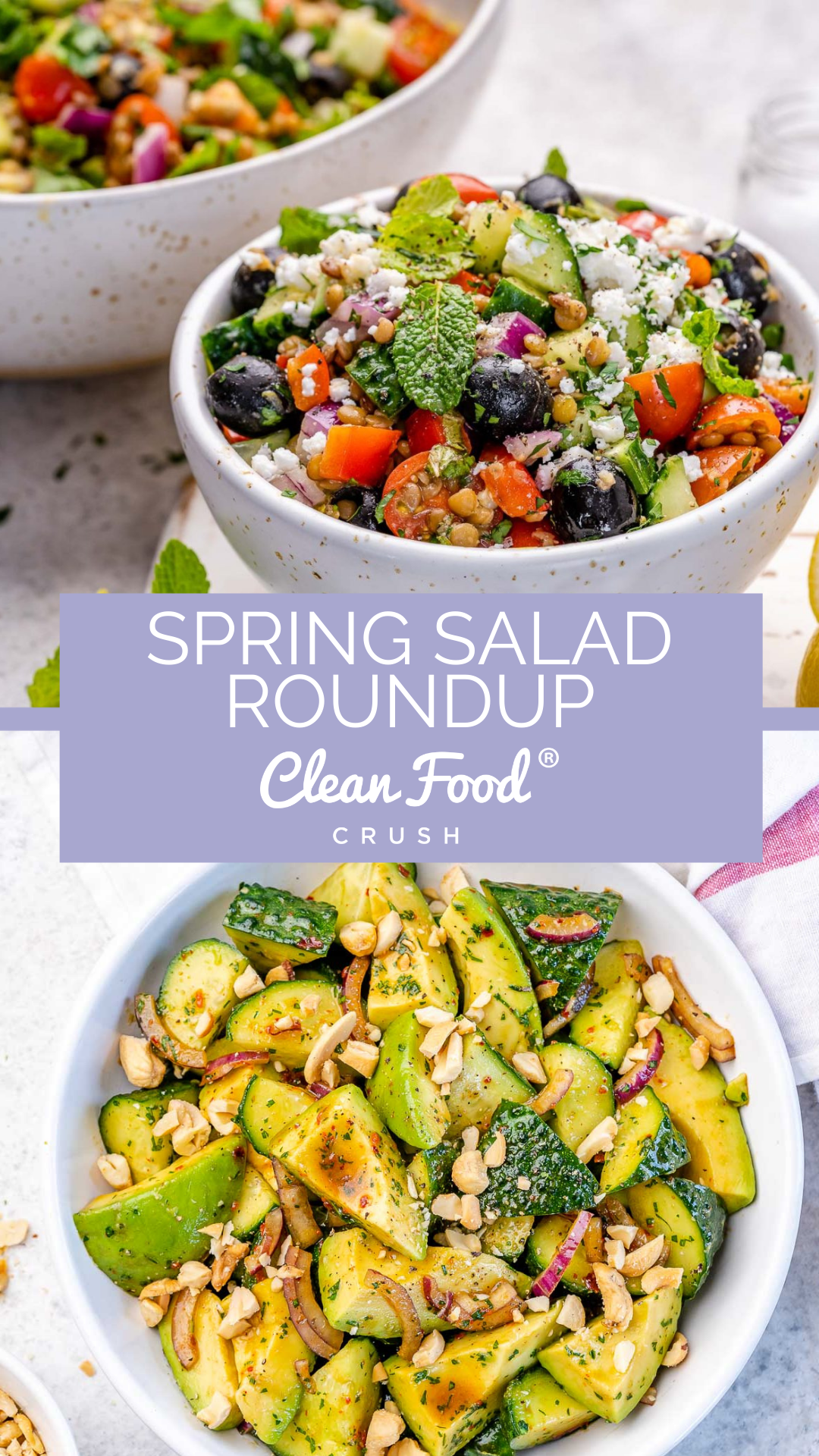 The Best Salads to Enjoy This Spring
Salads are a great option for lunch, dinner, or a side to the main course. While there's nothing wrong with a simple lettuce salad, there are so many other delicious and creative options. Discover some great choices below, and don't be afraid to experiment with your own favorite ingredients to make these salads uniquely yours

This salad is full of crisp, brightly colored veggies and is tossed in a lemon-dill dressing. Full of avocados, tomatoes, lemons, cucumbers, and tuna, this is a meal that can feed your family or yourself for a few days. It's great for a nice breezy spring day and will leave you feeling refreshed and satisfied.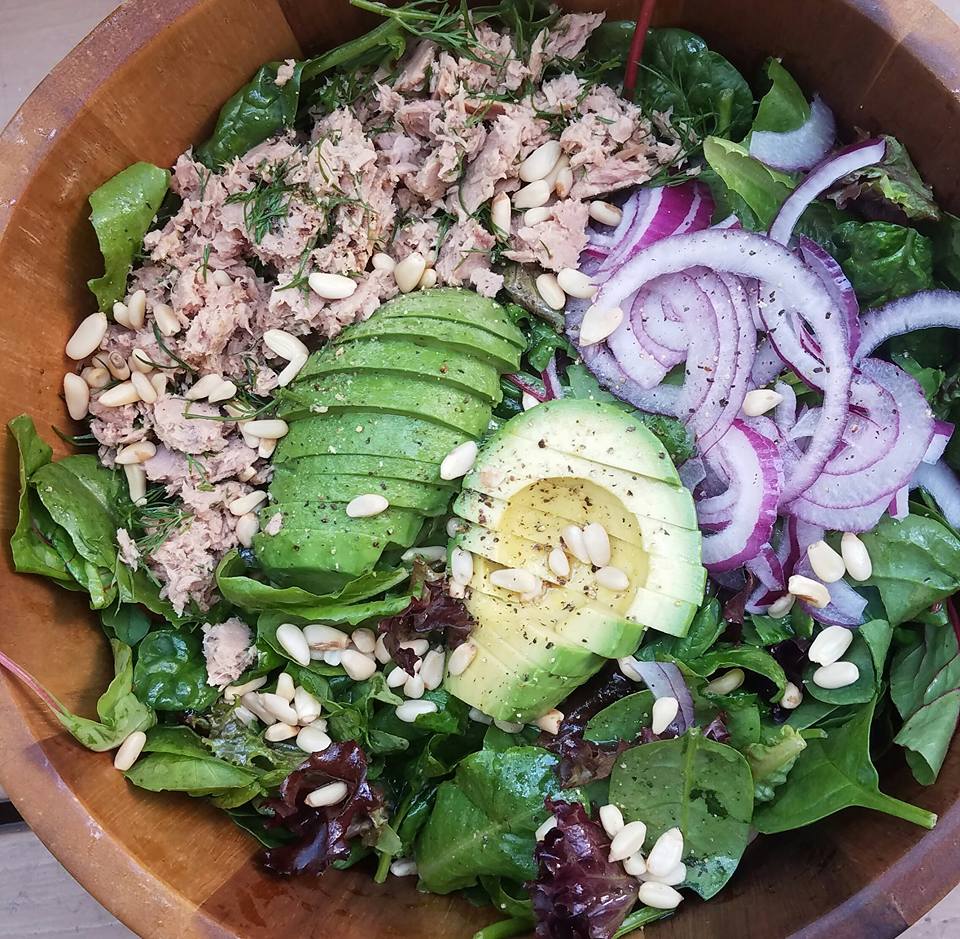 Want a salad with a little more filling? This one is made with brown rice as well as yummy veggies and tuna, which makes it a heartier option than the one above. This would be great to have on one of those transitional spring days when there's still a little chill in the air.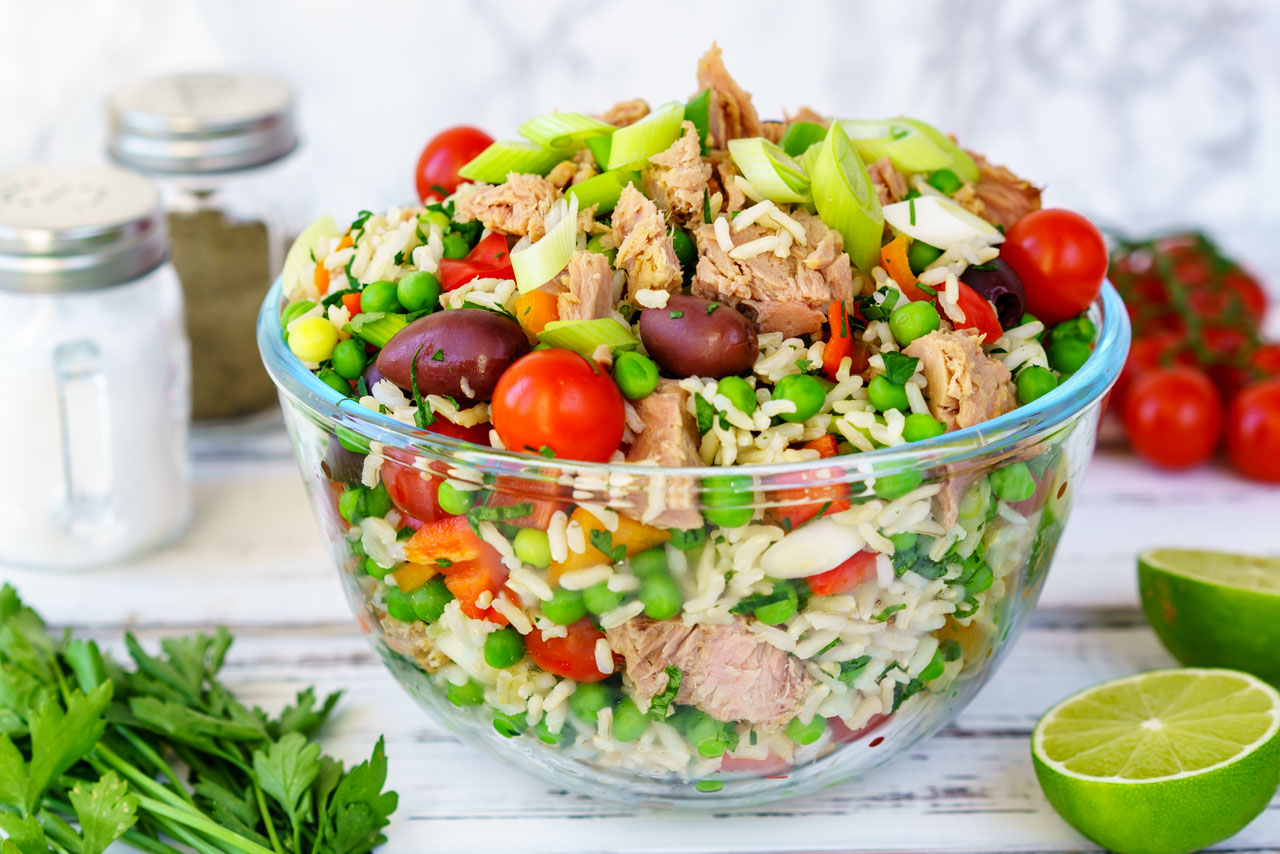 Tuna is a fantastic food to add to your diet. It's full of potassium, which can help lower blood pressure, has a high percentage of omega-3 fatty acids, which can help lower cholesterol, and has a ton of antioxidants and vitamins that can help keep you healthy overall. Basically, tuna is amazing!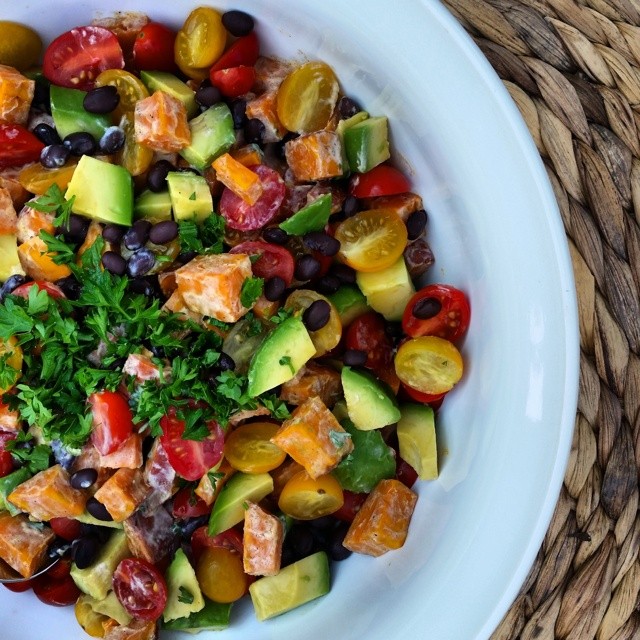 Hosting a spring BBQ? Try this hearty, spicy sweet potato salad! You'll get an assortment of fresh veggies, including sweet potatoes, avocado, tomatoes, black beans, and lettuce.
Add your favorite hot sauce to kick this salad into high gear and give your guests something to talk about during the game!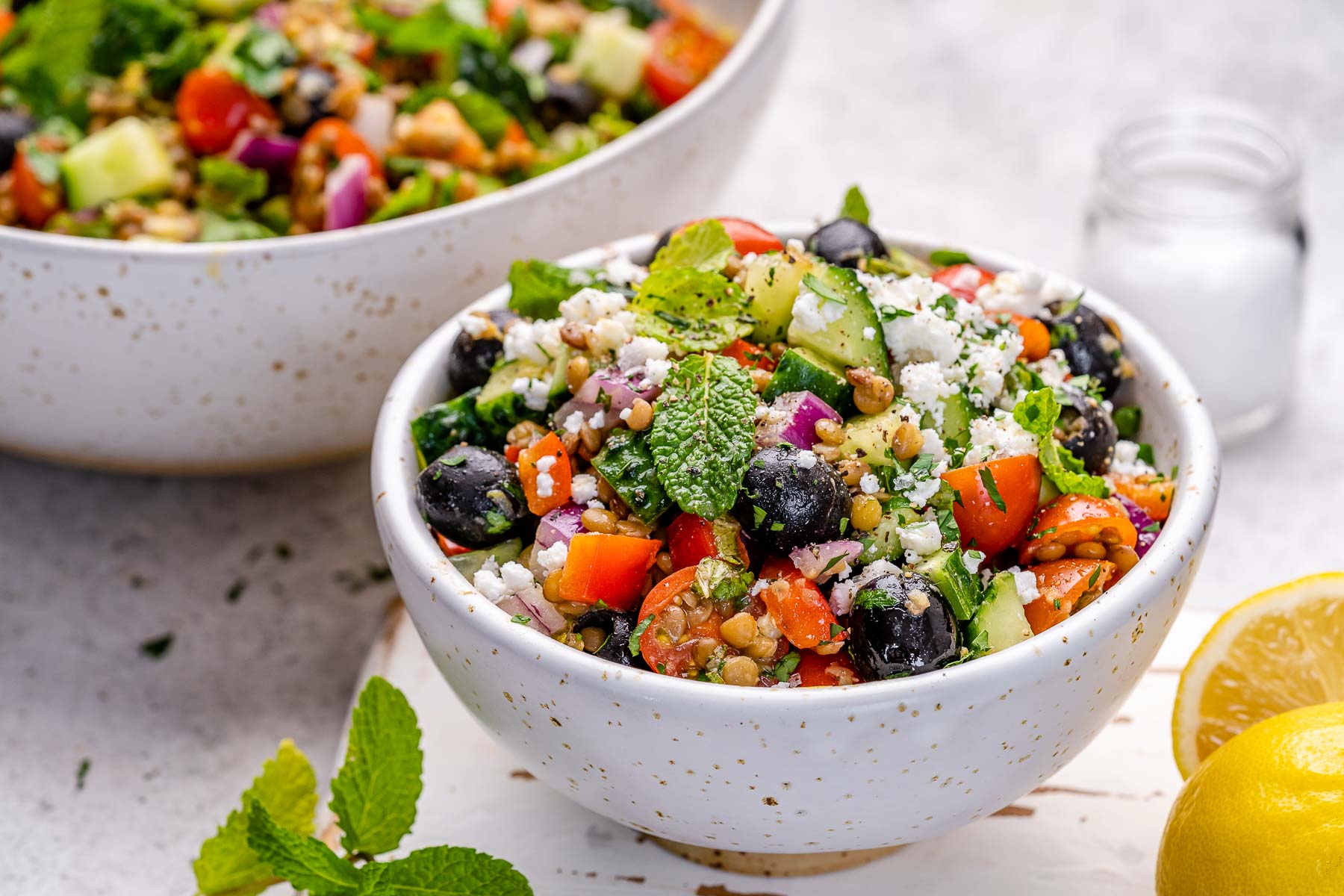 This green lentil salad is one you'll be making again and again! It goes great alongside fish or seafood or with some BBQ meat of some sort. The best part of this salad is that it's super tasty and fresh-tasting while ALSO being packed full of nutrients and protein, which makes it a great side dish. Plus, you can eat any leftovers for lunch the next day!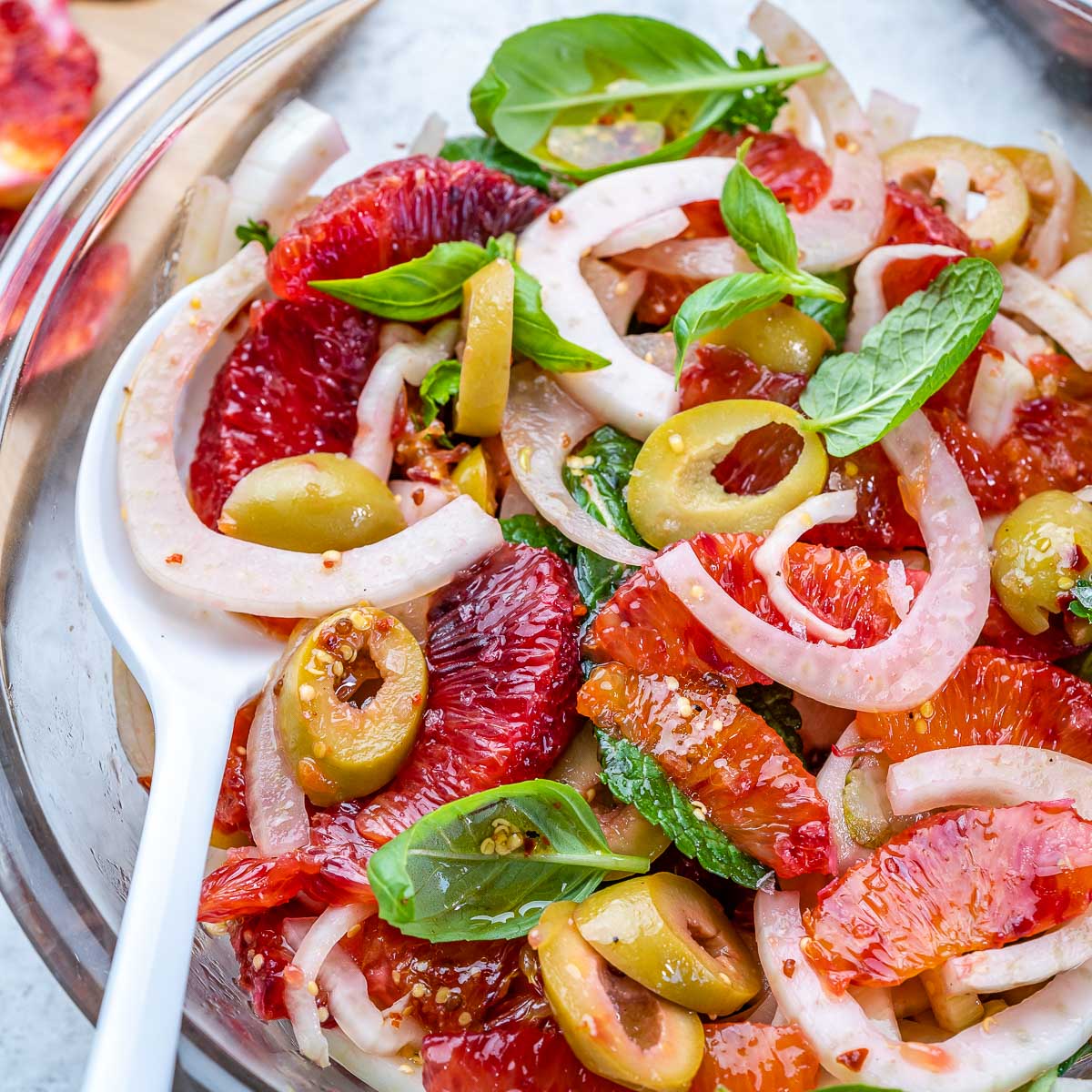 Fennel is a great source of fiber, antioxidants (vitamin C), and phytonutrients – including certain flavonoids that may reduce inflammation and prevent cancer. Just like celery, all the parts of the fennel – bulb, stalk, and fronds – are all completely edible, and will add texture and flavor to soups, stews, salads, slaws, pasta, and skillet meals!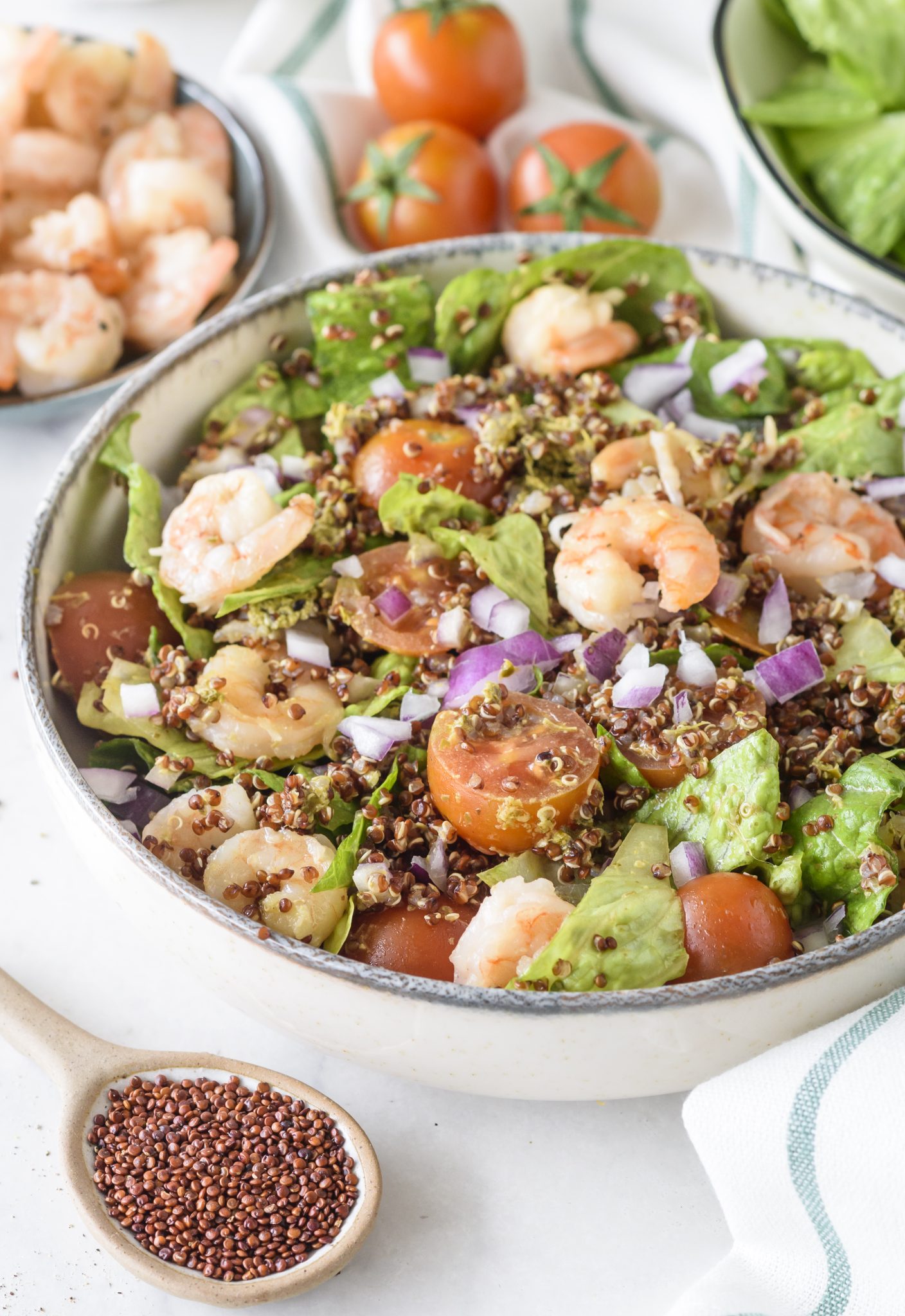 This salad has a little bit of everything: protein in the shrimp and quinoa both (plus some complex carbs to keep you feeling full, but not heavy), veggies like tomatoes, lettuce, and onions, PLUS homemade pesto that adds a creamy, delicious texture! Psst… check out our homemade pesto recipe here.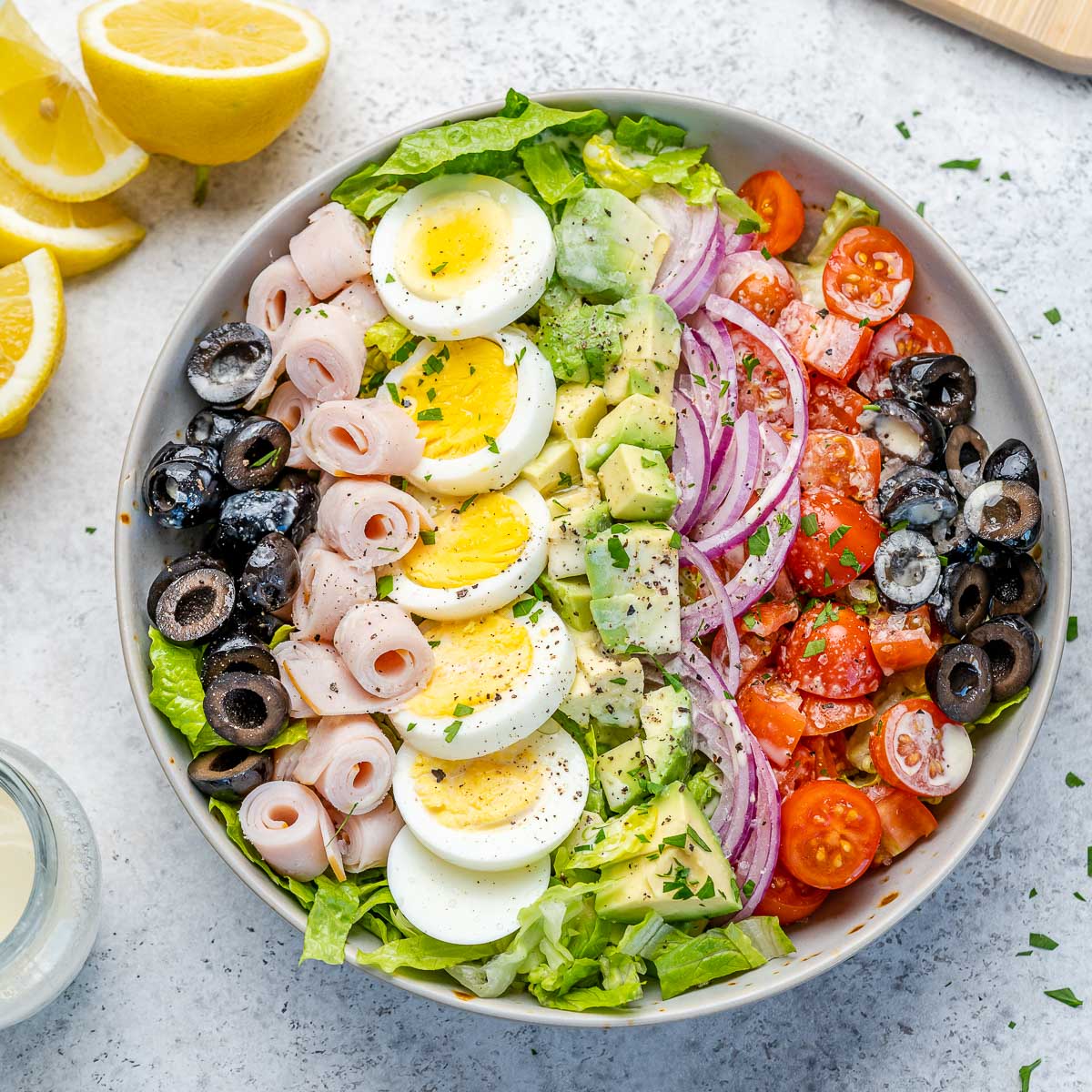 Looking for a colorful, jam-packed salad that's fun to look at and super tasty? This is your go-to! This salad is full of protein-rich foods like eggs, avocados, and turkey, which will help you feel rejuvenated and energized. Paired with homemade dressing and veggies, this salad is sure to be a fan favorite for lunch or dinner AND you can make it in 15 min or less!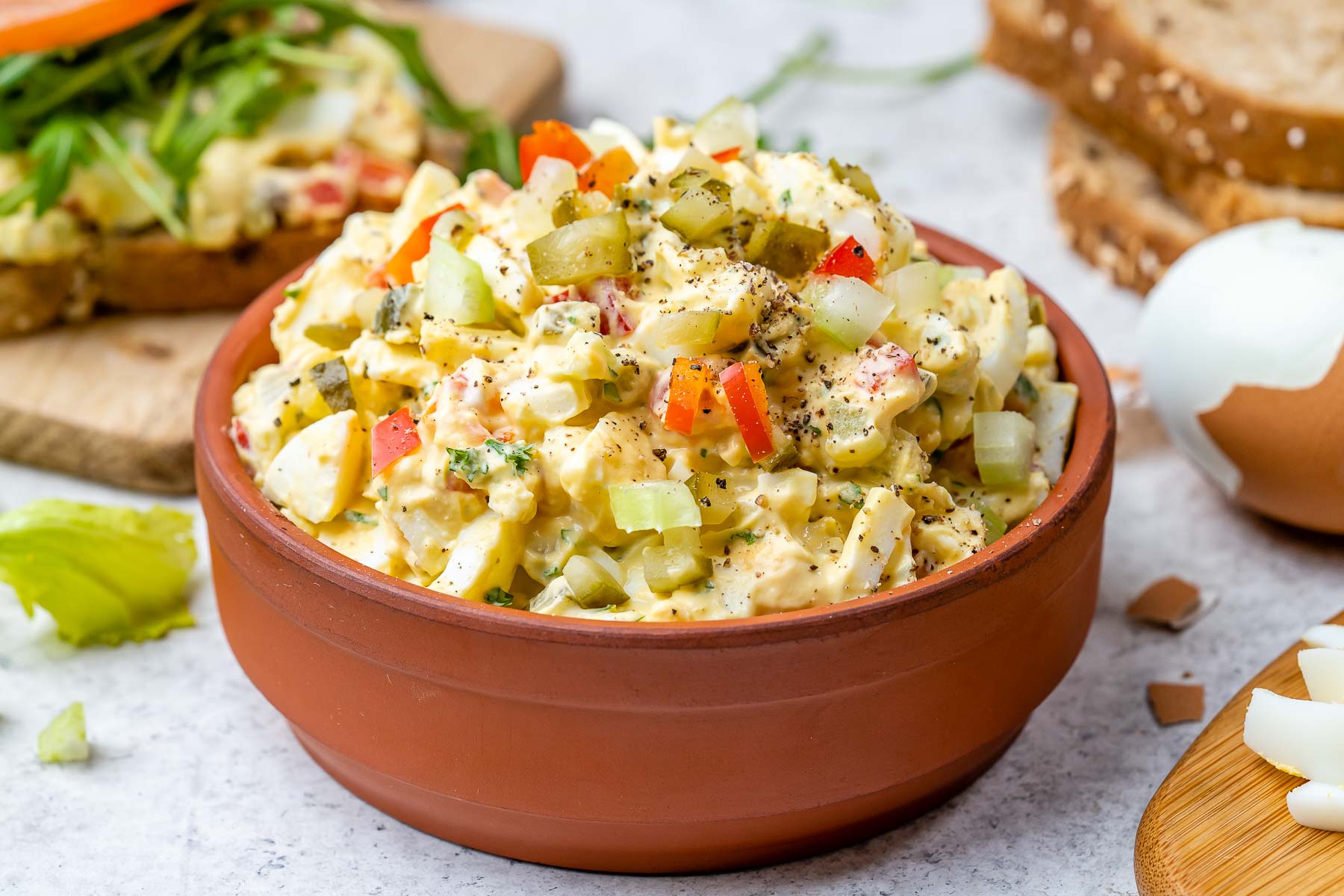 Eggs are such a great ingredient to add to your everyday diet. They're full of amazing benefits, including an assortment of vitamins; selenium, which is a cancer-fighting antioxidant; phosphorus, which aids in healthy bones and teeth; calcium, which helps your bones stay strong; and zinc, which helps your immune system stay strong.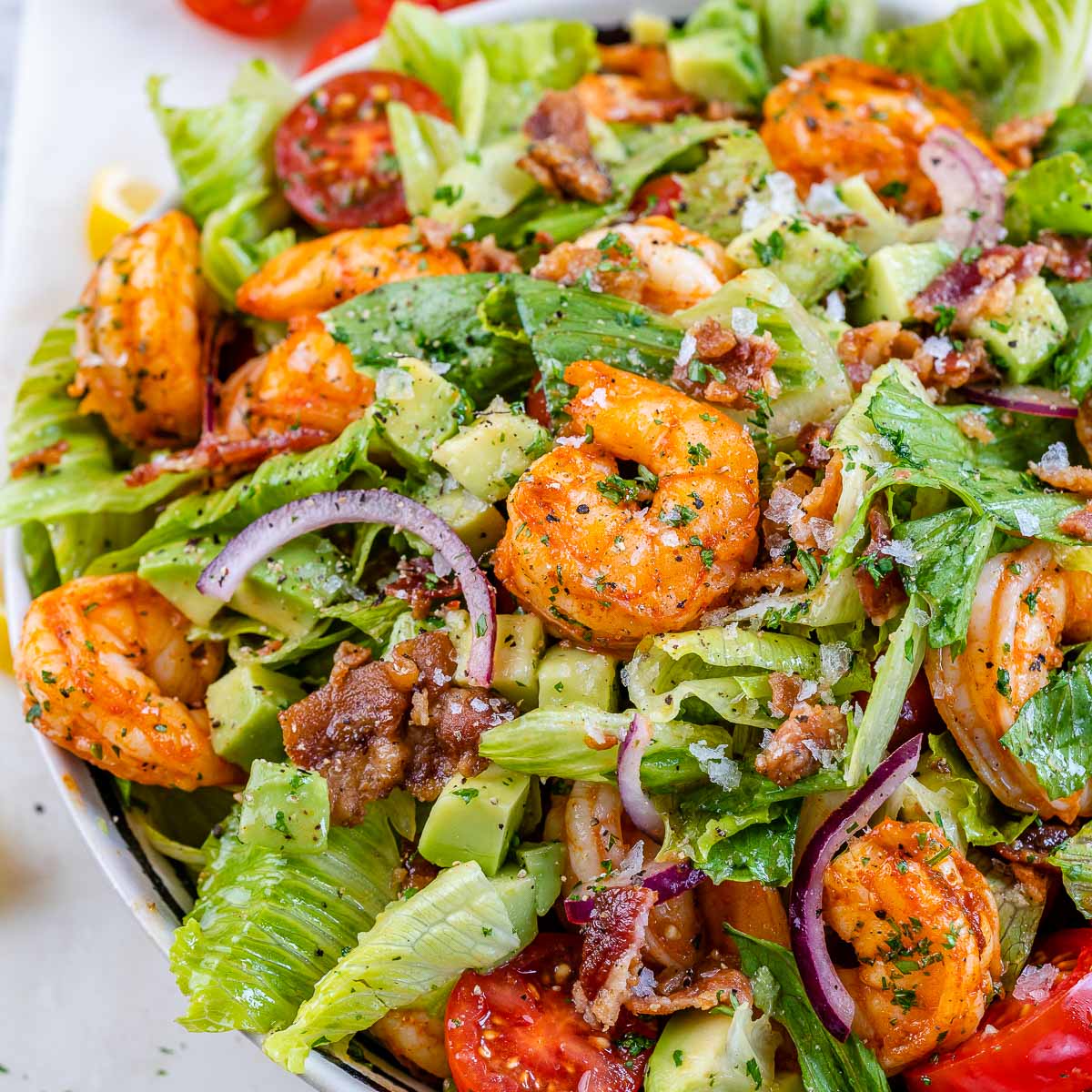 A fishy take on a classic sandwich! In this salad, you'll get all the makings of a classic BLT plus some delicious shrimp, crisp onions, and a homemade dressing that'll please your taste buds. This is a great salad to enjoy in warm weather and can last you a few meals.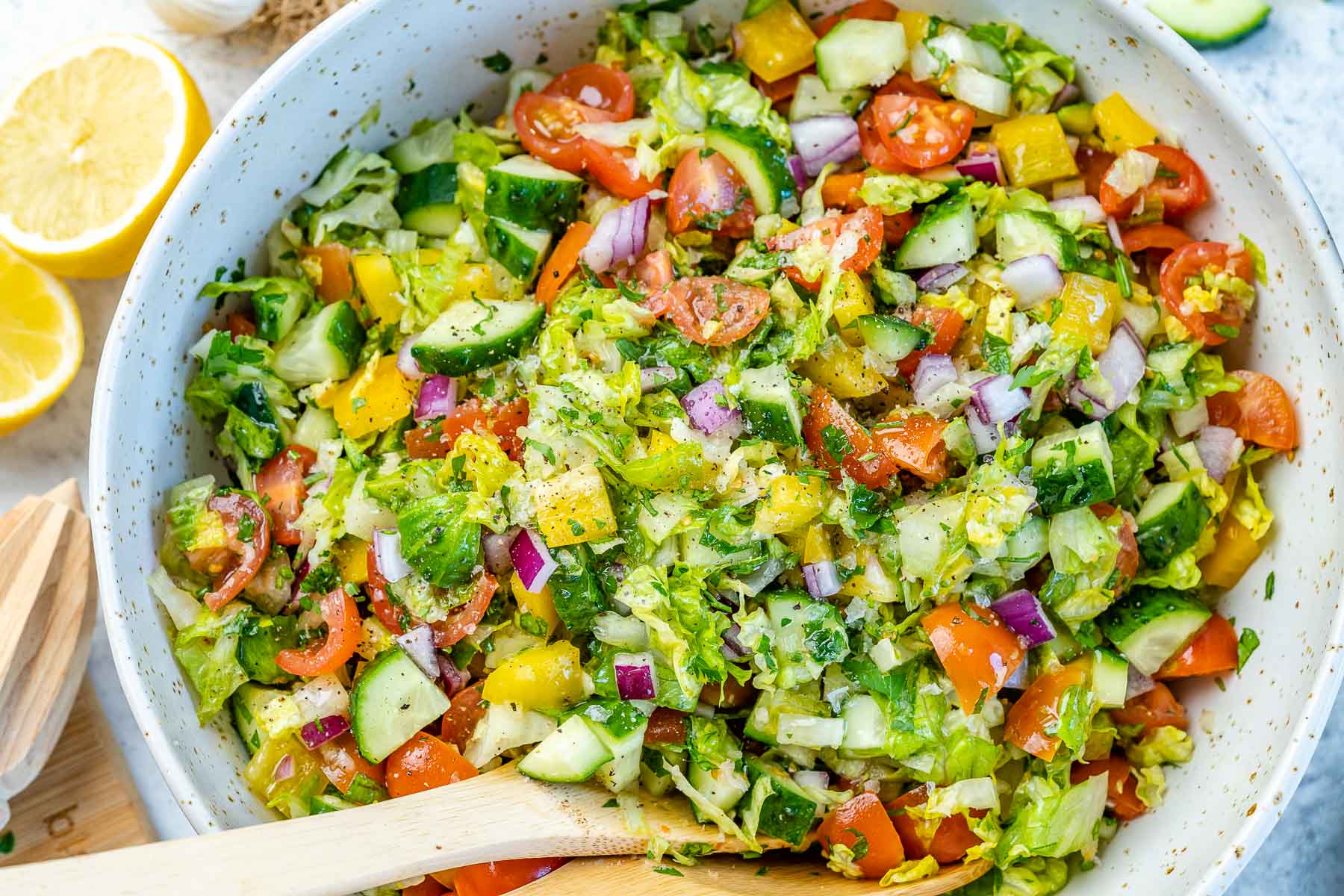 This Mediterranean-inspired salad is completely dairy-free and PACKED with fresh veggies, including tomatoes, onions, cucumbers, and bell peppers. Nothing complicated at all here – even the tasty light dressing is made of just a few simple ingredients: garlic, oil, and lemon juice!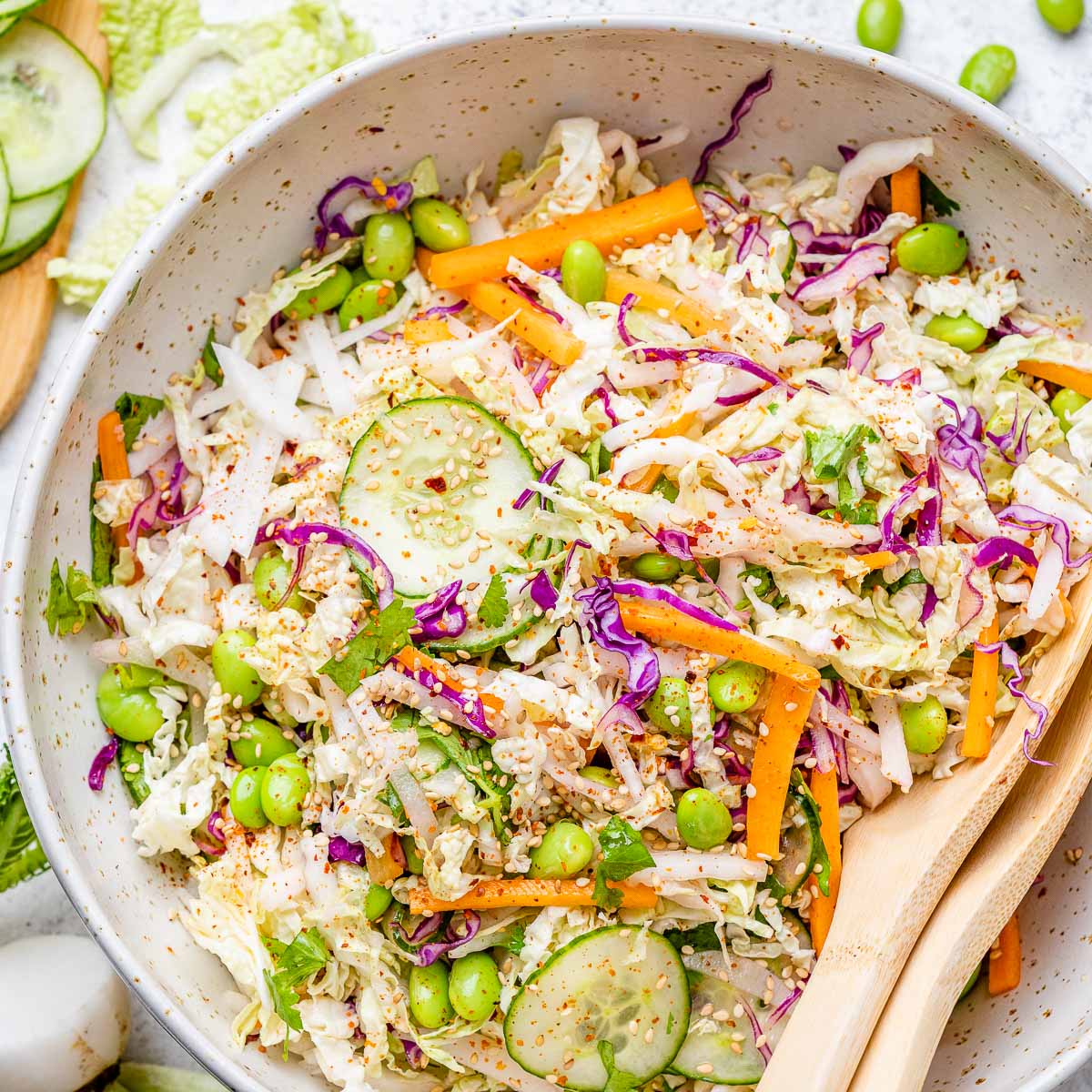 Cabbage is a super underrated vegetable. A report by the Department of Agriculture has shown cabbage to be the second most economical cooked vegetable in terms of price per edible cup – that's a win for everyone! Plus, cabbage can help reduce inflammation and help with digestion. This is no doubt a veggie to keep on hand!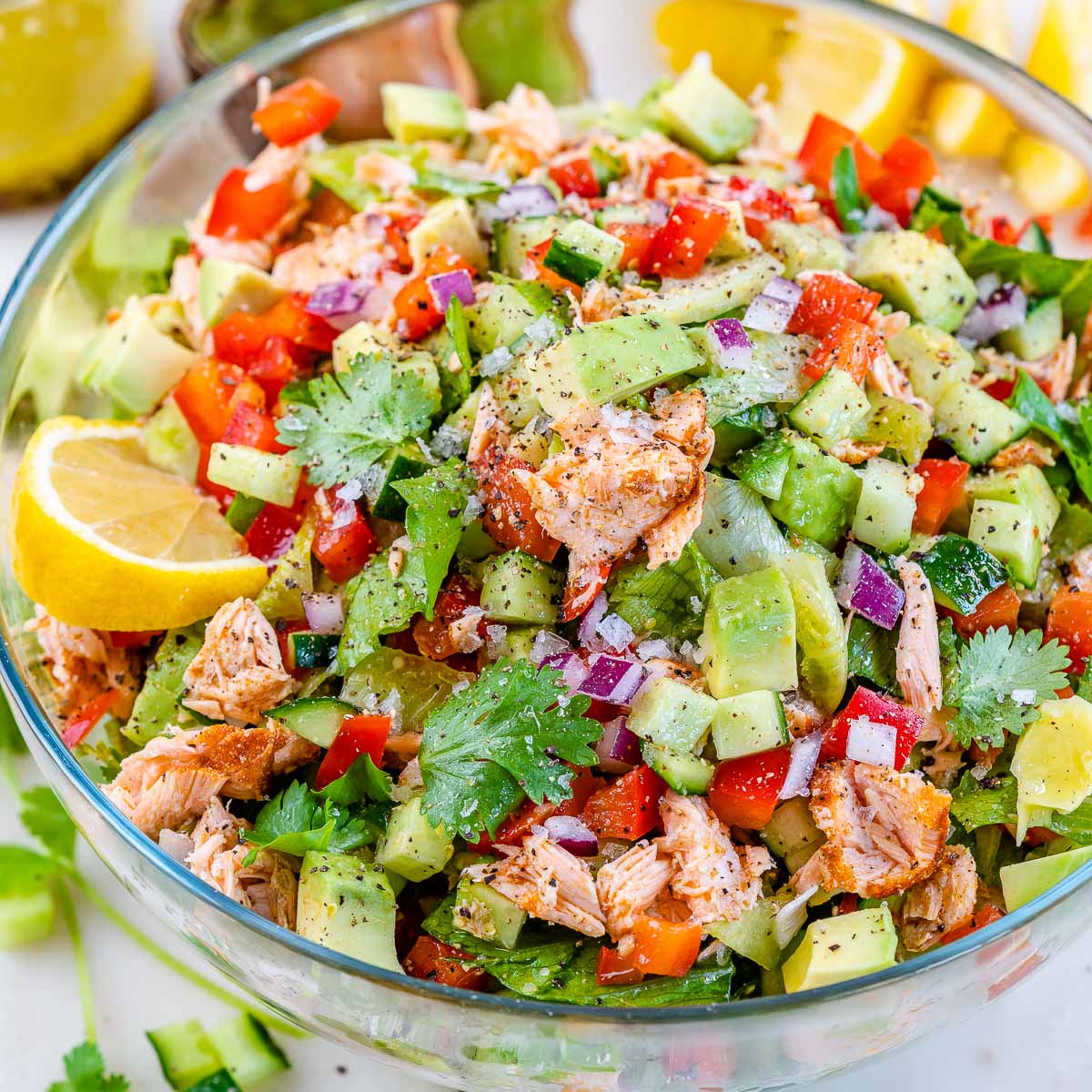 Salmon makes almost every "superfood" list out there. Not only is it loaded with protein and heart-healthy omega-3 fatty acids, but it contains a long list of vitamins and minerals – especially B vitamins and potassium. It's linked with a lower risk of heart disease and its healthy fats mean it's good for your brain health.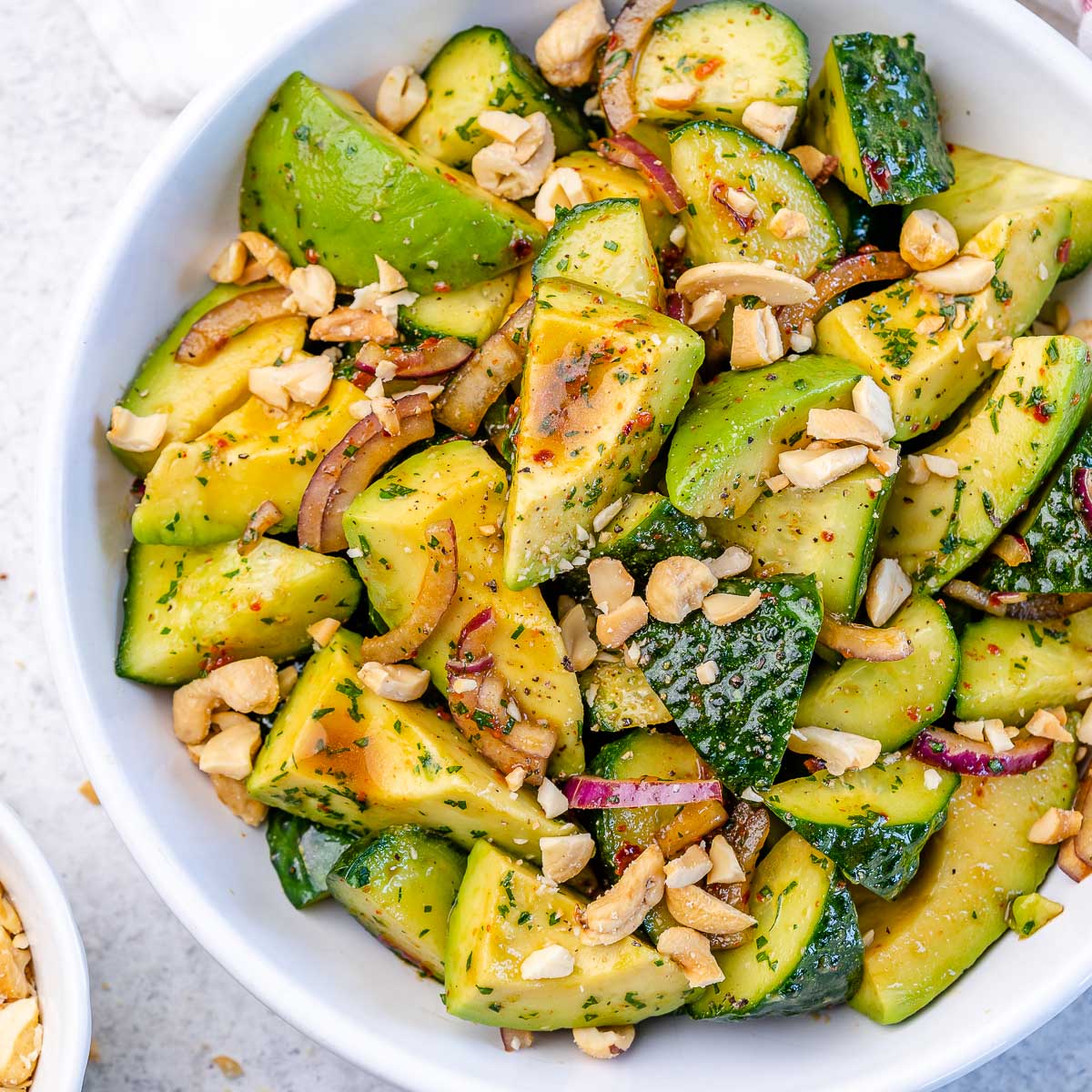 Why not pair two of the tastiest green vegetables out there into one amazing salad? The crisp fresh cucumbers, combined with creamy rich avocado pieces, then drizzled in a tangy flavorful homemade dressing make this salad a real home run and is sure to please your family and guests all summer long! All that water in cucumbers can help keep you hydrated. Plus, the fiber boost they give you helps you stay regular and avoid constipation.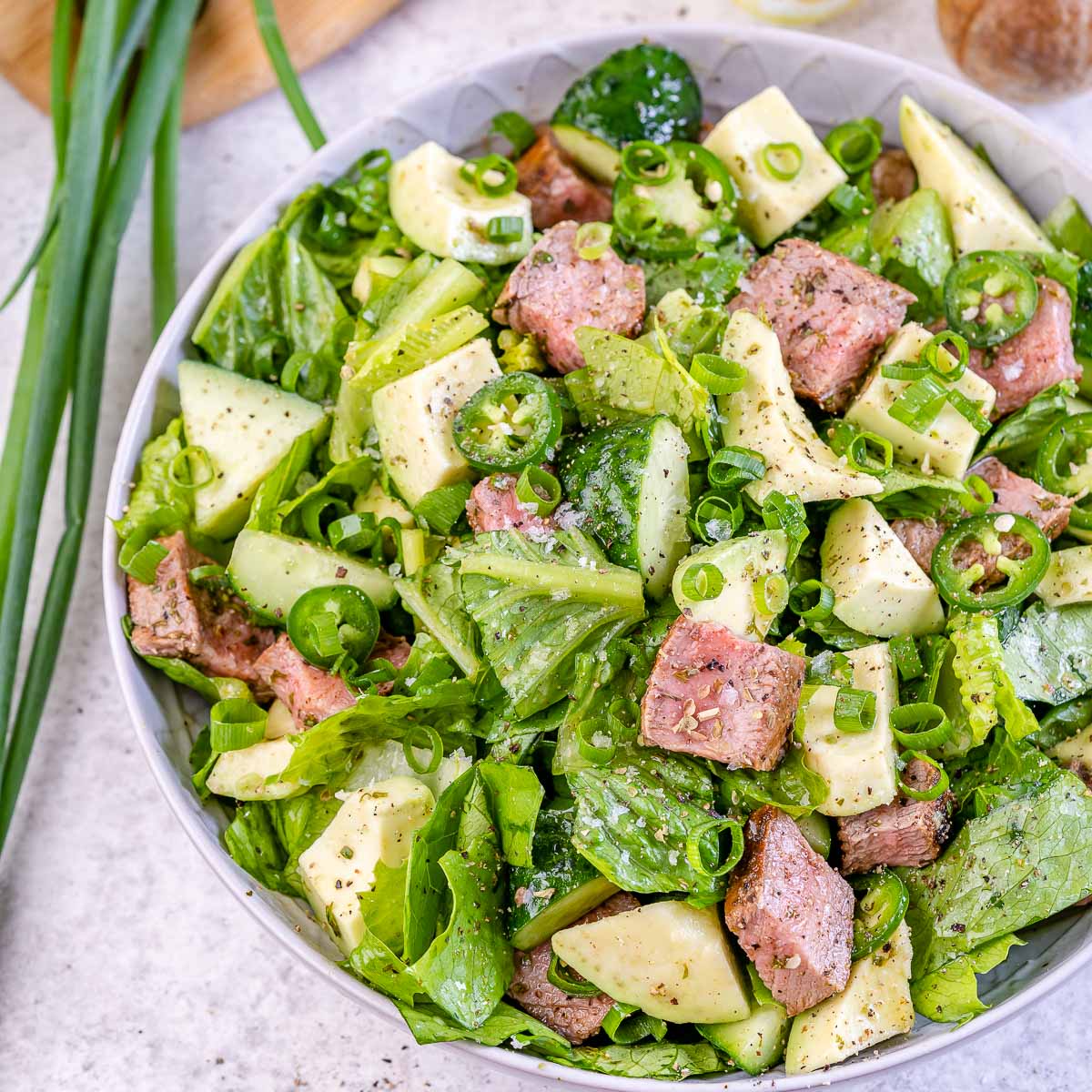 Protein? Protein. Tender steak pieces mixed with avocados and crunchy lettuce, plus if you're feeling kinda risky, you can add in some jalapenos as well! A nice little kick to an already scrumptious salad that will keep you feeling full and satisfied.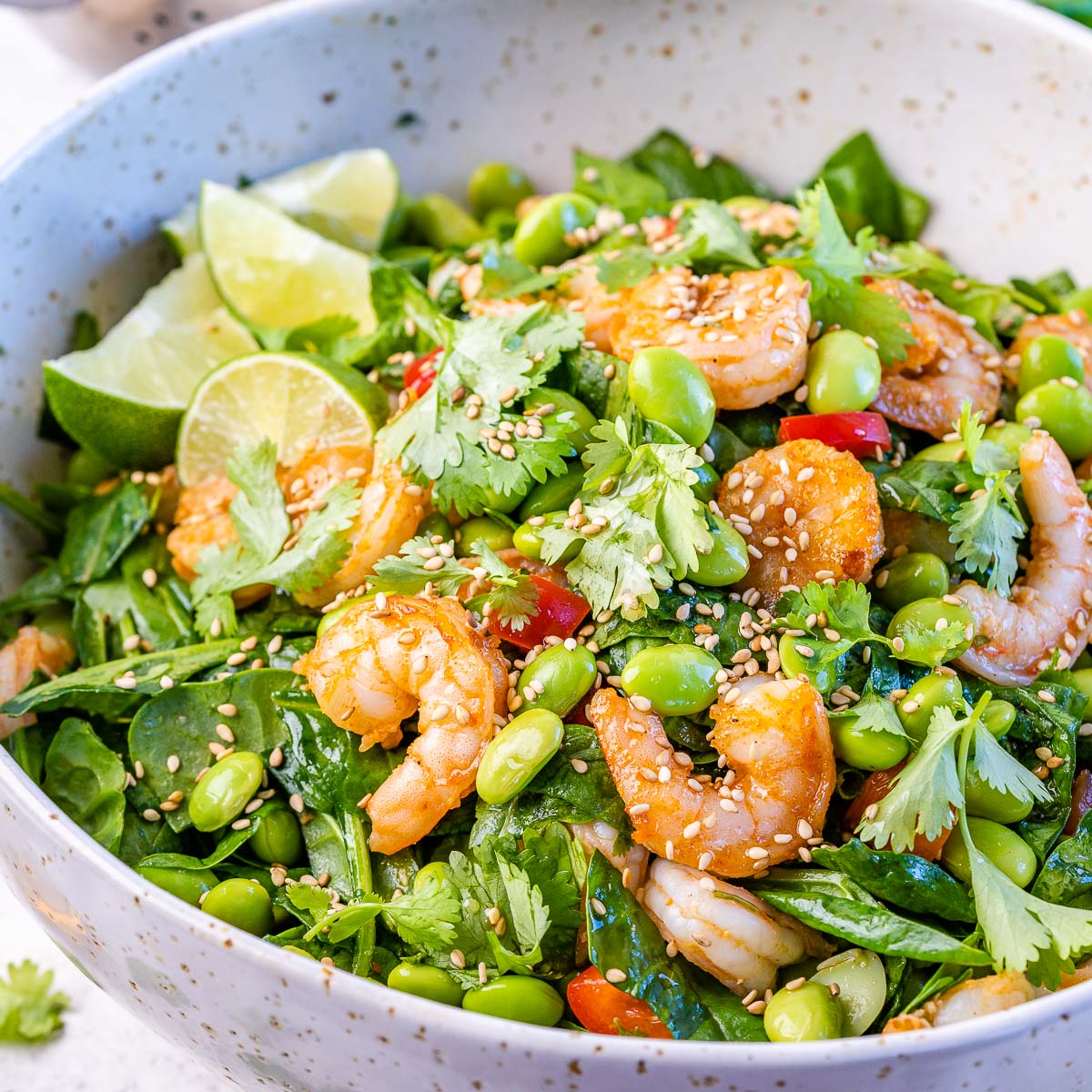 Protein is considered the most satiating nutrient and can help keep your appetite at bay between meals. It also helps maintain muscle mass if you're losing weight, which can be VERY important for keeping up your strength. Research shows that spreading your protein intake out over the course of the day is the best bet for making the most of it.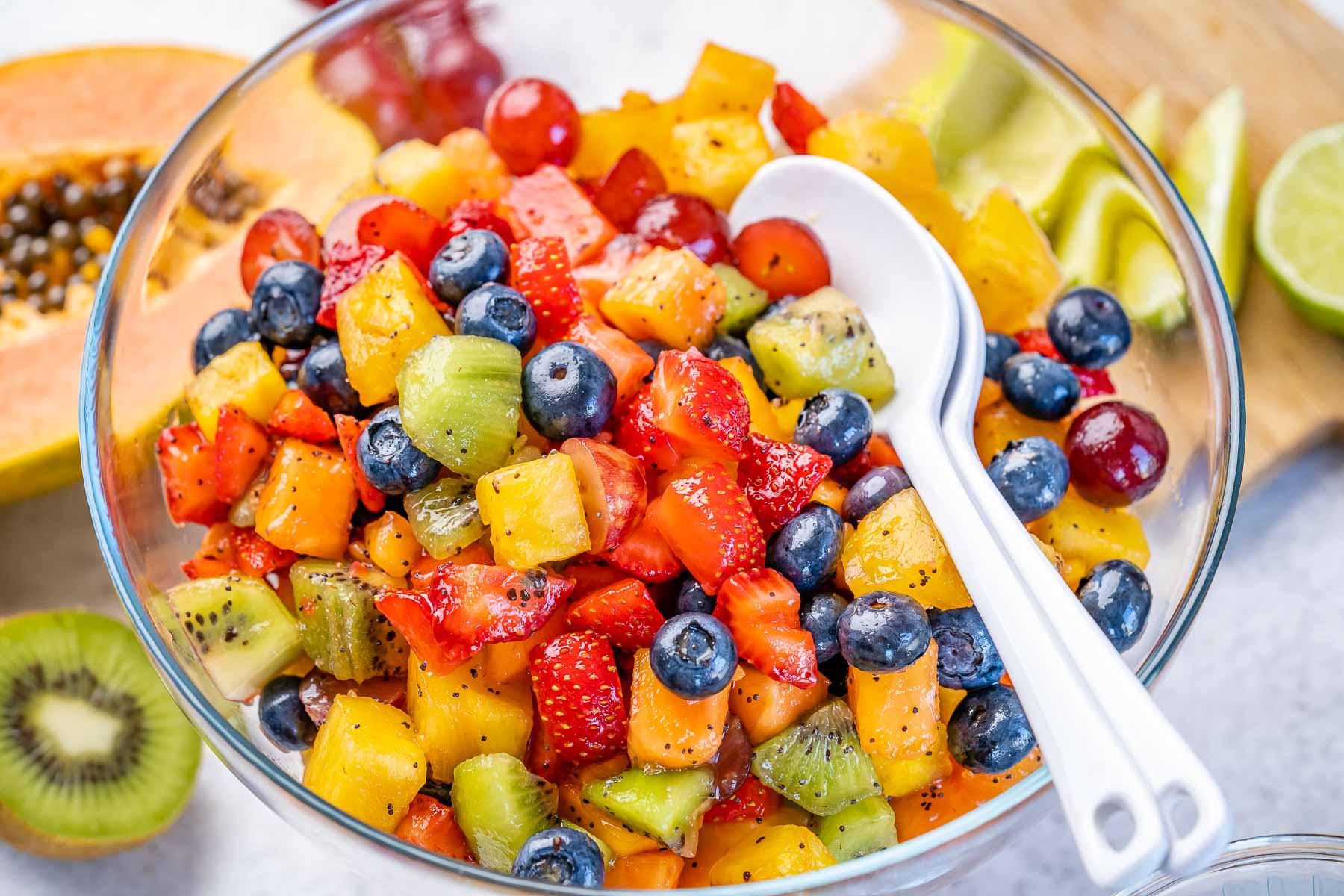 Do you ever crave a whole assortment of fruit? This salad is perfect if so! Packed full of strawberries, blueberries, papaya, kiwi, grapes, and pineapple, then mixed in a delicious dressing, this colorful salad is sure to put a smile on your face and keep your tummy satisfied.
With the right quantity and type of fruits, a fruit salad can work wonders for you! It provides a power-packed dose of fiber, vitamins, and antioxidants. At the same time, you will also get a wide range of health benefits, right from lower blood pressure levels to weight management.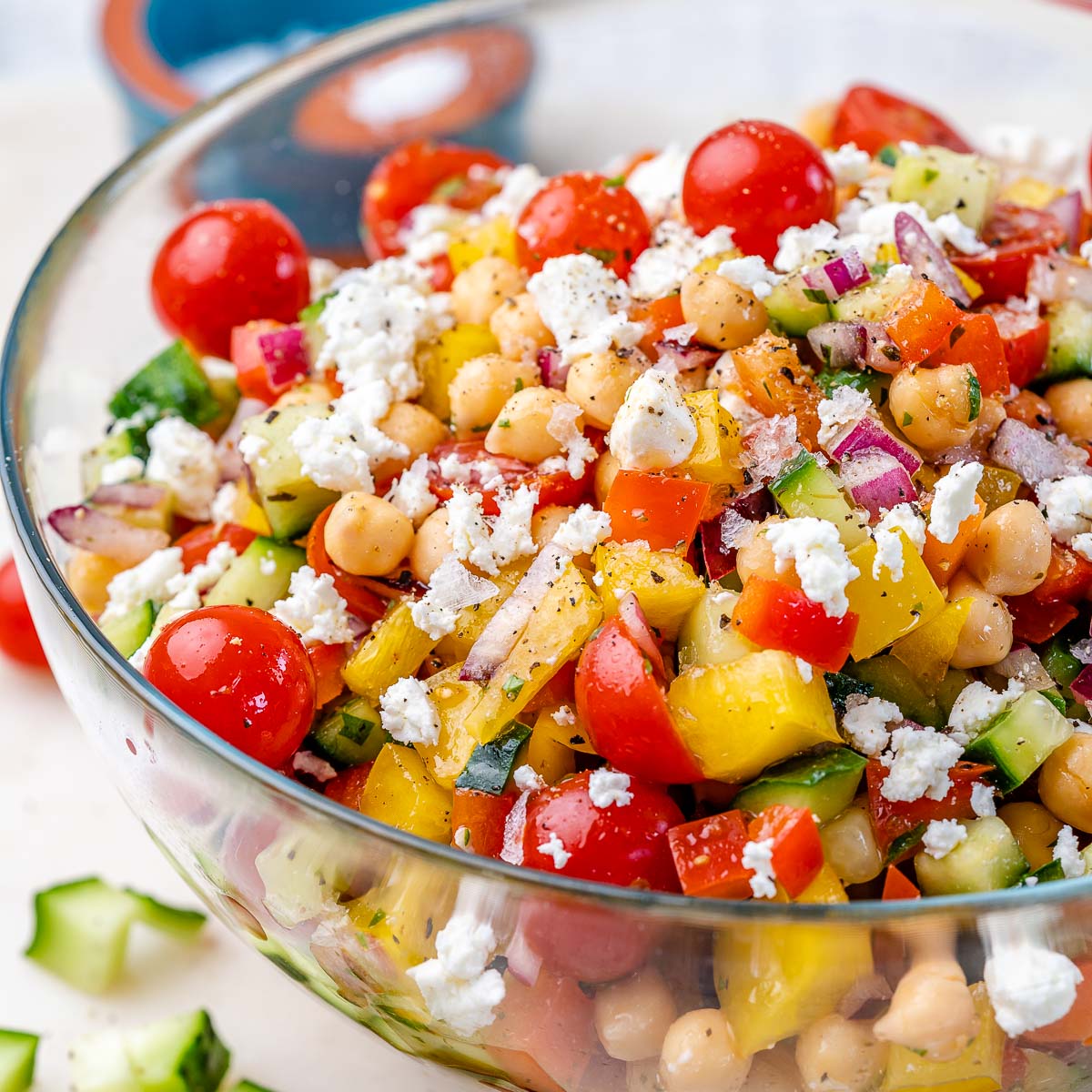 Chickpeas are a tasty, healthy ingredient to keep around. Although tiny, these beans are full of nutrients and proteins that can help regulate your weight, control cravings, regulate blood sugar, and help aid digestion. Tossing them into salads like this is a great way to absorb all their amazing benefits.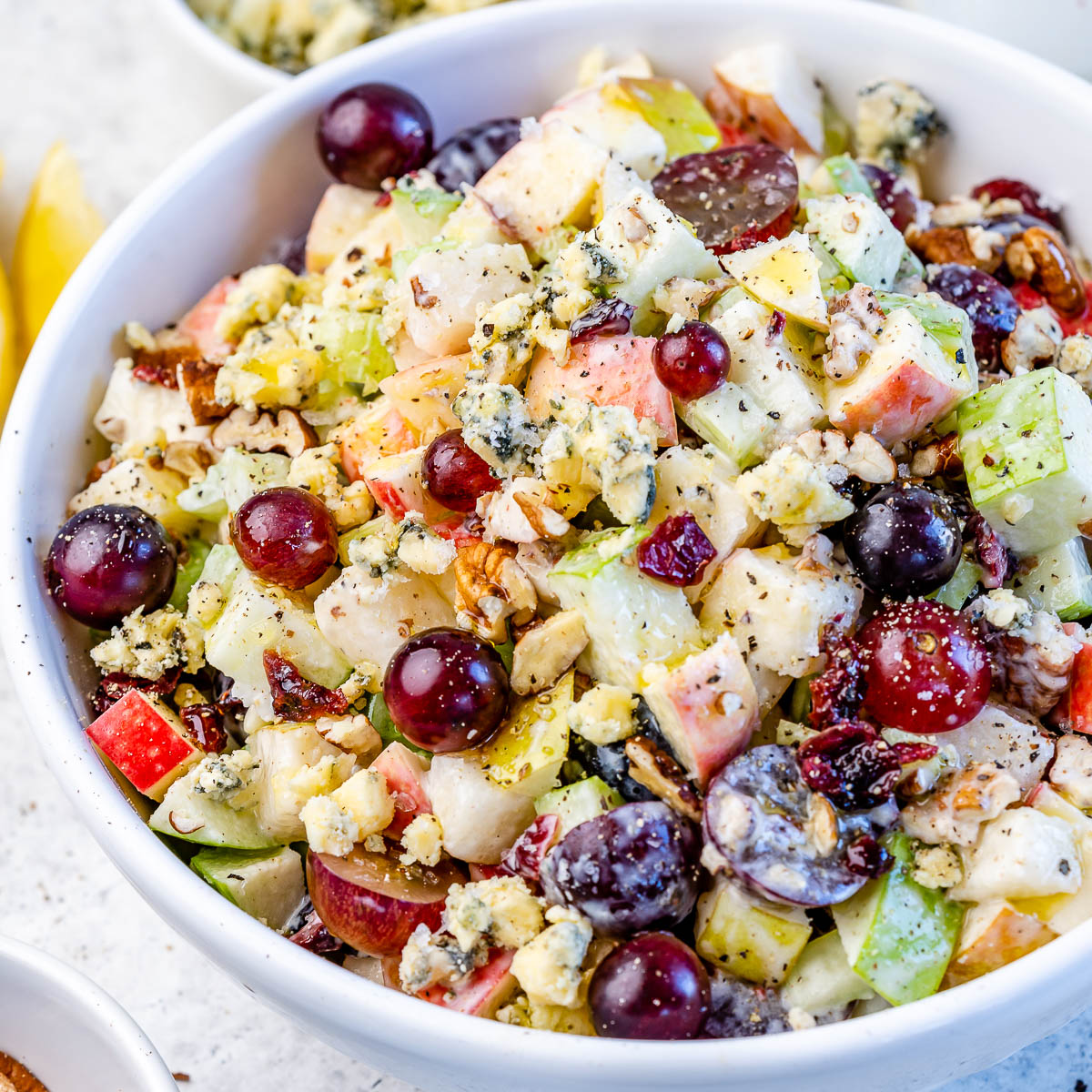 This salad combines lots of tasty ingredients, most of which you probably already have in your pantry (which means you can make this quickly and with little effort!). Made with apples, pears, grapes, celery, cranberries, pecans, and blue cheese, then mixed in a creamy homemade dressing, this salad is a perfect choice for a hot summer day.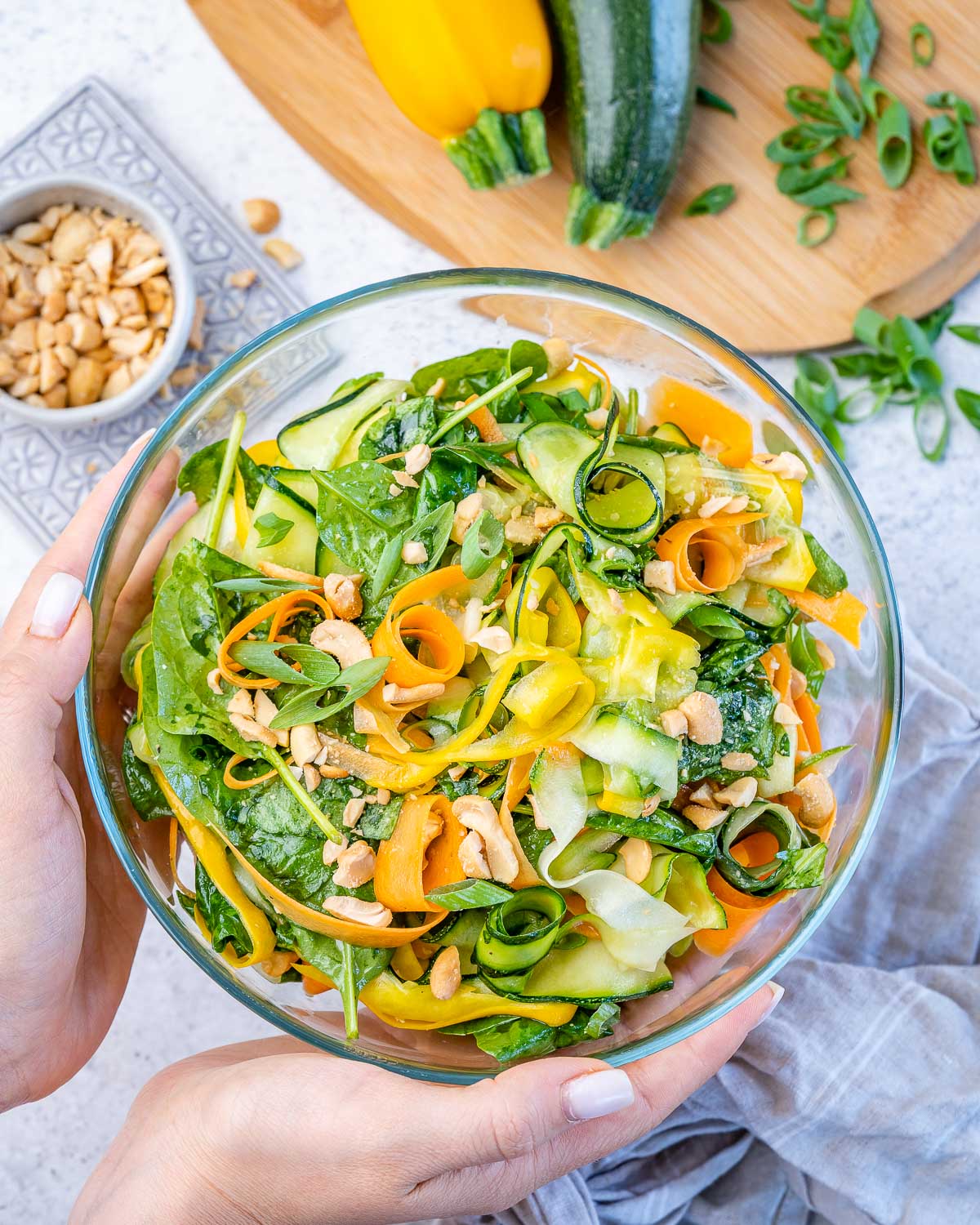 Another great salad for your summer BBQ or potluck is full of zucchinis, summer squash, cucumbers, carrots, spinach, onions, and your choice of chopped nuts then mixed with a homemade vinaigrette. This is a crunchy, brightly colored salad that's sure to become a favorite. Enjoy!

---
As you can see, there's no shortage of options when it comes to preparing salads, whether they be the main course or as a side to your favorite meal.
This spring salad roundup includes more nutrients than we can count, a variety of fruits and veggies, several different types of protein, and much more! These salads are a great way to keep you feeling full and satisfied all spring and summer long.
Have a great season, CRUSHers and be sure to share in the comments below what your favorite salad to enjoy in the springtime is!
Leave a Comment Below:
Related Posts :
..