19

Oct, 23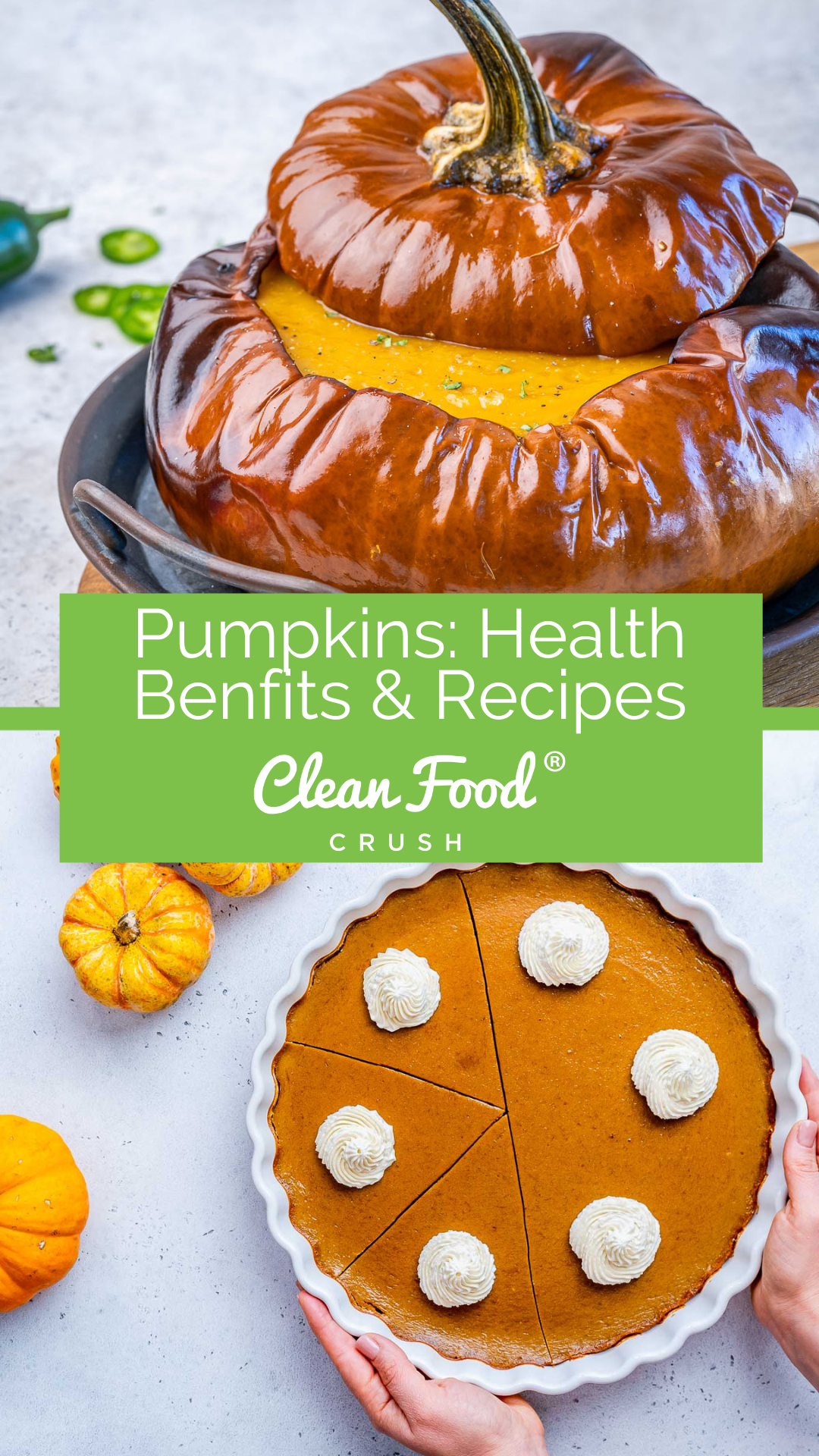 All About Pumpkins: Health Benefits & Recipes
Happy Fall and Happy Halloween, CRUSHers!
We might be halfway through October, but we're still smack-dab in the middle of Fall and have plenty of weeks to continue enjoying some classic meals and treats. There is a ton of produce in season during these weeks, but some scream FALL more than others.
What fruit is more classic Fall than pumpkin? This one ingredient gives us some of our favorite pies, lattes, chilis, and much more.
But beyond being incredibly delicious, pumpkins come with
several
health benefits
. Pumpkin protects your heart, lungs, and kidneys, and helps battle high blood pressure, all of which are essential for overall health.
Here are just 5 of those benefits:

1. Full of Vitamins & Can Boost Immunity
Pumpkin is packed full of essential vitamins and minerals like
Vitamin C
,
Vitamin A
, and
zinc
.
For other foods that can help strengthen your immune system,
check out this post
.
2. May Reduce the Risk of Disease
Pumpkin can aid in reducing the risk of chronic disease thanks to its high levels of antioxidants.
This makes it useful protection against cell damage caused by free radicals (molecules produced by your body's metabolic process that
have been linked
to chronic illnesses). 
3. Strengthens Eyesight
Yes, you read that right! Eating pumpkins may strengthen your eyesight and reduce your risk of sight loss.
Be sure to thank the plentiful nutrients in pumpkin for this awesome benefit!
4. Promotes Healthy Skin
All the nutrients pumpkins are loaded with are vital for strong and
healthy skin
.
Thanks to beta-carotene, it
can also help
protect skin
cells against damage from harmful UV rays.
5. Aids in Weight Management
Because pumpkin is about 94%
water
, its calorie count is very low.
But it's still filling, making it a great snack source and an excellent aid in
weight loss
.
As you can see, there are so many reasons to add pumpkins to your diet. And what better time of year to experiment with pumpkin recipes than the fall?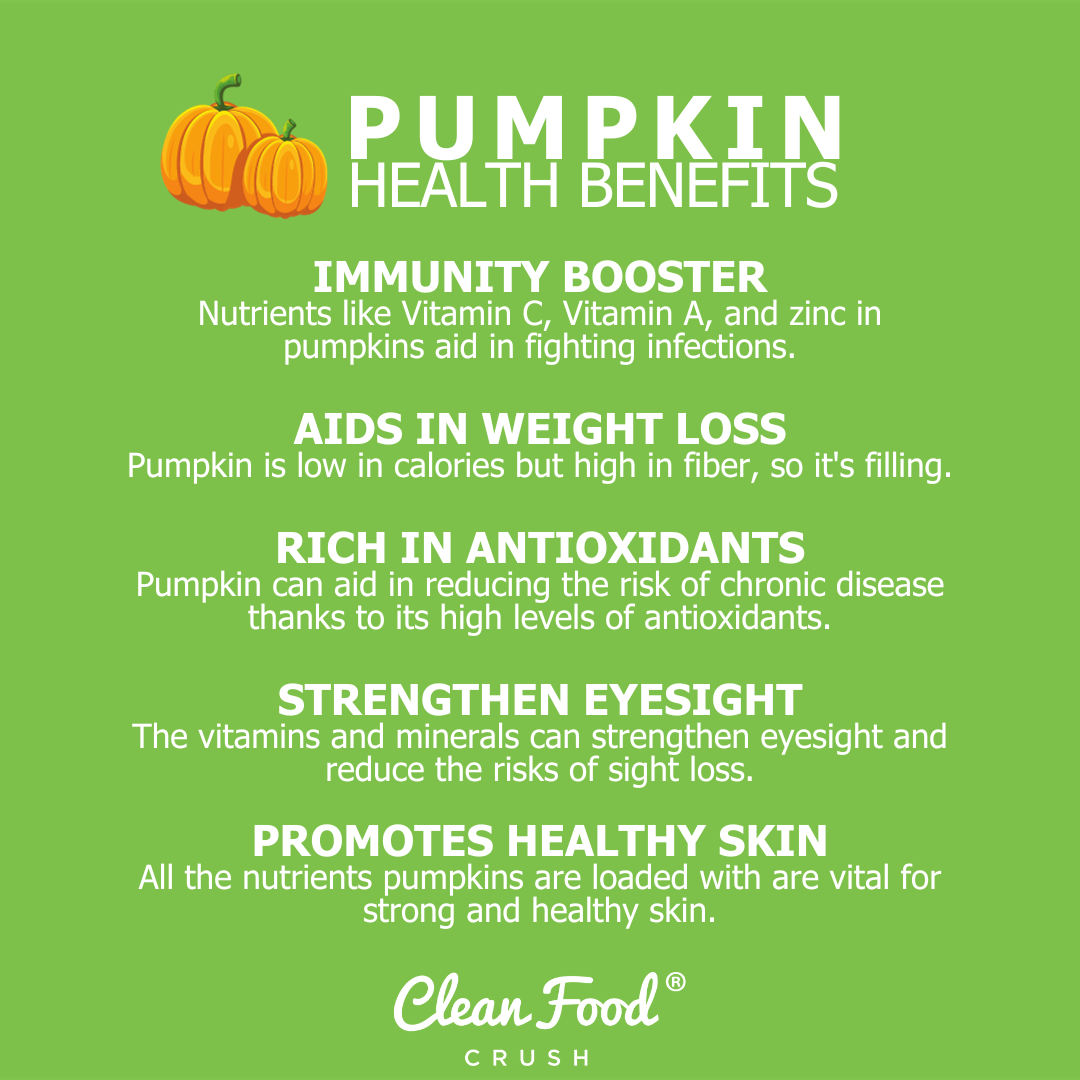 Below are 20 various and tasty pumpkin recipes divided by full meals, breakfast ideas and drinks, and treats or desserts:
Full Meals:

This recipe couldn't be simpler, so it's a great way to start this list! It's highly nourishing and very cozy during these colder months. Plus, there are so many reasons to eat soup (
which I discuss in depth here
).

Don't write off this recipe because it seems odd because, I promise, it's surprisingly delicious.
Several members of my family get cravings for buffalo chicken in my house, and this satisfies those cravings every time!

I LOVE how colorful, tasty, and nutritious these power bowls are. They're also packed with protein, so they'll make a great lunch when you need extra energy!

We're using bright, fresh, seasonal ingredients like fresh pumpkin and pomegranate to create a
stunning
salad worthy of being served alongside your most time-honored traditional family holiday meals.
And the orange vinaigrette dressing is practically drinkable – so double up the dressing recipe so you can use it for several meals!

Another soup and just as tasty as the first one!
But look how cute and creative.
It's a super fun idea for Halloween but gorgeous for Thanksgiving entertaining as well – either way, your guests will LOVE this pumpkin jalapeno soup.


These bowls are plant-based, extremely hearty, satisfying, and tasty, thanks to a fabulous homemade dressing.
Of course, if you're like me and require more protein, you can add some cooked chicken or shrimp to your finished bowls.
Breakfast & Drinks:

I can't be the only one who is a sucker for a good morning donut!
But unlike most donuts, these oatmeal pumpkin donut holes aren't full of refined sugars, fats, and unnecessary gluten. Everyone in your family is going to
adore
this breakfast.

If this weekend's plans involve pj's, family, and possibly decorating for the holidays, I have a special hot drink recipe for you to serve while creating cherished memories.
Think of it like a (healthier) combination of a pumpkin spice latte and hot chocolate –
perfect
!

Maybe it doesn't seem as strange anymore – but pumpkins and jalapenos go together super well!
These muffins make a terrific addition to your morning savory breakfast alongside some scrambled eggs. OR you can pair them with a big bowl of chili (maybe even
this pumpkin chili
).

"Soaked" oats save a lot of time in the morning, but they're also easier to digest than unsoaked oats.
This breakfast has seriously saved my sanity and our morning routine. Having something ready to eat when we woke up + knowing it was packed with carefully chosen ingredients made my life much easier!

Get in the Holiday spirit by serving some DELICIOUS pumpkin pie granola with breakfast.
And you can be creative with how you serve the granola – either with Greek yogurt or Almond milk, raw honey and berries, or something else entirely!

This pumpkin spice latte is a
divine,
cheaper, healthier, and (IMO) tastier than a drink at a coffee shop chain.
Perfect for cooler mornings and busy days preparing for the Holidays!

Our pumpkin-whipped cottage cheese is an excellent breakfast or snack idea.
It has a delicious pumpkin cheesecake-like flavor and a creamy, custard-like texture, delivering impressive nutritional benefits.
You can top your whipped cottage cheese with different toppings – berries and granola make for a delicious breakfast!

Here's another breakfast muffin recipe, but sweet rather than savory. And these are SUPER easy to make. Basically, all you have to do is throw all the ingredients into your blender, bake, then enjoy!
Desserts and Treats:

You'll only need a few ingredients to make a quick batch of this incredibly delicious fall treat!
It's a silky, indulgent-tasting fall candy that literally melts in your mouth.

This delightful treat or dessert feels incredibly indulgent while packed with lots of nutrient-dense foods to feel good about!
Let me tell you that these flavors superbly complement each other: Chocolate and pumpkin were truly made for each other.

This enjoyable idea is also EASY, so you can make it with the kids and have some fun!
Plus, it's a great way to enjoy family bonding time making pumpkin spice chocolate bark!

I love a great homemade pie crust and have nothing against the crust, but this crustless pumpkin pie is a fantastic idea if you want to cut back on gluten or just don't want to struggle with baking your crust. Plus, it's so delicious and silky-smooth that you won't miss the crust!

Now, these little pumpkin pie tarts
do
come with crust. They're worth the effort and now have a permanent spot on my annual fall baking list! It's another fun recipe to make with your kids.

These babies are utterly indulgent in the best possible way. I LOVE truffles, and these are perfect for October. Try doubling or even tripling the recipe so you have enough to share with your family, friends, and maybe even your kids' friends!
For more delicious pumpkin recipes and other ways to use this Fall fruit (outside of meals, treats, and drinks, check out this post:
Benefits of Pumpkin + 10 New Ways to Use It
I hope you have a blast experimenting in the kitchen with these recipes! Perhaps you'll find a new favorite. Let me know in the comments below!
Leave a Comment Below:
Related Posts :
..