15

Jun, 23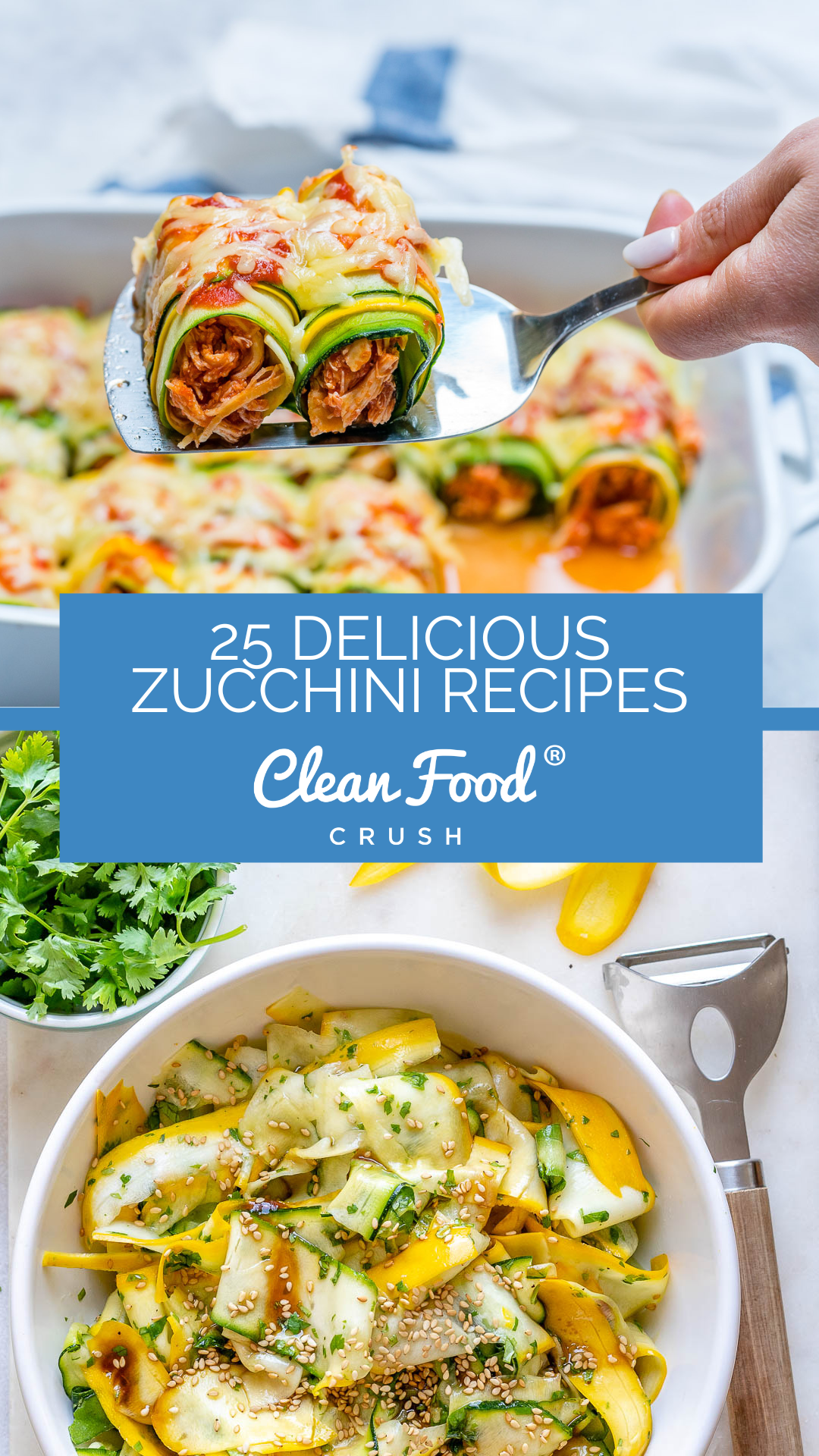 25 Delicious Zucchini Recipes
Zucchini,
a summer squash
, is typically considered a vegetable, but like the tomato, it's actually a fruit!
The zucchini is an "immature fruit" as it comes from a seed and grows on the flowering part of a zucchini plant and can blossom into beautiful (and edible) flowers. 
The summer is a great time to eat zucchini because even though it's available year-round, the prime season for zucchini is May to September.
So, why is zucchini a go-to fruit in our house and here at CleanFoodCrush?
Well, there are SEVERAL reasons.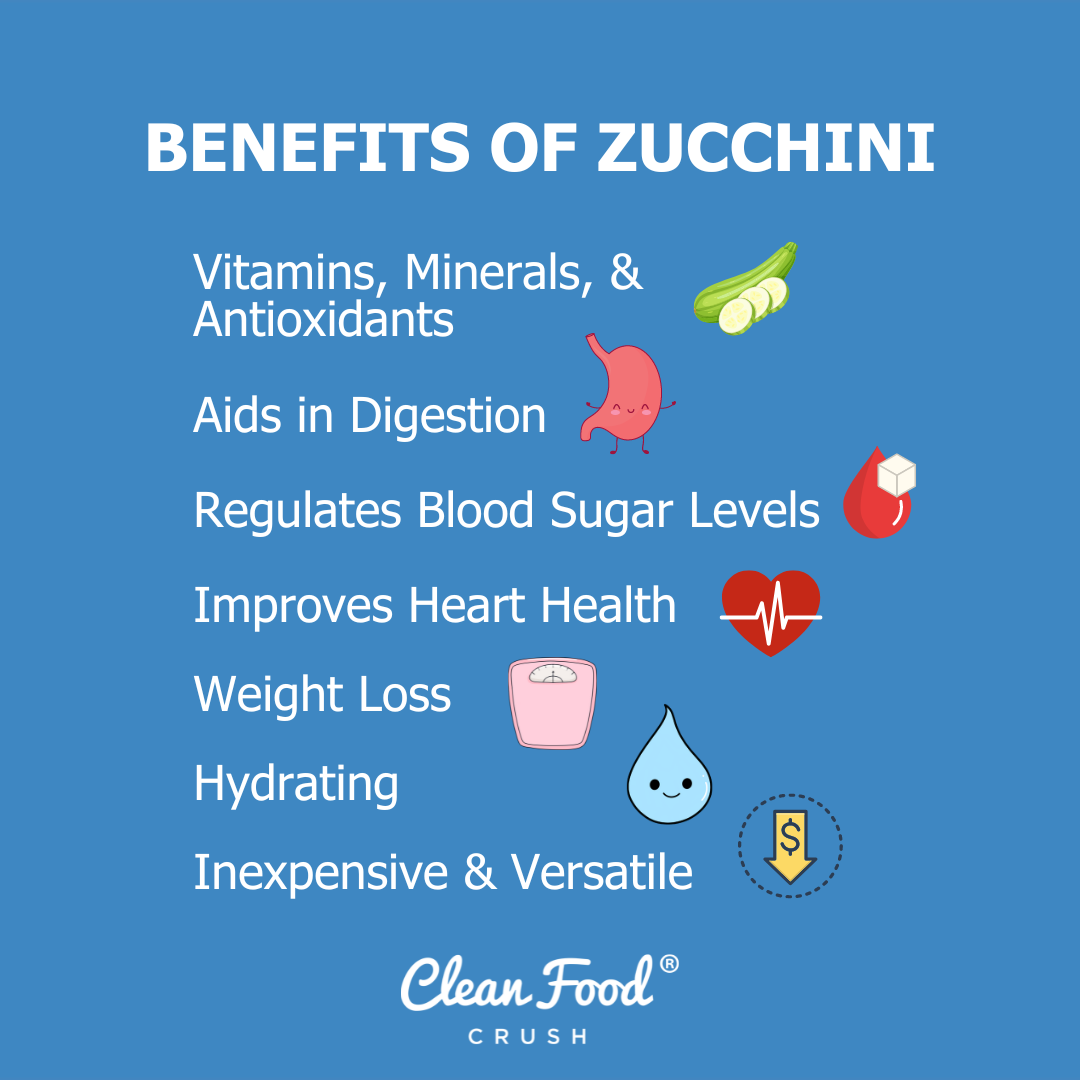 🌟 Nutritional Value
Zucchini has many
health benefits
and is
loaded
with vital vitamins, minerals, and antioxidants, such as fiber, vitamin B6, iron, zinc, vitamin A, and potassium.
These nutrients are
important
for healthy digestion, preventing oxidative stress, regulating blood sugar levels, improving heart health, and strengthening eyesight. 
🌟 Weight Loss
Because zucchini has a high water and fiber content but low calories, it
can aid in weight loss
by reducing hunger and helping you control your appetite. 
🌟 Hydrating
Zucchini has a refreshing taste and is full of water (94%, to be exact), which can help keep you hydrated during the hotter months of the year. 
🌟 Inexpensive & Versatile
This fruit is affordable, so you can either buy a good amount or grow your own without hurting your wallet.
It's also versatile, so you can enjoy it in several ways, like raw, grilled, roasted, or sliced into noodles for a pasta substitute.
You can get really creative with zucchini, as exemplified below!
So now that you know
why
you should eat more zucchini, let's talk about
how!
Here are 25 delicious recipes using this summer fruit:

We're starting simple with this genuinely EASY, budget-friendly, and all-out flavorful recipe!
Sesame-roasted baby zucchini is terrific as a quick side dish at dinnertime or a tasty afternoon snack.

Lasagna is one of my favorite meals – it's so warm, comforting, and full of nostalgia!
With this lasagna soup, you get all of the tasty flavors of the classic dish but with more nutrients and fewer carbs. PERFECT comfort food! 

This is more of a classic lasagna recipe, but using a slow cooker!
I use my crockpot year-round because I find it SO convenient to throw a few ingredients together in the morning when I'm full of energy, then we have a meal ready to eat whenever we're ready for it later in the day…
no matter what the day happens to throw at me. 

Another classic comfort food with a fun and healthy twist!
This is a lot like cauliflower crust pizza but with zucchini. It probably won't be as crispy, but it's still delicious!

Chocolate delicious-ness! Yes PLEASE.
The entire family devours them whenever I make these, and the muffins are gone way too quickly.

If you or any of your family likes spaghetti and meatballs, then you must try this recipe.
This tasty-satisfying dish comes together pretty quickly, making it perfect for weeknights!

Talk about refreshing! Marinated into perfection, this salad might seem straightforward (and it is), but that doesn't take away from its wonderful flavor profile. 

One pan, quick, easy, and as simple as it gets!
Rather than ordering takeout, try this stir fry recipe.
You feel SO GOOD knowing that you invested the 20 minutes needed to get something highly nutritious (and tasty) on the table.

These make for a great and super quick breakfast.
They might not be typical blueberry muffins, but they're just as delicious, fluffy, naturally sweetened, and full of nutritious whole foods!

Our combination of perfectly seasoned grass-fed ground beef and lightly charred zucchini with just a touch of melty cheese is sure to hit the spot!

This salad is
PERFECT
for the Summer, particularly as a side dish to take to a neighborhood or family barbecue.

I love making zucchini boats, experimenting with recipes, and creating new meals.
This particular recipe is a fan favorite because who doesn't love tacos?! 

As you can see, there are very few classic comfort foods that we can't remake using this handy little fruit!
So, next time you want enchiladas, try this low-carb, gluten-free, and nutritional version with your Summer zucchinis.

Sometimes you get a craving for Fall in the middle of Summer.
When that happens, turn to this decadent bread that mixes everything we love about zucchini with everything we love about pumpkin spice (plus chocolate)! 

This skillet is ultra-satisfying and will be a crowd favorite – it's sure to impress!
Also, try it with bison too! Bison can be a nutritious alternative to beef, as it contains more omega-3 fatty acids (which is a GOOD thing!).

These breakfast rolls are unique, and the recipe is seriously more effortless than it looks.
It's high in protein and packed with flavors which is the BEST way to start your day.

If you're healing from an illness or excessive inflammation, try this soup, as it has many restorative ingredients, like bone broth, lemon juice, and fresh ginger. 

Roasted Ranch Zucchini Bites are great as a side dish or a tasty afternoon snack and are SUPER simple!

If you have kids or teens at home, invite them into the kitchen with you to make these little pizza snacks!
They're great for children to make because they are easy and fun, and kids will likely be familiar with pizza and excited to try it!

Another fun stuffed boat recipe for you, this time with a fun Italian twist complete with marinara sauce and mozzarella!

I spent YEARS making this before I finally decided to share the straightforward recipe!
It's garlicky, creamy, and nicely cheesy…oh, and packed with veggies.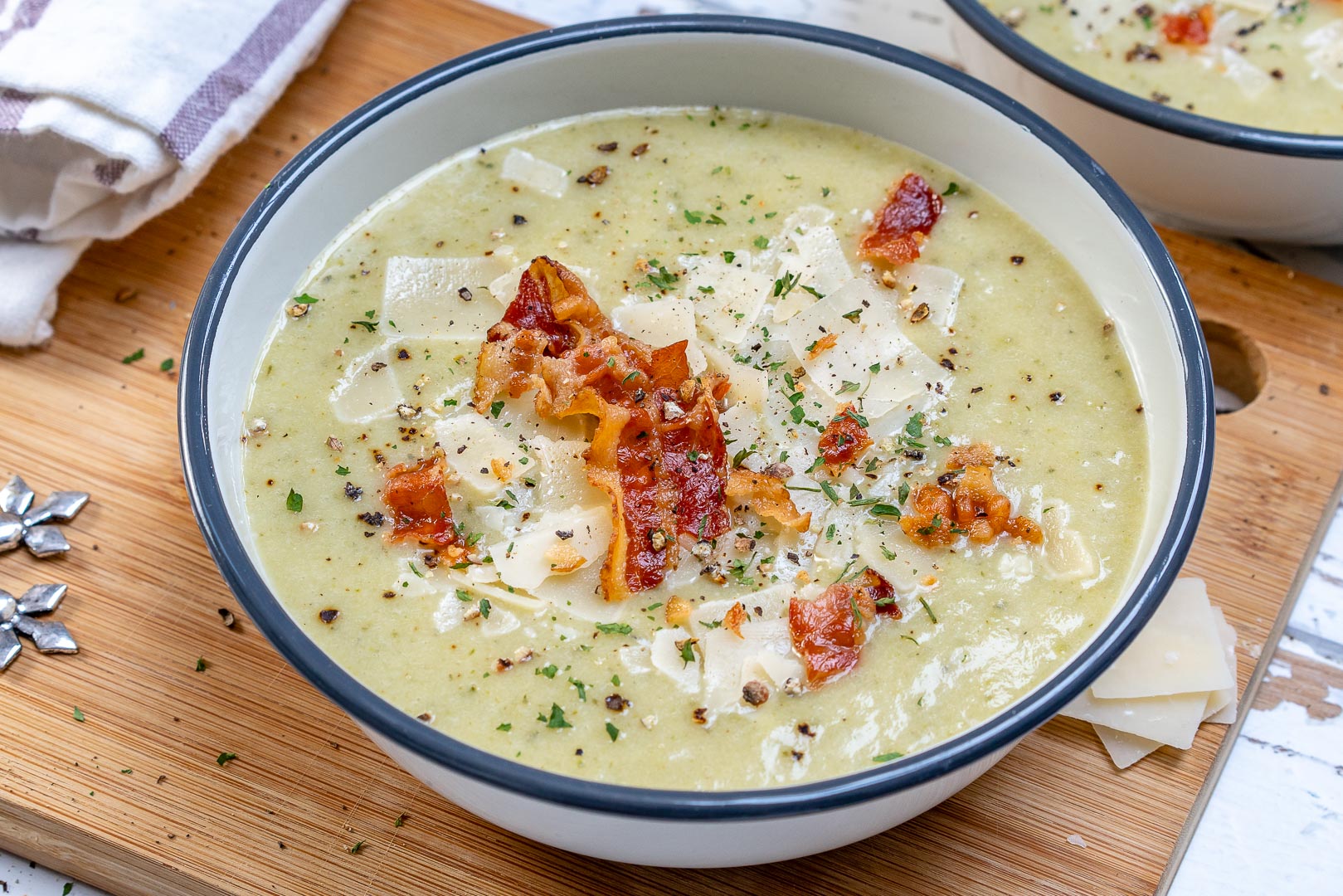 I needed to include another soup recipe in this list because I LOVE soup (

here are 5 reasons why
)!
This potato soup is warm and creamy, perfect for a comforting meal. 

The whole family loves this flavorful, simple stir fry!
It's excellent for meal prep since the leftovers taste even better the next day.

My family can't be the only one that loves chips.
Along with the unique cheesy zucchini chip recipe, I've also included a suggestion of my favorite store-bought corn chips and homemade
BBQ sauce recipe
to pair with this!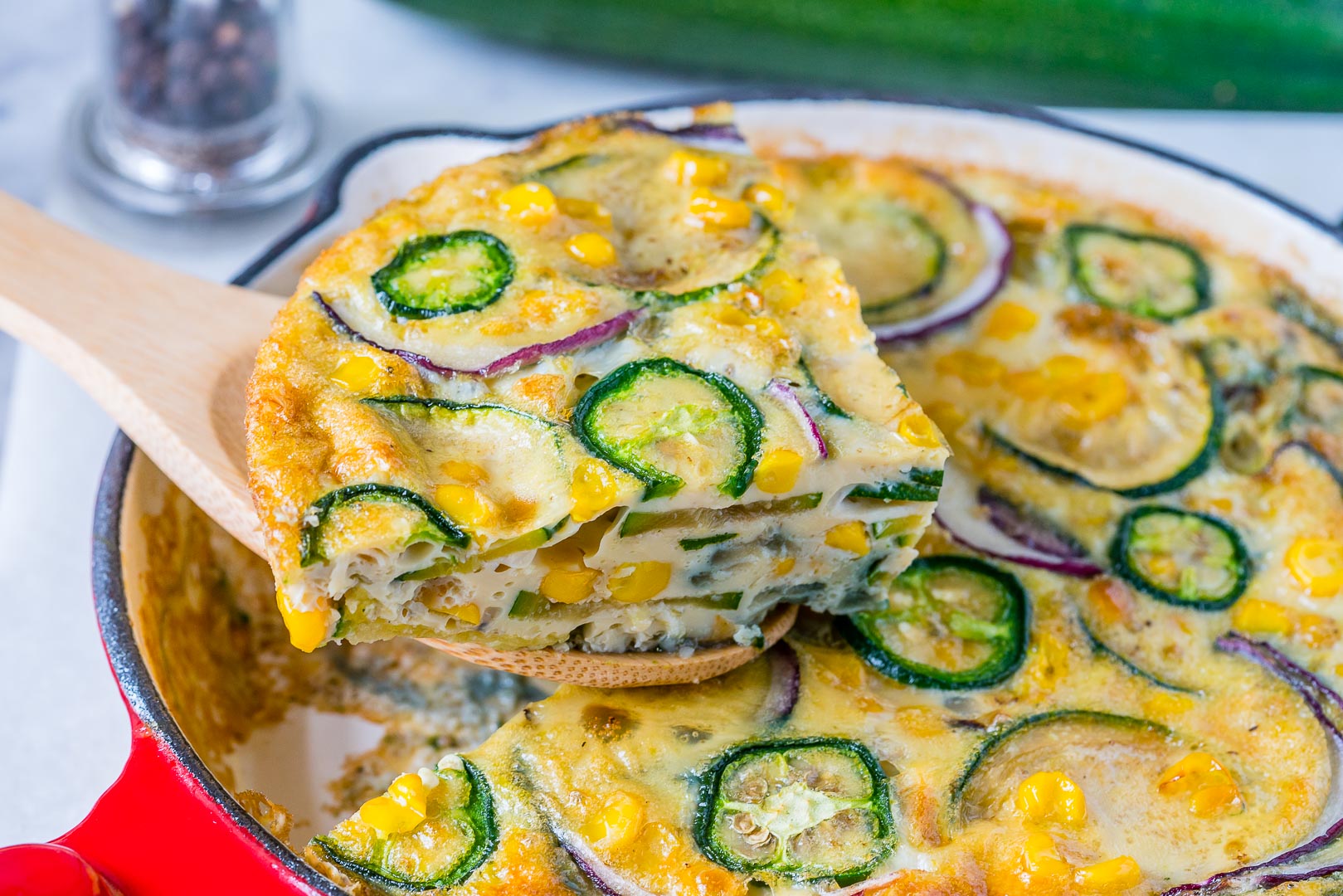 This frittata is perfect for the weekend and makes a tasty, nutritious/fast dinner option! Feel free to edit the recipe and the amount of jalapeño, so it's perfect for your tastebuds. 
I could overwhelm you with dozens more zucchini recipes, but I'll stop here for now!
As you can see, there are SO many ways to use this squash.
Take the whole Summer to experiment until you find your favorite zucchini recipe.
Then let me know in the comments or by tagging CleanFoodCrush when you share your creations!
Leave a Comment Below:
Related Posts :
..
Tags: enchilada