25

May, 23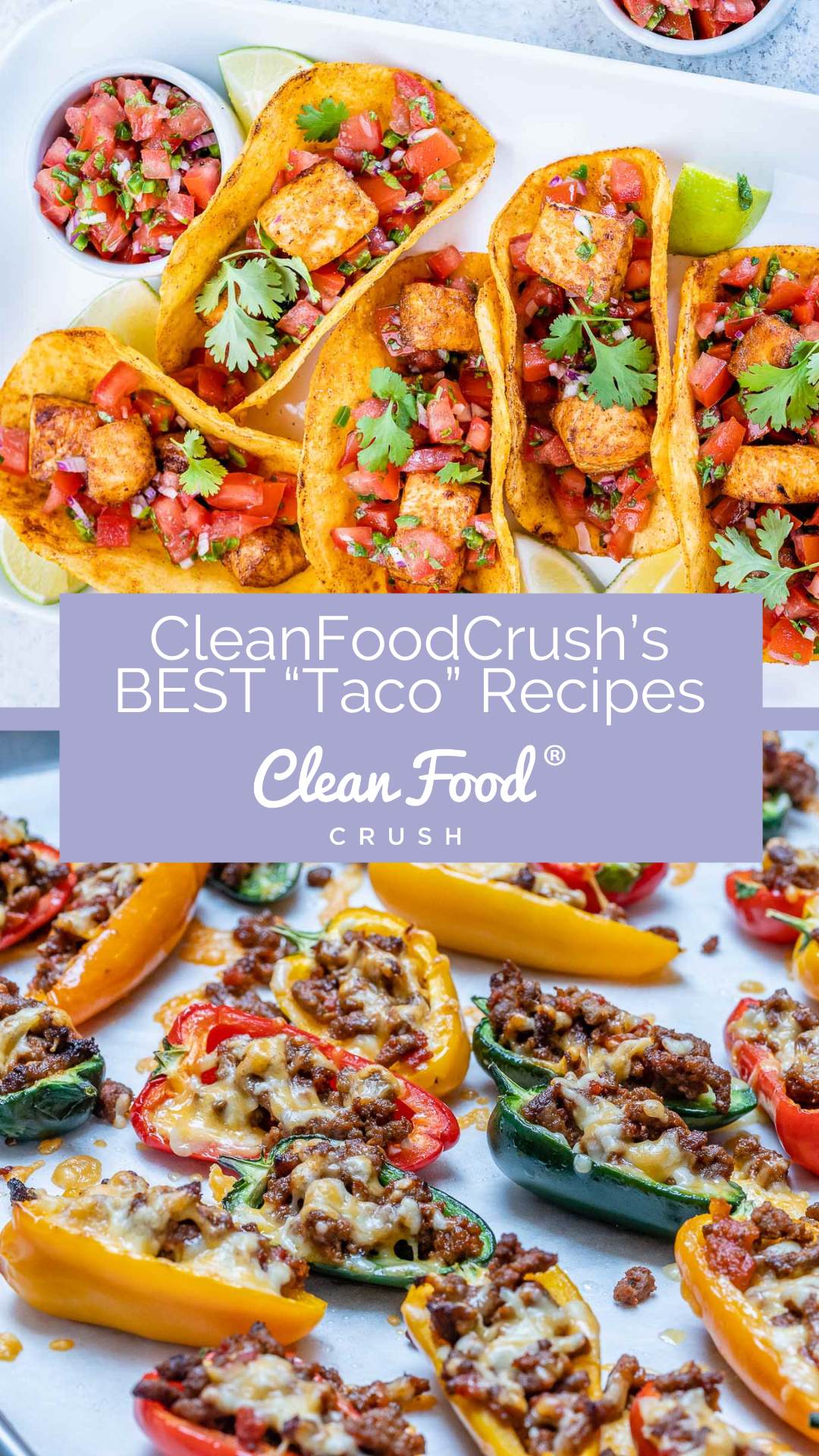 20 of CleanFoodCrush's BEST "Taco" Recipes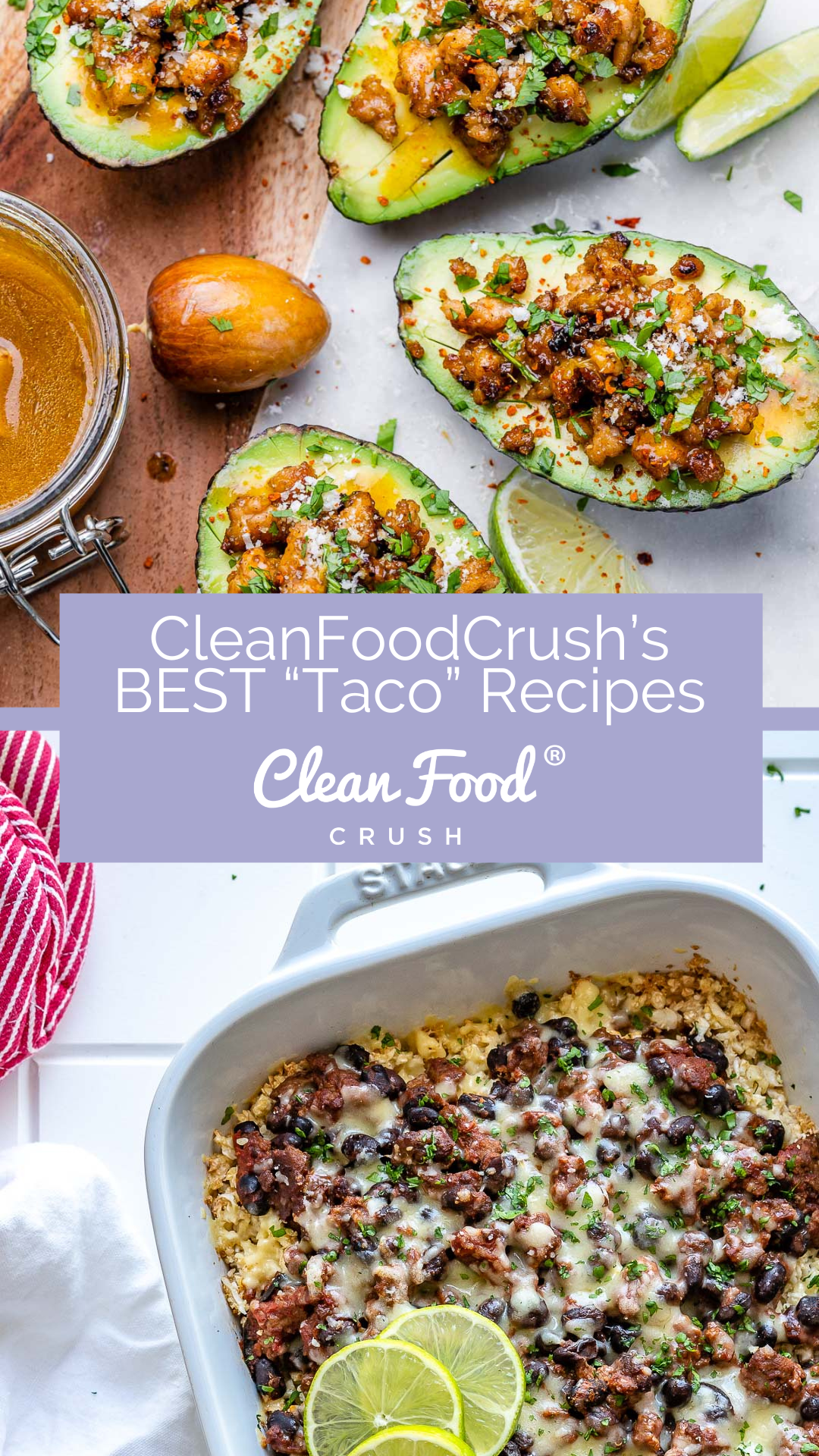 Everybody loves a good taco night. Whether you're into the classic beef and cheese or you enjoy a more unique flavor, tacos are a great dinner (or lunch OR breakfast) idea and can be a creative, fun way to satisfy anyone's palette!
Traditional tacos are speculated to have first been introduced in Mexico in the eighteenth century in
Mexican silver mines
.
Since then, they've been a staple of Mexican cuisine and, over the decades, have been introduced to all parts of the world – and subsequently become a fan favorite!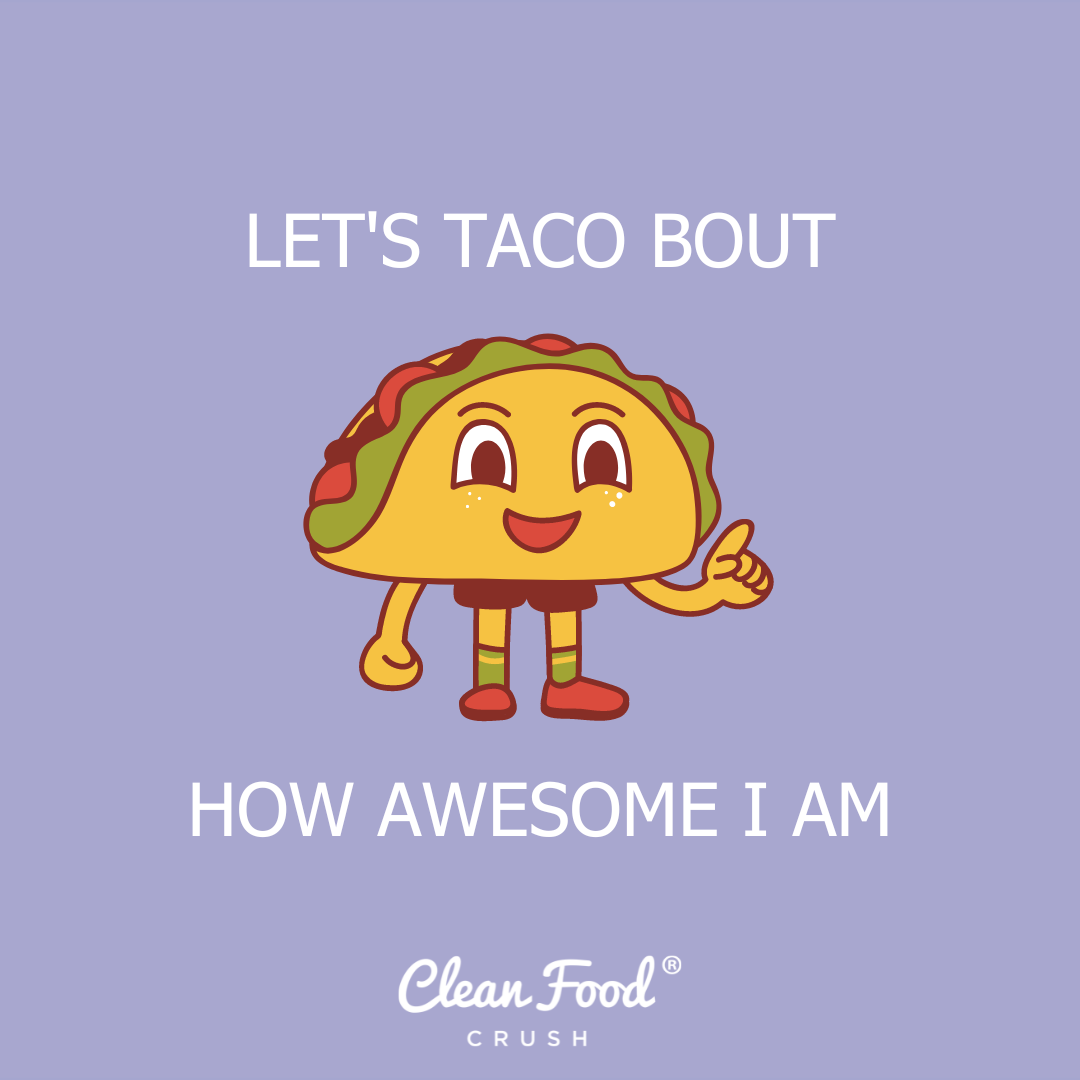 So, I put together 20 delicious ways to enjoy tacos. Check them all out below: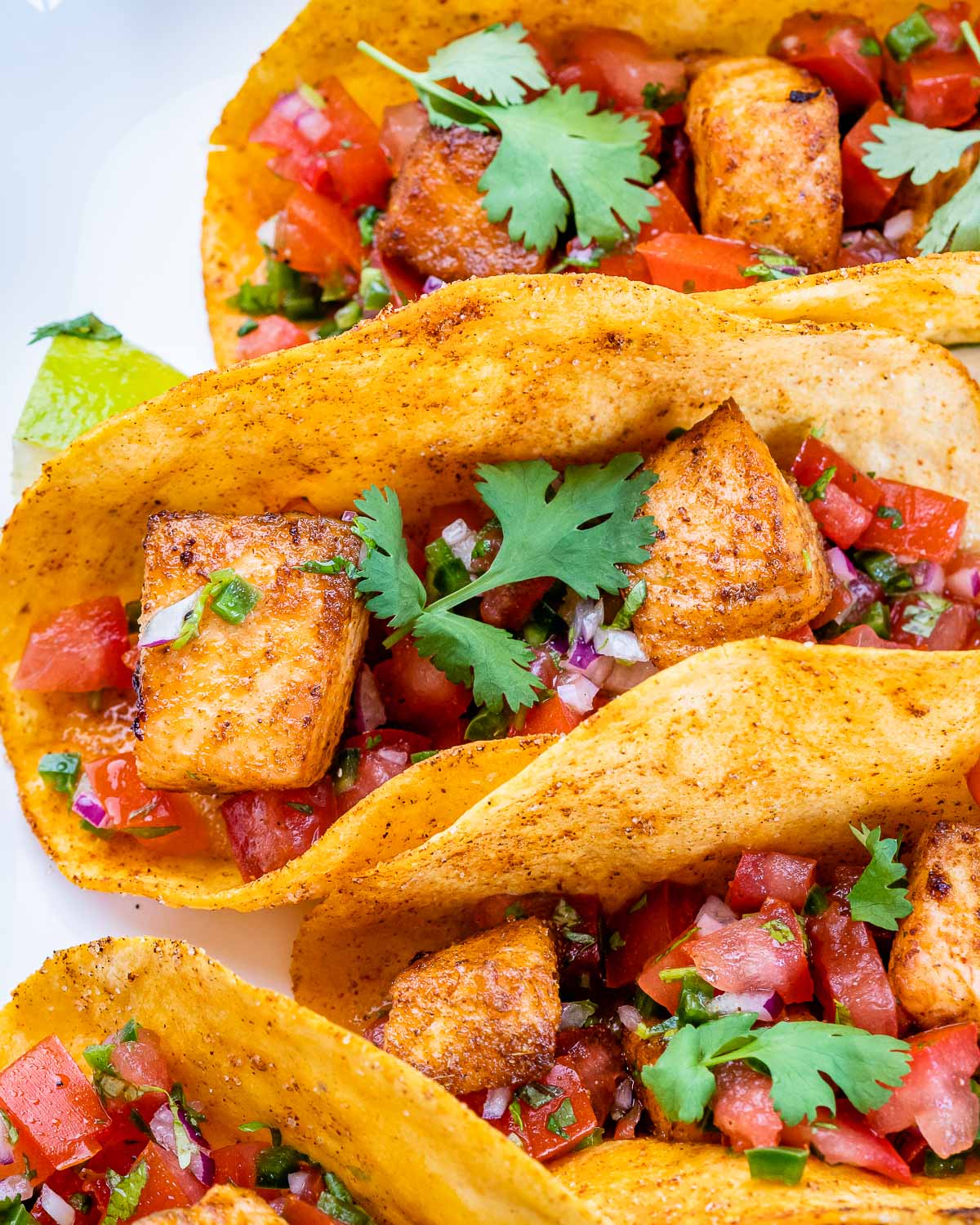 Salmon is a superfood for a reason! It's a great source of
omega-3 fatty acids
, which can help decrease
inflammation
and support a healthy brain and heart. It's high in proteins and
Vitamin B12
, which helps to regulate the central nervous system. Salmon is fantastic for your body and delicious as well – a double threat!

Looking for a classic beef taco with a hearty kick of spice and flavor? Try these barbacoa tacos with chipotles that have been soaked in adobo sauce. This gives the beef a deep, smoky taste that amps up the flavor. You can even double the recipe so you have meat for salads or sandwiches all week!

Breakfast tacos are a super tasty and quick morning meal. These include scrambled eggs, which will give you lots of protein, minced garlic, black beans, and an assortment of toppings to your liking: avocado,
pickled onions
, tomatoes, jalapenos… whatever your heart desires!

As with salmon, most fish is high in protein and omega-3 fatty acids that help regulate your overall health. Try switching up what fish you use in these super yummy tacos: shrimp, cod, salmon, or my personal favorite, halibut! It's an easy meal that can last you several meals out of the week.

If you crave the carbs of tacos but want to watch your intake, try doing a taco casserole instead! No tortillas, but still the same yummy flavors.
Plus, if you use cauliflower rice as your base, you get fewer carbs and many health benefits!
Cauliflower
is very nutrient-dense, has anti-inflammatory and anti-aging properties, lots of fiber, and can help stop the advances of heart disease and even cancer. It's a powerful food!

Looking for another alternative to typical tortilla tacos?
Try stuffed peppers instead! Load up these crunchy veggies with your choice of meat (or
meat substitute
), then add your favorite toppings. Mine include onions, quinoa, black beans, garlic, and diced peppers on top too! Plus, enjoy my homemade taco seasoning recipe here too. 😉

If you're the type of person (like me) who first eats with their eyes, you'll love this layered taco salad bursting with flavor and looks absolutely stunning. It's a slightly fancier take on the age-old tacos we love, so break this out when you're trying to impress but don't want to cook all day long. 

Cabbage is an often overlooked vegetable, but you should try incorporating it into your diet.
It's an
extremely nutritious
food, rich in
vitamins C
and K and fiber. Some research suggests that it can aid
digestion
, improve your heart's health, and is an
anti-inflammatory
food.
It comes in many different shapes and colors, so you can figure out what cabbage you prefer!

Another alternative to regular tortilla shells, these zucchini boats are a fun take on the classic taco and provide some
yummy nutrients
to boot. Zucchini has lots of
vitamin A
, which helps with vision and can regulate your
immune system
. They're also high in antioxidants and can help regulate your digestion. 

Quinoa is a versatile food. Because it's gluten-free, quinoa is a tasty and healthy alternative to many foods containing gluten, which some people cannot consume. Quinoa is very
high in protein
and is a rare plant food containing all
nine essential amino acids
!

As you can see, I love offering alternatives to the "traditional" way you eat tacos. That way, more people can enjoy the yummy flavors but don't have to compensate by eating something that doesn't agree with them. And avocados offer
many health benefits
, such as lowering
inflammation
, helping reduce the risk of heart disease, improving
gut health
, and supplying the body with several vital nutrients.

We're getting close to summer, but I always
love a good soup
! If you do, too, try this delicious taco soup – packed full of the flavors of traditional tacos. Plus, it can be saved in the fridge for a few days, meaning fewer days you need to cook. Score!

These little "tacos" are great for a day at the beach or by the lake. Quick and easy, these lunch meat-based snacks are full of flavor but won't take long to make and won't create a mess – plus, they can be customized to your liking! When choosing lunch meats, I like to go the clean, safe route without harmful chemicals: no antibiotics, nitrates, corn syrup, BHA, or BHT.

This cilantro-lime dressing is to die for! It keeps well in the fridge for up to a week, so you can prepare it ahead of time or use it on other meals throughout the week. Honestly, this dressing will take your taco game to the next level!

Anyone down for a loaded sweet potato? This recipe is great when you want something hardy and fulfilling but don't want the carb crash later. Sweet potatoes have many
health benefits
, including improving gut health, fighting cancer, eye health, and brain function. 

Need a quick dinner or lunch? Try our taco salad! It only takes 20 minutes to prep, which gives you lots of time to get the kids ready for school or take the dog for a walk – whatever you need! Our taco salad is full of flavor and color, which may encourage your kids to eat more! 

I love an excellent instant pot recipe! Throw this chicken into the pot in the morning before work, and by the time you're home, you'll have everything you need to make quick but TASTY tacos for the whole family to enjoy. Plus, if you make extra chicken, you can use it for future meals in the week, freeing up even more time for you.

These mini peppers are a great after-school snack (or really, any time of day snack). Or, you could use them to impress your friends at your next party! Just pop your taco ingredients on the peppers and bake them until crunchy perfection.

I love a good lettuce wrap! Skip the carbs of tortillas or chips and instead load your favorite taco mixins onto a piece of lettuce! You still get that crunchy goodness while getting to eat lots of them without feeling bloated later on. These are great for kids too! Quick, easy, and yummy – a mother's golden trio.

Spaghetti squash is a super
nutrient-dense
food that's also super versatile. You can cut it into thin strips as an alternative to pasta or use it as a "boat" for taco night! Spaghetti squash is a
winter vegetable
full of vitamins, minerals, and antioxidants.
Because it's super low in calories but high in fiber, it can even help with weight loss and a healthy digestive system.
As you can see, we have some AMAZING recipes for all the taco lovers out there! 

Whether you're more of a traditional person who likes tortilla shells and flavorful meats or you like to experiment with flavors and swap the shells for veggies, taco night should look far more colorful and flavorful from now on.
Try some of these recipes, and let me know what you like best! 
Leave a Comment Below:
Related Posts :
..