13

Apr, 23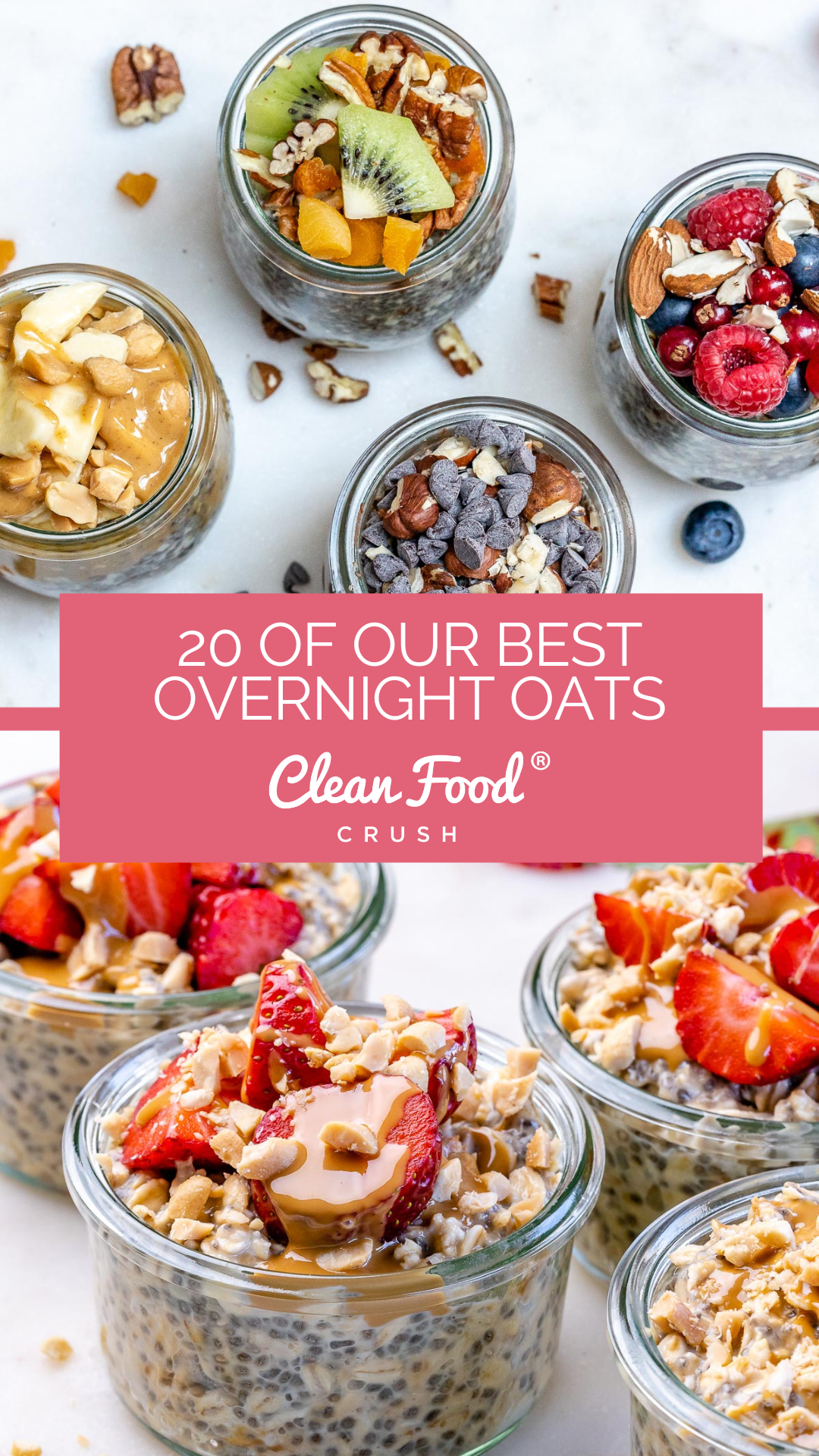 16 of CFC's BEST Overnight Oat Recipes (+ 4 no-oats!)
Oats are a natural superfood full of nutrients and have many health benefits. Several studies show that oats and oatmeal can help induce weight loss, lower blood sugar levels, and are an excellent source of vital vitamins, minerals, fiber, and antioxidants.
But even better than these simple dry oats are overnight oats! This great meal is created by leaving oats to soak overnight (hence the name) instead of cooking them in the morning. 
Overnight oats make a quick, easy, affordable, and delicious breakfast everyone will love! (If oats aren't for you, check out the last four recipes for a similar no-oat breakfast). They're a fantastic source of fiber and protein and are connected with greater energy levels, improved mood, and weight loss. Soaking overnight helps the starches break down, which improves digestibility and allows your body to absorb more nutrition. 
There are endless ways to get creative while preparing your overnight oat breakfast, such as these 20 recipes:
The taste of these chocolaty oats is child approved, and the nutrients are parent approved!  The cashew butter is heart-healthy and lends a really delicious flavor profile.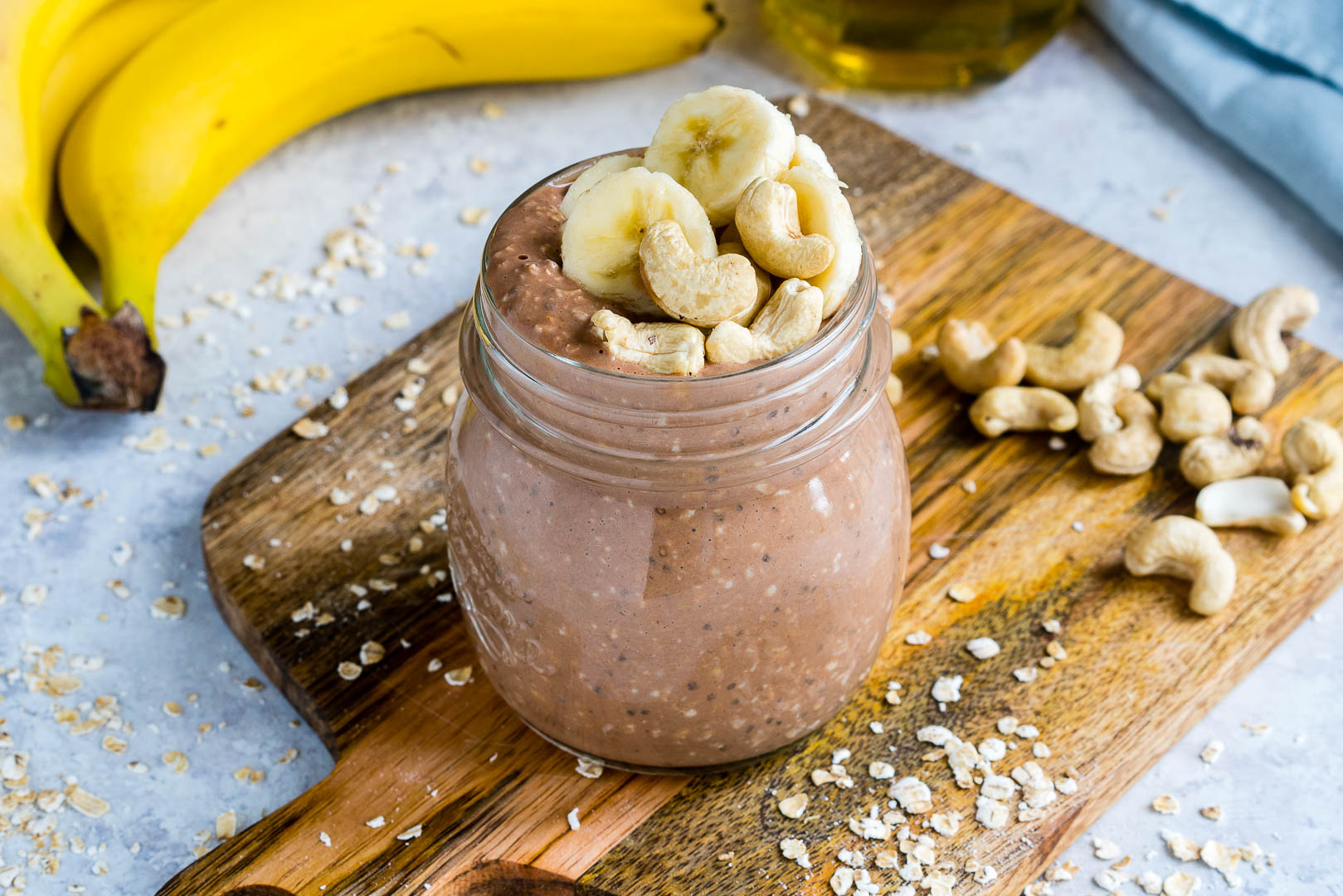 This one is perfect for the warmer months, as the peak season for mangoes runs from May through September. It's cool and refreshing, a great way to start your day, and a fantastic source of vitamins C and A.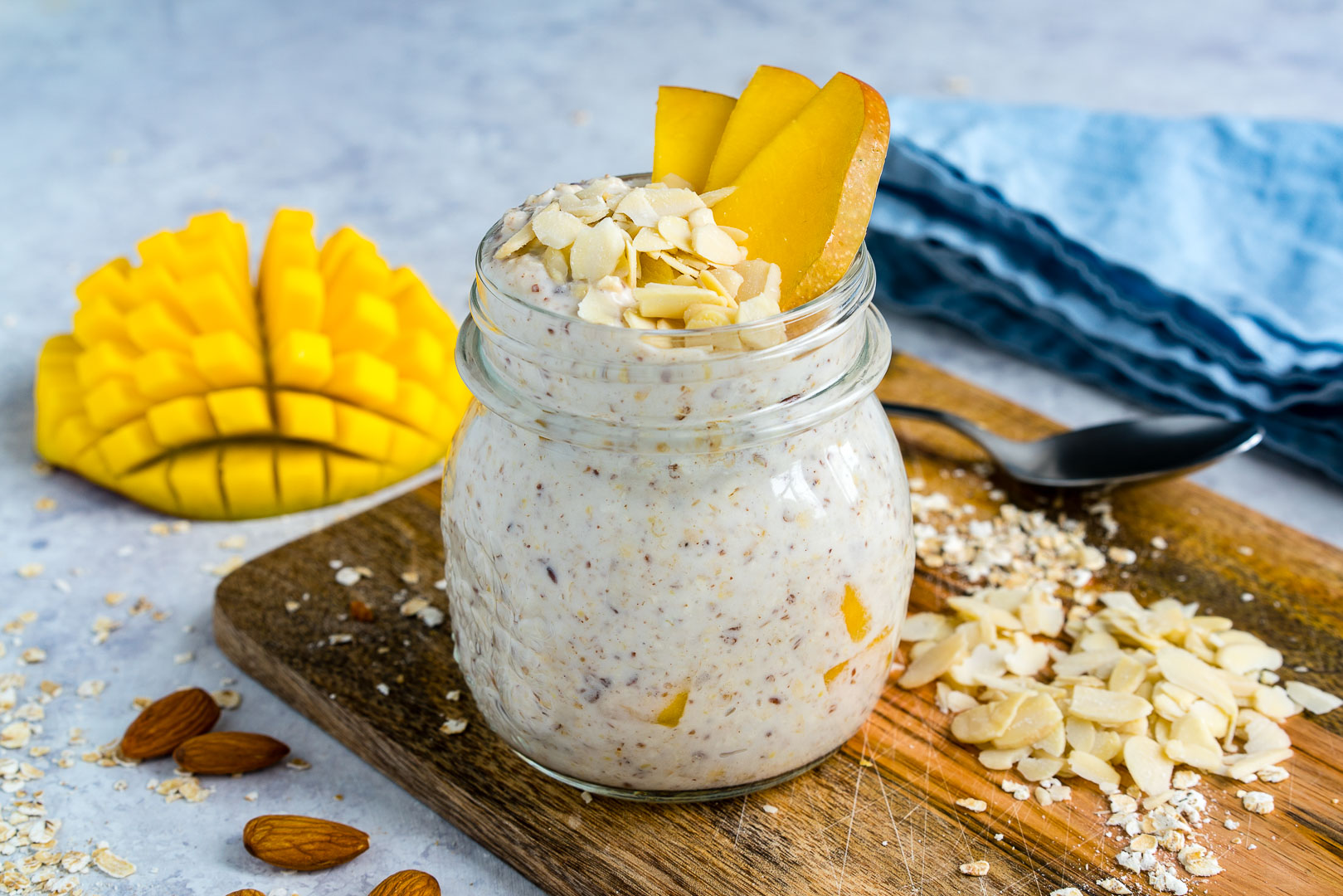 These are truly a peanut butter lover's dream breakfast with rich, delicious flavors! If PB isn't your thing, these can be made with nut butter or sun butter.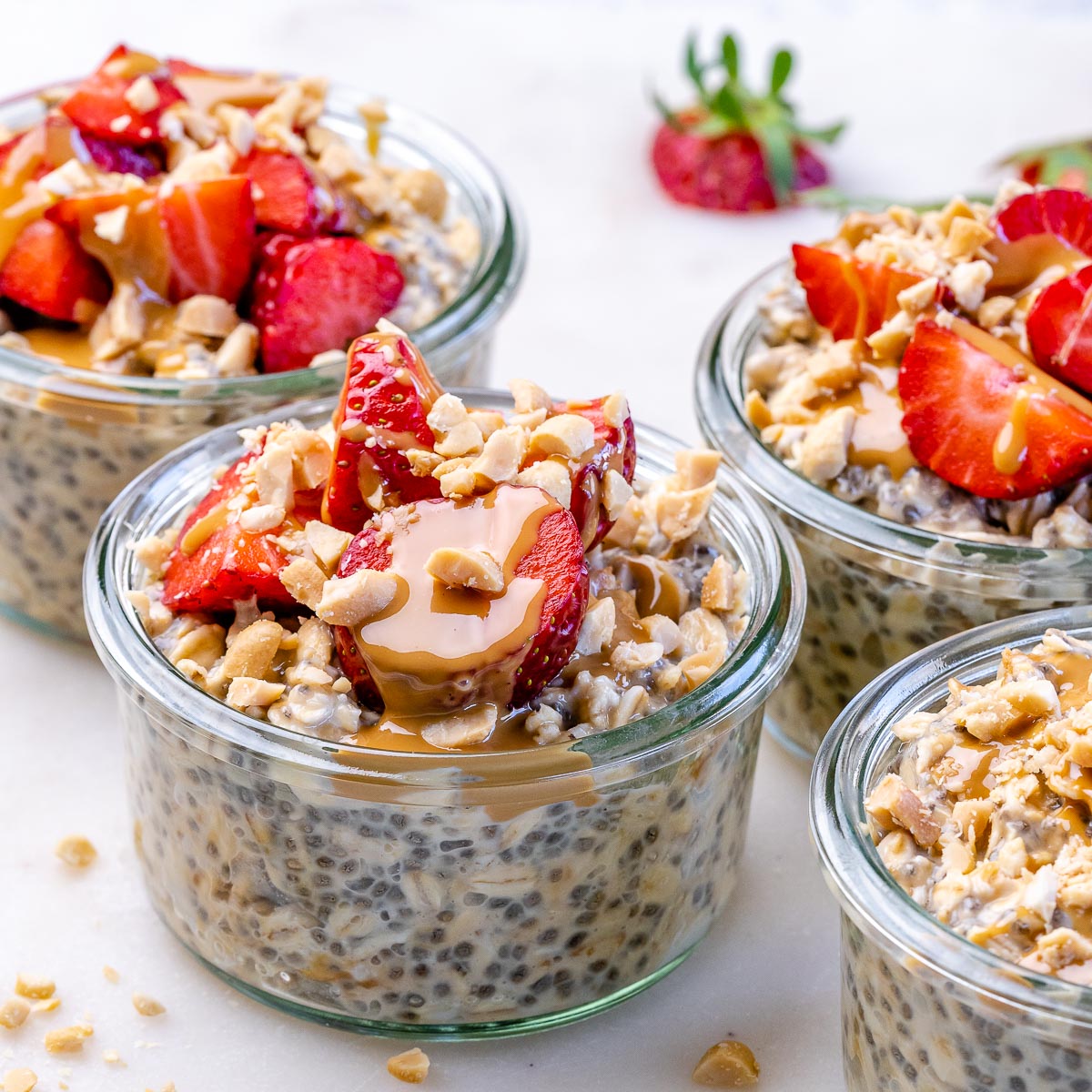 I don't know about you, but I'm a sucker for cookie dough. So, of course, I'm going to seize the opportunity to have some for breakfast!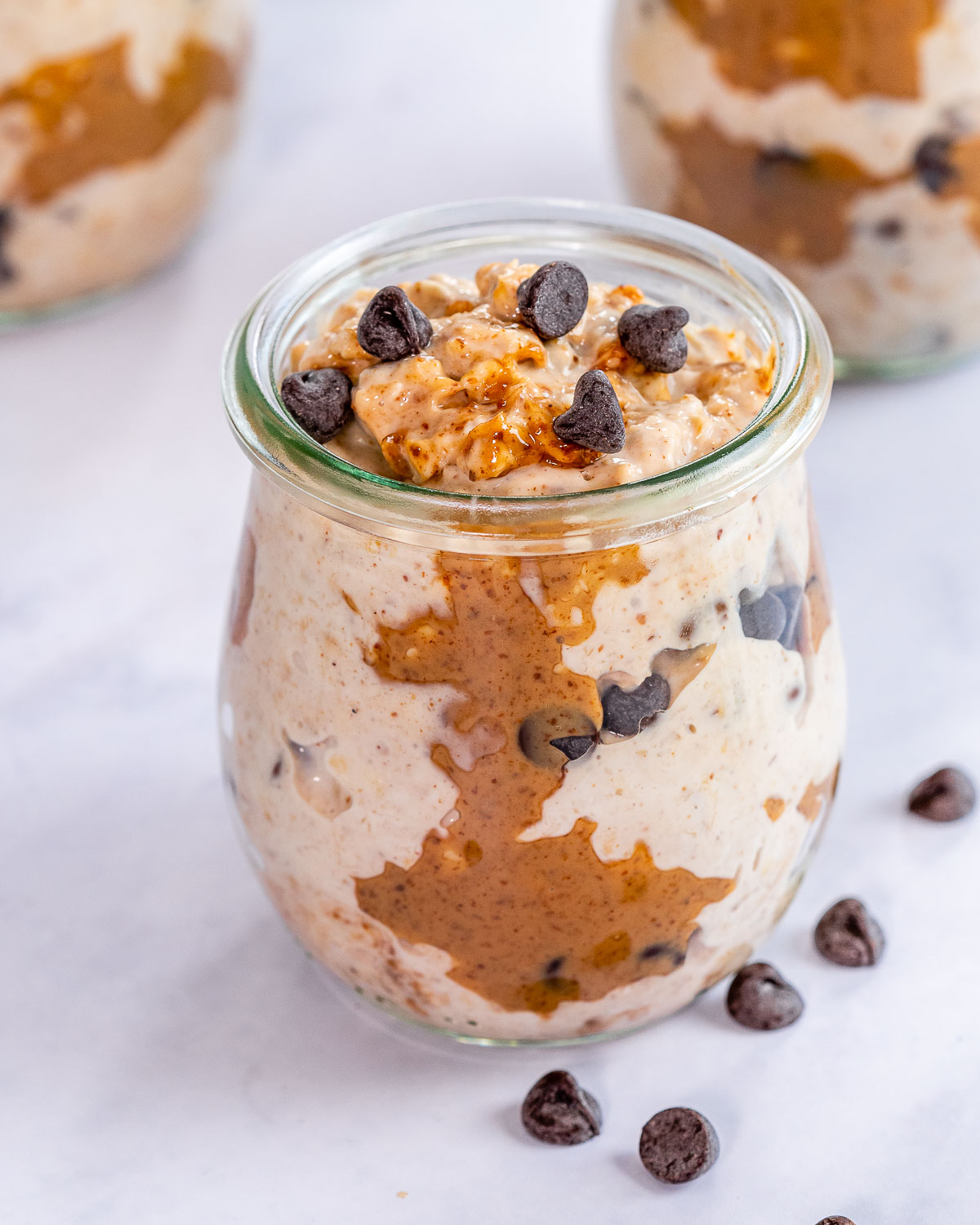 This recipe comes with all the deliciousness of banana nut bread plus the overnight oats' health benefits. If you want to amp up the nutrients, add some protein or collagen powder.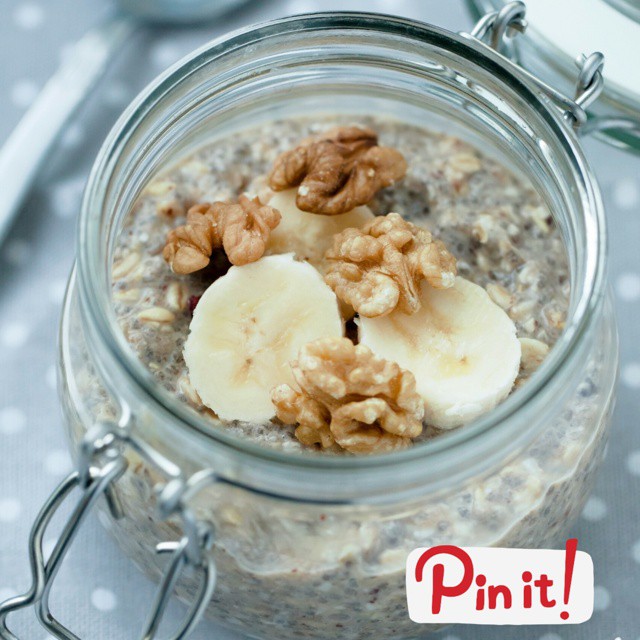 These are basically a hug in a jar. With the apple pie flavors, it'll feel like you're enjoying the Holiday season year-round!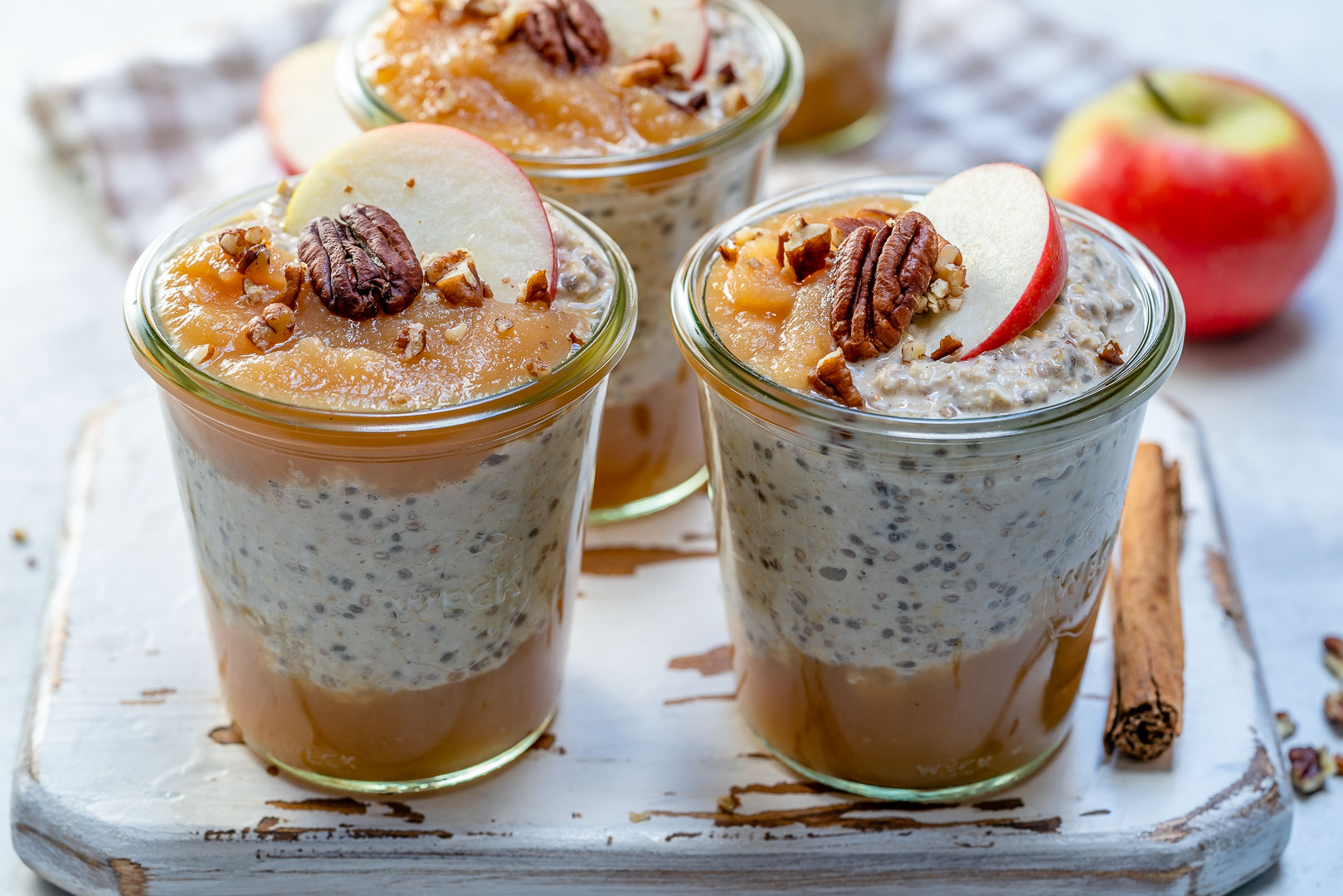 Speaking of the Holidays… this recipe is SUCH a treat! The fresh ginger combined with pumpkin pie spice creates a traditional holiday favorite flavor.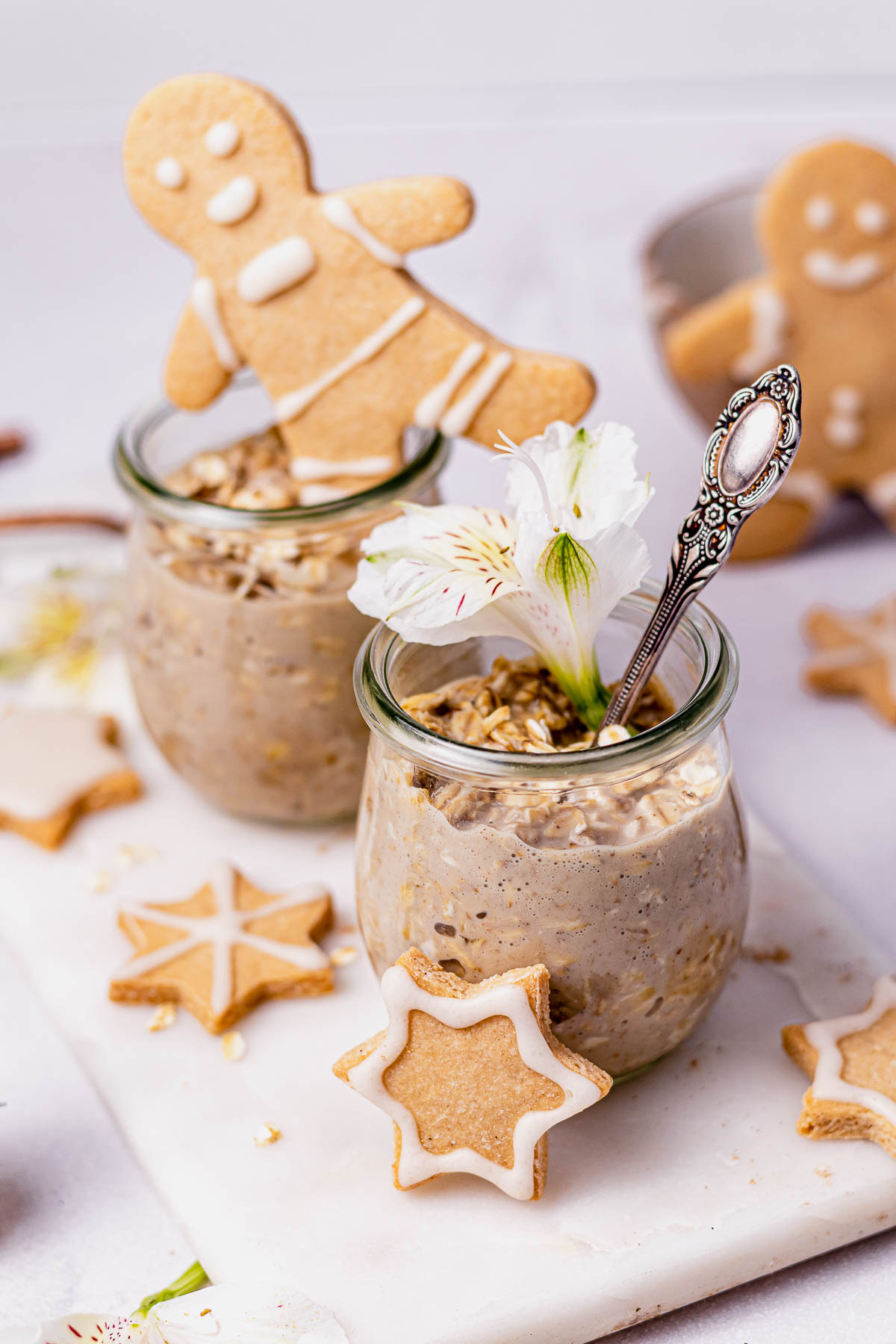 It's time to return to the basics with the classic peanut butter and jelly pairing in this overnight oats breakfast! If you need jars, try these Weck Jars on Amazon!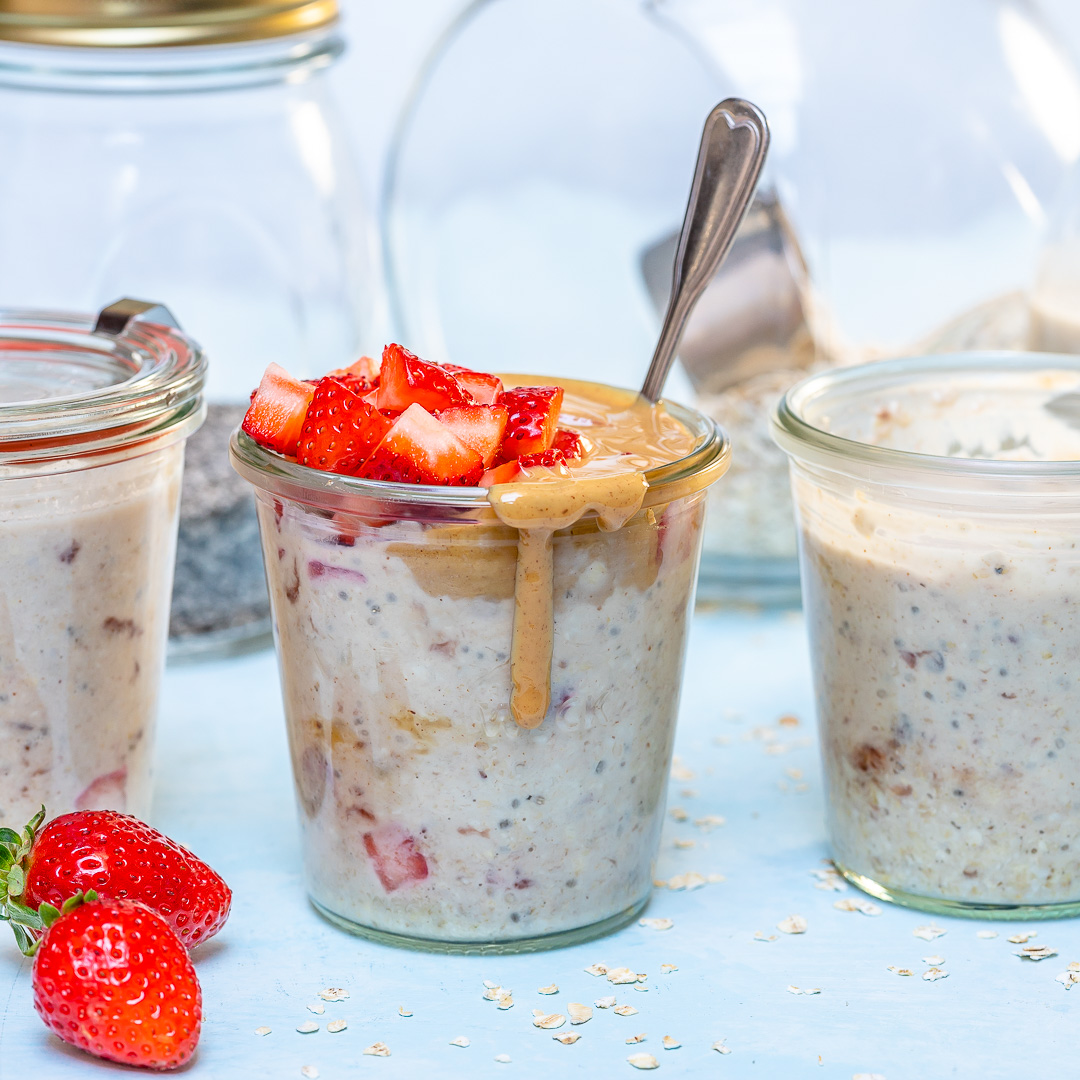 Strawberries are in season from January through May, but strawberry cheesecake always tastes amazing, even in this oat breakfast. If you can, get your strawberries local for a fresher meal!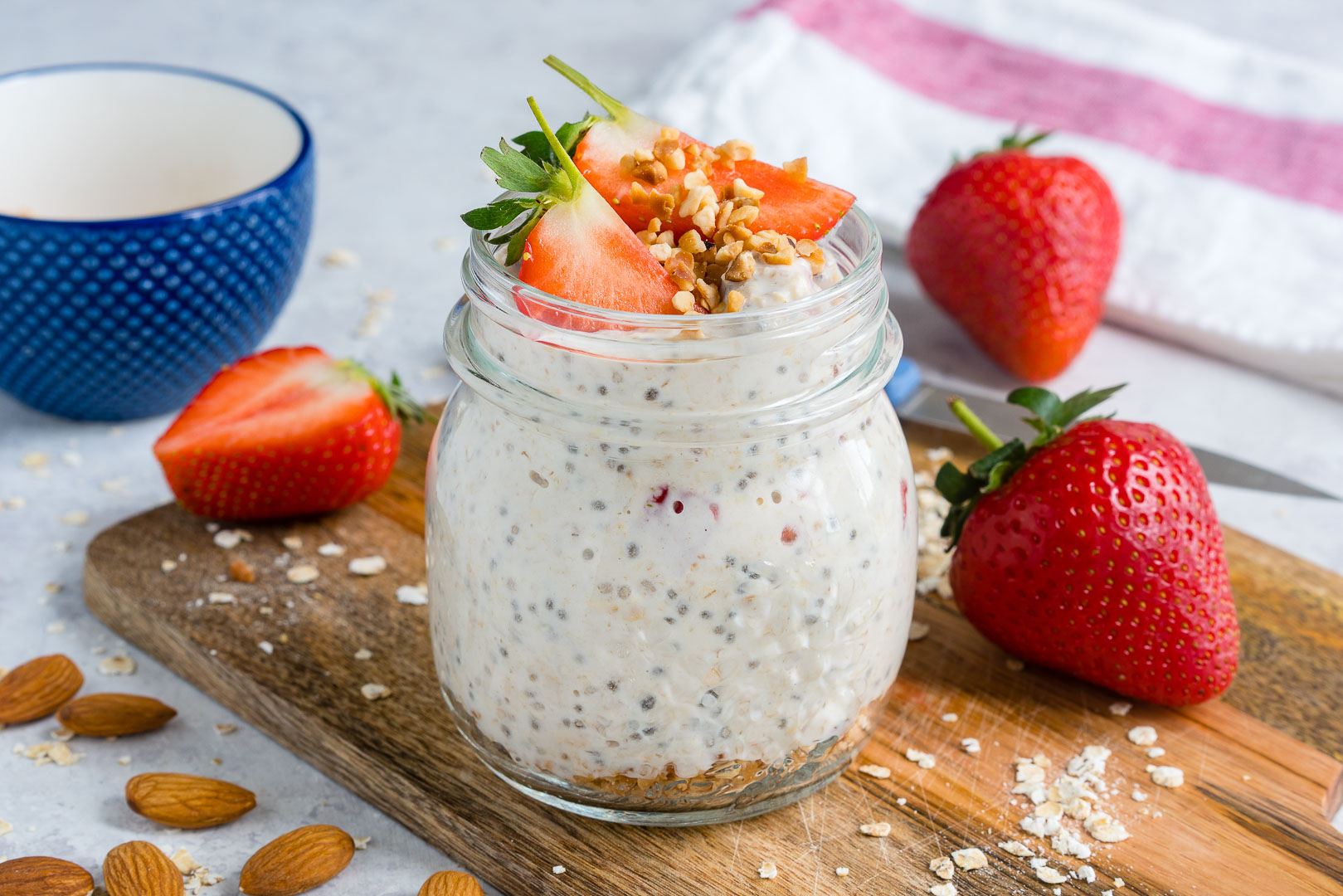 Not only is pumpkin tasty, but it's super filling and satisfying thanks to its high fiber content and low calories, making it a notable energy source. And the good amount of Vitamin A helps keep us healthy by boosting the immune system.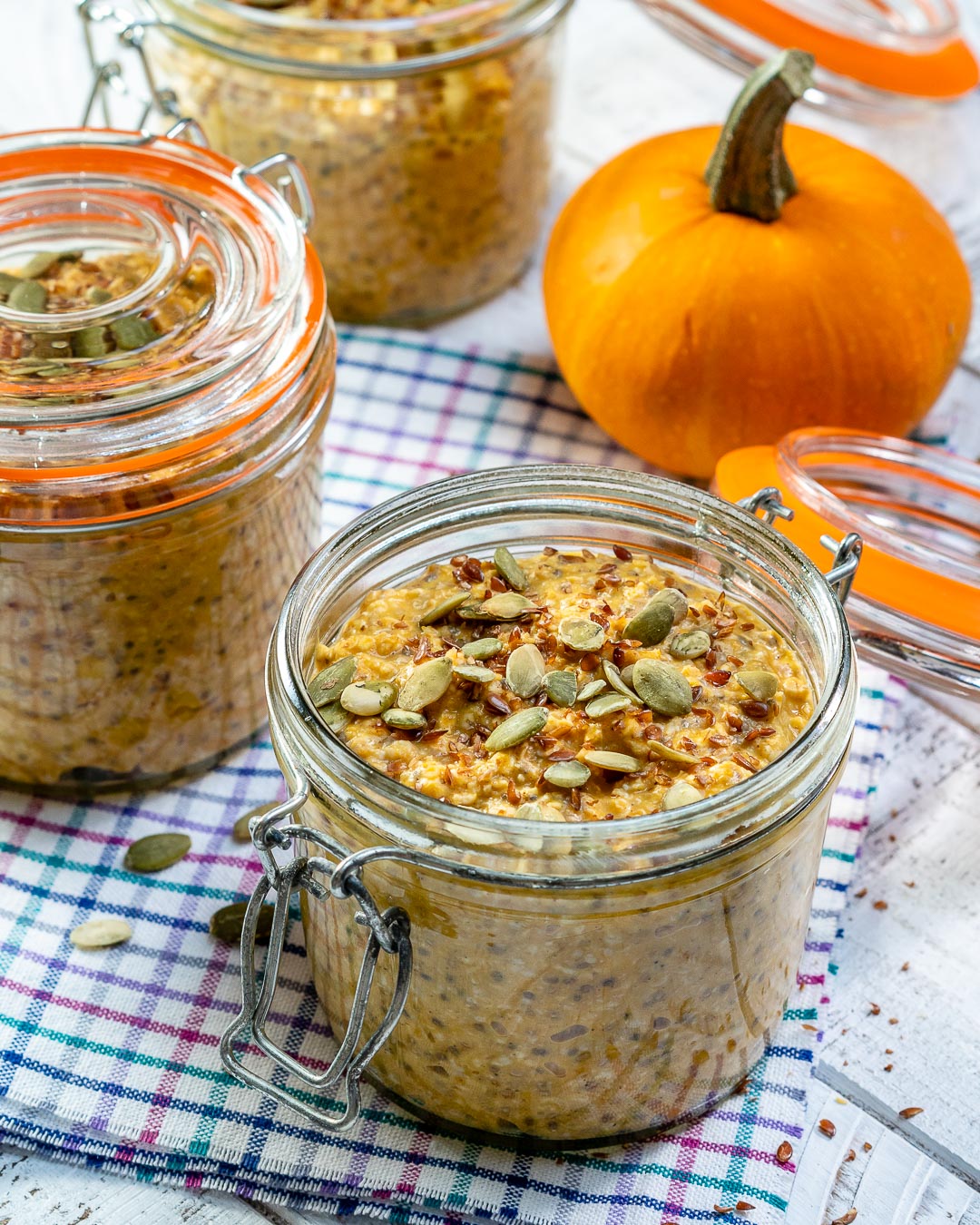 Can you tell I like peanut butter? It just goes so well with these pudding-like oat breakfasts! Like the PB&J, peanut butter and bananas are a classic, tasty combination with extra potassium.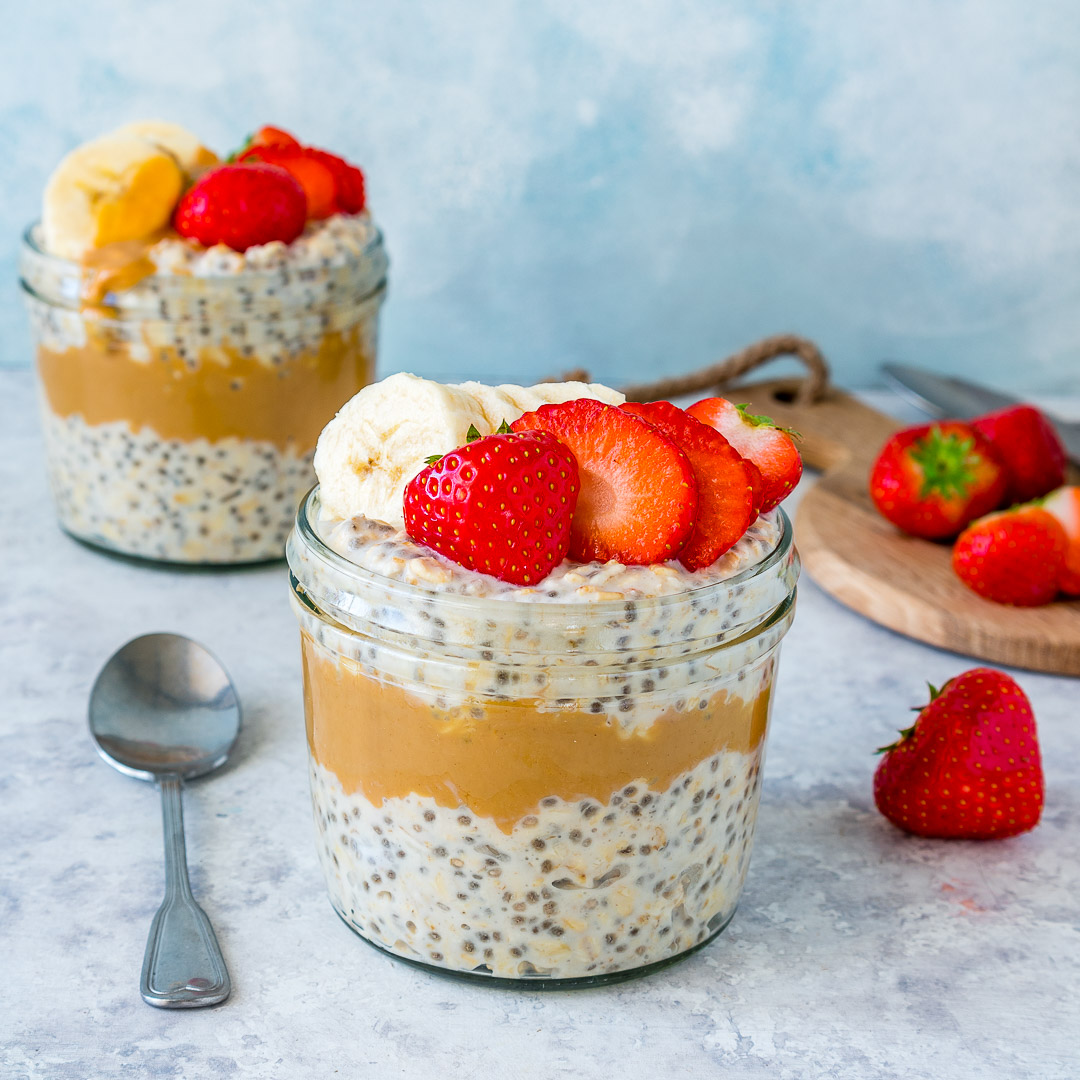 These Raspberry Coconut Overnight Oats are sure to become your new favorite! The fresh Raspberry & Coconut combo is truly divine.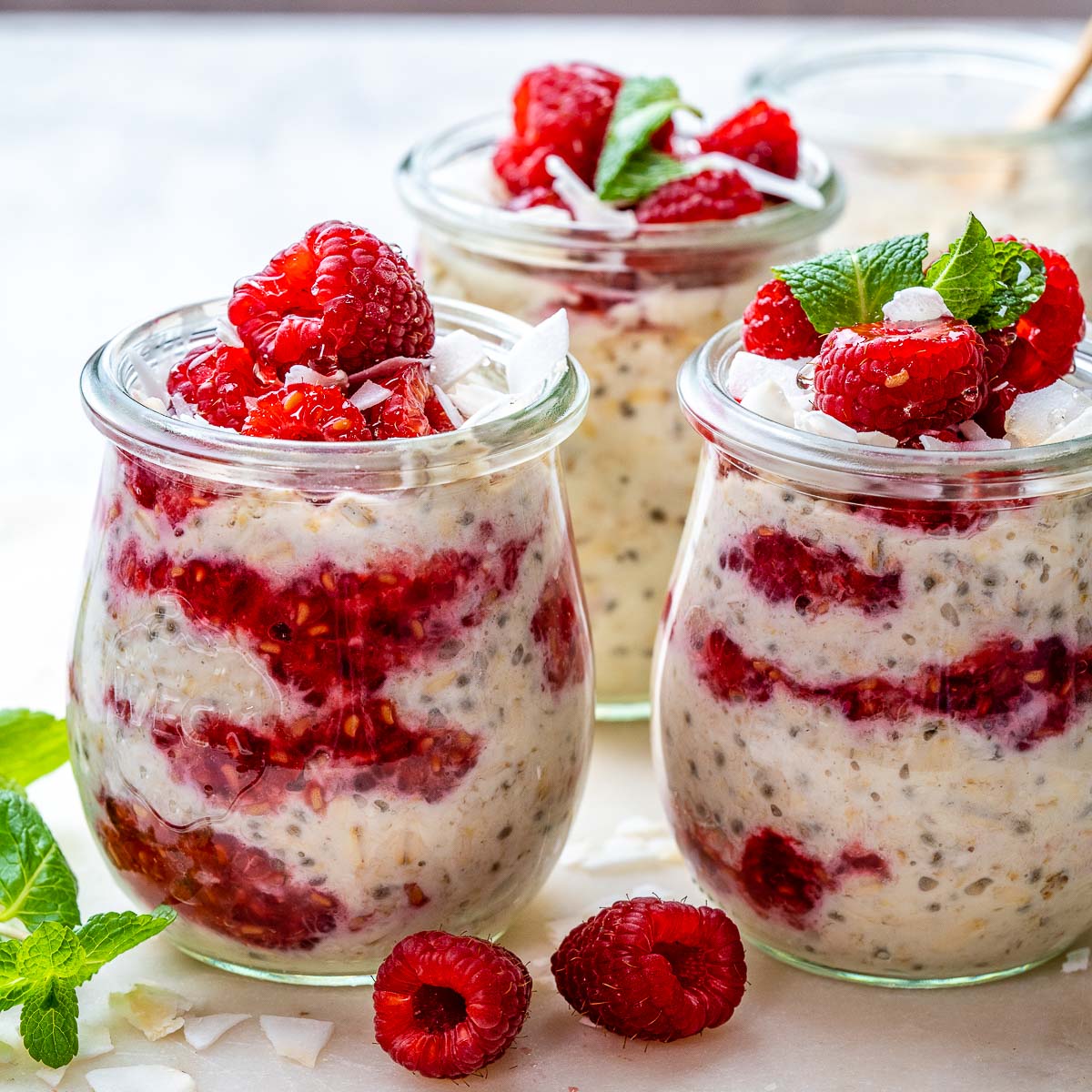 Rich and Creamy, Fresh and Fruity! It tastes like an indulgent dessert while being a very healthy and satisfying breakfast. If you add a scoop of vanilla protein powder to your oats, then it's a completely balanced meal and will keep you fueled until lunchtime.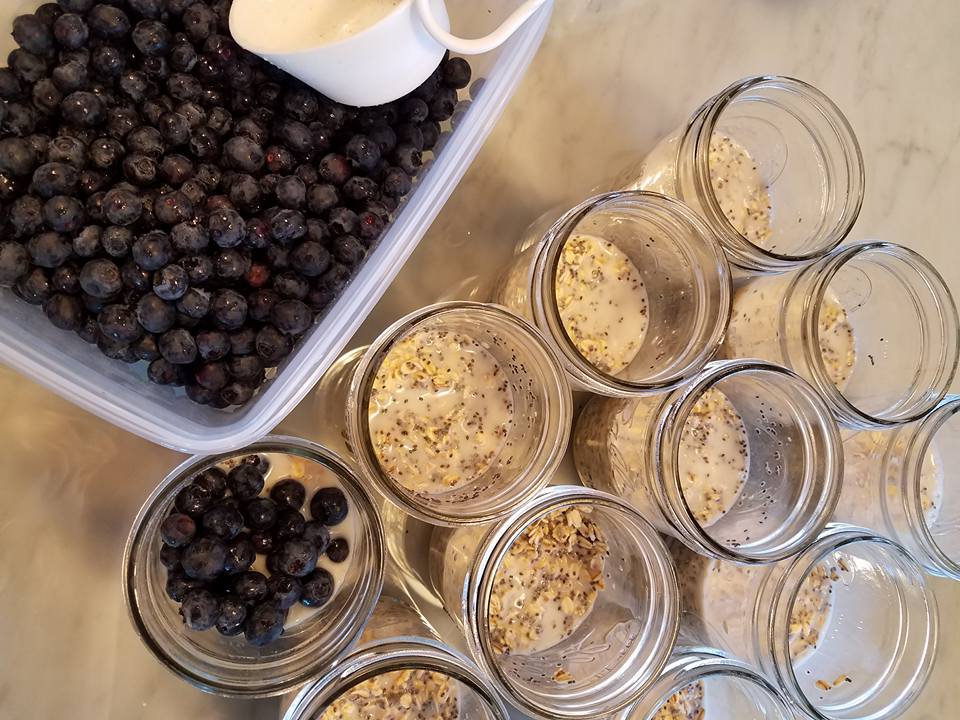 This recipe is super similar to the previous apple pie recipe but with Greek yogurt, an excellent source of calcium, which can help improve bone health. It also supports a healthy gut thanks to all the probiotics.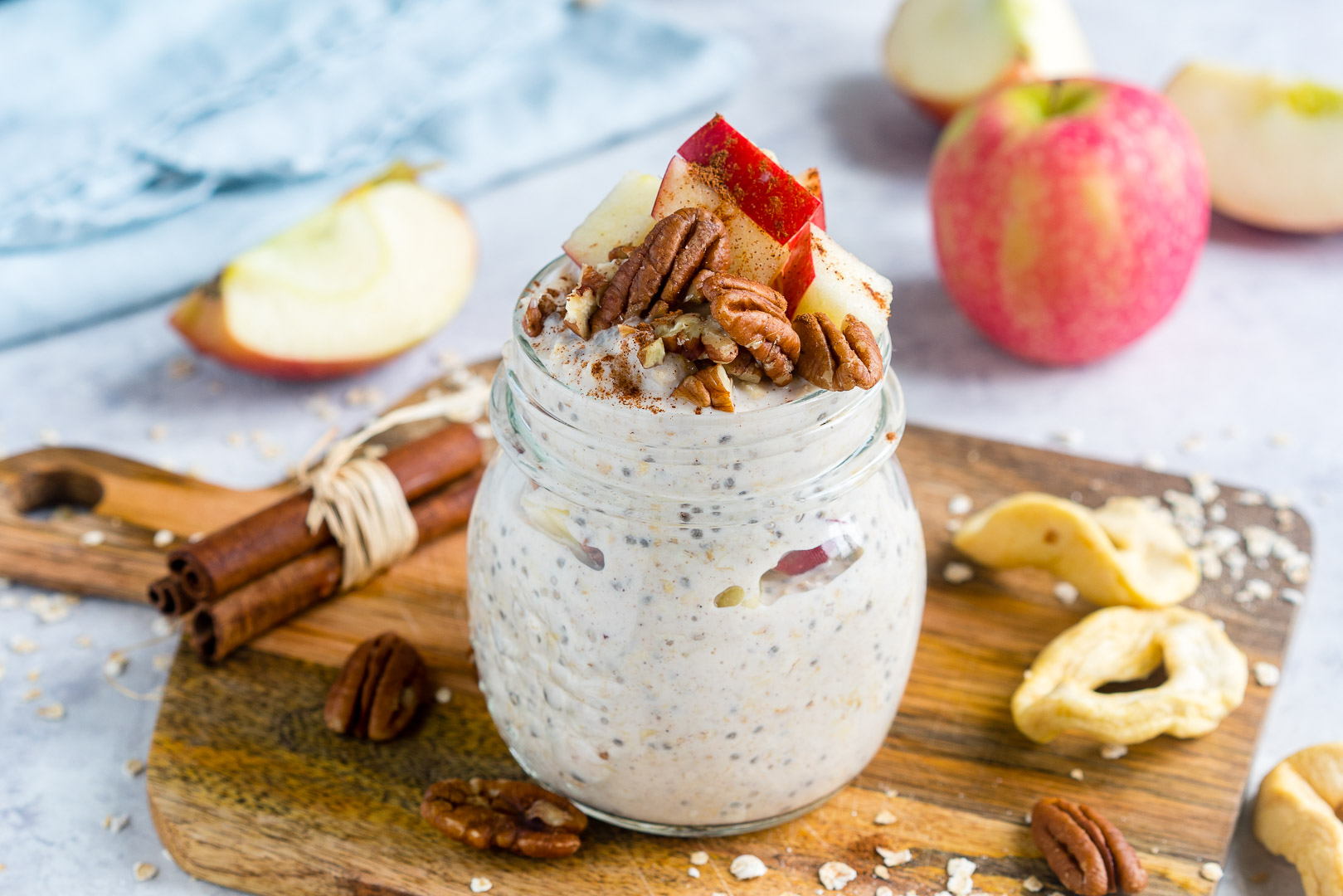 I love this recipe because it tastes like a dessert, with the nutrients and staying power of a meal! What a wonderful way to start the day.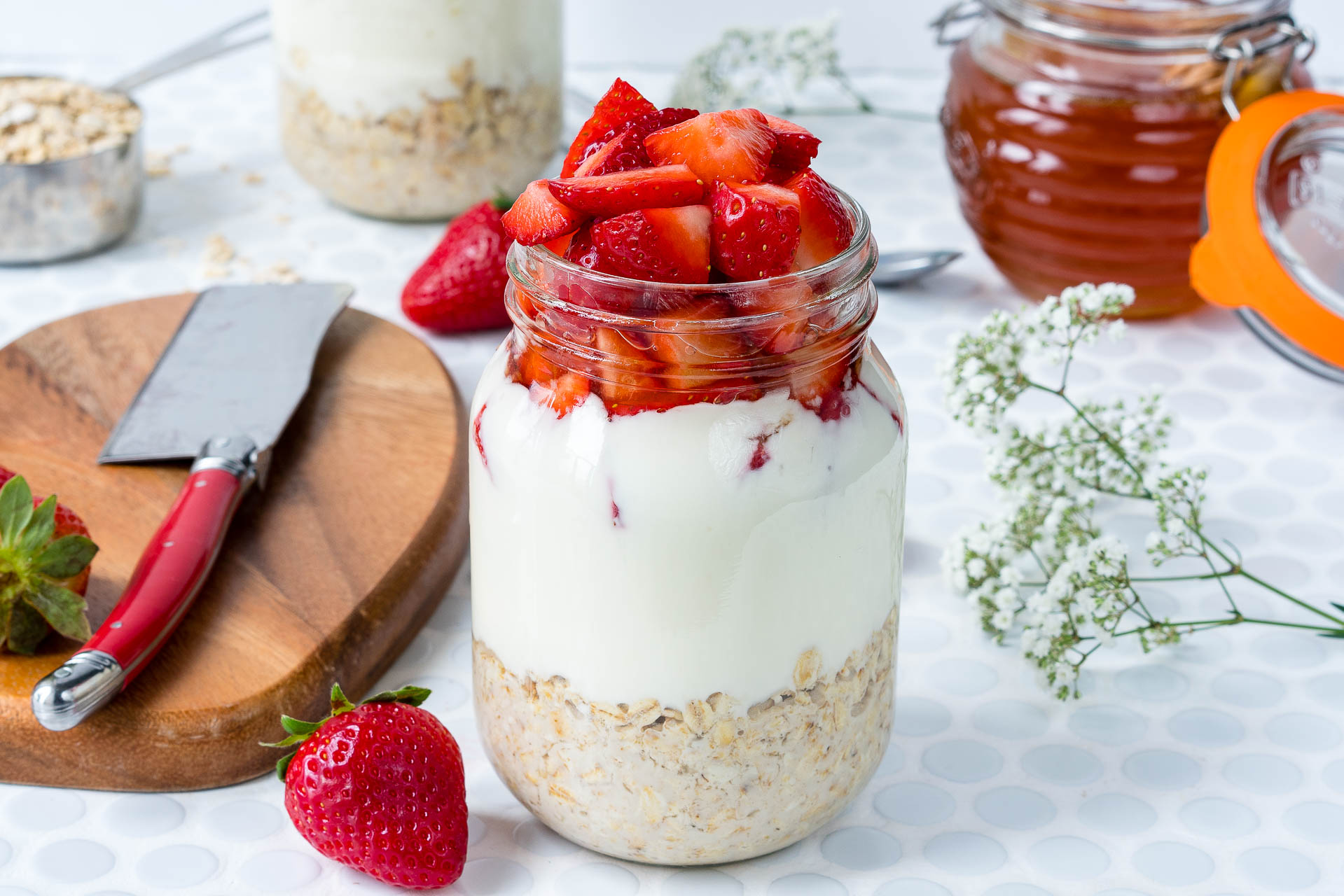 Who said you could only enjoy pumpkin spice in the Winter? These will be a permanent part of your food prep routine bc they are CRAZY delicious!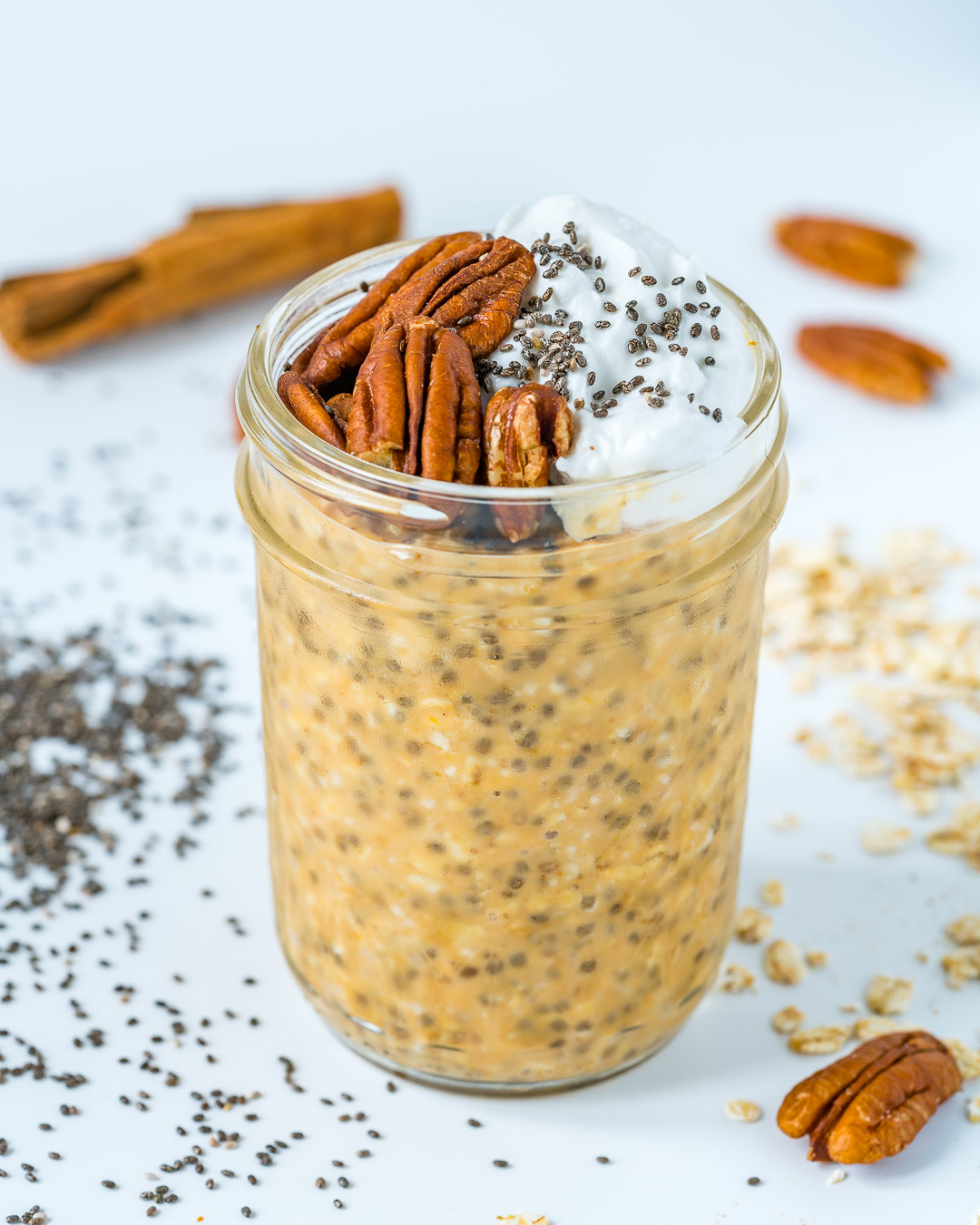 If oats aren't for you, you'll appreciate these last four recipes! It's a fantastic breakfast or snack for those sensitive to oatmeal, dairy, or gluten. (Or if you want to switch things up for some variety!)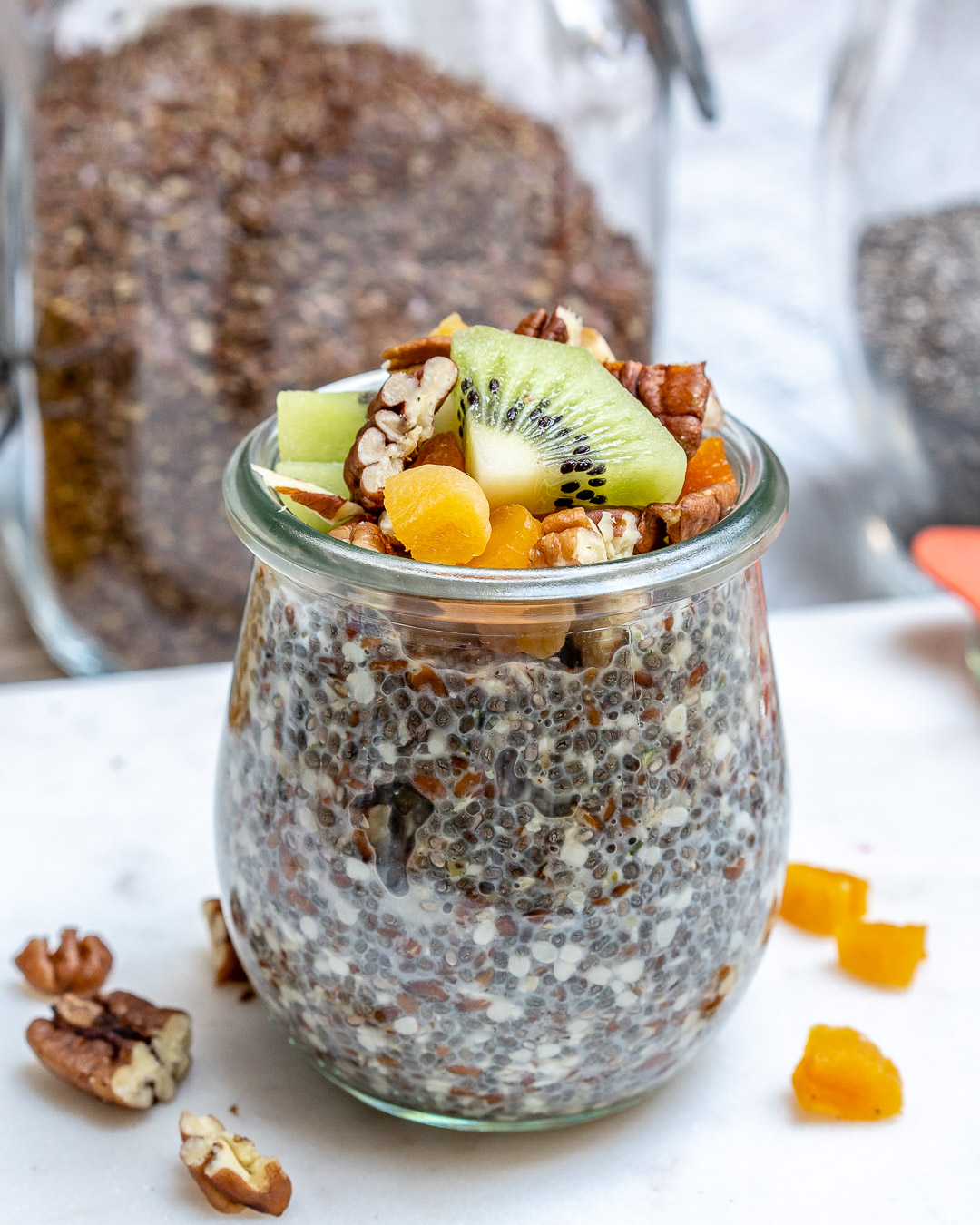 If you like Nutella, then this no-oats recipe will be your new favorite; I'm sure of it! Chocolate + hazelnut = delicious sweetness perfect for any morning.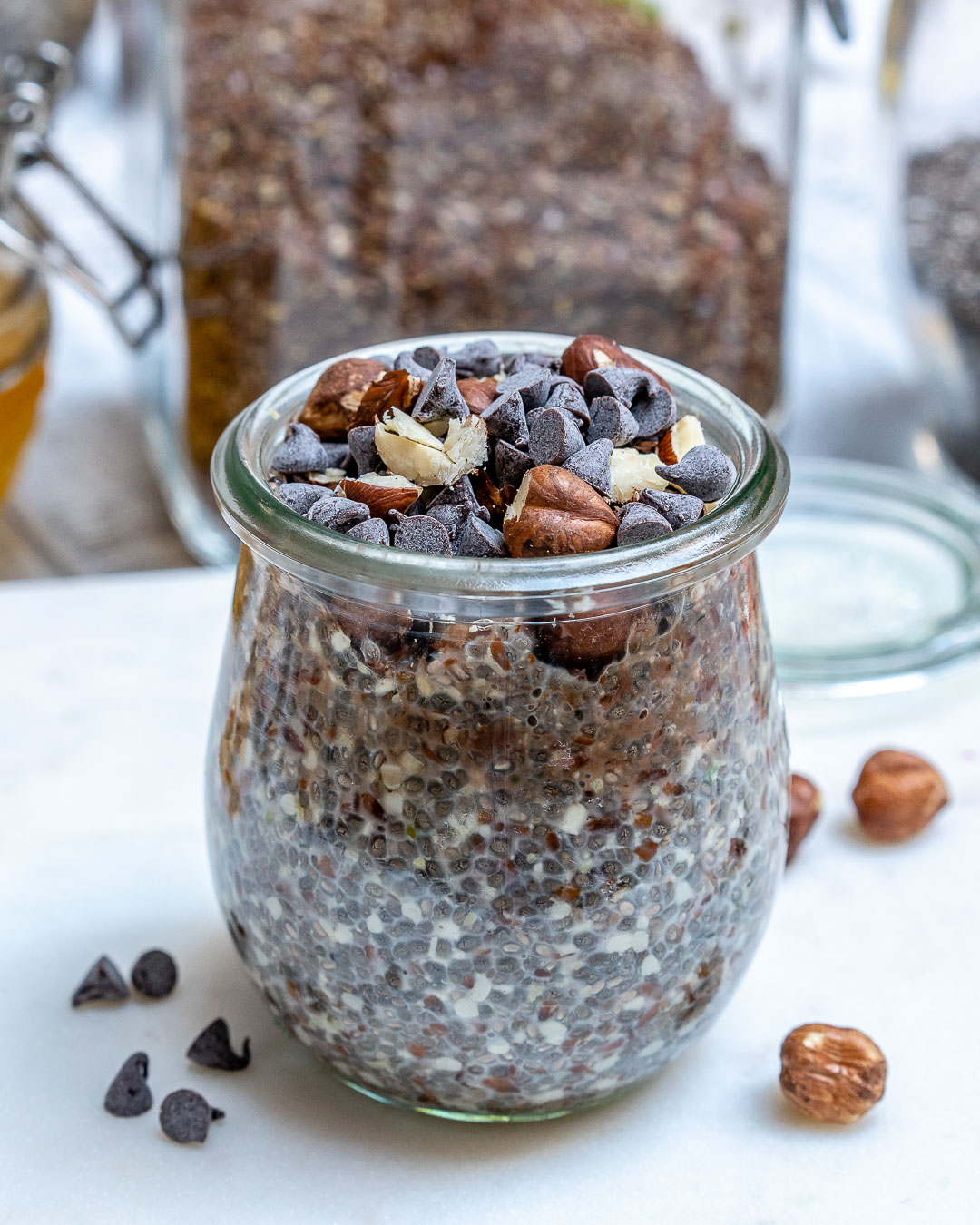 All of those seeds contain healthy fats that our body converts to ENERGY! And the berries in this specific recipe are a great source of antioxidants.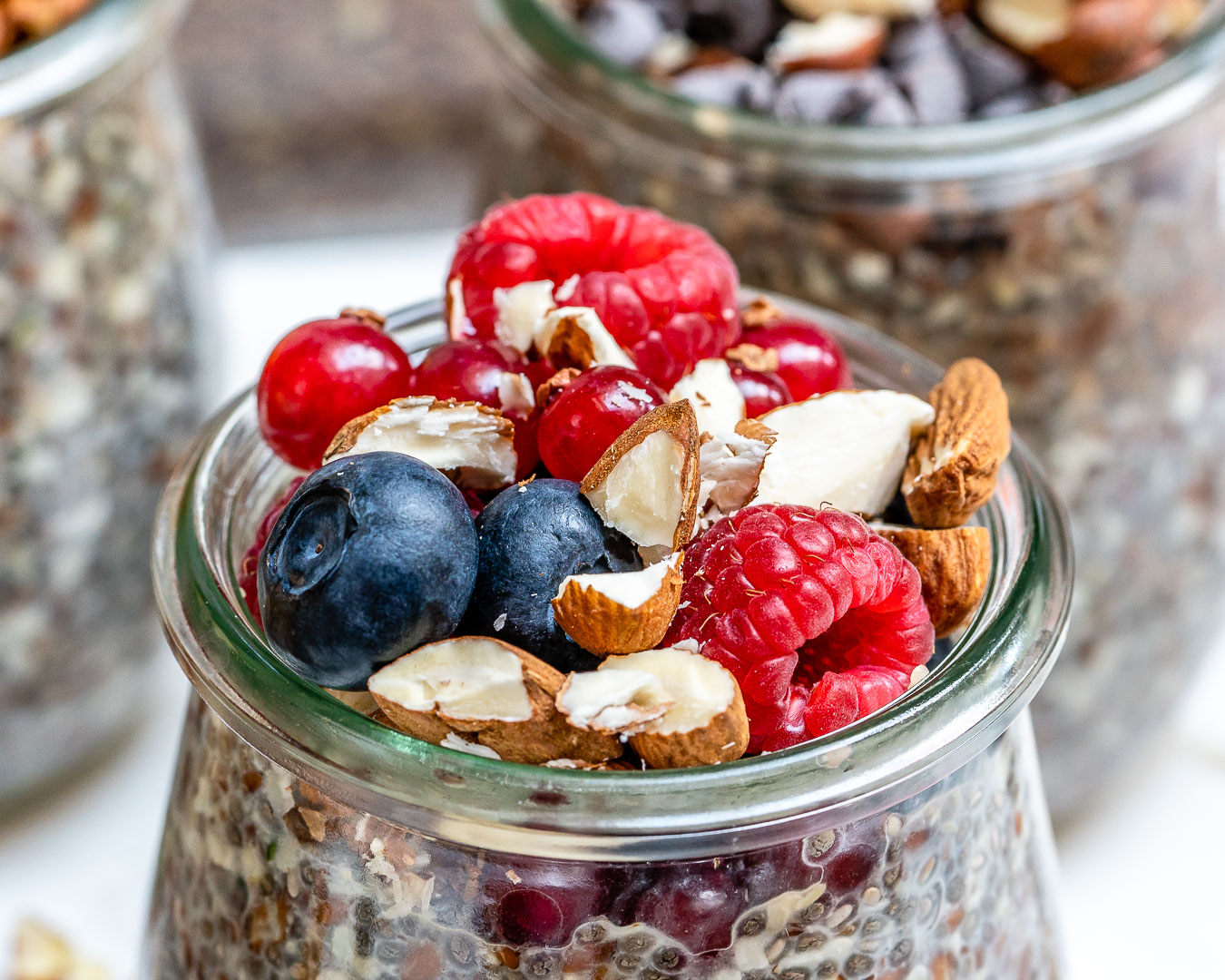 We're ending this list with another classic peanut butter meal. These little jars pack quite the nutritional punch and flavor.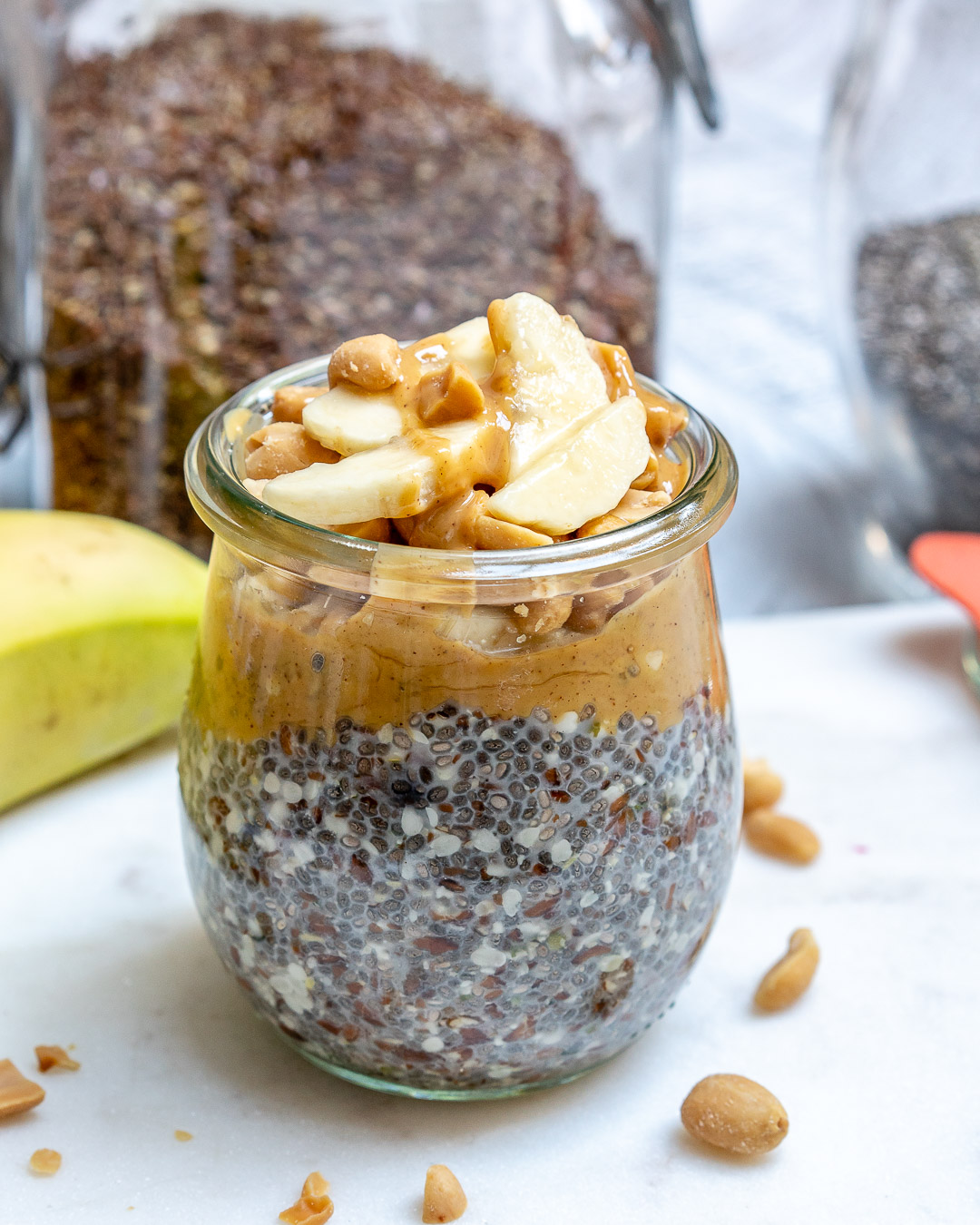 There are so many reasons to enjoy overnight oats, as we've explored.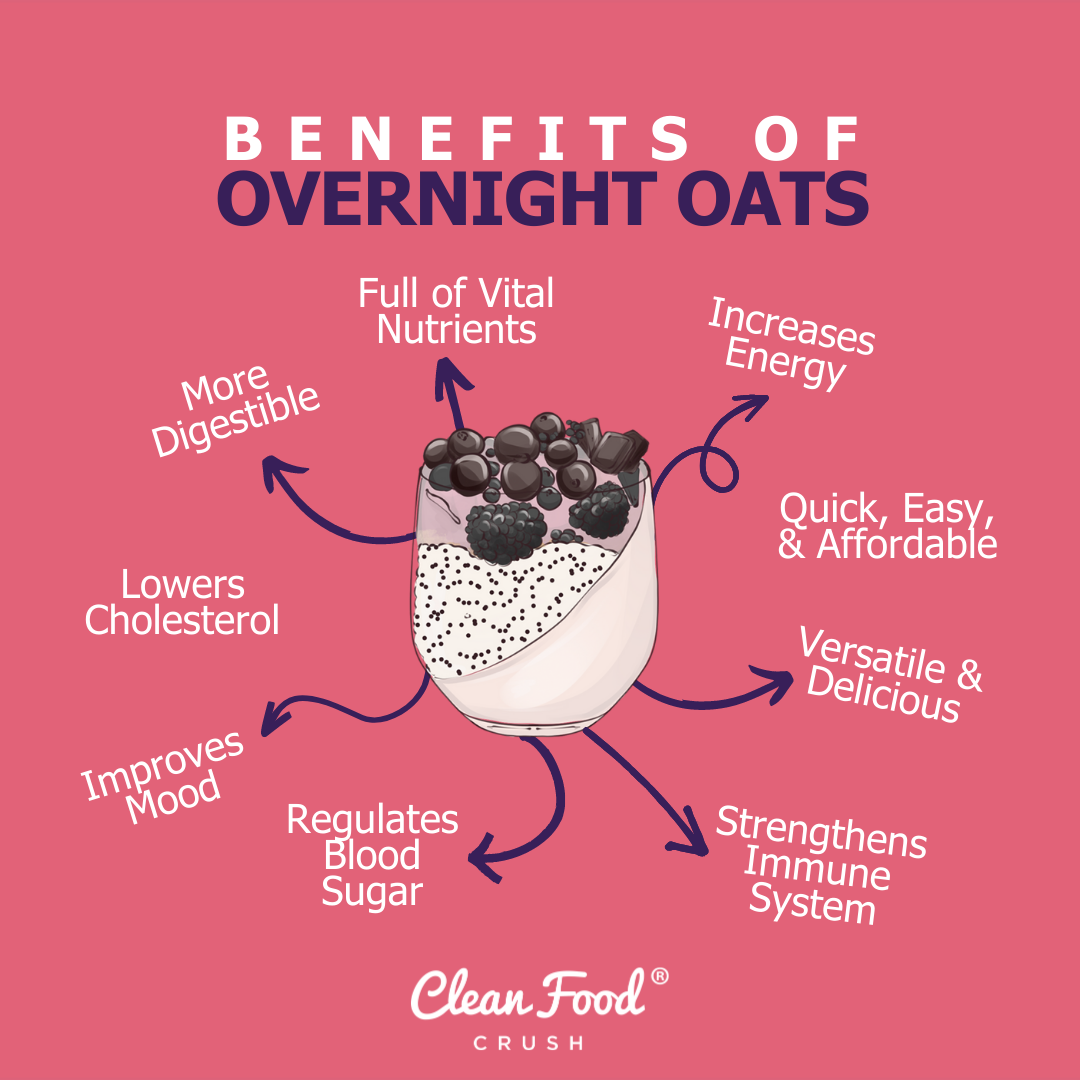 But one of the most significant reasons (in my opinion) is the ability to prepare breakfast the night before to release some morning stress. They're simply PERFECT for Meal Prep, as they last in the fridge for 6-7 days.
Let us know which combination for overnight oats is your favorite in the comments below!
Leave a Comment Below:
Related Posts :
..