13

Jul, 23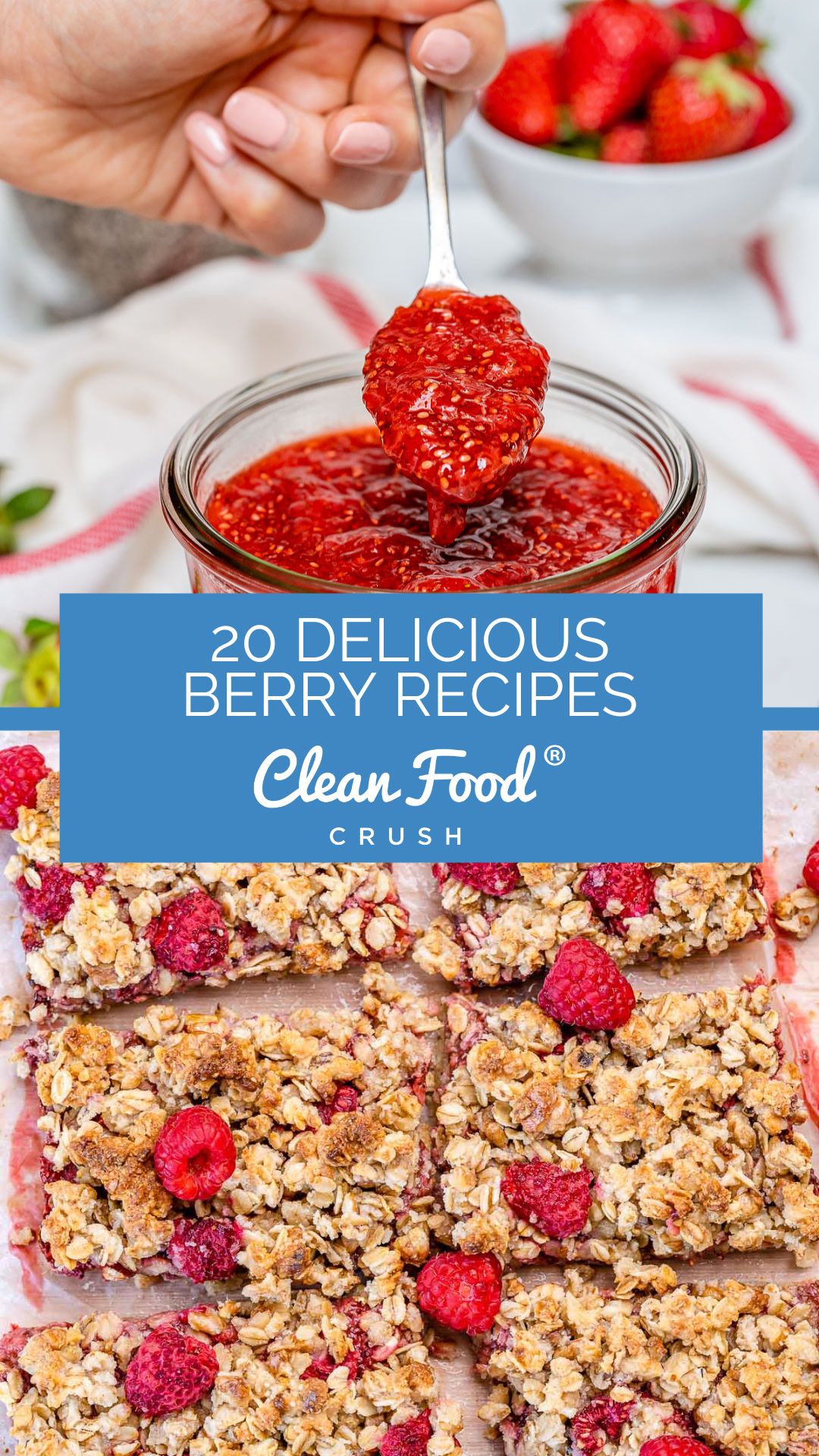 Among all the delicious fruits, berries are some of my favorites!
There are dozens and dozens of types of berries out there, but the most well-known ones, and the ones we use a lot in our CleanFoodCrush recipes, are raspberries, blackberries, blueberries, strawberries, and cranberries! 
(Fun fact: technically, several of these fruits aren't botanically berries, and others that we wouldn't consider berries, like bananas and kiwis, are.

But for simplicity's sake, when I say "berry," I mean these beloved fruits with the word berry in them.)
Berries are delicious and versatile, making them a terrific ingredient for several dishes, and packed with impressive health benefits! Here are just a few nutritional facts about berries and why you should eat more of them:

 Vitamins Galor
Berries are low in calories but high in
vitamins and minerals
, making them highly nutritious.
Though all berries are excellent sources of most vitamins, the principal one you'll find is
vitamin C
, which strawberries are incredibly high in.
Blood Sugar Control
Some
studies
show that berries can help improve
blood sugar levels
and increase
insulin
sensitivity. Raspberries are particularly great for insulin and blood sugar control. 
Full of Fiber
Soluble fiber
aids
digestion
, reducing hunger and helping you know when you're full, making it vital for
weight management
. Blackberries and raspberries (and others) are remarkable sources of fiber!
Loaded with Antioxidants
Antioxidants
are important for controlling radicals, which are molecules that can be damaging when their numbers are too high. Blueberries are exceptionally high in antioxidants. 
Boost Immune System
The vitamins and nutrients in berries help boost the body's
immune system
and protect it from illness.
Cranberries
are fantastic for boosting
immunity
and reducing the risk of
infection
and disease. They also help
reduce the risk
of urinary tract infections (UTIs).
Fight Inflammation
Inflammation
is your body's defense from infection and injury, but long-term, high inflammation can be painful and damaging. That's why eating
anti-inflammatory
foods is important.
Berries
are one such food, and though they all have anti-inflammatory properties, strawberries are particularly great for fighting
inflammation
.
Those are only 6 of several health benefits and reasons why we should eat more berries!
Here are 20 amazing recipes you can try with your various berries. 

Rather than spending time making a dozen individual pancakes, you can make this one quickly in one pan, so it's a terrific way to start your day, especially on busier days. 

Coconut butter is fantastic but expensive, and the ingredients are often hit or miss.
That's why I enjoy making a homemade version more, as I have complete control over the sweetness, the elements, and the flavors!

We have many
overnight oat
recipes, and this is one of my favorites.
It tastes like an indulgent dessert while being a healthy and satisfying breakfast.
If you add a scoop of vanilla protein powder to your oats, then it's a completely balanced meal and will keep you fueled until lunchtime.

Berries make great toppings for salads; the flavor combination here is perfect! Plus, it's an easy, simple, and gorgeous meal perfect for these Summer months.

This crisp is so quick and relatively simple to throw together!
The sweetness of ripe strawberries combined with tangy, tart rhubarb is the perfect combo and makes for a delicious dessert. 

Here's another amazing breakfast you can make for the whole family when time is short.
You can throw the ingredients together the night before and set it in the fridge, then the following day, all that's left is to pop it in the oven while you get ready for the day!

Fluffy, naturally sweetened, and full of nutrients!
Don't let the zucchini turn you off – it's still super delicious and is essential for keeping the muffins fluffy and moist.
Plus, they're filled with health benefits such as improving digestion and lowering the risk of diseases.

I love getting creative in the kitchen, and this recipe shows the extraordinary result of that creativity!
These beautiful avocado boats would be a fun idea to make for spring & summer parties, baby showers, bridal showers, BBQs, etc. They are sure to impress your guests!

Invite your kids into the kitchen with you to have fun making memories and food.
The tangy fresh cranberries, crispy chickpeas, and creamy sweet chocolate make for a surprisingly delicious treat!

Berries don't always have to be fresh.
In fact, frozen berries are super affordable, highly nutritious, already pre-washed, and can be sold in bulk, perfect for when you need to feed a large family.
So, grab some frozen berries and make this refreshing Summertime treat as soon as possible; you won't regret it!

A bright, fresh (and simple) recipe to serve some crisp veggies alongside your favorite meals or to take to a BBQ with friends and family.
Also, cabbage is a powerhouse veggie filled with health benefits like detoxification. 

This yummy parfait is a delicious breakfast idea and a tremendous source of probiotics and only uses natural sugars!
These would also be fun in jars or sent to school in Tupperware for school lunches.

There's no baking involved, and it's super quick and easy to put together these energy balls – a favorite homemade snack!
Bright lemon flavor combined with dried blueberries reminiscent of a summertime cobbler or pie.
Perfect for a quick after-school snack or after-workout energy boost!

Our Cranberry Granola Bars are packed full of nutritious nuts and seeds, making them a great natural fuel to give you energy during the day either as a quick snack or breakfast.
Be sure to make enough, though, because your family will go through these in a blink!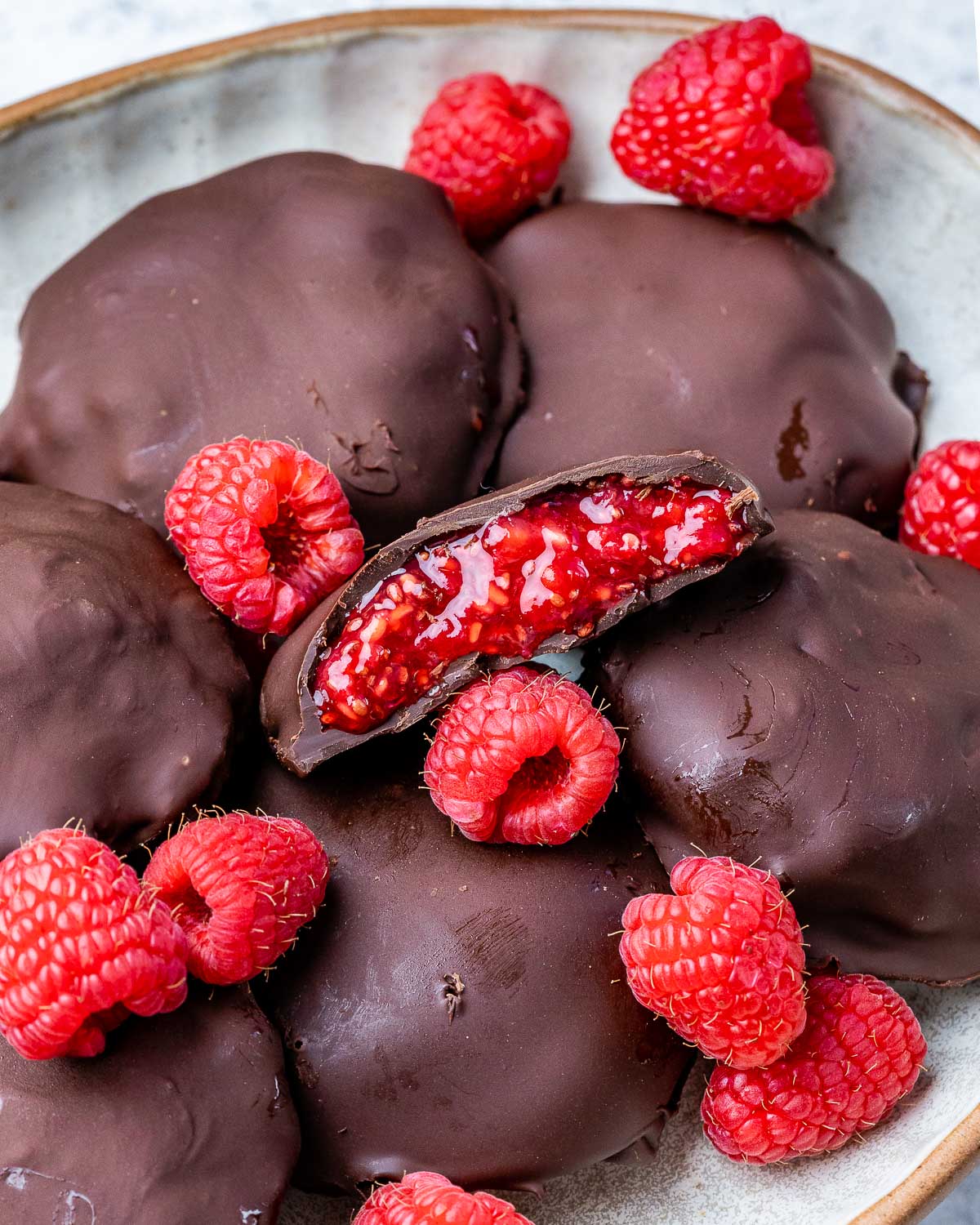 I LOVE these raspberry chocolate bites, and I hope you will too!
They're another fabulous recipe to make with your kids.
With only 4 ingredients, putting together these impressive fruit-filled chocolate treats couldn't be simpler!

Of course, I'm adding another salad to this list! They're just perfect light, simple, tasty, and refreshing meals for these spring and summer months.

Here is a summertime breakfast, snack, or dessert idea that combines two tasty berries and smells divine while baking.

Naturally sweetened vanilla cake with fresh berries baked right into the batter and layered with a delicious, nutty, crisp-crumb topping served with fresh berries.
Just typing it makes my mouth water! It's such a perfect morning treat.

Only THREE recipes in this wonderful fresh jam! Make it all summer long, and don't forget to let the kids help.

Look at how colorful and gorgeous this blueberry salsa is!
Make some as a dip or add on top of grilled chicken or fish.
You might want to double or even triple this recipe, especially if you plan to take it to a potluck or BBQ because it will be insanely popular!
It was difficult to narrow down this list to only twenty because we have SO MANY amazing berry recipes here at CleanFoodCrush! But these are some of my favorites, and I hope you all like them too.
Let me know in the comments which recipe is your favorite! And also, if you liked this roundup and want another one with berry recipes, let me know in the comments or tag me on Instagram or Facebook (especially if you're sharing your delicious creations).

Have a BERRY marvelous day, CRUSHers!
Leave a Comment Below:
Related Posts :
..