12

Oct, 23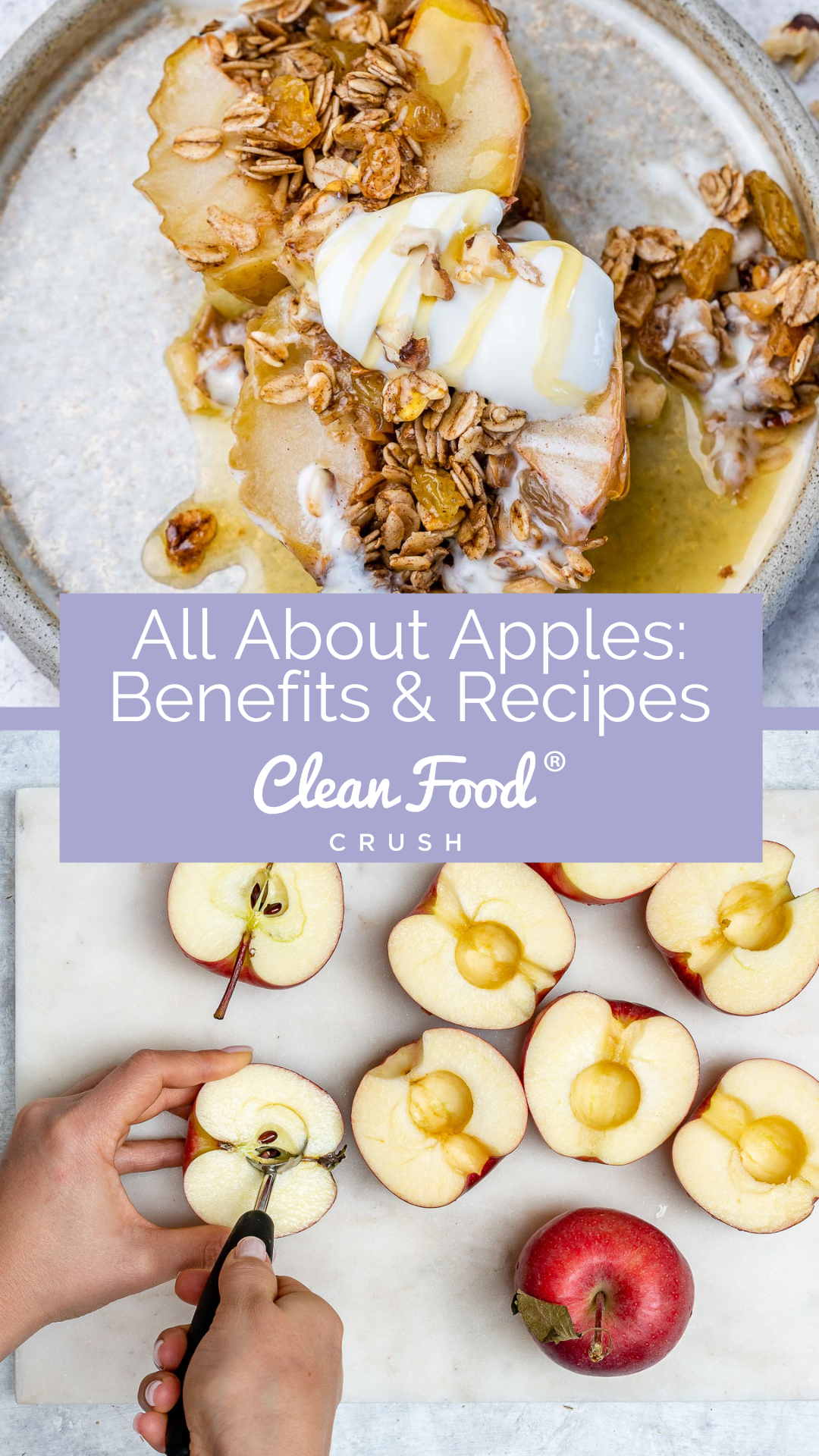 All About Apples: Benefits & Recipes
There is genuine truth behind the phrase, "An Apple a Day Keeps the Doctor Away."
Not literally, because there is no research providing that eating an apple daily lowers your need for doctor's visits, but metaphorically, the old proverb is correct.
Eating nutritious foods every day keeps you healthy! And apples provide several health benefits.
Apples are red and green fruits grown worldwide, and there are thousands of types, although you'll only find a handful at your local grocery store.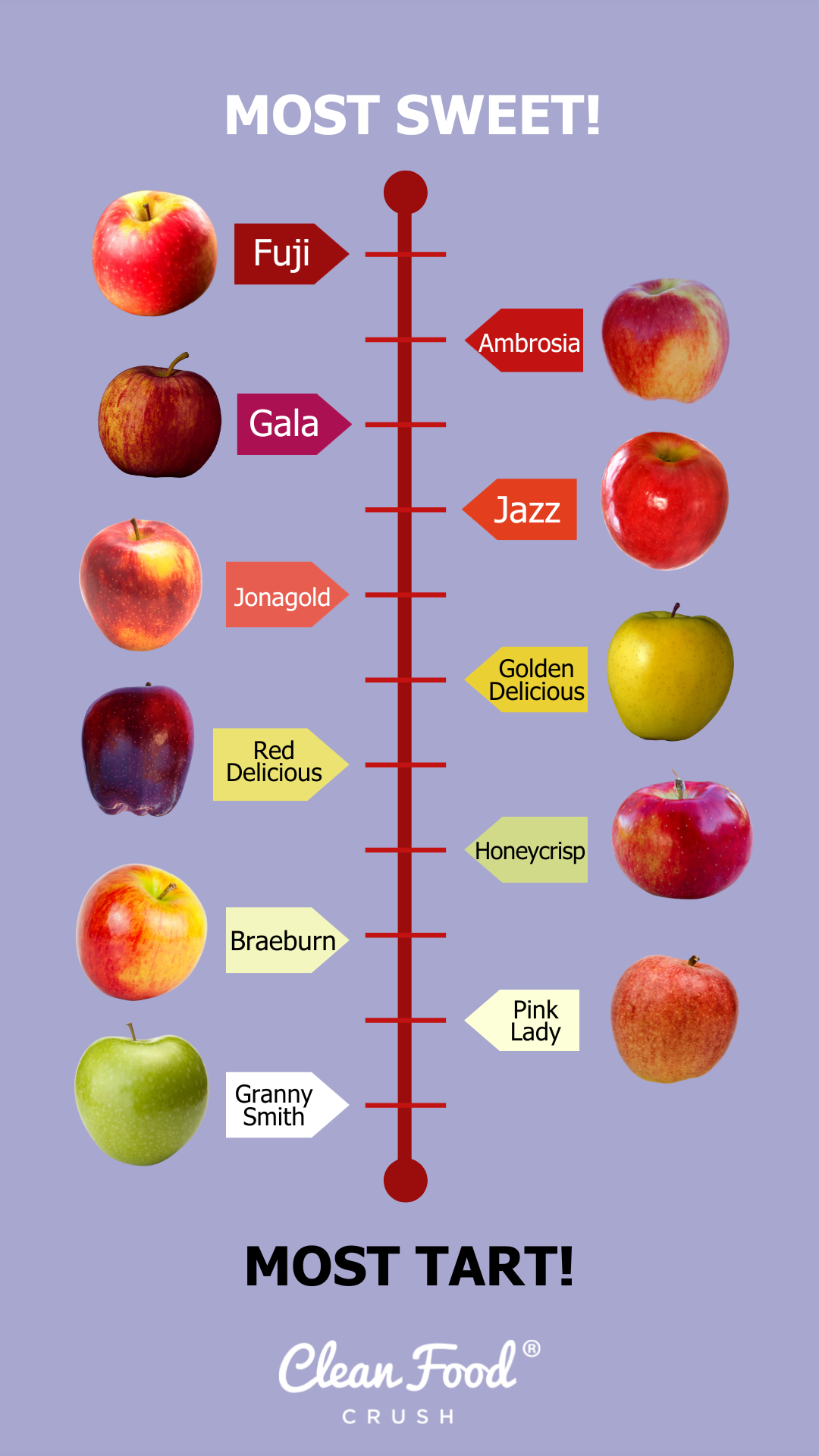 Gala, Honeycrisp, Red Delicious, Fuji, Golden Delicious, and Granny Smith are some common types you might come across.
Each has its own unique taste, ranging in sweetness and tartness, but all of them have similar nutritional values.
Thanks to all their nutrients, there are several benefits of apples. Here are just a few:
1. Weight Management
Apples
are high in fiber, making them particularly filling.
They also have a high water content, so eating apples will help you feel full sooner without overloading you with calories.
This aids in keeping you from overeating, and the fiber slows
digestion
, meaning you'll feel full longer.
2. Heart Health
Several
studies
have linked apples to a healthy heart and a lower chance of cardiovascular diseases.
The previously mentioned soluble
fiber helps
lower cholesterol
and blood pressure, both of which affect heart health.
Additionally, apples offer
polyphenols
, which are a category of compounds naturally found in plant foods that can act as antioxidants and have been
linked
to lower blood pressure and chance of stroke.
3. Lower Chance of Disease
Foods high in fiber but low in sugar help stabilize
blood sugar
.
Similarly, antioxidant foods may strengthen and protect the pancreas, which produces insulin.
These two combined in apples mean the fruit
might lower
your chance of developing type 2
diabetes
.
Some studies suggest that the antioxidants might also aid in
protecting
you against certain types of cancer.
However, this topic needs more research, and you should always consult your doctor about health concerns. 
4. Digestion Aid
Fiber, again
! It really is an essential nutrient. Several
studies
suggest apples
improve digestion
and might even
lower
the risk of digestive diseases.
Apples contain a specific type of soluble fiber,
pectin
, that acts as a prebiotic to
promote gut health
, which is vital for overall health.
5. Brain Health
Also, the
quercetin
, a plant flavonoid, in apples can
help protect
your brain from damage caused by
oxidative stress
.
6. Hydrating
Staying
hydrated
is another vital aspect of health and something we
discuss
reasonably often here at CleanFoodCrush, as most people don't
drink enough water
daily.
Apples are made up of roughly
86% water
, making them a particularly
hydrating
snack!
Those are just
some
potential benefits of apples, but there are plenty more, like
easing inflammation
and
boosting
your
immune system
.
Hopefully, those are plenty of reasons to make apples a regular part of your menu, whether alone as a snack or an ingredient in a recipe.
But as a bonus, apples are DELICIOUS and make for a delectable treat.

Instead of buying apples from the grocery store, visit your local farmers market or go apple picking at a nearby orchard.
Bring your friends or family and make a day out of it, letting everyone pick their favorite apples before you head home to experiment in the kitchen with the tasty fruit.
Depending on the type, apples are best when harvested and purchased from late July through early November, so now is the perfect time to make one of the following delicious recipes.

Here's a naturally sweetened, warm, cozy, rustic, all-natural dessert you can easily make after dinner tonight!
Check this post out
if you want more air fryer recipes.

Add these ingredients to your slow cooker on a day you want your home to smell like Autumn. This one is pure Fall! 

Take a bowl of this coleslaw to your next potluck or Holiday party, and watch it become a crowd favorite!
Fresh cranberries + apples + cabbage = delicious, nutritious, seasonally appropriate dish. 

These apple pie bars are just as tasty as the classic pie but less sugary.
Make them as a treat, snack, or quick breakfast!
They're made with applesauce, but you can make your own using the following recipe. 

This honestly couldn't be simpler! Quick and easy, break out your crockpot and fill it with your orchard-fresh apples to make homemade applesauce that can be eaten solo or used in one of these recipes, such as the previous one. 

How cute are these chocolate apple pops?! And they're so fun to make, especially with your kiddos, who will have a blast preparing their dessert.
Getting your children involved in the kitchen is important, so I put together
this list of recipes
perfect for making with your kids. 

I'm already craving this salad! Just wait until you taste the zesty homemade dressing with the sour green apples and sweet kale + cranberries. It's a perfect combination!

Brussels sprouts get a bad rep, but when cooked properly, they taste delicious.
Plus, they're low in calories, high in anti-inflammatory compounds, and filled with vitamin K.
They can promote heart health, lower disease risk, stabilize blood sugar, and help keep your bones healthy.

This recipe deserves to be on your list, perfect for Thanksgiving or a normal weeknight.
Your house will smell delightful while baking, and you'll warm up those bellies with this sweet (and secretly nutritious) dessert!

The sweet and savory flavors complement each other nicely in this salad.
Plus, pears add to the health benefits of the salad by helping to fight inflammation, promoting gut and heart health, protecting against certain diseases, and aiding weight loss.

This is so simple that creating shouldn't take longer than 20 minutes. The salsa's flavor is complex and absolutely delicious!

These are fun enough to get your kids' attention while being simple enough to make together in a few minutes.
Plus, they're full of nutrients and energy to help them (and YOU) power through afternoon activities!

You can't go through the Fall season without enjoying some apple pie!
I know this isn't the classic pie you expect to see, but they're basically a hug in a jar.
Bonus: overnight oats are easier for your body to digest because the soaking breaks down the starches.

This is a protein-packed, inexpensive, and super nutritious
after-school snack
idea for your house! The tuna bites can also be great as a light lunch or quick post-workout meal.

Here's another apple slice snack idea, but sweeter rather than savory. Feel free to be creative and make it your own, switching out the nut butters and toppings to match your family's taste!

The third time's the charm, they say.
If you didn't like the previous two apple slice snack ideas, maybe this one will appeal to you.
Or, if you like all of them, at least you have some variety and choices! Be sure to share your favorite and tag us in the post.

This is a fantastic way to use those fresh-picked, in-season, tangy, crisp apples right now. But for this salad, you really want an apple that is not mealy, always crisp. You're going to LOVE it! 

Technically, this recipe uses applesauce, not apples, but you can make your applesauce and then use it to create these divine muffins! It's a great Autumn breakfast or after-school snack idea.

If you're looking for a memorable and very unique snack to serve this weekend, you've just found it! This Juicy-Sweet-Apple & Crispy-Salty-Bacon combo is surprisingly excellent!

This a warm, hearty breakfast idea you'll want to make all year long! It's so easy, too – start it in the morning, and in 5-7 hours, come back to a delicious, nutritional pie in the form of an oatmeal breakfast! And as a bonus, your house will smell heavenly while this is cooking.
That concludes our list of 20 absolutely delicious apple recipes to inspire your cooking this Fall!
Stay tuned these following weeks for more classic autumn produce and the recipes used.
What's your
favorite
classic Fall ingredient? Let me know in the comments below! 

Leave a Comment Below:
Related Posts :
..